A new chapter of the European qualifiers for Qatar 2022 came to an end with the victories of Germany and Italy [ENG] / Se cierra un nuevo capítulo de las eliminatorias europeas rumbo a Qatar 2022 con las goleadas de Alemania e Italia [ESP]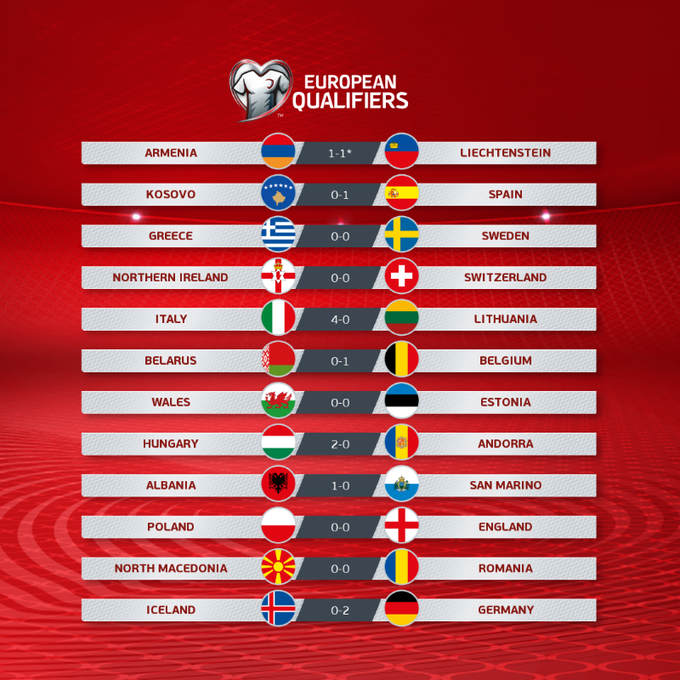 All the results of the last day of the European qualifiers for the Qatar 2022 World Cup.
In previous posts (with the exception of the last one) I had referred to the lack of identity of some European soccer teams that failed to translate on the field all that their players potentially offered. Not only in their respective clubs but also in their own national teams until not more than a year ago.
Well, the last two dates seem to have contradicted my previous statements, or seen from another point of view have given me the reason and finally some players have woken up, with them the team, the logical goals have begun to appear and with it the potential candidates to win each zone.
It did not seem logical that Turkey would be ahead of the Netherlands or Armenia ahead of the mighty Germany. At the moment all the favorites are in place and if we have to look for a real surprise it is on the side of Norway, which leads the zone together with the Netherlands, although it has a lower goal difference and for that reason it is second.
Italy regained their confidence and their game and despite playing without some of their starters had no problems in beating a weak Lithuania by 5-0 to take six points ahead of the second, constituit to Moises Kean -Ghanaian orihen player born in Italy- and to be the team that is in the best position to qualify. Although Switzerland in second place has two games in hand. And Ireland, also two games behind, is in third place.
Germany, on the other hand, was once again the compact team we all know and had no problems to beat Iceland as visitors, also in this case alternating some starters with some players who are normally substitutes.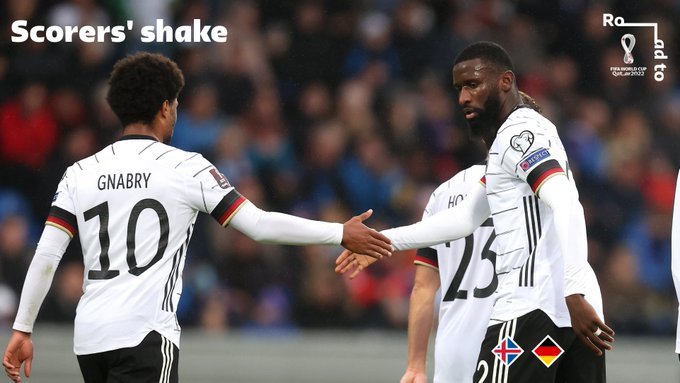 Germany was able to react in time in the last two matches, won, scored and went on to lead their group.
England, the last finalist of the European Championship with a perfect score, could not get past a draw against a tough and combative Poland that has woken up in these last two matches and that is fighting with a surprising Albania that so far occupies the second place in its zone and aspires to the play-offs, ahead of presumably stronger teams such as Poland itself or the unknown Hungary.
Albania was the protagonist of the remaining 5-0 drubbing of the day and San Marino, which is starting to get used to these misfortunes as it happened (almost) always in the past, was the one to suffer.
Belgium continues to be a real steamroller and had already demonstrated it in the European Championship against Italy. In this case the "victim" was Belarus, whom they defeated as visitors, not brilliantly but solidly, by 1 to 0. Another team that has half a ticket to Qatar 2022 assured, even though their group followers have fewer matches to play. As of today, nine points separate them. Too much to worry about.
In the remaining matches, Hungary managed to unleash a smile among its fans and defeated Andorra 2-1 at home, while North Macedonia and Romania drew without opening the scoreboard.
Although the number of matches has not yet been balanced (some teams have played more matches than others), there are some countries that have (almost) assured their qualification, either as first or eventual best runners-up.
This is the case of France in group D with 12 points and seven points ahead of Ukraine and Finland with a game in hand. It is difficult to imagine the French team falling so far behind as to jeopardize their qualification.
Belgium is also in a very advantageous and calm position with 16 points and a difference of 16 points over the Czech Republic and Wales with less games played.
England is also breathing a sigh of relief with 16 points at the top of Group I, four points clear of a surprising Albania with the same number of games played.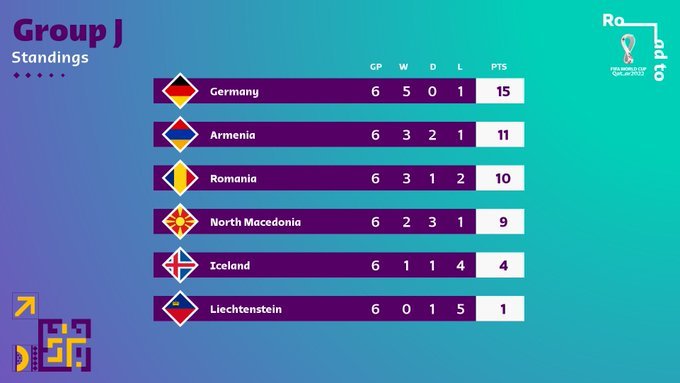 After an inconsistent start, Germany has returned to being the competitive and fearsome team we all know and is leading their group.
Germany, for its part, has reached 15 points with its last two victories and has managed to distance itself from the other surprise, Armenia, which follows with 11 points in Group J.
But obviously the one that can already be considered (almost) with the ticket to Qatara 2022 in hand is undoubtedly Denmark. Absolute effectiveness, all matches won, 18 points in their locker with a seven-point difference over Scotland, who are in second place with the same number of matches played.
The Netherlands and Norway in Group G both and Croatia with Russia in Group H all leading with 13 points still have a tough road ahead. In these two groups all have the same number of matches played.
Also Portugal with 13 points is not quite at ease as they have Serbia second with 11 in Group A.
Similar situation in Group B, where Spain leads with 13 points, followed by Sweden with 9 points and two games less.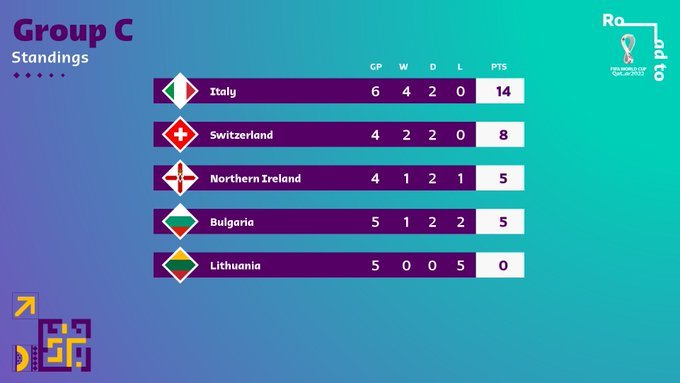 Italy first and Switzerland second are the only two teams with a real chance of qualifying from Group C.
Italy, which had started very well, had two successive draws, before the last defeat, which, although they did not jeopardize their qualification, they did manage to make the group somewhat more compact. Switzerland is second, six points behind, but has two games in hand.
Clarification: Groups F to J, made up of six teams, have all played the same number of matches, i.e. six matches, with four matches missing for each team to complete their qualification.
Groups A to E, on the other hand, are made up of only five teams and some of them have matches pending.

En los posts anteriores (a excepción del último) les había hecho referencia a la falta de identidad de algunas selecciones de fútbol europeas que no lograban plasmar en el campo de juego todo lo que potencialmente sus jugadores ofrecían. No solo en sus respectivos clubes sino también en sus propios seleccionados hasta hace no más de un año.
Pues bien, las dos últimas fechas parecen haber contradecido mis afirmaciones anteriores, o visto desde otro punto de vista me han dado la razón y al final algunos jugadores se han despertado, con ellos el equipo, han comenzado a aparecer las lógicas goleadas y con ello los potenciales candidatos a ganar cada zona.
No parecía lógica que Turquía estuviera delante de Países Bajos o Armenia delante de la poderosa Alemania. Al momento todas las favoritas están en su lugar y si hay que buscar una verdadera sorpresa está por el lado de Noruega que encabeza la zona junto con los Países Bajos aunque tener menor diferencia de gol y por ese motivo está segunda.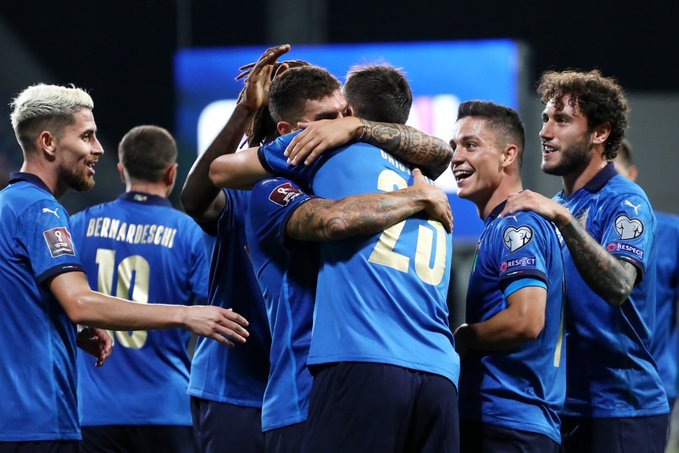 Italia se afianza como líder en su grupo después de la goleada a Lituania.
Italia recuperó su confianza y su juego y no obstante jugar sin algunos de sus titulares no tuvo problemas en golear a una débil Lituaniapor 5 a 0 sacarle seis puntos de ventaja a la segunda, constituit a Moises Kean -jugador de orihen ghanés nacido en Italia- y ser la selección que se encuentra en la mejor posición para clasificar. Aunque Suiza en segundo lugar tiene dos partidos menos. E Irlanda también dos partidos menos está en tercer lugar
Alemania por su parte volvió a ser elequipo compacto que todos conocemos y tampoco tuvo problemas para golear como visitante a Islandia, también en este caso alternando algunos titulares con algunos jugadores que normalmente son suplentes.
Inglaterra el último finalista de la Eurocopa que llevaba puntaje perfecto no pudo pasar del empate ante una aguerrida y combativa Polonia que se ha despertado en estos dos últimos partidos y que lucha con una sorprendente Albania que hasta el momento ocupa el segundo lugar en su zona y aspira al repechaje, por delante de seleccionados presumiblemente más fuertes como la misma Polonia o la desconocida Hungría.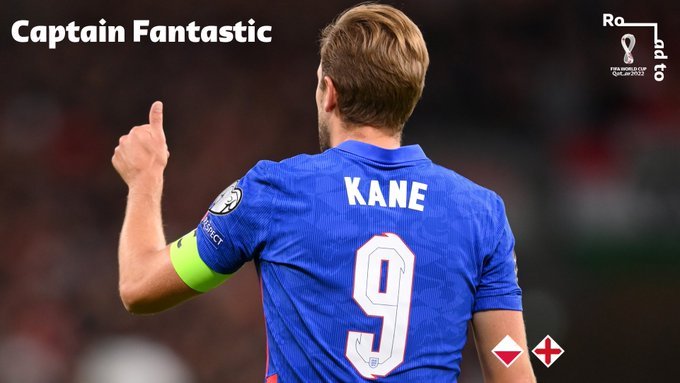 Harry Kane eterno capitán y goleador de Inglaterra que suma y sigue.
Exactamente Albania fue protagonista de la restante goleada de la fecha por 5 a 0 y a sufrirla fue San Marino que ya comienza a acostumbrarse a estas desaventuras como ocurrió (casi) siempre en el pasado.
Bélgica sigue siendo una verdadera aplanadora y ya lo había demostrado en la Eurocopa ante Italia. En este caso la "victima" fue Bielorrsia a quien derrotó como visitante, sin brillar pero con solidez, por 1 a 0. Otra que tiene medio billete asegurado a Qatar 2022 aunque sus escoltas en el grupo tengan partidos menos. A hoy son nueve los puntos que las separan. Demasiado como para preocuparse.
En los restantes partidos Hungría logró desatar una sonrisa entre sus aficcionados y derrotó a Andorra por 2 a 1 como local mientras Macedonia del Norte yRumania empataron sin abrir el marcador.
Cuando todavía la cantidad de partidos no se ha equilibrado (hay equipos con más partidos jugados que otros) hay algunos países que tienen la clasificación (casi) asegurada, ya sea como primeros o eventuales mejores segundos.
Es el caso de Francia en el grupo D con 12 puntos y siete de diferencia sobre Ucrania y Finlandia con un partido menos. Difícil pensar en una caída del seleccionado galo tan abrupta como para poiner en peligro su clasificación.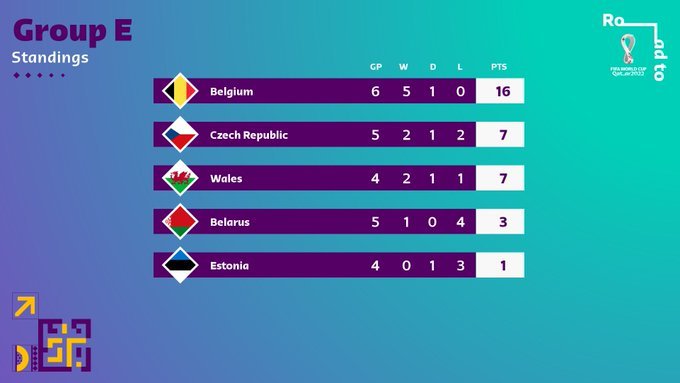 Bélgica lidera con bastante comodidad su grupo.
También Bélgica se encuentra en una posición muy ventajosa y tranquila con 16 puntos y mde diferencia sobre Repéblica Checa y Gales con partidos menos jugados.
Inglaterra también respira bastante tranquila con sus 16 puntos en la cima del Grupo I con cuatro de diferencia sobre una sorprendente Albania e igual cantidad de partidos jugados.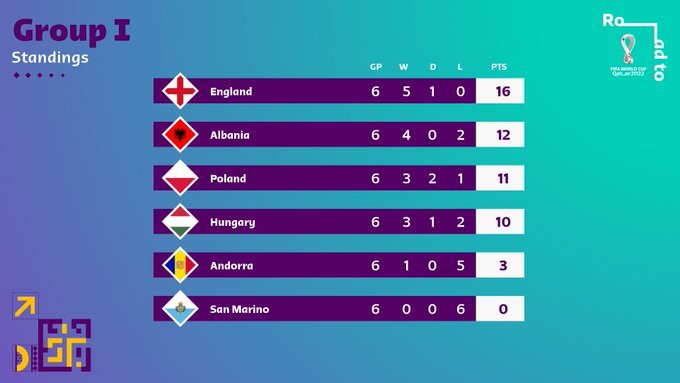 Inglaterra, una de las dos finalistas de la última Eurocopa mantiene su solidez en las eliminatorias europeas y comanda su grupo.
Alemania por su parte llegando a 15 puntos con sus dos últimas victorias ha logrado distanciarse de la otra sorpresa, Armenia que la sigue con 11 en el Grupo J.
Pero evidentemente la que ya se puede considerar (casi) con el billete de ida a Qatar 2022 en mano es sin lugar a dudas Dinamarca. Efectividad absoluta, todos los partidos ganados, 18 puntos en su casillero con siete de diferencia sobre Escocia que marcha en segundo lugar con la misma cantidad de partidos disputados.
Países Bajos y Noruega en el Grupo G ambos y Croacia con Rusia en el grupo H todos punteros con 13 puntos tienen todavía un duro camino para recorrer. En estos dos grupos todos tienen la misma cantidad de partidos jugados.
También Portugal con 13 puntos no está del todo tranquilo ya que tiene a Serbia segundo con 11 en el Grupo A.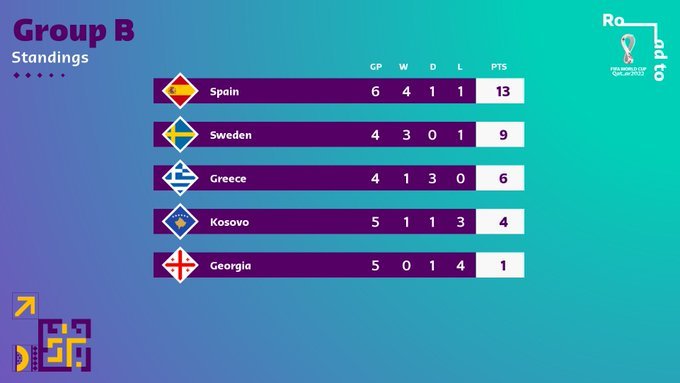 España lidera su grupo pero debe estar atenta a Suecia que, con partidos pendientes, puede complicar su clasificación.
Situación parecida en el Grupo B donde manda España con 13 unidades pero seguida de Suecia con 9 y dos partidos menos
Italia que había arrancado muy bien tuvo dos empates sucesivos, antes de la última goleada, que si bien no metieron en peligro su clasificación, lograron comptacpar algo el grupo. Suiza está segunda a seis puntos pero tiene dos partidos menos.
Aclaración: los Grupos F a J compuestos por seis equipos tienen todos la misma cantidad de partidos jugados, es decir seis partidos faltándoles cuatro partidos a cada uno para completar la clasificación.
Los Grupos que van del A al E en cambio estón integrados solo por cinco equipos y algunos tienen partidos pendientes.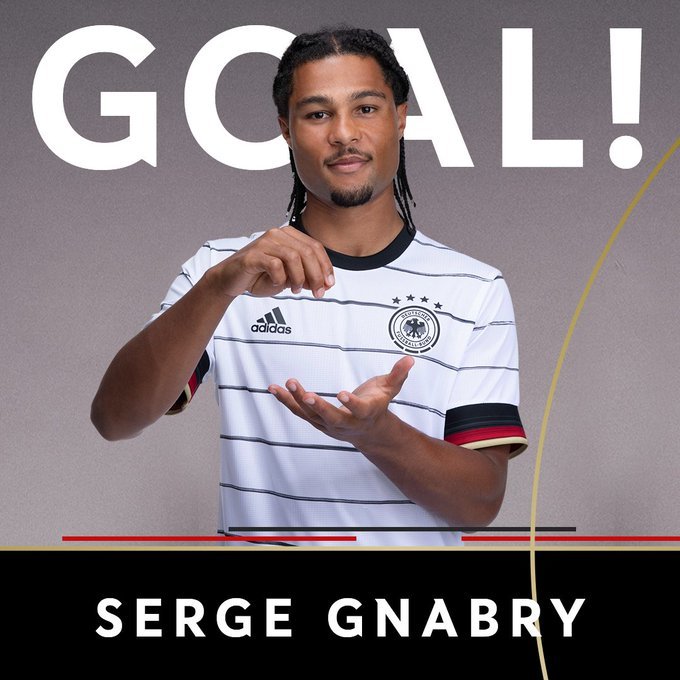 Gnabry es una de las figuras jóvenes del seleccionado alemán que se está destacando en estas aliminatorias.

---
---