The Netherlands woke up from their slumber, scored a goal to top their group in the European qualifiers for Qatar 2022 [ENG] / Países Bajos se despertó de su letargo, goleó y encabeza su grupo en las eliminatorias europeas de Qatar 2022 [ESP]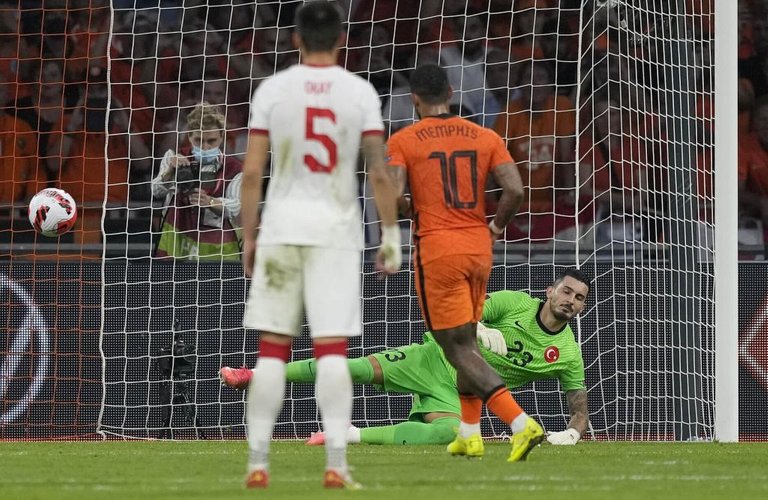 Memphis Depay scored a hat-trick in the Netherlands' win over Turkey.
In a previous post I talked about the uncertainty of the Netherlands national team that failed to reach its full potential on the pitch.
As happened during the course of this week with other national teams such as Spain, Germany and Poland, the European qualifiers for the Qatar 2022 World Cup have returned to the scoresheet, bringing back memories of the old days.
Those times when the teams considered as favorites, the big ones, beat the weaker teams and were serious contenders to win the title.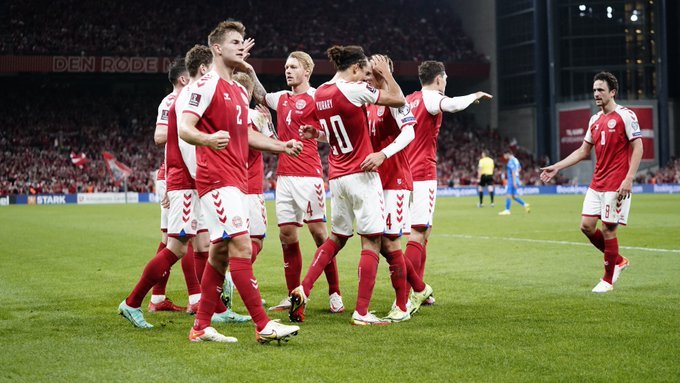 Denmark wins and leads its group with the ideal score.
Another goal was scored by Denmark, which continues to confirm its excellent footballing moment demonstrated in the last European Championship and postulating itself, so far, as the best team in the European qualifiers. This time the "victim" was Israel, which had beaten Austria 5-2 the previous day. After the agonizing victory against the Faroe Islands team, substituting several players from the usual eleven to give them rest, their technical director Kasper Hjulmand returned to the starting eleven, without the injured Braithwaite and Dolberg, and they also beat Israel. The 5-0 scoreline was already set at the end of the first half when the Danes went into the break with an even 3-0 lead.
Above all, and going back to the Netherlands, because they have a squad of young players of real value, including Barcelona's new star, Memphis Depay.
In the match against Turkey, until then the revelation and leader of group G, the Netherlands showed on the field all their potential and shared the lead of the group with another surprising team, Norway, which, not to be outdone, beat Gibraltar 5-1 at home.
Led by a stupendous Memphis Depay, author of three goals and one assist, the Netherlands had no trouble in bringing the Turkish national team back to reality.
The orange team led by the historic Louis Van Gaal literally overpowered Turkey with Memphis Depay, who despite his young age has already equaled Cruyff's record as the eighth all-time scorer of his country with 33 goals and has found in Klaassen his ideal partner. To play and to score goals. That is no mean feat with the future ahead of him.
France returned to the triumph clearing some previous doubts with their 2-0 win against Finland, the same result recorded in favor of Russia in their match against Malta and Slovakia against Cyprus.
Portugal -without Cristiano Ronaldo- defeated Azerbaijan 3-0, Scotland continued its free fall by losing 1-0 against Austria, while Bonia-Herzegovina and Kazakhstan drew 2-2, while Ireland and Serbia ended 1-1.

En un post anterior les hablaba sobre la incertidumbre del seleccionado nacional de Países Bajos que no lograba exprimir todo su potencial en el campo de juego.
Como sucedió durante el transcurso de esta semana con otros seleccionados como España, Alemania y Polonia, las goleadas volvieron a las eliminatorias europeas rumbo al Mundial de fútbol de Qatar 2022 recordando viejos tiempos.
Aquellos tiempos en que los equipos considerados favoritos los grandes goleaban a los más débiles y se postulaba seriamente para ganar el título.
Otra goleada fue la de Dinamarca que sigue confirmando su excelente momento futbolístico demostrado en la última Eurocopa y postulándose, hasta el momento, como la mejor selección de las eliminatorias europeas. Esta vez la "víctima" fue Israel que en la jornada anterior había goleado a Austria por 5 a 2. Después del agónico triunfo contra el equipo de Islas Feroe, substituyendo varios jugadores del once habitual para darles descanso, su directtor técnico Kasper Hjulmand volvió a poner a los once titulares, sin los lesionados Braithwaite y Dolberg, e igualmente golearon a Israel. La goleada por 5 a 0 ya estaba definido al terminar el primer tiempo cuando se retiraron al descanso con una ventaja parcil de 3 a 0 para los daneses.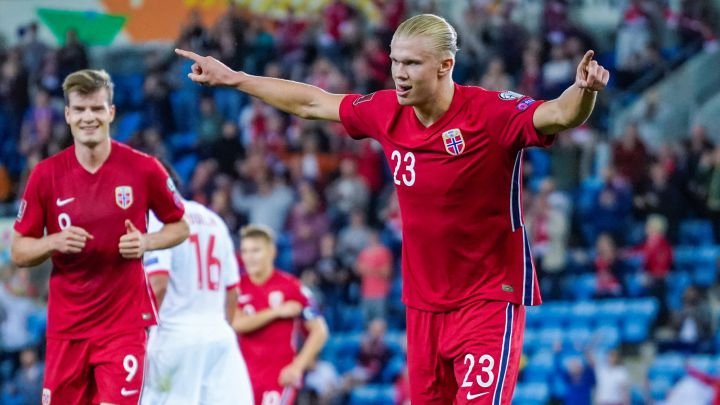 Con un triplete de Haaland Noruega goleó a Gibraltar y comparte la punta de su grupo con Países Bajos.
Sobretodo, y volviendo a Países Bajos, porque tiene un plantel de jugadores jóvenes, de real valía, entre los que se destaca la nueva estrella del Barcelona, Memphis Depay.
Y bien en el partido nada menos que contra Turquía, hasta ese momento la revelación y líder del grupo G Paises Bajos demostró en el campo de juego todo su potencial y comparte la punta del grupo con otro nomenos sorprendente Noruega que para no ser menos goleó por 5 a 1 a Gibraltar jugando como local.
Guiados por un estupendo Memphis Depay autor de tres goles y una asistencia, Países Bajos no tuvo problemas en reportar el seleccionado de Turquia a la realidad.
La selección naranja dirigida por el histórico Louis Van Gaal pasó por arriba literalmente a Turquia con un Memphis Depay que no obstante su joven edad ya igualó el récord de Cruyff como octavo goleador histórico de su país con 33 goles y ha encontrado en Klaassen su socio ideal. Para jugar y para convertir goles. No es poco con todo el futuro que tiene por delante.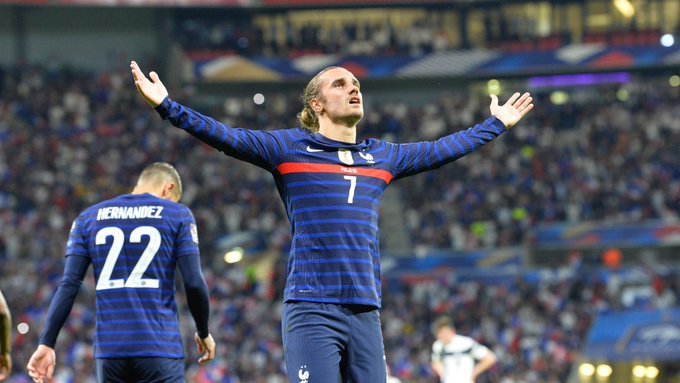 Francia ganó gracias a un doblete de Antoine Griezmann
Francia volvió al triunfo despejando algunas dudas anteriores con su 2 a 0 frente a Finlandia, igual resultado registrado a favor de Rusia en su encuentro contra la selección de Malta y de Eslovaquia frente a Chipre.
Portugal -sin Cristiano Ronaldo- derrotó por 3 a 0 a Azerbaiyán, Escocia sigue en caída libre al perder por 1 a 0 frente a Austria mientras que Bonia y Hergovina y Kazajistan empataron 2 a 2, mientras Irlanda y Serbia terminaron 1 a 1.

---
---