[ESP/ENG] En busca de lo mejor y así ser los ganadores/In search of the best and thus to be the winners.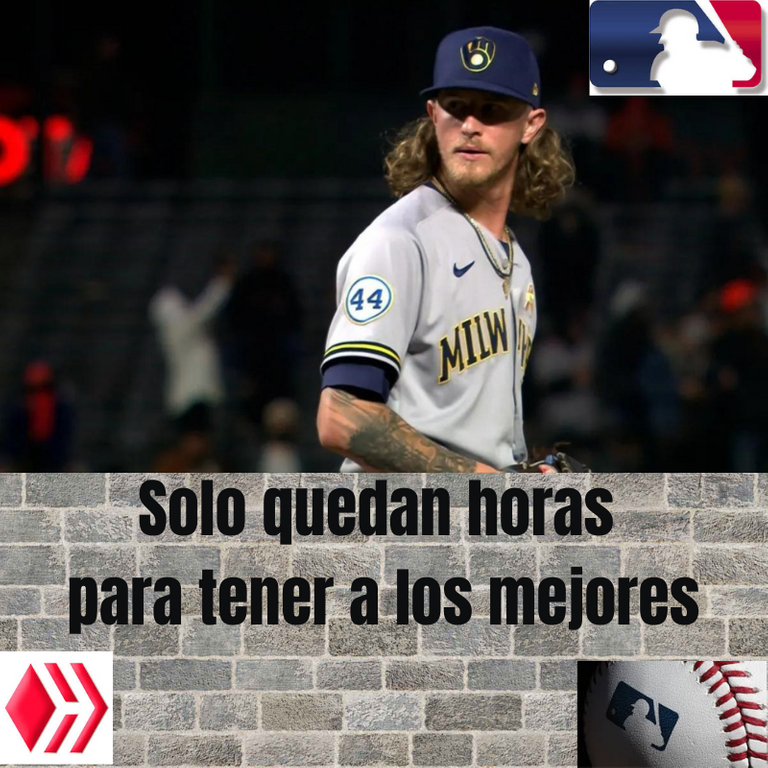 Fuente de la foto usada para la elaboración de esta publicación


Ya hemos entrado al mes de agosto y el tiempo para hacer los cambios sin mayor exigencia, está llegando a su final, equipos que hasta el viernes eran considerados como contendientes y quizás compradores, el día de hoy aparecen como vendedores, es decir han puesto a una serie de peloteros como disponibles, como lo es el caso de los Gigantes de San Francisco, en la lista de disponibles resaltan nombres como el pícher Carlos Rodón y del Jardinero y bateador zurdo, Joc Pederson, ambos jugadores pueden aportar muchísimo en conjuntos con aspiraciones campeoniles.
Durante el fin de semana se dieron algunos movimientos y tal como se los comente en anteriores publicaciones Tampa se hizo de los servicios de un jardinero que además de defensa, les agrega poder ofensivo, se trata del Venezolano David Peralta, que paso de las Cascabeles de Arizona, por jugadores de ligas menores a Tampa, al parecer este no será el único movimiento que realice el equipo de la Florida, hasta el día de ayer, quienes más se habían movido en el mercado de cambios en las grandes ligas, eran los conjuntos de New York, tanto Mets como Yankees han estado muy activos y creo que esa será la tendencia por lo menos hasta cumplirse el plazo que es hasta mañana 2 de agosto.
Los peloteros de posición que más resaltan en la lista de disponibles, es Juan Soto, Nelson Cruz, Josh Bell y yo agregaría a el segunda base Cesar Hernández, estos cuatro jugadores pertenecen a los Nacionales de la ciudad capital de los Estados Unidos, Washington, otros jugadores que son muy buscados por los equipos en lucha a jugar la post-temporada, Wilson Contreras, Ian Happ de los Cachorros de Chicago, J.D. Martínez de las Medias Rojas de Boston, y Bryan Reynolds quien hasta los momentos pertenece a los Piratas de la ciudad de Pittsburgh, peloteros que realmente con su llegada a cualquier equipo le pueden cambiar la cara y llevarlos al tan ansiado título.

We have already entered the month of August and the time to make changes without major demands, is coming to an end, teams that until Friday were considered as contenders and perhaps buyers, today appear as sellers, that is, they have put a number of players as available, as is the case of the San Francisco Giants, in the list of available players stand out names like Carlos Rodon and left fielder and left-handed hitter, Joc Pederson, both players can contribute a lot in teams with championship aspirations.

During the weekend there were some movements and as I commented in previous publications Tampa acquired the services of an outfielder who in addition to defense, adds offensive power, this is the Venezuelan David Peralta, who went from the Arizona Rattlers, for minor league players to Tampa, Apparently this will not be the only move made by the Florida team, until yesterday, those who had moved the most in the market of changes in the big leagues, were the New York teams, both Mets and Yankees have been very active and I think that will be the trend at least until the deadline which is until tomorrow August 2.

The position players that stand out in the list of available players are Juan Soto, Nelson Cruz, Josh Bell and I would add second baseman Cesar Hernandez, these four players belong to the Nationals of the capital city of the United States, Washington, other players who are highly sought after by the teams fighting to play the post-season, Wilson Contreras, Ian Happ of the Chicago Cubs, J. D. Martinez of the Boston Red Sox, and Bryan Reynolds who so far belongs to the Pittsburgh Pirates, players who can really change the face of any team with their arrival and lead them to the long-awaited title.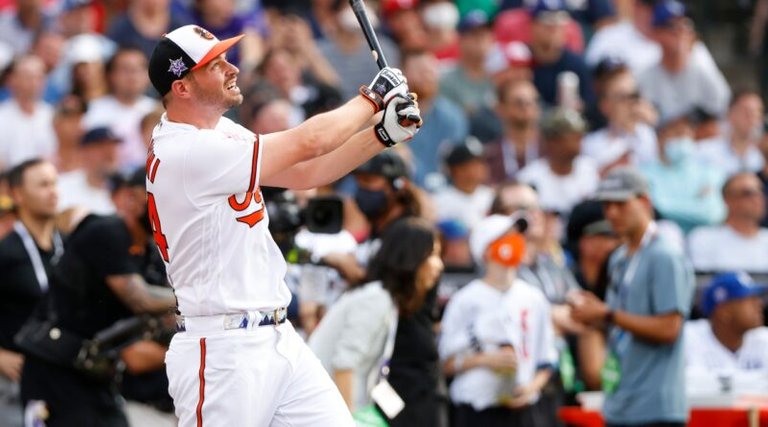 fuente de la fotografia usada, Trey Mancini
El día de hoy se han intensificado las transacciones en la MLB, el pícher zurdo lanza llamas y quien hasta hoy pertenecía a los Cerveceros Josh Hader, paso de manera inesperada a los Padres de San Diego por cuatro peloteros de bajo perfil, pero que pueden ayudar de buena manera a los Cerveceros, un equipo que está de puntero en la división central a nadie le pasaría por la cabeza que cambiaría a su cerrador, pero todo a punta que es una estrategia de la directiva, ya que Hader en la próxima temporada será agente libre, cuidado y los lúpulosos hacen lo que los Yankees hicieron en la temporada del 2012, cuando cambiaron a Chapman a los Cachorros y al año siguiente le dieron un nuevo contrato.
Un cambio que Prácticamente estaba cantado era el de los Yankees y el de los Atléticos, Frankie Montas paso a los de New York hace muy pocas horas, con esto el equipo de la gran manzana compensa lo de la perdida de Luis Castillo que paso a los Marineros el paso viernes, Montas al igual que Castillo es de la República Dominicana, tocando el tema del cambio que realizo los Marineros y el equipo de los Rojos, me parece que dieron mucho por el lanzador derecho, 4 Prospectos por un lanzador que seguramente se va a ir a otro equipo en la temporada que viene, eso sin duda va a elevar el precio de su compatriota Juan Soto, que según los especialistas, está muy cerca de llegar a un acuerdo con los Padres de San Diego.
Otro Cambio que se dio en horas de la tarde de este lunes, ha sido el de Trey Mancini, quien paso a los Astros de Houston, con la llegada de Mancini, se da por cerrada la posibilidad de que Wilson Contreras llegue a los siderales, con su adquisición Houston soluciona un problema en la posición 2 del juego y agrega un bate más a la ya gran alineación ofensiva que tienen, parece que ahora buscaran fortalecer su cuerpo de relativistas intermedios y un lanzador que pueda ayudar a su cerrador, tanto los Yankees, como los Astros, se ven sumamente sólidos con los movimientos que están realizando y parece que van a dominar de punta a punta sus divisiones.

Today transactions have intensified in the MLB, left-handed pitcher Josh Hader, who until today belonged to the Brewers, unexpectedly went to the San Diego Padres for four low-profile players, but that can help the Brewers in a good way, a team that is in the lead in the Central Division, nobody would think that they would change their closer, but it seems that it is a strategy of the management, since Hader will be a free agent next season, watch out and the Brewers do what the Yankees did in the 2012 season, when they traded Chapman to the Cubs and the following year gave him a new contract.

A change that practically was sung was the Yankees and the Athletics, Frankie Montas went to New York a few hours ago, with this the team of the big apple compensates for the loss of Luis Castillo who went to the Mariners on Friday, Montas like Castillo is from the Dominican Republic, Touching on the subject of the change that the Mariners and the Reds team made, it seems to me that they gave a lot for the right-handed pitcher, 4 prospects for a pitcher who will surely go to another team next season, that will certainly raise the price of his compatriot Juan Soto, who according to specialists, is very close to reaching an agreement with the San Diego Padres.

Another change that took place this Monday afternoon was that of Trey Mancini, who moved to the Houston Astros, with the arrival of Mancini, the possibility of Wilson Contreras joining the Astros is closed, with his acquisition Houston solves a problem in the position 2 of the game and adds one more bat to the already great offensive lineup they have, It seems that now they will be looking to strengthen their middle reliever corps and a pitcher that can help their closer. Both the Yankees and the Astros look extremely solid with the moves they are making and it seems that they will dominate their divisions from start to finish.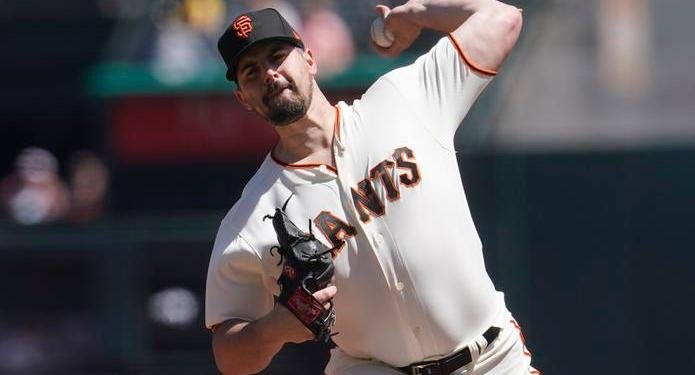 fuente de la foto, Carlos Rodon
A tan solo unas 24 horas para que se cierre el mercado de cambios, hay una gran cantidad de buenos lanzadores disponibles, Pablo López quien pertenece a Miami, el Colombiano y lanzador zurdo, Jose Quintana, quien es ficha de los Piratas, Jorge López de Baltimore, Martin Pérez de Texas, David Robertson de los Cachorros de Chicago, Tyler Mahle de los Rojos, son brazos que están teniendo una gran temporada y están más que probados en las grandes ligas, yo haría una excepción en el caso del pícher zurdo nacido en Venezuela, les hablo de Martin Pérez que dudo que salga de Texas, ya que ellos pregonan estar en una etapa de reconstrucción y que será a corto plazo, pero bueno esto es un negocio y todo puede pasar.
Hasta los momentos que estoy realizando este artículo, los Yankees de New York son sin duda alguna el equipo que mejor se ha reforzado, pero por ahí vienen Padres, Dodgers y Mets, nombro estos tres equipos porque nos tienen acostumbrados a realizar grandes cambios y casi siempre ya finalizando la fecha límite, creo que como se han dado las cosas Wilson Contreras va a parar a los Mets, mientras que San Diego y los Ángeles, estarán batallando por Soto, Josh Bell debería quedar en la Nacional y seguramente Nelson Cruz ira a la Americana, quizás con unos viejos conocidos como Tampa.
Otro pelotero que podría repetir con un equipo es Joc Pederson, con los Bravos de Atlanta, eso le daría casi que un puesto fijo en instancias finales a los Bravos, J.D. Martínez, es posible que vaya a los Dodgers, todo esto si ellos no consiguen quedarse con Juan Soto, un bate de poder como el de Martínez le da profundidad a los Ángeles, ahora esperemos las sorpresas que seguramente van a llegar con cambios que ni en sueños los esperamos, por acá estaremos pendiente para analizar cada movimiento que se haga.

With only 24 hours left until the trade market closes, there are a lot of good pitchers available, Pablo Lopez who belongs to Miami, the Colombian and left-handed pitcher, Jose Quintana, who is signed by the Pirates, Jorge Lopez of Baltimore, Martin Perez of Texas, David Robertson of the Chicago Cubs, Tyler Mahle of the Reds, are arms that are having a great season and are more than proven in the big leagues, are arms that are having a great season and are more than proven in the big leagues, I would make an exception in the case of the Venezuelan-born left-handed starter, I am talking about Martin Perez who I doubt that he will leave Texas, since they claim to be in a rebuilding stage and that it will be in the short term, but well this is a business and anything can happen.

Up to the moment I am writing this article, the New York Yankees are undoubtedly the team that has been reinforced the best, but the Padres, Dodgers and Mets are coming, I mention these three teams because they are used to make big changes and almost always by the deadline, I think that as things have been given Wilson Contreras will go to the Mets, while San Diego and the Angels will be battling for Soto, Josh Bell should stay in the National League and surely Nelson Cruz will go to the American League, perhaps with some old acquaintances like Tampa.

Another player that could repeat with a team is Joc Pederson, with the Atlanta Braves, that would give almost a fixed place in the final instances to the Braves, J.D. Martinez, it is possible that he goes to the Dodgers, all this if they do not get to keep Juan Soto, a power bat like Martinez gives depth to the Angels, now let's wait for the surprises that surely will come with changes that we do not expect, here we will be pending to analyze every move that is made.


---
---