[ESP/ENG] Se preparan nuevos viajeros con diferentes destinos./New travelers with different destinations are being prepared.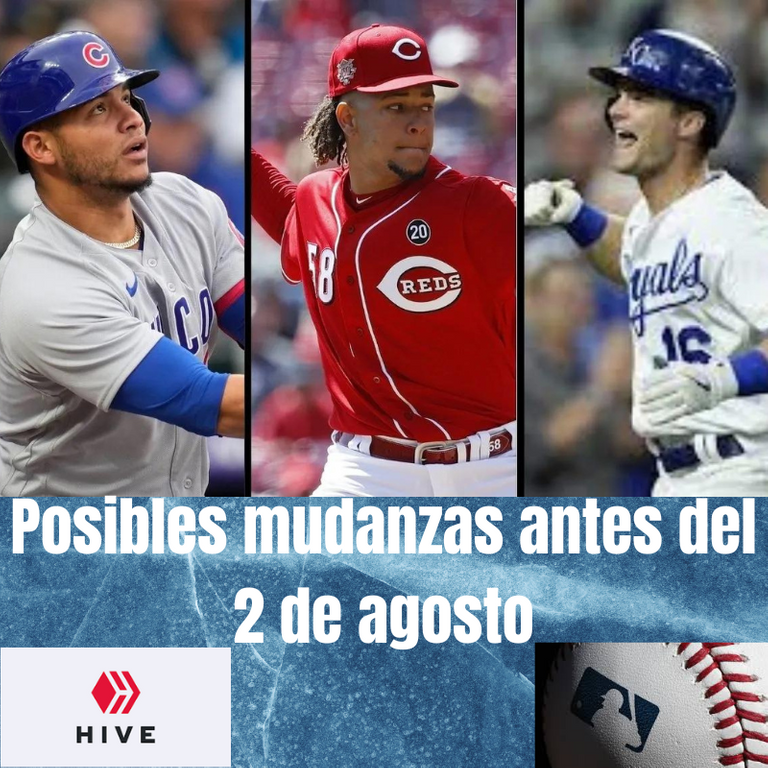 Fuente de la foto usada para esta publicación


Luego del juego de las estrellas, llega uno de los momentos más interesantes en las grandes ligas, y es que los equipos que están mejor posicionados en las diferentes divisiones buscan mejorar algunos aspectos de su juego para poder alcanzar la tan anhelada clasificación a la post-temporada.
Cosa que, por el contrario, sucede con los equipos alejados de los punteros, que por lo general tiran la toalla y buscan peloteros para el futuro a cambio de jugadores que le pueden aportar de manera inmediata a los que realmente están en la carrera por estar presentes en octubre.
En este 2022 podemos decir que los equipos que estarán más activos buscando reforzarse son: en la liga Americana, los Yankees, Tampa, los Azulejos, estos tres equipos en la división este, mientras que en la central seguramente estarán muy activos en el mercado de cambios, los Mellizos, Guardianes y Chicago.
Astros y Marineros harán lo mismo en su división del oeste, en donde se visualizan como los únicos que van a luchar por el pase a ser campeones divisionales y por uno de los puestos al comodín, muchos analistas han lanzado sus nombres a posibles adquisiciones por los diferentes equipos, y hay nombres de peloteros que verdaderamente llaman muchísimo la atención, por lo que representan en la actualidad en la MLB.

After the All-Star Game, comes one of the most interesting moments in the major leagues, as the teams that are better positioned in the different divisions look to improve some aspects of their game in order to reach the long-awaited qualification to the post-season.

On the other hand, the teams that are far from the leaders usually throw in the towel and look for players for the future in exchange for players who can immediately contribute to those who are really in the race to be present in October.

In this 2022 we can say that the teams that will be most active looking for reinforcements are: in the American League, the Yankees, Tampa, the Blue Jays, these three teams in the East Division, while in the Central League, the Twins, Guardians and Chicago will surely be very active in the trade market.

Astros and Mariners will do the same in their western division, where they are the only ones that will fight for the division championship and for one of the wild card spots. Many analysts have thrown their names to possible acquisitions by the different teams, and there are names of players that really call a lot of attention, because of what they currently represent in the MLB.

fuente de la foto Juan Soto
En la liga Nacional o viejo circuito, como se le conoce, los equipos que estarán involucrados con movimientos en los días por venir, serán: en el Este, Bravos de Atlanta, Mets de New York y Posiblemente los Philadelphia Phillies, mientras que en la central, los Cerveceros y Cardenales de San Luis, Dodgers, Padres y Gigantes harán todo lo posible por quedarse con los mejores peloteros en el Oeste de la liga antes mencionada.
Luego de rechazar un contrato de 450 millones de dólares, el Dominicano Juan Soto es la joya de la corona o el pelotero más codiciado, y creo que los nacionales van a buscar al menos 3 peloteros con categoría o que sean considerados prospectos, equipos como los Yankees, Dodgers, Mets y Padres han sonado con fuerza, pero el día de hoy apareció un nuevo interesado y según los especialistas es muy probable que los Cardenales de San Luis se hagan de los servicios del jugador de 23 años.
Mientras que el receptor de origen Venezolano, Wilson Contreras, estaría muy cerca de convertirse en un guardián, es que el conjunto que hace vida en la ciudad de Cleveland están muy interesado en el jugador y todo indica que se podría dar ese canje en las próximas horas, la careta nacido en Venezuela vive una muy buena temporada con los Cachorros de Chicago, lo que lo llevo a ser titular en el juego de las estrellas realizado la semana pasada en los Ángeles California.

In the National League or old circuit, as it is known, the teams that will be involved with moves in the days to come will be: in the East, the Atlanta Braves, New York Mets and possibly the Philadelphia Phillies, while in the Central, the St. Louis Brewers and Cardinals, Dodgers, Padres and Giants will do everything possible to keep the best players in the West of the aforementioned league.

After rejecting a contract of 450 million dollars, the Dominican Juan Soto is the crown jewel or the most coveted player, and I think the Nationals will look for at least 3 players with category or who are considered prospects, teams like the Yankees, Dodgers, Mets and Padres have sounded strongly, but today appeared a new interested party and according to experts it is very likely that the St. Louis Cardinals will get the services of the 23 year old player.

While the catcher of Venezuelan origin, Wilson Contreras, would be very close to becoming a keeper, is that the set that makes life in the city of Cleveland are very interested in the player and everything indicates that could be given that exchange in the coming hours, the Venezuelan-born mask lives a very good season with the Chicago Cubs, which led him to be a starter in the All-Star game held last week in Los Angeles California.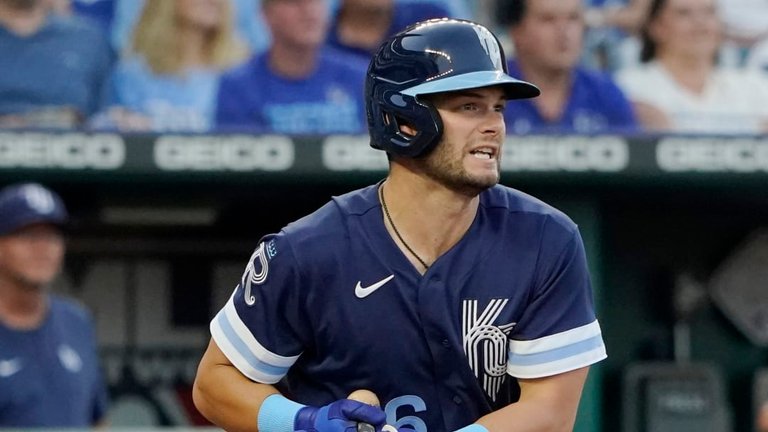 fuente de la foto Andrew Benintendi
Otro pelotero que está sonando desde hace semanas es el jardinero de los Reales de kansa City, Andrew Benintendi, es que los Yankees de New York han apretado mucho más por obtener al toletero, es que con la mala temporada que está teniendo Joe Gallo, es justo y muy necesario hacerse de los servicios de este pelotero que le daría estabilidad defensiva en los jardines y sería un plus adicional a la ya fuerte ofensiva de los mulos, aunque aparentemente su destino sería la gran manzana a veces se dan sorpresas y su destino podría cambiar.
El picheo es un tesoro muy apreciado en el desarrollo de cualquier juego de pelota, es por eso que hay dos buenos monticulistas en la mira de los equipos que siguen lucha, y ambos son de origen Dominicano, Frankie Montás y Luis Castillos, el primero pertenece a los Oakland Athletics y el segundo a los Rojos de Cincinnati, estos dos equipos están fuera de carrera prácticamente desde antes de iniciar la temporada y caerían de perla en equipos como los Marineros, Guardianes, Mellizos y Bravos de Atlanta, solo queda esperar cuál gerente general será mucho más agresivo a la hora de ofrecer peloteros.
Los Yankees aunque son candidatos no solo a estar en post-temporada, sino a ganar el clásico de octubre, seguramente serán vendedores, el caso de Gallo es fuerte sobre todo para la nómina, y para reducirla tendrán que buscar cambiarlo, lo difícil será encontrar interesados por la pésima campaña que el zurdo está teniendo, otro pelotero que seguramente saldría es Miguel Andújar, quien hace algunos años fue candidato al premio novato del año, pero lamentablemente hoy en día no tiene cabida en ese equipo, Gleiber Torres se adueñó de la segunda base, a mi parecer el de la República Dominicana ira a los Reales por Andrew Benintendi.
Dos peloteros que no hacen tanto ruido, pero que en definitiva van a salir del equipo de los Nacionales además de Soto, son Nelson Cruz y el inicialista Josh Bell, estos jugadores le aportarían a estos equipos contendientes, mucha fortaleza en el área ofensiva, conjuntos como Guardianes, Minnesota, Marineros y Tampa necesitan encender su ofensiva si piensan luchar contra Toronto, Yankees y Astros, que son equipos con ofensivas que están por encima del promedio, solo nos queda observar y analizar cada movimiento que hagan los equipos en estos días que quedan de julio y los dos primeros de agosto, para así saber quienes hicieron los mejores movimientos en pro de fortalecer a sus novenas..

Another player who is sounding for weeks is the outfielder of the Kansas City Royals, Andrew Benintendi, is that the New York Yankees have tightened much more to get the hitter, is that with the bad season that Joe Gallo is having, it is fair and very necessary to obtain the services of this player that would give defensive stability in the gardens and would be an additional plus to the already strong offense of the mules, although apparently his destination would be the big apple sometimes surprises happen and his fate could change. 

The pitching is a treasure very appreciated in the development of any ball game, that is why there are two good pitchers in the sights of the teams that continue to fight, and both are of Dominican origin, Frankie Montás and Luis Castillos, the first belongs to the Oakland Athletics and the second to the Cincinnati Reds, These two teams are out of the race almost before the start of the season and would fall pearl in teams like the Mariners, Guardians, Twins and Atlanta Braves, just wait which general manager will be much more aggressive when it comes to offer players.

Although the Yankees are candidates not only to be in the post-season, but to win the October Classic, they will surely be sellers, the case of Gallo is strong especially for the payroll, and to reduce it they will have to look to change it, the difficult thing will be to find interested parties for the lousy campaign that the left-hander is having, Another player that would surely leave is Miguel Andujar, who some years ago was a candidate for the rookie of the year award, but unfortunately today he has no place in that team, Gleiber Torres took over second base, in my opinion the Dominican Republic will go to the Royals for Andrew Benintendi.

Two players who do not make so much noise, but who will definitely leave the Nationals team in addition to Soto, are Nelson Cruz and starter Josh Bell, these players would bring to these contending teams, much strength in the offensive area, teams like Guardians, Minnesota, Mariners and Tampa need to turn on their offense if they plan to fight against Toronto, Yankees and Astros, which are teams with offenses that are above average, we can only observe and analyze every move made by the teams in these remaining days of July and the first two days of August, in order to know who made the best moves to strengthen their teams. 


---
---