MOMENTO DE PREMIACIÓN: GANADORES DEL CY YOUNG 2021 EN LA MLB. || AWARD MOMENT: 2021 CY YOUNG MLB WINNERS.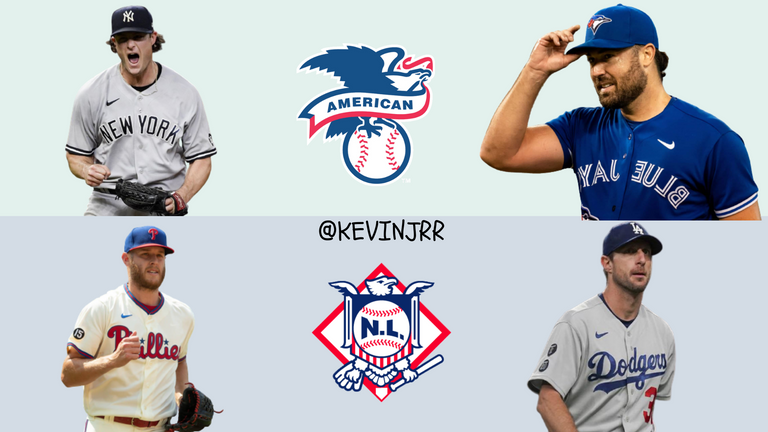 El Cy Young es un premio honorífico para el considerado lanzador más dominante de su liga cada año, entregado por la BBWAA y con el fin de premiar a la excelencia, está campaña que terminó dejó a 3 finalistas por liga para un total de 6 posibles ganadores, nombres que ya se repiten como Cole o Scherzer se enfrentan a debutantes como Ray o Burnes, que son choques de estilos que colocan certamen aún más interesante, las votaciones ya se realizaron y ahora es momento de repasar los ganadores.
The Cy Young is an honorary award for the considered most dominant pitcher in his league each year, given by the BBWAA and in order to reward excellence, this campaign that ended left 3 finalists per league for a total of 6 possible winners , names that are already repeated like Cole or Scherzer face debutants like Ray or Burnes, which are clashes of styles that make the contest even more interesting, the votes have already been carried out and now it is time to review the winners.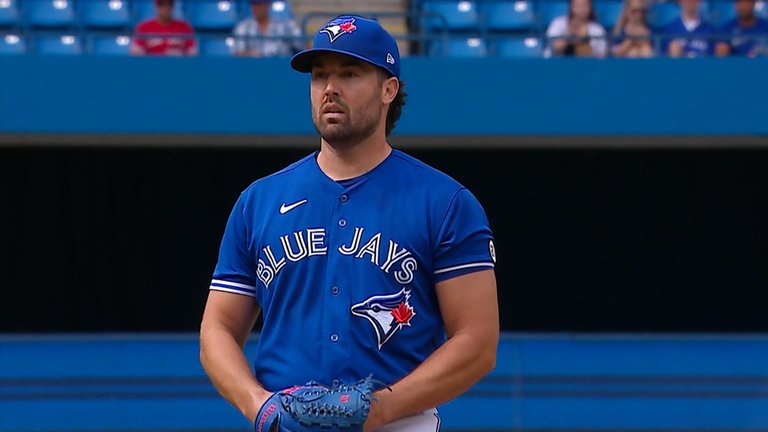 LIGA AMERICANA: ROBBIE RAY - TORONTO.
El norteamericano acaba de marcar uno de los mejores cambios estadísticos de una temporada a otra, en el 2020 fue un año difícil para todos, pero sobre todo para Ray que no se pudo encontrar y sentirse cómodo en la lomita, una efectividad conjuntas entre Arizona y Toronto superior a 5.30 y un WAR de -0.2 dejando un récord de 2-5, por el contrario este 2021 atinó con un buen control sobre los pitcheo y sus variaciones, comandó la liga americana en 7 departamentos distintos, en los cuales sobresale el WHIP de apenas 1.04 y el WAR, el cual alcanzó el rango de 6.7, un récord de 13-7 y una ERA llamativa de 2.84 fueron suficientes para llevarse el galardón individual por encima de Lance Lynn y el para algunos favorito Gerrit Cole.
American has just marked one of the best statistical changes from one season to another, in 2020 it was a difficult year for everyone, but especially for Ray who could not find himself and feel comfortable on the mound, a joint effectiveness between Arizona and Toronto superior to 5.30 and a WAR of -0.2 leaving a record of 2-5, on the contrary this 2021 he hit with a good control over pitching and its variations, commanded the American league in 7 different departments, in which the WHIP stands out. just 1.04 and WAR, which reached the 6.7 range, a 13-7 record and a striking 2.84 ERA were enough to take the individual accolade over Lance Lynn and some favorite Gerrit Cole.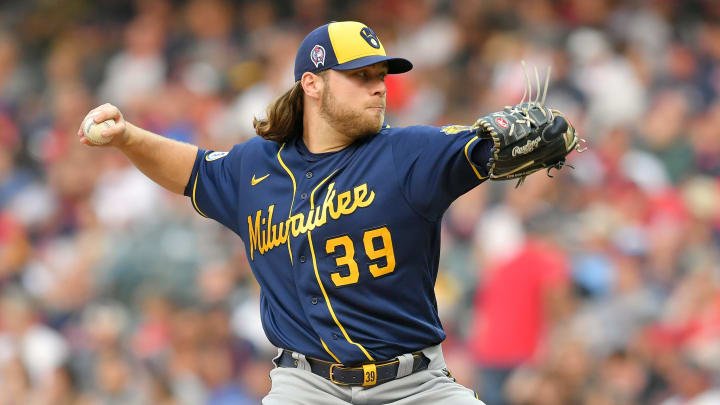 LIGA NACIONAL: CORBIN BURNES - MILWAUKEE.
Para muchos incluyéndome la sorpresa de la premiación, Corbin Burnes ganó el premio Cy Young de la liga nacional 2021 por encima de Mark Scherzer y Zack Wheeler los cuales tenian más "hype" en popularidad, el derecho de 27 años solo necesito 4 años de experiencia en la gran carpa para obtener el premio individual más deseado por cualquier pitcher, 11-5 y 2.43 fueron las estadísticas que arrojo está campaña, lo que realmente lo ayudó fue que terminó dentro de los 3 primeros en K/9, BB/9 y HR/9 en todas las mayores, un lanzador completo y dominante que doblegó a los bateadores en este 2021, con esto se convierte en la tercera persona que gana un premio Cy Young defendiendo el uniforme de los Brewers.
For many including the award surprise, Corbin Burnes won the 2021 National League Cy Young Award over Mark Scherzer and Zack Wheeler who had more "hype" in popularity, the 27 year old right only needed 4 years of experience. in the big top to get the most desired individual award by any pitcher, 11-5 and 2.43 were the statistics that he threw this season, what really helped him was that he finished within the top 3 in K / 9, BB / 9 and HR / 9 in all majors, a complete and dominant pitcher who outwitted hitters in 2021, becoming the third person to win a Cy Young Award defending the Brewers uniform.
Imagen de portada hecha en Canva.
Fuente. Fuente. Fuente. Fuente. Fuente. Fuente.
Cover image made in Canva.
Source. Source. Source. Source. Source. Source.

---
---