Messi Steps up when Needed the Most | Argentina Has Huge Chance of Topping Group C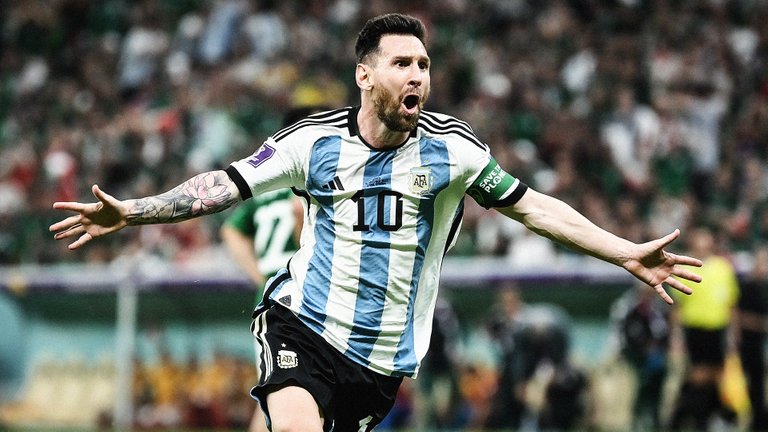 What a banger! Messi's celebration after a beautifully placed long-shot goal against Mexico, photo courtesy of Goal.com
That long range shot, outside the box, is probably one of the best goals we will see in this current World Cup edition. If you look at it closely, it was perfectly positioned to look like it's just rolling - No, it was hit by a strong inward force that was hit in a right spot in the ball that made it look like rolling. But mind you, the speed of that ball is too much to handle for Guillermo Ochoa, the famous Mexican stopper.
Argentina has two win their two fixtures against Mexico and Poland after that humiliating defeat against Saudi Arabia. This means that they will have to treat it like a final or a do-or-die match and this is why Messi is one of the greatest, if not the greatest footballer of all time. That goal was an art and there's only one goal that I can say was better than that, that Richarlison's bicycle kick against Serbia.
Messi steps up when the team needs goal and it happened on the 65th minute after that very risky pass of Di Maria from right flank to the middle. Messi, who was just standing outside the box took advantage of the sleeping/delayed defense and stuck at the very last of the right bottom-corner post. It was one hell of a shot! Argentina fans rejoiced the stadium and I bet the whole world was tuck in awe after that spectacular shot.
To be honest, I was really disappointed by their dismal display against Saudi Arabia. So I had to hold my expectations for Argentina to win because I don't wanna mourn watching live. I was not ready to be hurt and that was one of the mistakes I do as a fan. I should've watch the whole game and I'll probably be one of the people who rejoiced that beautiful goal that shocked the world. I am embarrassed because I realized a true fan is there not only during the good times but staying even during the hard times. So from now on, I will keep watching Argentina without any expectation - just here to enjoy the beauty football has to offer.

Group C, as it stands with the last match Poland/Argentina & Saudi Arabia / Mexico
Because of the Mexico-Poland tie, it gives Argentina a perfect position to still top the group after the opening defeat. If they can win their match against Poland, this will give them 6 points, with Poland 4 and Mexico 3 (assuming they beat Saudi Arabia). If the Arabians manage to salvage the 3 points against Mexico, I believe it will still be not enough because the way tie-breakers are managed will base on the goal difference, not head-to-head matches between teams. That means Argentina needs to win their group to avoid facing France in the knockout stages. They will possibly face Australia or Denmark (depending on the winner of their fixture) and that is more comfortable for Argentina than France, who really look so deadly in their line up and form.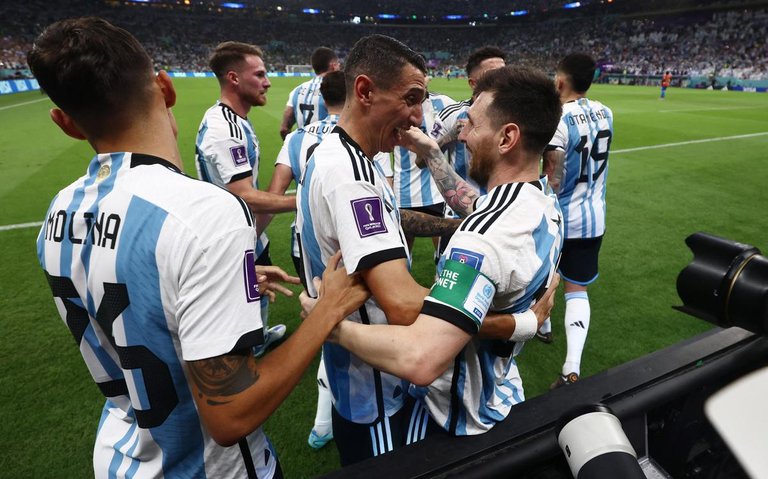 This team will strive. Argentina celebrates with Messi after assisting that beautifully driven long-range shot, a photo courtesy of Sports Hindu
There's still a lot to happen. Argentina can still be knocked off if they fail to win or at least salvage a point against Poland. Remember that polish team has Lewandowski, who has hurt Messi a lot in the Champions League, facing consecutive defeats. The match against Saudi Arabia was an eye-opener that they do not need to be comfortable of the media attention they are getting but rather be humbled and face every opponent with respect and hunger to win.
What do you think about that match? Was it one of the best moments of this world cup? Tune in for more World Cup updates.

Posted using SportsTalkSocial
---
---