Deanna Stellato-Dudek
Deanna Stellato-Dudek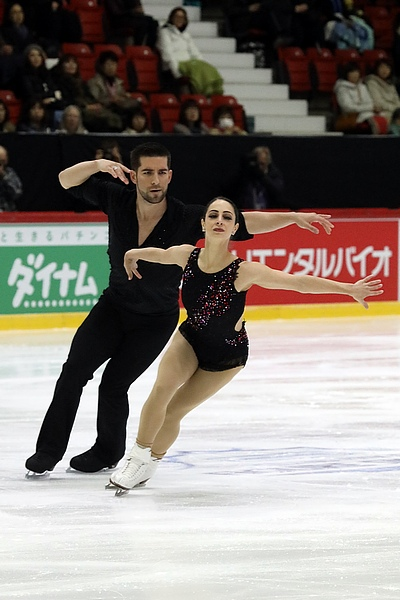 Link
Sport and life in general usually give you revenge, it's just knowing how to take that second chance and be prepared for it.
Deanna Stellato-Dudek is a Canadian athlete who has managed to make history by becoming the oldest athlete to win the Grand Prix, at the age of 39.
But Deanna's story is one of overcoming. Overcoming long and tough injuries to win the gold medal is something to be admired.
Back in the distant year 2000, Deanna won the silver medal in the youth category, which looked like she could make a laureate career in skating, until a hip injury caused her to retire from skating a year later.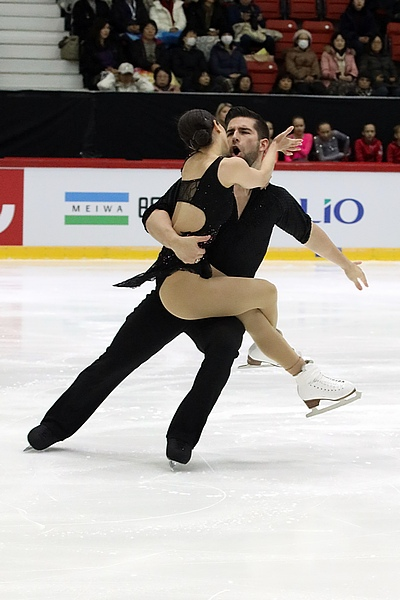 Link
Fifteen years had to pass for Deanna to smile again inside the skating rinks, fifteen years to return to do what she loves the most. Deanna came back strong and determined to prove that she is still going strong in the sport.
Stellato-Dudek apparently injuries are just a bad memory in the Canadian's career, because as I said she has managed to win the Grand Prix as a couple and has qualified to the most exclusive event of the sport, which only chooses the best 6 for each discipline.
Deanna Stellato-Dudek is 39 years old and that makes her the oldest athlete to win a Grand Prix. Staying alive at that age is undoubtedly a great achievement, even though she had been inactive for more than 15 years.
If injuries and if Deanna stays healthy, she will be representing Canada at the next winter games, the world championships in Japan 2023, and Milan 2026.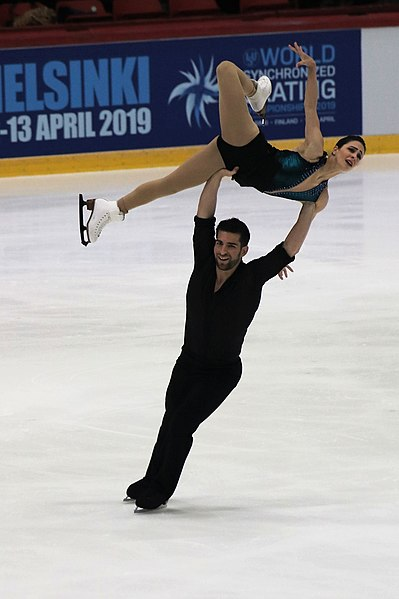 Link
The dream of competing for Canada at the Olympics is alive and well in Stellato-Dudek who is confident of obtaining Canadian citizenship by that date.
Although she spent a lot of time away from the ice rinks Stellato-Dudek always kept in shape, working out and working her body which, in a way explains why she was able to be jumping from day one of her return.
Stories like Deanna's sometimes make us realize that age is just a number and many times you can be like a good wine, the older the better.
An Olympic medal or even world championships look however, in my opinion, quite difficult because it is true and I do not want to contradict what I just said, but Stellato-Dudek will be 42 years old for Milan, which would make her the oldest athlete for many years.
For a sport that is dominated mostly by young people in their 20's what this woman has achieved is certainly admirable.
Deanna's biggest challenge now is to compete against age itself and the unforgiving father time.
Her detractors who claim that she will not be able to compete against girls in their 20's is the last thing she should pay attention to.
For now Deanna has just proven that you can be current in what you love, no matter how old you are.
Translated with www.DeepL.com/Translator (free version)

Deanna Stellato-Dudek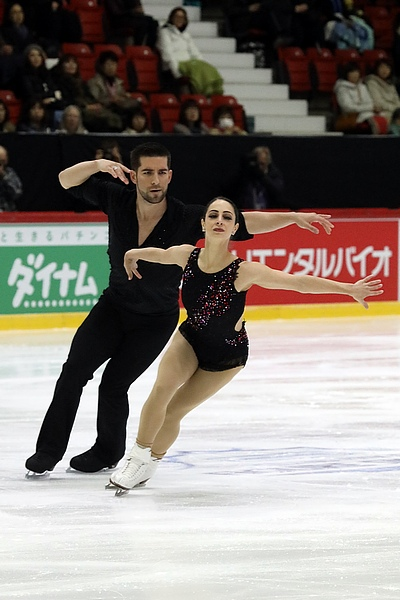 Link
El deporte y en general la vida te suelen dar revanchas, solo es saber tomar esa segunda oportunidad y estar preparado para ella.
Deanna Stellato-Dudek es una atleta canadiense que ha conseguido hacer historia, al lograr convertirse en la atleta de mayor edad en ganar el Gran Prix, a la edad de 39 años.
Pero la historia de Deanna está marcada de superación. Superar lesiones largas y duras para lograr la medalla de oro, es algo que es digno de admirar.
Por allá en aquel lejano año 2000 Deanna ganó la medalla de plata en categoria juvenil, con ello pintaba que podía hacer una laureada carrera en el patinaje, hasta que una lesión en la cadera hiciera que se retira del patinaje un año más tarde.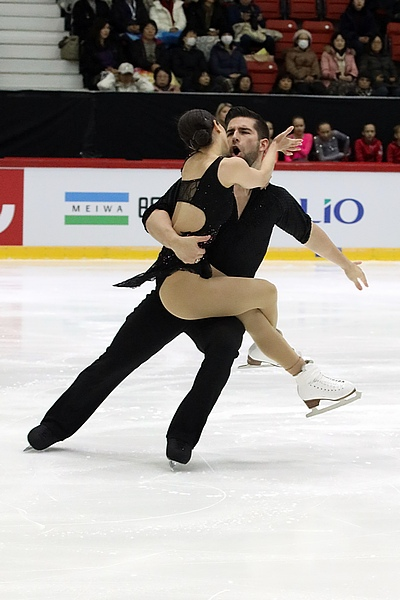 Link
Quince años tuvieron que pasar para que Deanna volviera a sonreir dentro de las pistas de patinaje, quince años para volver hacer lo que más le gusta. Deanna volvió fuerte y decidida a demostrar que todavía está vigente en el deporte.
Stellato-Dudek al parecer las lesiones son solo un mal recuerdo en la carrera de la canadiense, pues como dije ha conseguido ganar el Gran Prix en pareja y se ha calificado al evento más exclusivo del deporte, que solo escoje a los mejores 6 por cada disciplina.
39 años de edad es lo que tiene Deanna Stellato-Dudek y eso la convierte en la atleta de mayor edad en ganar un Grand prix. Mantenerse vigente a esa edad es sin dudas un gran logro, aun sabiendo que habia estado inactiva por más de 15 años.
Si las lesiones y si Deanna se mantiene sana, estará representando a Canada en los proximos juegos de inviernos, en el campeonato mundial en Japón 2023, y en Milan 2026.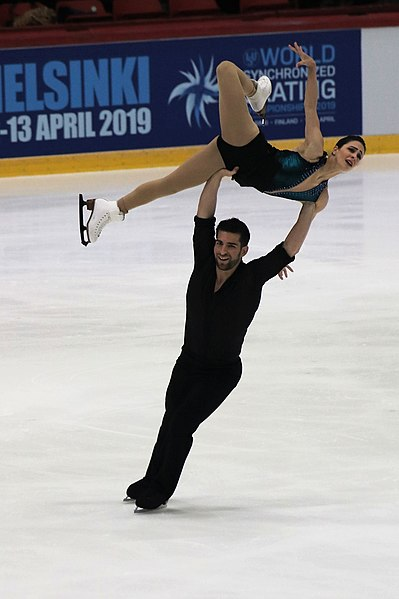 Link
El sueño de competir por Canadá en los Juegos Olímpicos está vigente en Stellato-Dudek quien confía en obtener la ciudadanía canadiense para esa fecha.
Aunque pasó mucho tiempo alejada de las pistas de hielo Stellato-Dudek siempre se mantuvo en forma, haciendo ejercicios y trabajando su cuerpo lo que, de algun modo explica que pudo estar dando saltos desde el primer día de su regreso.
Con historias como la Deanna a veces nos hace ver que la edad es solamente un numero y muchas veces se puede ser como un buen vino que en entre más añejo mucho mejor.
Una medalla olimpica o incluso campeonatos mundial se ven sin embargo, a mi forma de ver, bastante dificiles pues es verdad y no me quiero contradecir con lo que acabo de decir, pero Stellato-Dudek tendrá 42 años de edad para Milan, lo que la haría en la atleta mas vieja desde hace muchos años.
Para un deporte que está dominado en su mayoria por jovenes que están en sus 20´s lo que ha conseguido esta mujer es sin duda admirable.
El mayor reto que ahora tiene Deanna es competir contra la edad misma y contra el padre tiempo que no perdona.
Los detractores de ella que alegan que no podrá competir contra chicas de 20 años es a lo que menos debe de poner atención.
Por ahora Deanna acaba de demostrar que se puede estar vigente en lo que amas, no importando la edad que tienes.
---
---