The Blockchain Chess Team goes to a higher level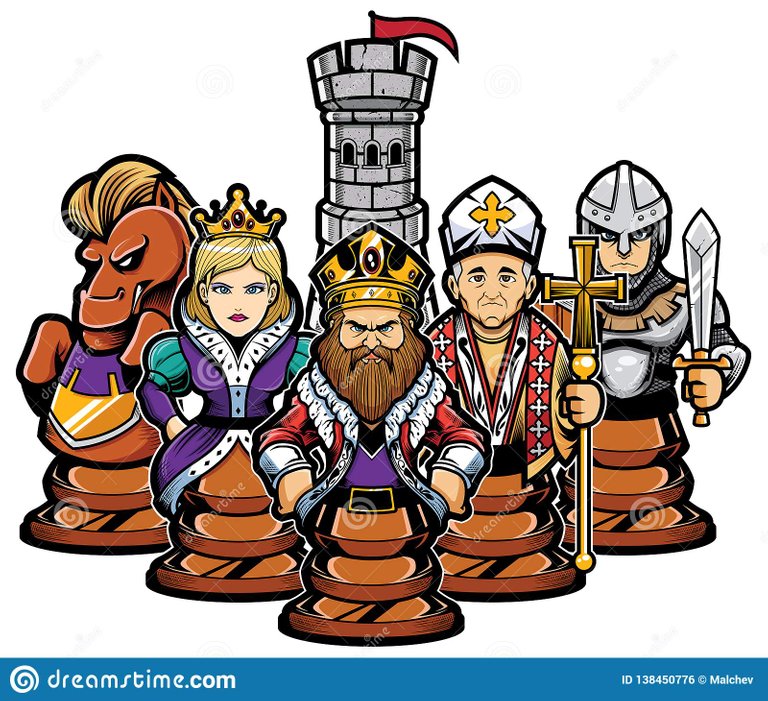 Source: dreamstime.com


Hive team started from the level called "Lichess Liga 12B". And we passed the first test with flying colors!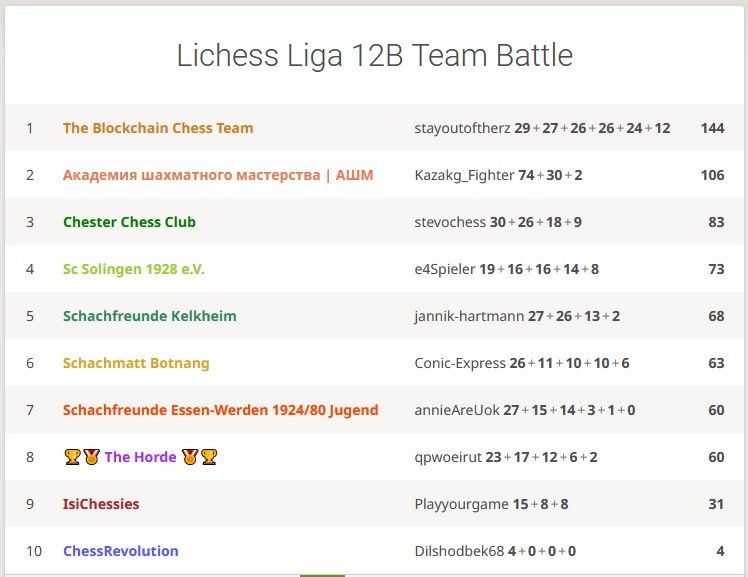 My contribution was very modest (politely said):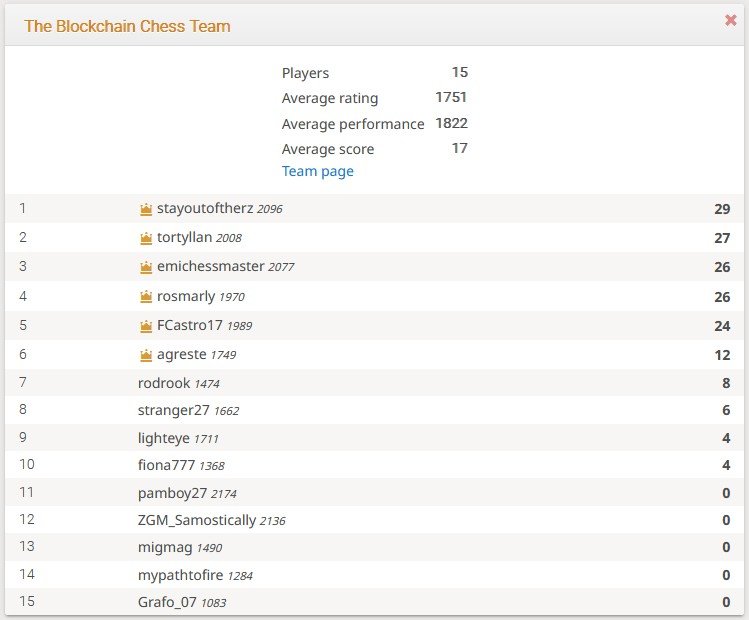 But that was because of 3+0 time control, which is basically for me more about a mouse wrestling than about chess. Good news are that at the next level, in the Lichess Liga 11B, we have 3+2 time control, which is giving some chance for a sensible play 😉
The rules:
Everybody in our Lichess team can join using the link to the tournament (pick our team if asked 😃, in case you are part of multiple teams)
A win collects 2 points for our team, a draw 1
Only the results of the 6 best contributors of each team are counted in this liga (but all skill levels are important, because each win means potentially less points for the other teams!)
Every Thursday and Sunday are tournaments
The links to the upcoming tournaments are – dependent on our result – already provided in the description of the tournament itself and also on our team page!


In the first round team performance was 71 ELO points above average rating, and @stayoutoftherz lead the Team as a true Captain, making the best result according to his rating. He was closely followed by @dhilan04, @emic, @rosmarly, @fcastro177, and with a significant contribution from @agreste in the top six.
But for the higher levels we will have to have our strongest players in the team: @maestroask? @sawko? @eniolw? @jaki01? @tony1294? @samostically? Anybody free on Thursday 20:00?
Come on, press that clock!

---
Hivechess Tournaments
---
This post might be interesting for:
! [Mention List]
Potentially of interest to:
@aakrist @abimbola753 @acidtiger @agreste @aiuna @alucian @artsbreezy01 @ajumaa @alan8a @alberto0607 @alexmag1988 @almightymelon @alpha @ambarvegas @amirl @anadello @andzhi @anli @anomadsoul @apy @arsenal49 @artistparthoroy @astrolabio @awesomeintrigue @b0s @behiver @beyondhorizonmm @bitsignal @burnoutawesome @camiloferrua @cerati @chacald.dcymt @chessbrotherspro @chesthetica @clixmoney @cryptogee @cryptoniusraptor @cryptoph0823 @cryptopi314 @dhilan04 @darruiz @diegofitness92 @digitalis @ebingo @eliaschess333 @elprofe62 @emeka4 @emic @eniolw @eenriquerivas @engilhramn @evgsk @fcastro177 @fiona777 @fairy-of-comfort @fjcr @flaws @foxconnmars @franciscomarval @franu @gabotask @giacomone @gingerbyna @grafo07 @hannes-stoffel @heimindanger @herz-ass @hierro21 @hirohurl @hive-129589 @hivetrader @iamchessguy @iammanythings1 @ibizaki @iceblue @iobates @ironshield @jaki01 @jesusmgl1995 @jesustiano @jkms @johannesboldt @johannfrare @josesmoke @juanmi96 @justfavour @kaungsett8388 @kintokris @kreur @levitant @lighteye @lofone @lucianosky @maciejficek @maestroask @manuel6 @marcusantoniu26 @mario89 @masterswatch @maverieux000 @meedo @mister-omortson @memess @mrsarri @mstafford @mundocuriosidad @mypathtofire @nerdvana @nftland1989 @nikoszzz @oadissin @officialrosh1 @olujay @omonomo @orlanzavala @oshiokhenhoya @pamboy27 @parung76 @perpz @petreius @philipp87 @pokerarema @pokermaria @pravesh0 @primersion @ptmaker @rafaelaquino @rafzat @razzor @renerondon @rexplanet @rheda @rodrook @ropavejero @rosmarly @salomijale @samostically @sanjamkapoors @sawko @schamangerbert @schnitte @soluce07 @solymi @spacetoon @stayoutoftherz @steamloled @steemychicken1 @stranger27 @svarogbg @syndmitrij @the01crow @thedoc07 @therealflaws @timix648 @timofey @tin.aung.soe @tony1294 @tungphong @uliseshb @vaipraonde @vasigo @victorbch2 @vjap55 @volkiceper @walner @wegflexor @wildthougts @xoflox @yazp @zacherybinx @ziabutt3836
---
* * *
Related texts / Повезани текстови: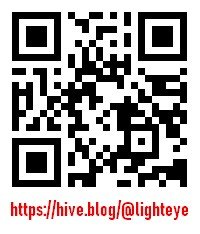 Check out ABRA and easily invest in 28 cryptocurrencies or BIT10, an index of the top cryptos. Use this link to sign up and get $25 in free bitcoin after your first Bank/Amex deposit, or 1.5% cash back when you exchange cryptos

1GZQG69sEKiMXKgGw9TcGcUCBoC4sC1ZYp
---
---