[ESP-ENG] Entrenamiento matutino de dorsales, aductores y core - Dorsal, adductor and core workout

---
¡Feliz sábado! Día de trabajo para muchos y día de descanso para otros, pero siempre siempre día de entrenamiento 😁
Mi sensei siempre nos ha dicho que si llegase a ocurrir una catástrofe, podríamos llegar a sobrevivir pues en el entrenamiento nos ha enseñado muchos movimientos que pueden llegar a salvarnos la vida, hoy incluyó en la rutina el monkey bar o pasamanos. Aunque cuando éramos niños parecía muy fácil, este es un ejercicio bastante exigente y se necesita fuerza en los brazos y el core para dominarlo, una vez que lo dominas puedes saltar de a dos barras o intercalarlo con dominadas.
El entrenamiento de hoy es especial para los dorsales, aductores y core, tiene una duración de 60 minutos e incluye ejercicios de autocarga utilizando el TRX y sobrecarga utilizando nuestra pesa rusa o también conocida como kettlebell.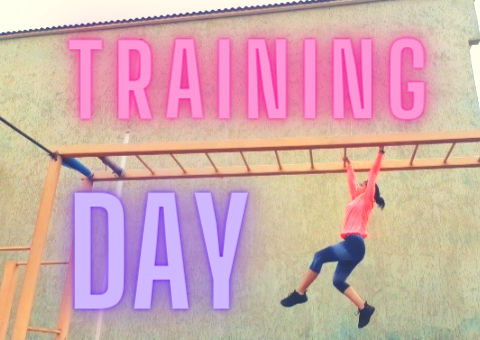 CIRCUITO DE AUTOCARGA
Dorsales
TRX: Remo bajo unilateral, 30rep de cada lado.
Salto de cuerda, 250rep
Core
TRX: Plancha, 60seg
Salto de cuerda, 250rep
Aductores
TRX: Combinación 2 sentadilla sumo bombeo + 2 sentadillas sumo completas, 30 series (la combinación de las 4 sería una serie)
Salto de cuerda, 250rep
CIRCUITO DE AUTOCARGA + SOBRECARGA
Dorsales
TRX: Dominada prono isométrica, 3x30seg
Kettlebell: Remo unilateral, 25rep de cada lado
Monkey bar, 1 serie
Core
TRX: Giro de rodillas, 50rep
Kettlebell: High pull swing, 25rep de cada lado
Monkey bar, 1 serie
Aductores
TRX: Sentadilla sumo + sentadilla, 30 series (la combinación de ambas sería una serie)
Kettlebell: Sumo squat, 50rep
Monkey bar, 1 serie
Cuando hablamos de ejercicios isométricos nos referimos a aquellos donde el músculo no se mueve pero igualmente trabaja pues está contraído, estos ayudan a generar mayor fuerza, por ejemplo, mantenerse en una sentadilla durante un tiempo determinado sin subir. La dominada prono isométrica sería mantenerse en la dominada durante los 30 segundos, luego descansar 15 segundos y repetir este procedimiento 3 veces.
Para los saltos de cuerda realicé elevación de talones debido a mi condición pero me emociona notar que cada día estoy mejorando, el día jueves logré trotar 10 minutos sin dolor así que pronto me verán trotar nuevamente 10k en 52 minutos 😁 ese fue el último tiempo que logré antes de mi operación. En la vida surgen obstáculos mas no impedimentos, puedo dar fe de esto cada día que entreno después de haber pasado 3 meses usando una andadera para poder caminar.
Abrazo virtual para todos ❤️

ENGLISH
Happy Saturday! Work day for many and rest day for others but always always always training day 😁.
My sensei has always told us that if a catastrophe were to happen, we could survive because in training he has taught us many movements that can save our lives, today he included in the routine the monkey bar or handrail. Although when we were kids it seemed very easy, this is a very demanding exercise and you need strength in the arms and core to master it, once you master it you can jump from two bars or alternate it with pull-ups.
Today's workout is especially for the lats, adductors and core, it lasts 60 minutes and includes self-loading exercises using the TRX and overloading using our kettlebell.
SELF-LOADING CIRCUIT
*Backs
TRX: Unilateral low rowing, 30rep each side.
Jump rope, 250rep.
*Core
TRX: Plank, 60sec
Jump rope, 250rep
*Aductors
TRX: Combination 2 sumo pump squat + 2 full sumo squats, 30 sets (combination of all 4 would be one set).
Jump rope, 250rep
SELF-LOAD + OVERLOAD CIRCUIT.
*Dorsals
TRX: Isometric prone pulldown, 3x30sec
Kettlebell: Unilateral rowing, 25rep on each side
Monkey bar, 1 set
*Core
TRX: Knee twist, 50rep
Kettlebell: High pull swing, 25rep each side.
Monkey bar, 1 set
*Adductors
TRX: Sumo squat + squat, 30 sets (combination of both would be one set).
Kettlebell: Sumo squat, 50rep
Monkey bar, 1 set
When we talk about isometric exercises we refer to those where the muscle does not move but still works because it is contracted, these help to generate greater strength, for example, stay in a squat for a certain time without rising. The isometric prone pull-up would be to stay in the pull-up for 30 seconds, then rest for 15 seconds and repeat this procedure 3 times.
For jumping rope I performed heel raises due to my condition but I am excited to note that I am improving every day, on Thursday I managed to jog 10 minutes without pain so soon you will see me jogging 10k again in 52 minutes 😁 that was the last time I achieved before my surgery. In life obstacles arise but not impediments, I can attest to this every day I train after spending 3 months using a walker to be able to walk.
Virtual hug to all ❤️

Traducción/Translation: DeepL translate
Desing: By myself using CANVA
Video: By myself
Audio: Fuente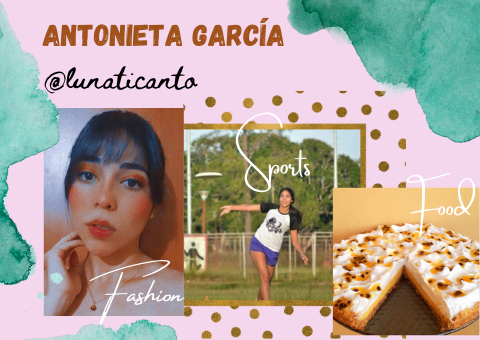 A walk through my mind
I write about the things I am passionate about, my beloved sport, delicious food that brings a smile to my face, traveling around my beautiful country and my research in fashion. I am a fashionista, sportswoman, foodie and petlover. I love working for my dreams and creating cool things with my hands but most of all I enjoy inspiring those around me to be their best version.

"Everything is created twice, first in the mind and then in reality " Robin Sharma.
---
▶️ 3Speak
---
---