Super League Final Four Results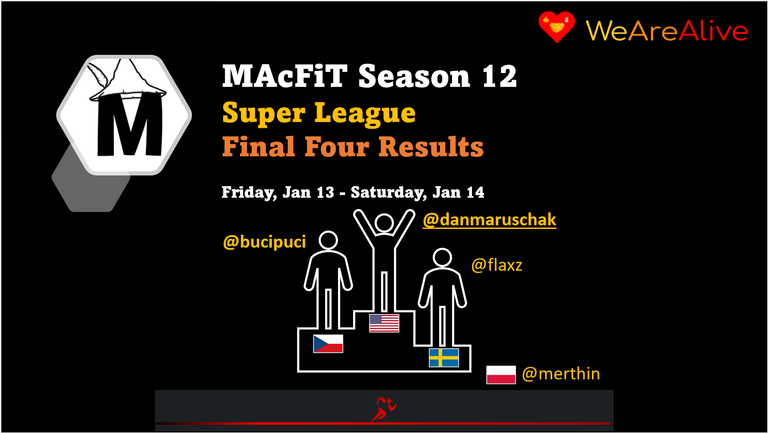 Ladies and Gentlemen,
The Winner of Season 12 Super League is...
(The Defending Champion)
He and @bucipuci fought hard for every single step. The Winner was better by only 3 points!
@flaxz ended the season on the 3rd position and - far behind the podium in terms of points - @merthin finished 4th.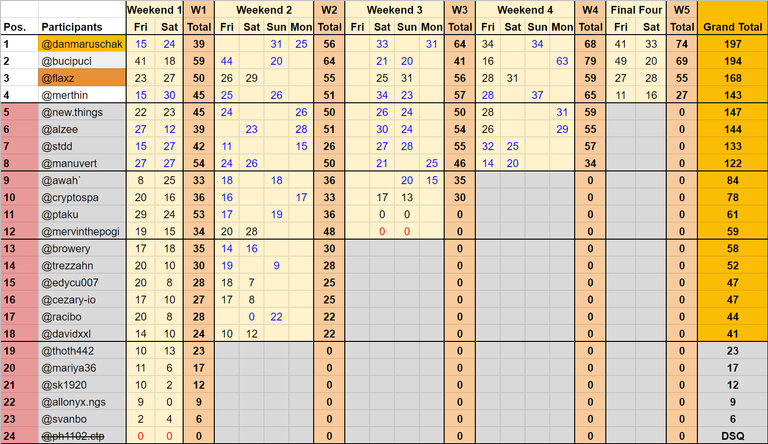 Congrats to the Winner and all players. Awards and ranking points for the season will be published soon.
Season 13
The new season (#13) will not start before the 2nd half of February, announcement will come in two weeks or so.
Only Super League will be played, with 24 players and format known from Season 12. Slots will be allocated to:
4 Finalists of Season 12
10 highest ranked players
5 Wild Cards
5 players from qualifications
@pjansen, @flaxz.alive, @browery and @racibo - you can all nominate one player for a Season 13 Wild Card.
---
Beneficiaries
All Season 12 @MAcFiT updates have the following beneficiaries:
@danmaruschak - 4% (Winner of Super League in Season 11)
@davidxxl - 2% (Winner of Consolation Cup in Season 11)
In addition:
Total: 15%
85% of the HBD collected via upvotes/tips will make up the Season 12 Award Pool.
---
---