Evening Run
I just finished a 6.226km running that lasted about 0hh:27mm:2ss !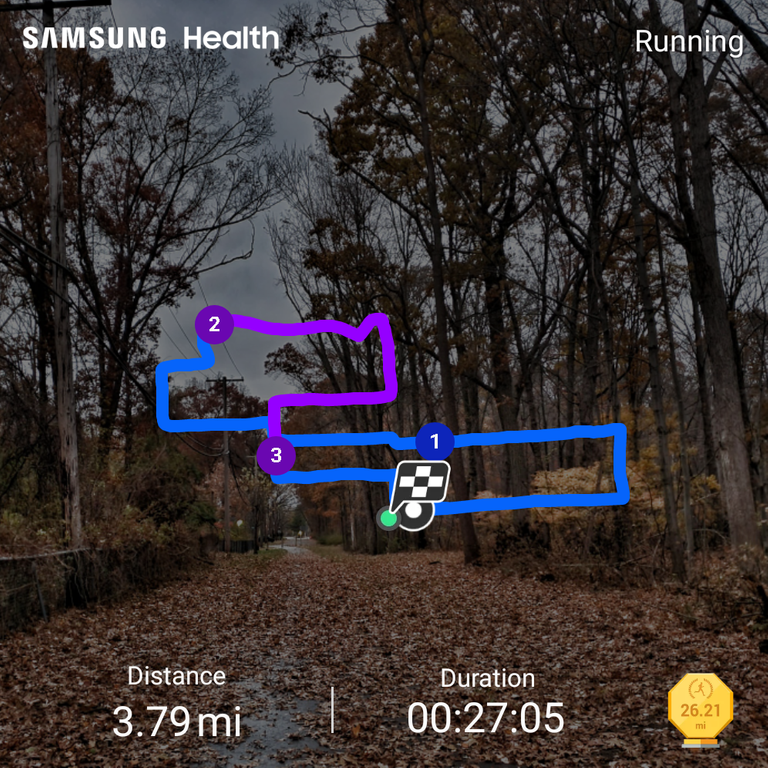 Well, the streak is broken. I didn't run on Tuesday because I literally fell asleep before my usual running time. I guess lack of sleep caught up to me. And Wednesday, I suited up, laced up my shoes and was ready to go, but when I opened the door, I was surprised by heavy rain. It wasn't in the forecast at all. I just didn't have the will power to run with that rain, a drizzle is fine, but not that heavy, cold rain. So anyways, this time I had no excuse except light snow, and I convinced myself by deciding on a short run. It was definitely colder, not even one degree above freezing temp. Usually, that is not cold enough to make me wear a jacket, but I noticed during a walk with the dogs that it was quite windy and really felt the windchill. So I did wear a running jacket, and I'm glad I did, cause some portions were really exposed to the wind, and that helped a lot. Of course, that also means that less than 10 minutes into the run, I was already sweating a lot, but that still feels better than the wind.
As for the run itself, pace improvement are confirmed with another run under 7 min/mile. 6:59 min/mile to be exact. It's kind of funny, because I misheard my watch updating my pace for the third mile and thought I had really slowed down. So I really picked up the pace for the last part, just under a mile. But when I checked my stats, I realized the third mile was just a couple seconds slower. I guess that shows that sometimes small extra motivation can really change your performance.
I'm not going to set a time for the next run because too many things to do today and this week end, I'll just play it by ear.
Till then, keep Exhausting!
Check out some detailed info at my EXHAUST page
Join me in testing out EXHAUST!
---
---