Tu cuerpo necesita tonificación y fortalecimiento con ejercicios de tensión muscular con banda elástica improvisada desde casa.//Your body needs toning and strengthening with improvised elastic band muscle tension exercises from home.

Hola como están todos por acá 🙋🏾‍♀️🙋🏾‍♀️🙋🏾‍♀️🙋🏾‍♀️, espero que estén muy bien, siempre felices llenos de salud y rodeados de los seres que más quieren 👩‍👦‍👦👩‍👦‍👦👩‍👦‍👦👩‍👦‍👦, quiero agradecer a @fulldeportes por tener la mejor receptividad con mi persona a pesar de ser un miembro nuevo de esta bella familia deportiva 🏋🏾‍♀️🏋🏾‍♀️🏋🏾‍♀️ me siento feliz de enseñarles como puedo entrenar por 30 a 45 minutos diarios y seguir manteniéndome en forma 💪🏾💪🏾💪🏾💪🏾, para no perder mi figura de sirena 🧜‍♀️🧜‍♀️🧜‍♀️ jajaja 😅😄😄😄😄 y así ganar u obtener beneficios de salud que tanto necesitamos hoy día para seguir afrontando nueras vidas laborales y de madres y padres en Hive con la mayor energía posible.
Hello, how are you all here 🙋🏾‍♀️🙋🏾‍♀️🙋🏾‍♀️🙋🏾‍♀️, I hope you are very well, always happy, full of health and surrounded by the people you love the most 👩‍👦‍👦👩‍👦 ‍👦👩‍👦‍👦👩‍👦‍👦, I want to thank @fulldeportes for having the best receptivity with me despite being a new member of this beautiful sports family 🏋🏾‍♀️🏋🏾‍♀️🏋🏾‍♀️ I am happy to teach you how I can train for 30 to 45 minutes a day and continue to stay in shape 💪🏾💪🏾💪🏾💪🏾, so as not to lose my mermaid figure 🧜‍♀️🧜‍♀️🧜‍♀️ hahaha 😅😄😄😄😄 and thus earn or obtain health benefits that we need so much today to continue facing daughters-in-law work lives and mothers and fathers at Hive with the greatest possible energy.
---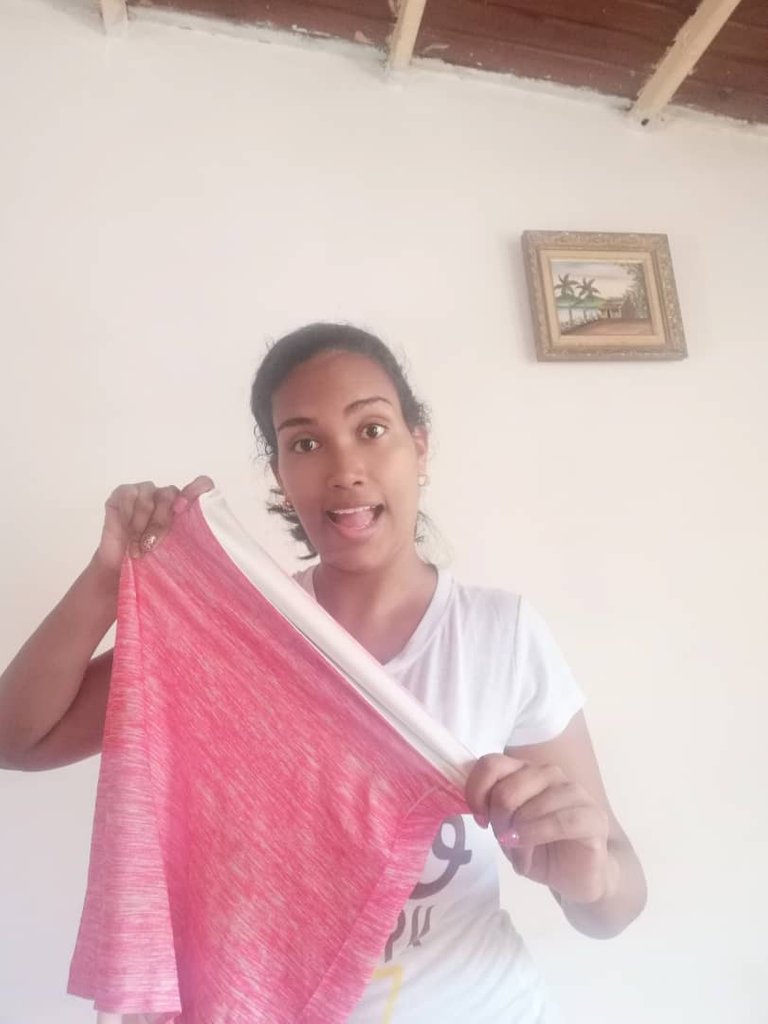 En este día tan hermoso y soleado en mi ciudad 🌞🌞🌞 de Cumana estado Sucre les traigo una rutina directamente desde mi humilde hogar 🏠🏠🏠, para que puedan realizar unos ejercicios maravillosos para tonificar y definir los glúteos y piernas, esos músculos que siempre queremos mantener firmes y duros para no perder nuestra silueta 🙅🏾‍♀️🙅🏾‍♀️🙅🏾‍♀️, así que pensé que tal elaboro una rutina donde usemos una banda elástica 🤔🤔🤔 para realizar movimientos de tensión muscular, donde estiraremos y mantendremos sostenidos por unos segundos creando tensión logrando fortalecer los músculos de una manera sorprendente, pero ustedes me preguntarán como hacemos estos ejercicios si no tenemos banda elástica 🤨🤨🤨.
On this beautiful and sunny day in my city 🌞🌞🌞 of Cumana, Sucre state, I bring you a routine directly from my humble home 🏠🏠🏠, so that you can perform some wonderful exercises to tone and define the buttocks and legs, those muscles that always We want to keep firm and hard so as not to lose our silhouette 🙅🏾‍♀️🙅🏾‍♀️🙅🏾‍♀️, so I thought that such a routine where we use an elastic band 🤔🤔🤔 to perform movements of muscle tension, where we will stretch and hold held for a few seconds creating tension, managing to strengthen the muscles in a surprising way, but you will ask me how we do these exercises if we do not have an elastic band 🤨🤨🤨.
---
Pues la respuesta es muy sencilla, debemos siempre ingeniárnosla como solventar, por ejemplo yo usaré una licra que funcionara como elástica para hacer mis ejercicios, así que no tienen excusas mis mamis y papis de @fulldeportes, así que dejen la flojera y levántense del sillón y acompañen a esta súper mamá de Hive 🦸🏿‍♀️🦸🏿‍♀️🦸🏿‍♀️🏋🏾‍♀️🏋🏾‍♀️ a realizar los ejercicios de hoy, así que vamos animateeeee.
Well, the answer is very simple, we must always figure out how to solve it, for example I will use a lycra that works as an elastic to do my exercises, so my moms and dads from @fulldeportes have no excuses, so stop being lazy and get up from the chair and join this super mom from Hive 🏿‍♀️ 🏿‍♀️ 🏿‍♀️🏋🏾‍♀️🏋🏾‍♀️ to perform today's exercises, so let's go animateeeee.
---
Lo primero que debemos hacer es un calentamiento previo a nivel general, donde realizaremos movimientos articulares y estiramientos musculares para poner esos músculos más blanditos, así que vente que el tiempo es oro y más con dos niños que están que se despiertan jajajaj 😅😅😅😅🤭🤭.
The first thing we must do is a general warm-up, where we will perform joint movements and muscle stretches to make those muscles softer, so come on, time is money and more with two children who are waking up hahaha 😅😅😅😅 🤭🤭.
---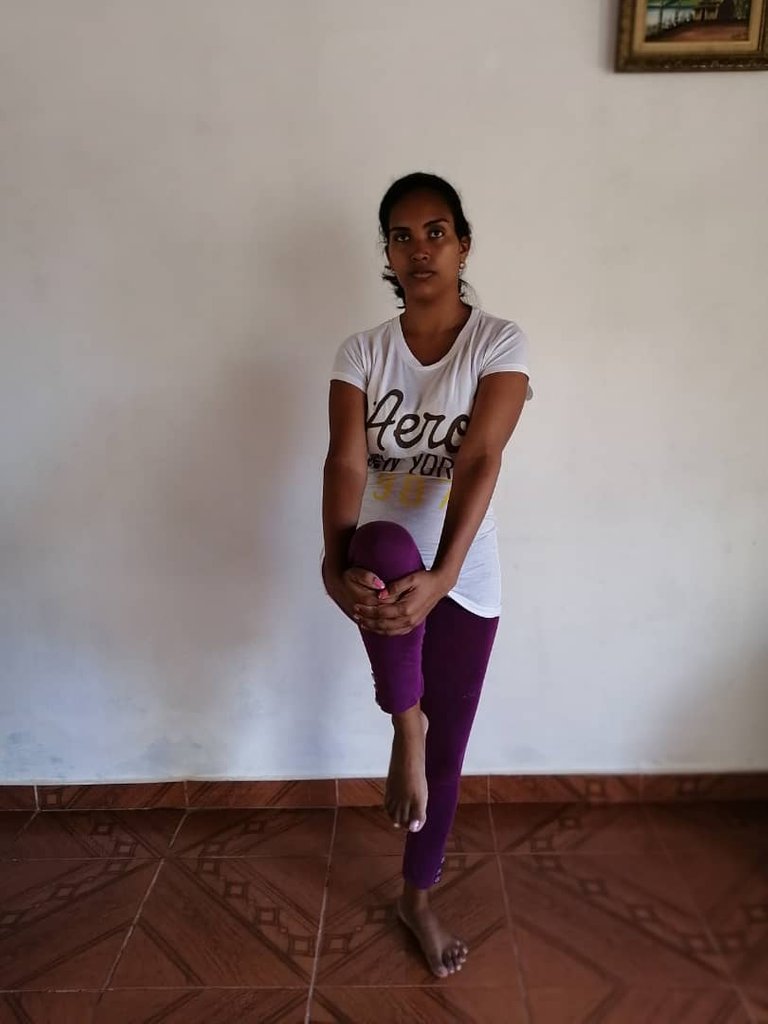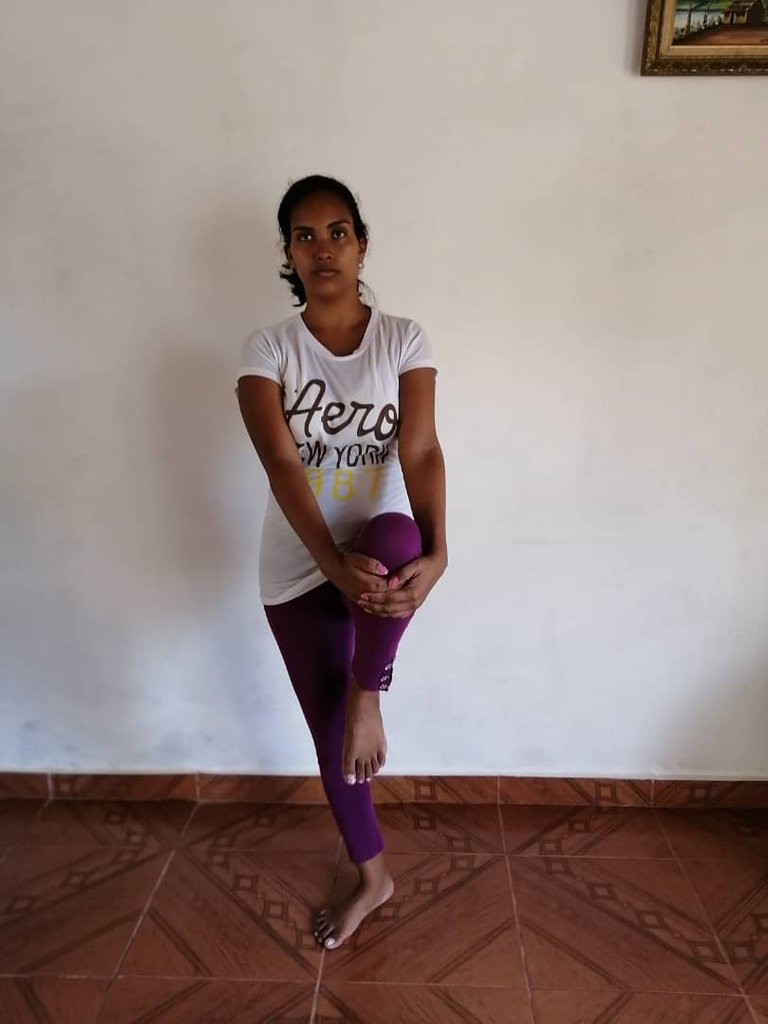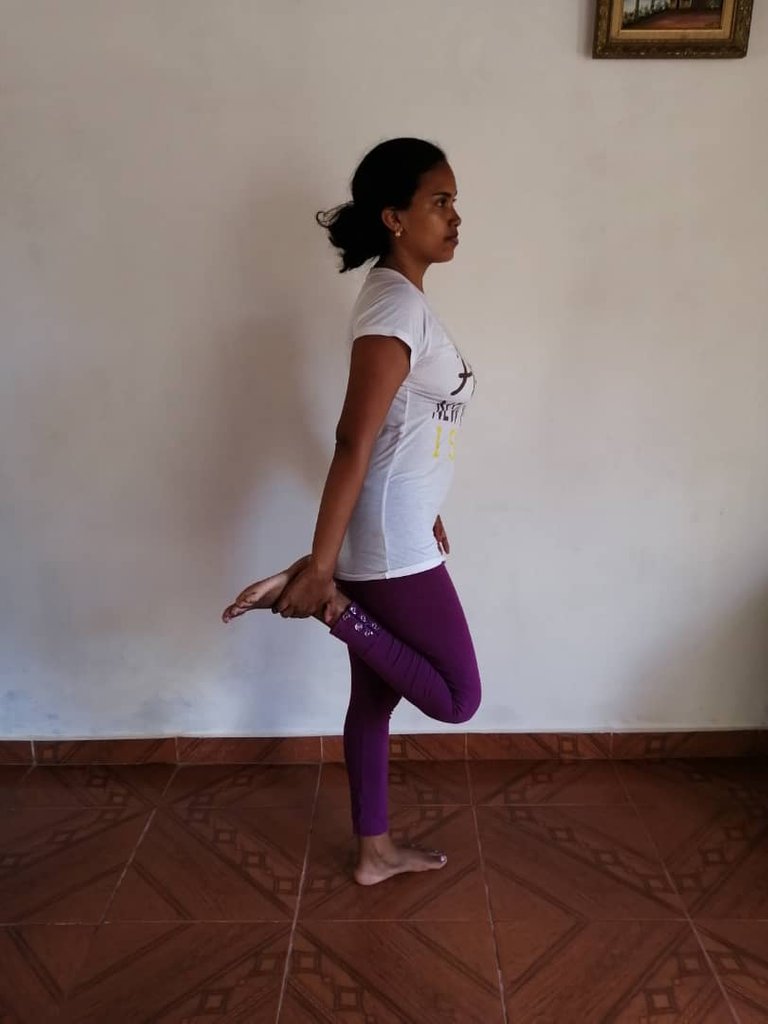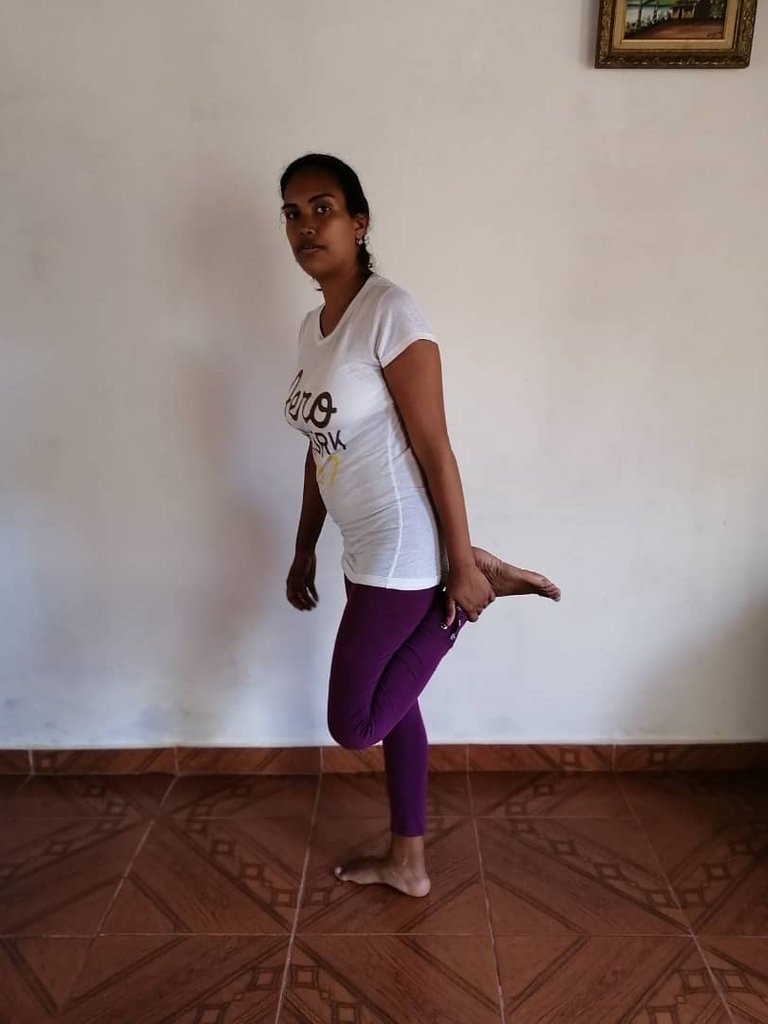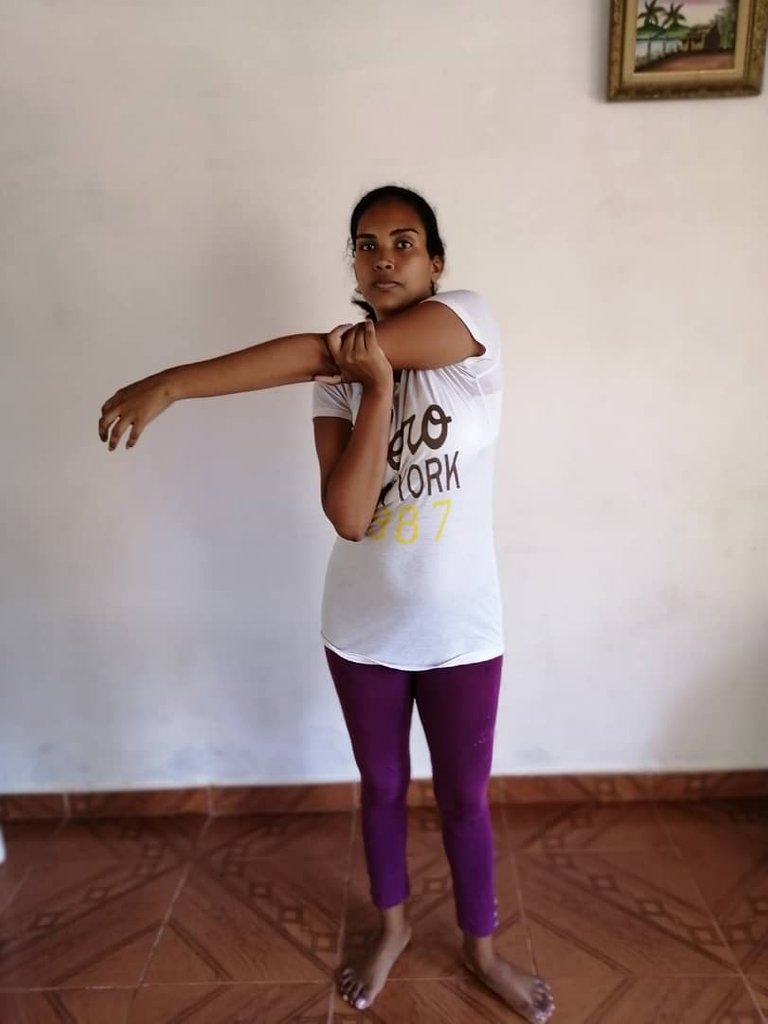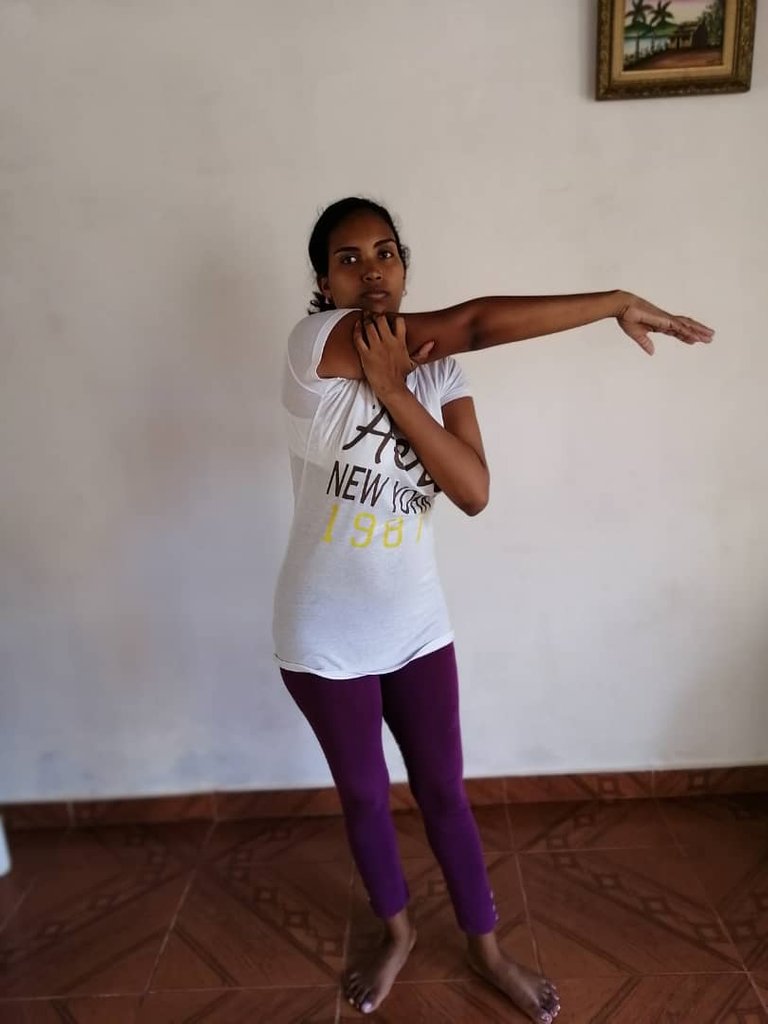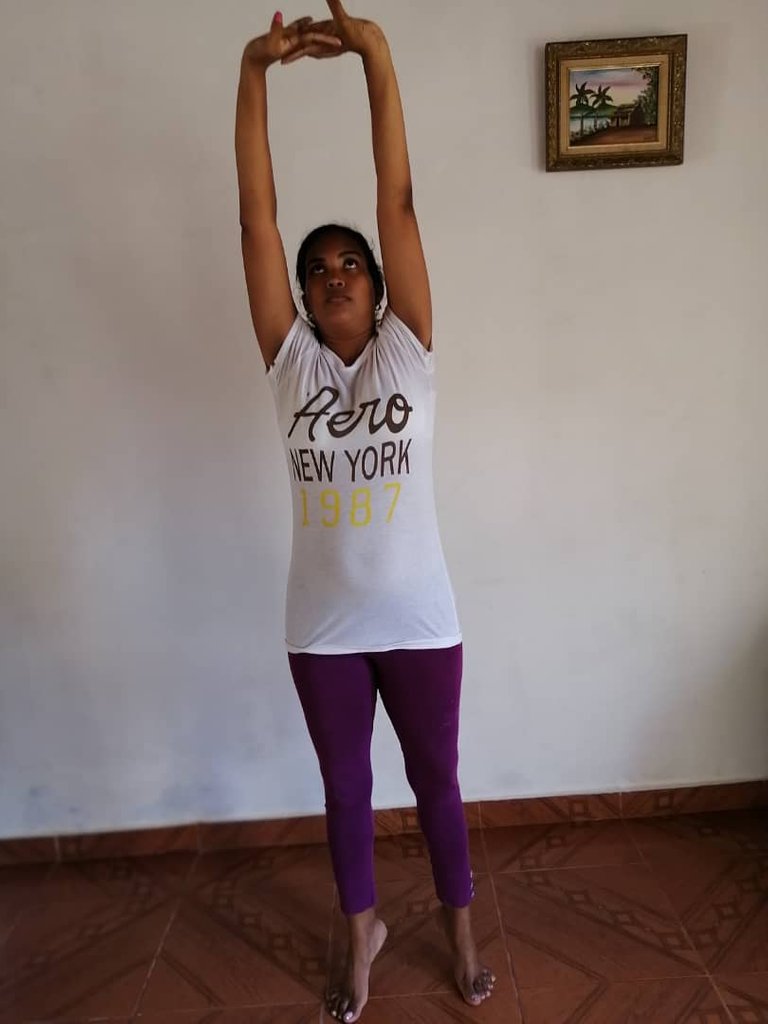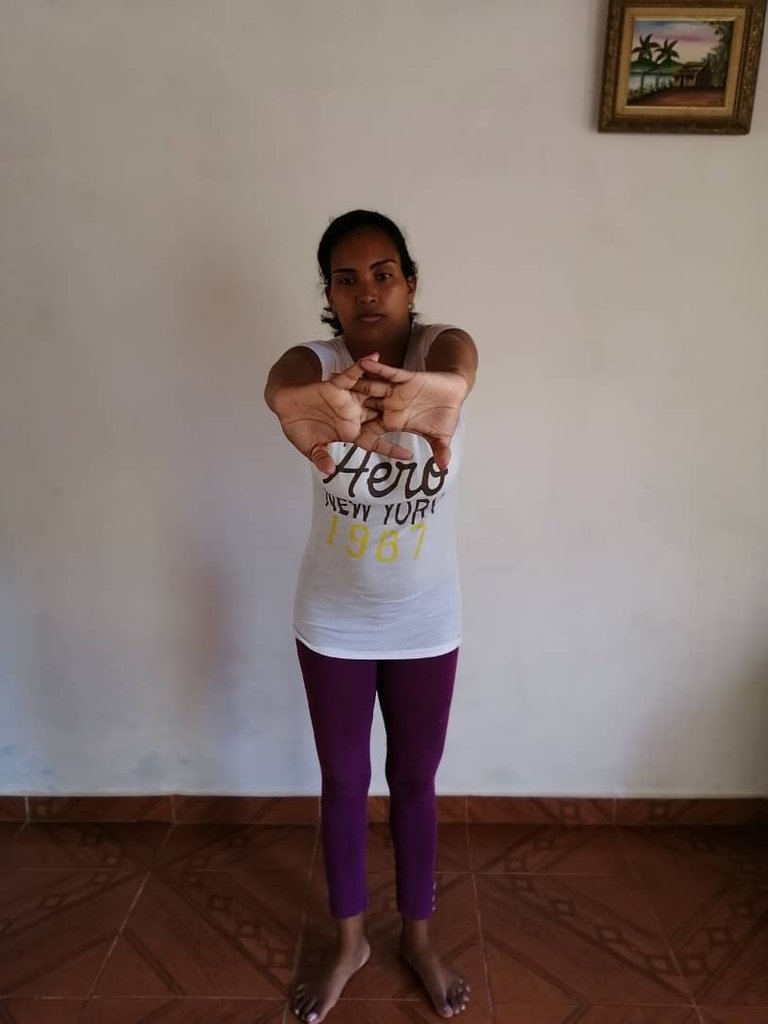 Vamos con el primer ejercicio el cual será patada lateral con banda elástica.
Bueno aquí lo primero que debemos hacer es acostarnos de lado en el suelo, apoyando el antebrazo y rodilla de una pierna, la banda elástica estará ubicada en los tobillos de nuestros pies, así que empezamos a elevar nuestra pierna lo más arriba que puedan, y una ves estando lo más arriba posible se mantendrán allí por 5 segundos apretando el glúteo lo más que puedan y vuelven a la posición de arranque.
(Haremos 20 repeticiones y 4 series de este ejercicio).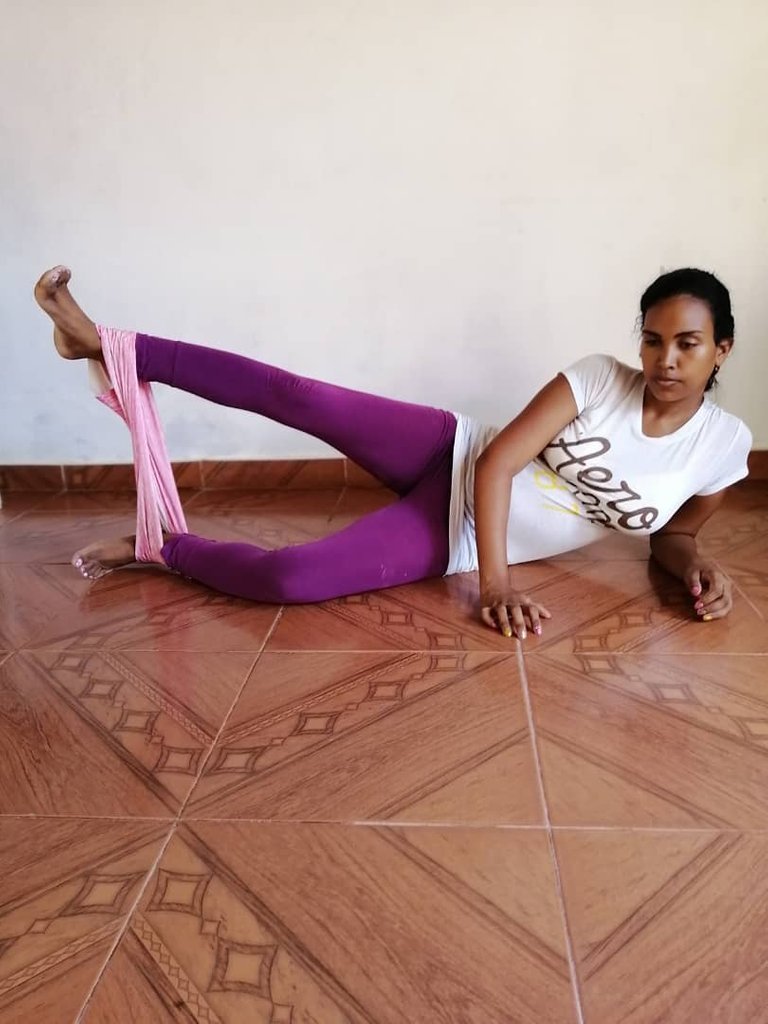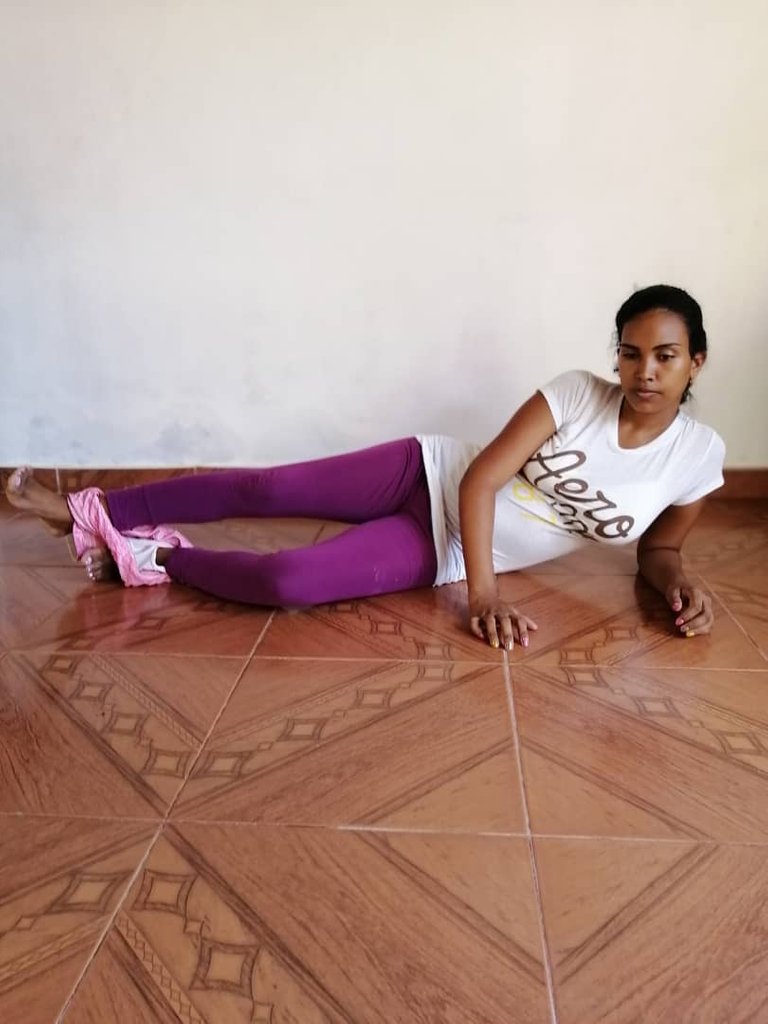 Let's go with the first exercise which will be a side kick with an elastic band.
Well here the first thing we must do is lie on our side on the ground, supporting the forearm and knee of one leg, the elastic band will be located at the ankles of our feet, so we begin to raise our leg as high as possible, and once being as high as possible they will stay there for 5 seconds pressing the gluteus as much as possible and return to the starting position.
(We will do 20 repetitions and 4 series of this exercise).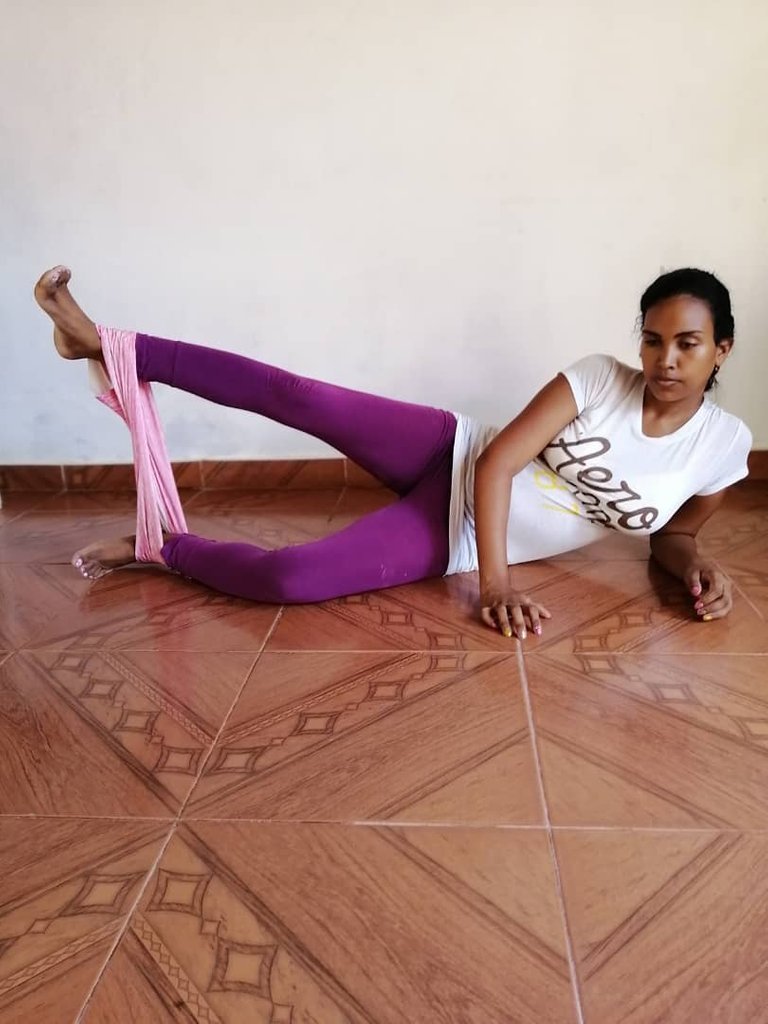 ---
El segundo ejercicio lleva por nombre sentadilla clásica con banda elástica.
Aquí lo primero que haremos será colocar la banda elástica o licra por debajo de nuestras rodillas de ambas piernas, luego separaremos los pies ligeramente así que nuestras manos la ubicaremos delante de nuestro pecho y manteniendo la espalda bien recta empezamos a bajar lentamente doblando las rodillas, una ves estemos bien abajo abrimos las piernas y realizamos 4 aperturas creando mucha tensión y volvemos luego a la posición de arranque.
(Realizamos 20 repeticiones y 4 series de este difícil ejercicio).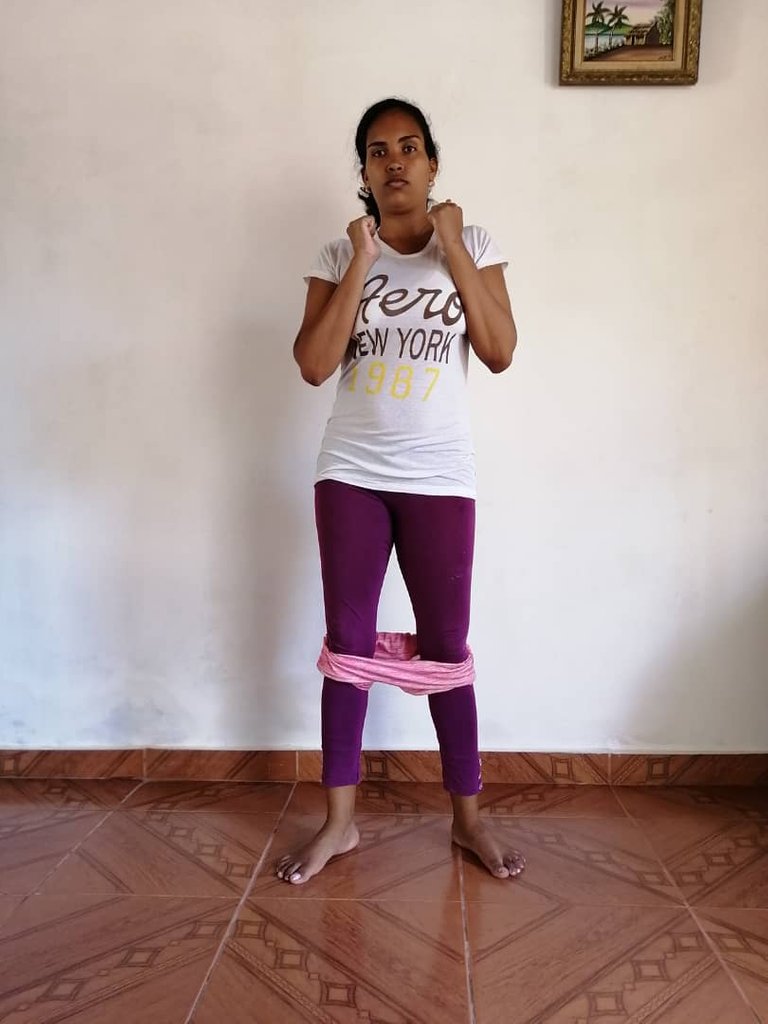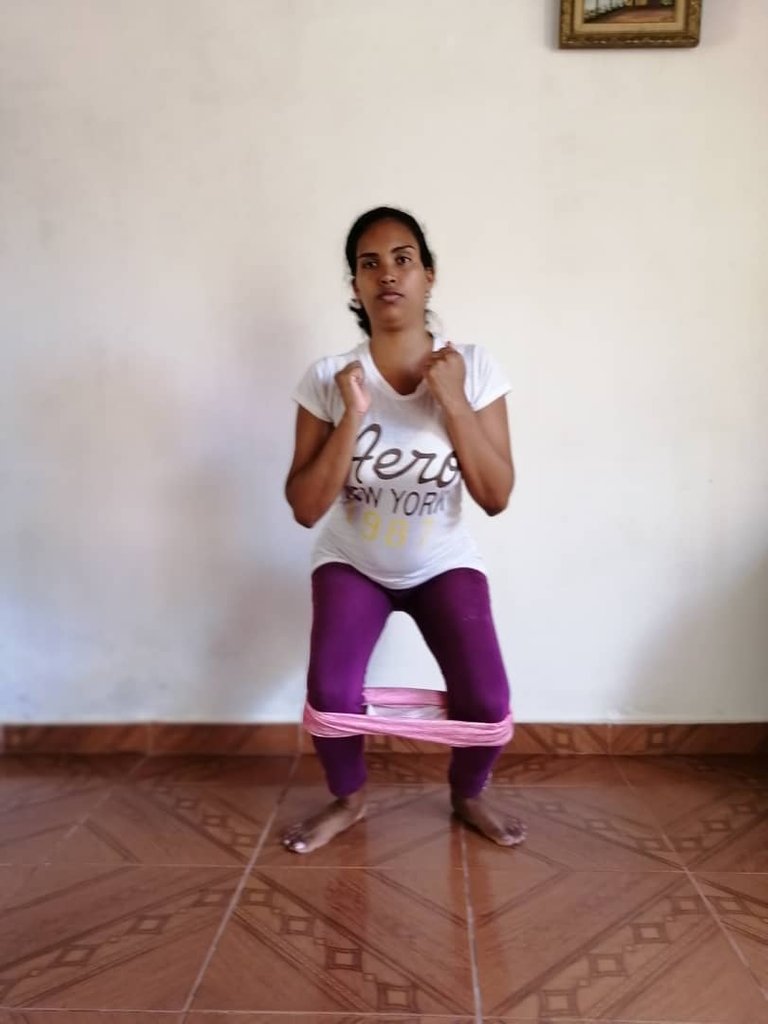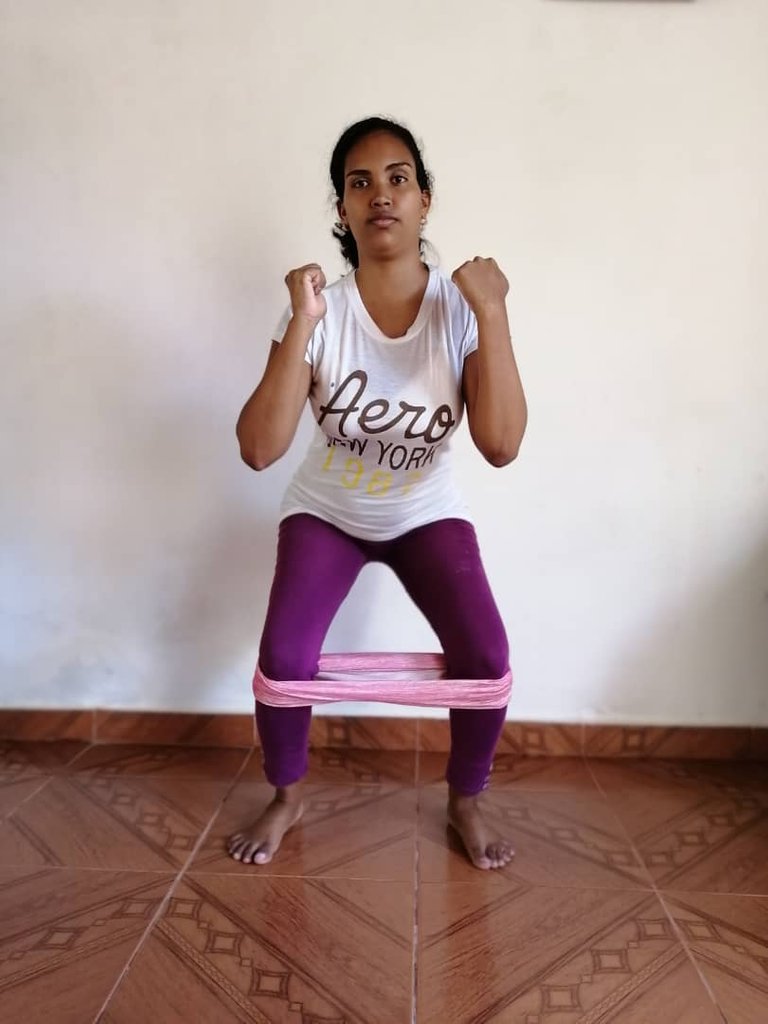 The second exercise is called the classic squat with elastic band.
Here the first thing we will do is place the elastic band or lycra below our knees on both legs, then we will separate the feet slightly so that our hands will place it in front of our chest and keeping our back straight we begin to go down slowly bending the knees, Once we are well down, we open our legs and make 4 openings creating a lot of tension and then return to the starting position.
(We do 20 repetitions and 4 series of this difficult exercise).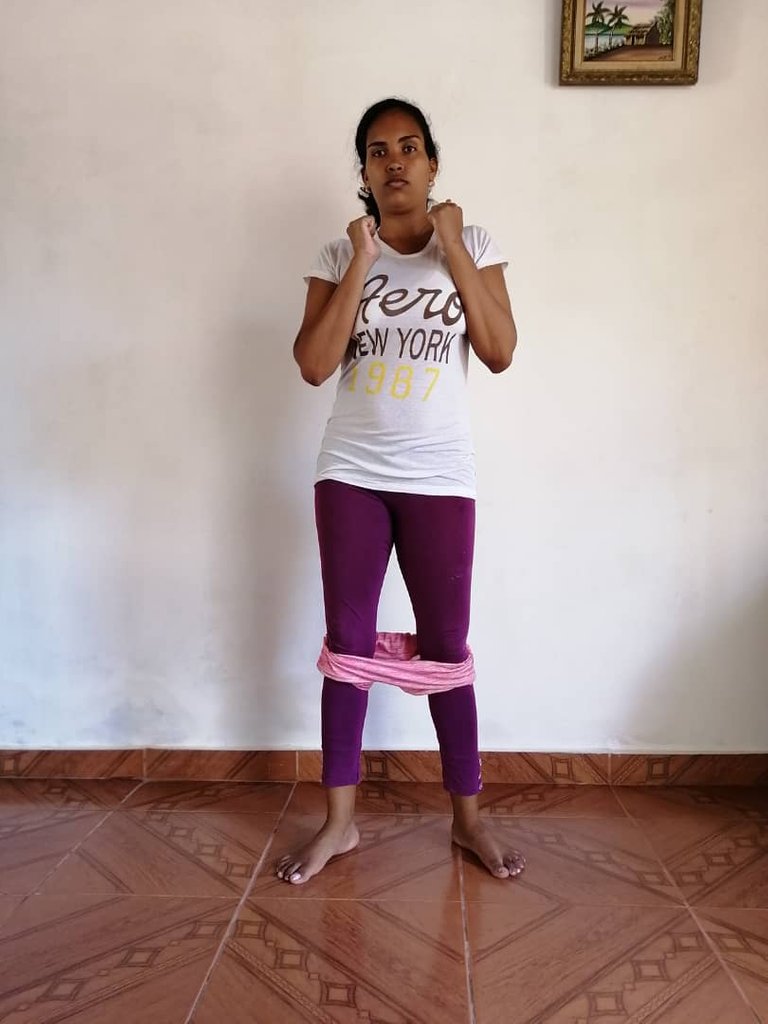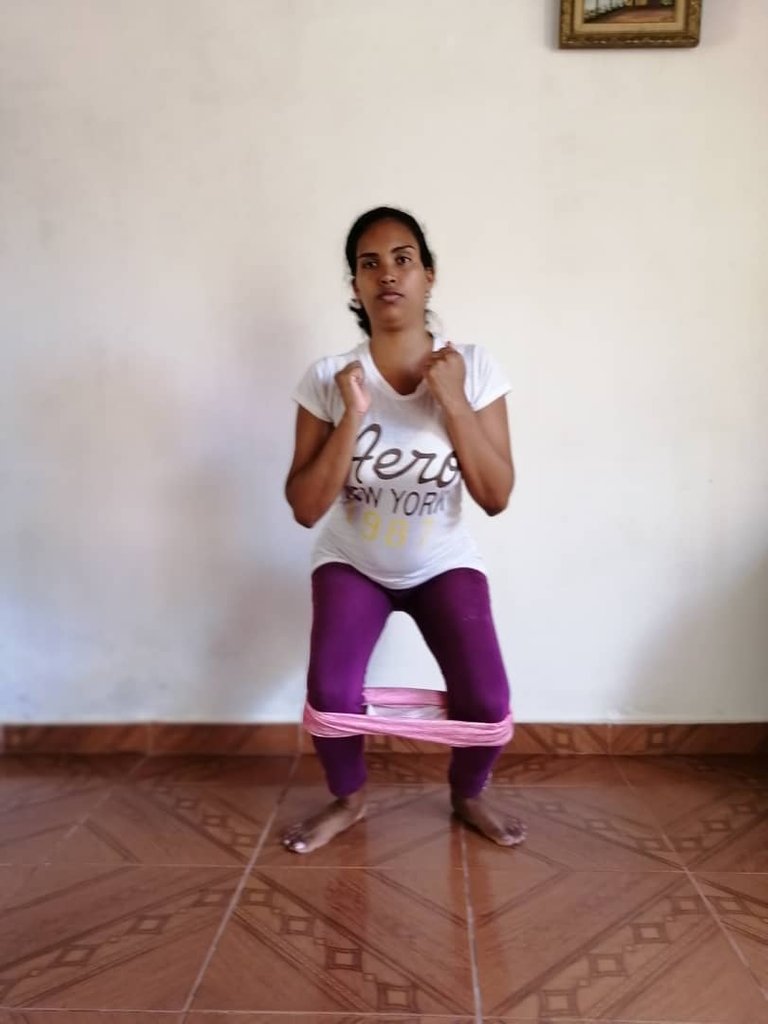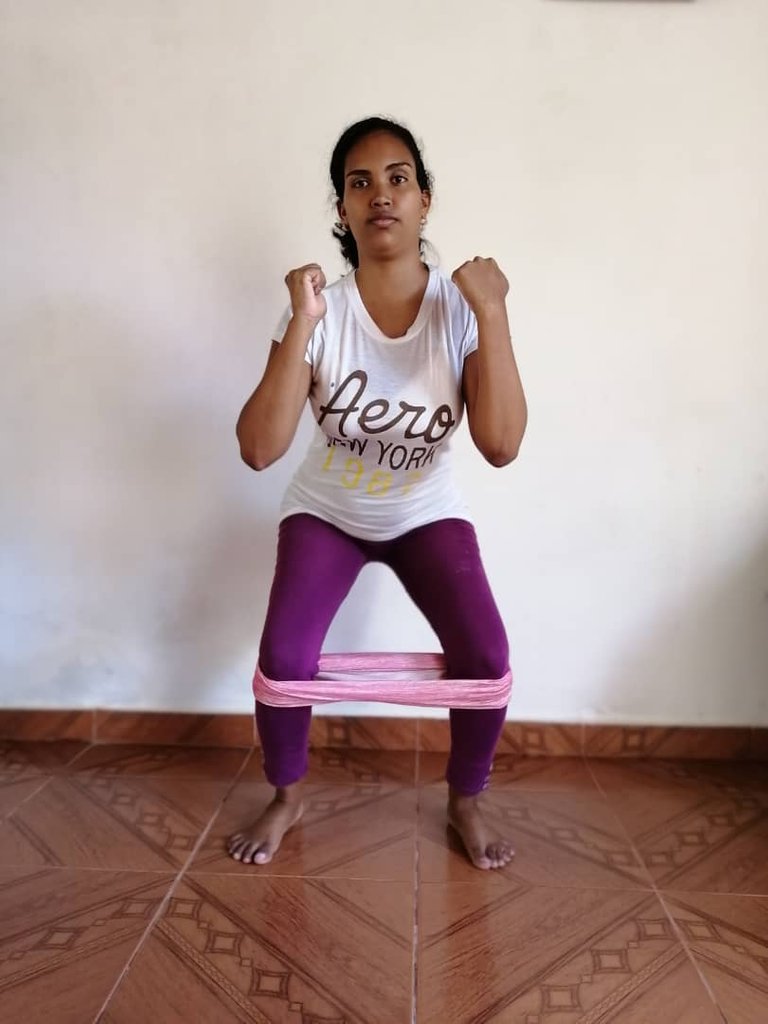 ---
El tercer ejercicio lleva por nombre patada de glúteo con banda elástica.
Aquí primero que nada nos colocamos acostados boca abajo en el piso, separando a ligeramente nuestros pies, las manos estarán colocadas apoyadas al suelo y todo el torso apoyado al suelo también, así que colocare la licra en los tobillos de mis pies, y empezare a elevar una pierna lo más que pueda hacia arriba y la dejare sostenida allí por 3 segundos, luego volvemos a la posición de arrancada y alternamos con la otra pierna.
(Realizamos 20 repeticiones y 4 series).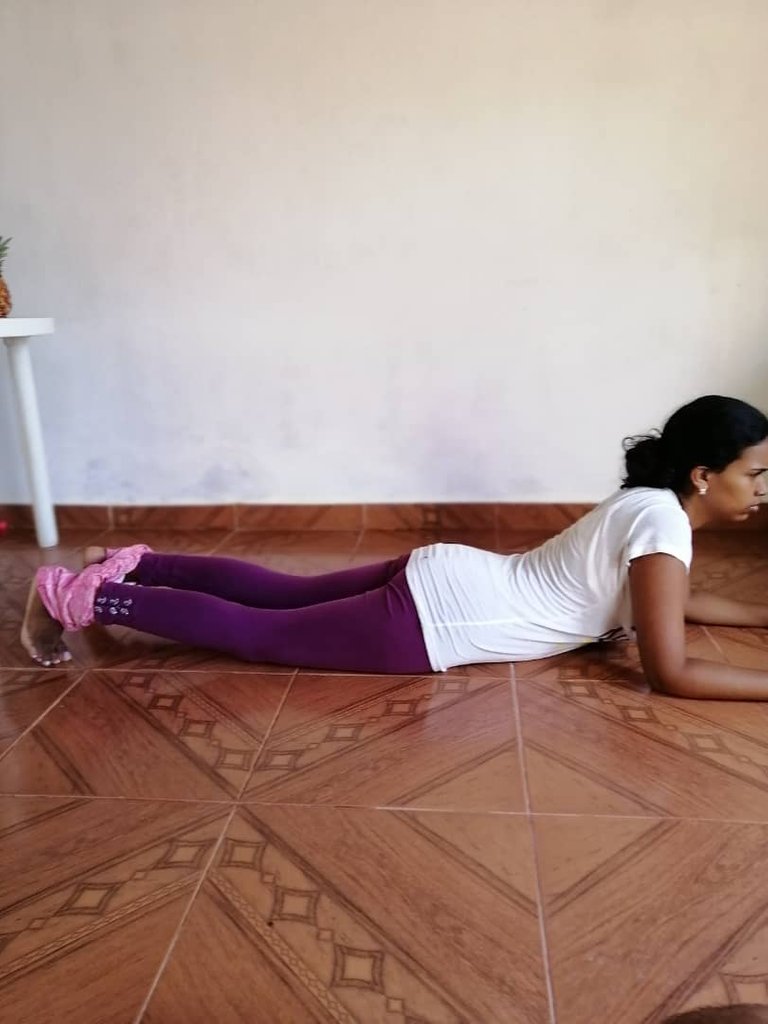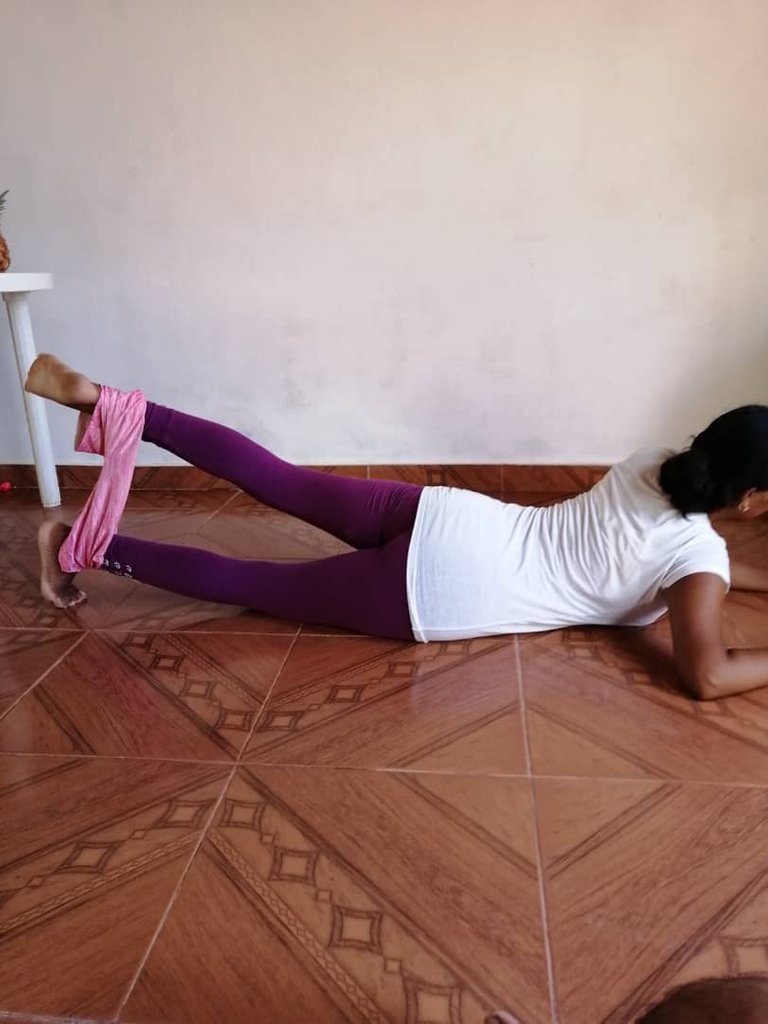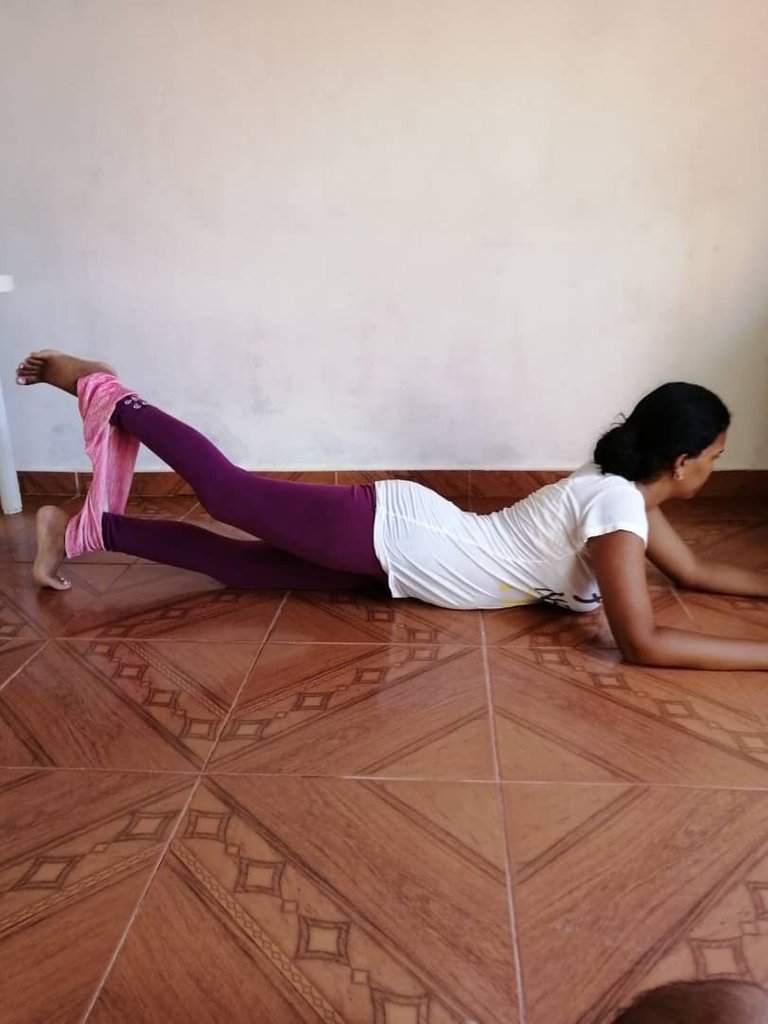 The third exercise is called the glute kick with a rubber band.
Here first of all we place ourselves lying face down on the floor, slightly separating our feet, the hands will be placed resting on the floor and the whole torso resting on the floor as well, so I will place the lycra on the ankles of my feet, and begin to Raise one leg as far up as possible and I will hold it there for 3 seconds, then we return to the starting position and alternate with the other leg.
(We do 20 repetitions and 4 series).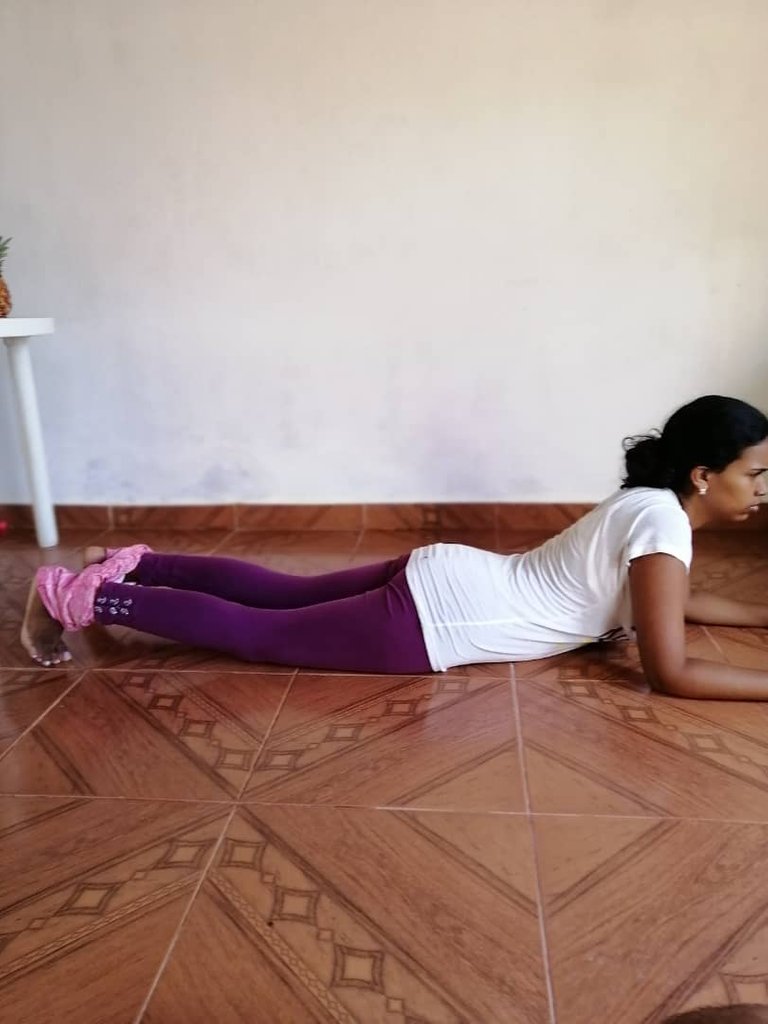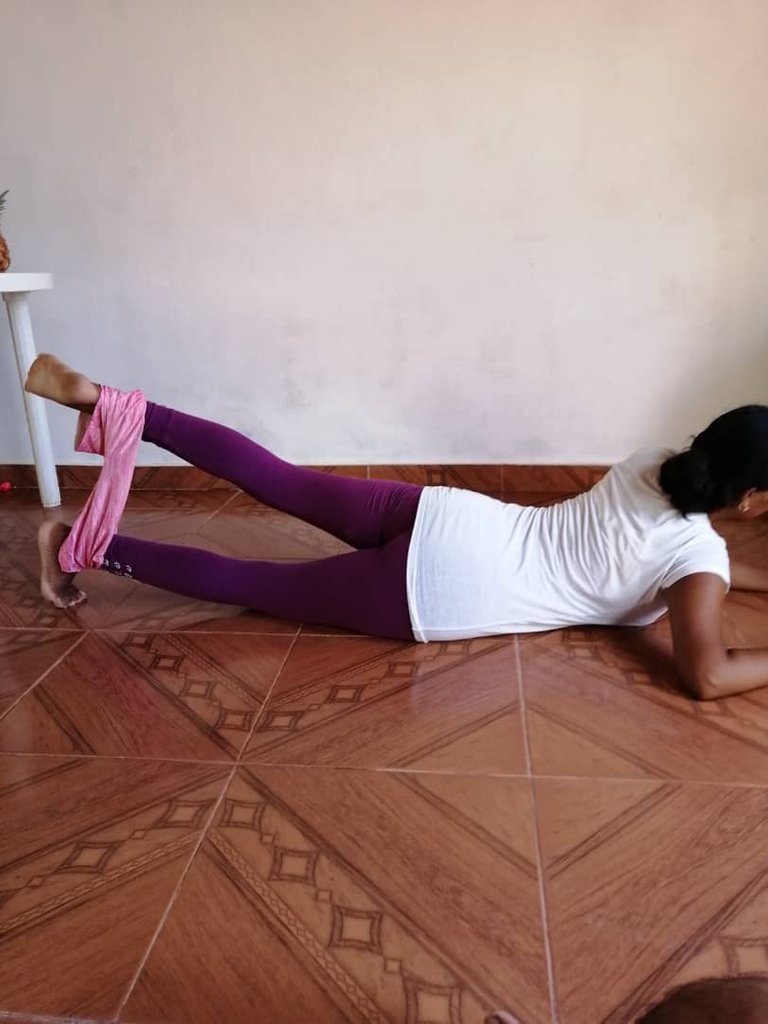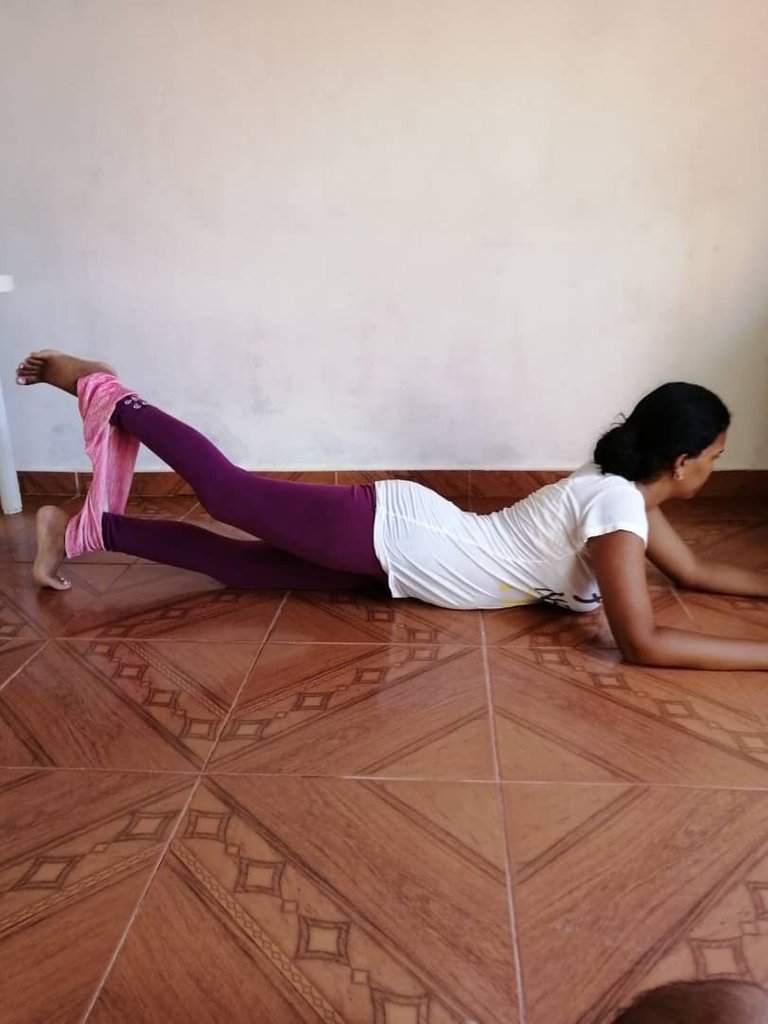 ---
fotos
Podemos decir que ya hemos dado por finalizada nuestra rutina para glúteos y piernas, donde tonificados y definimos los músculos del tren inferior, me siento muy cansada 🥵🥵🥵🥵 ajajaja, pero es muy bueno cada esfuerzo vale la pena nunca olviden esto, y pues ya listo debo salir corriendo 🏃‍♀️🏃‍♀️🏃‍♀️🏃‍♀️🏃‍♀️ a realizar mis deberes de súper mamá 🦸🏿‍♀️🦸🏿‍♀️🦸🏿‍♀️ será en una nueva oportunidad que nos veamos para seguir ejercitándonos 🏋🏾‍♀️🏋🏾‍♀️🏋🏾‍♀️🏋🏾‍♀️🏋🏾‍♀️, los quiero mucho un enorme abrazo de oso 🐻🐻🐻🐻 chaitoooooo 🙋🏾‍♀️🙋🏾‍♀️🙋🏾‍♀️🙋🏾‍♀️👩‍👦‍👦.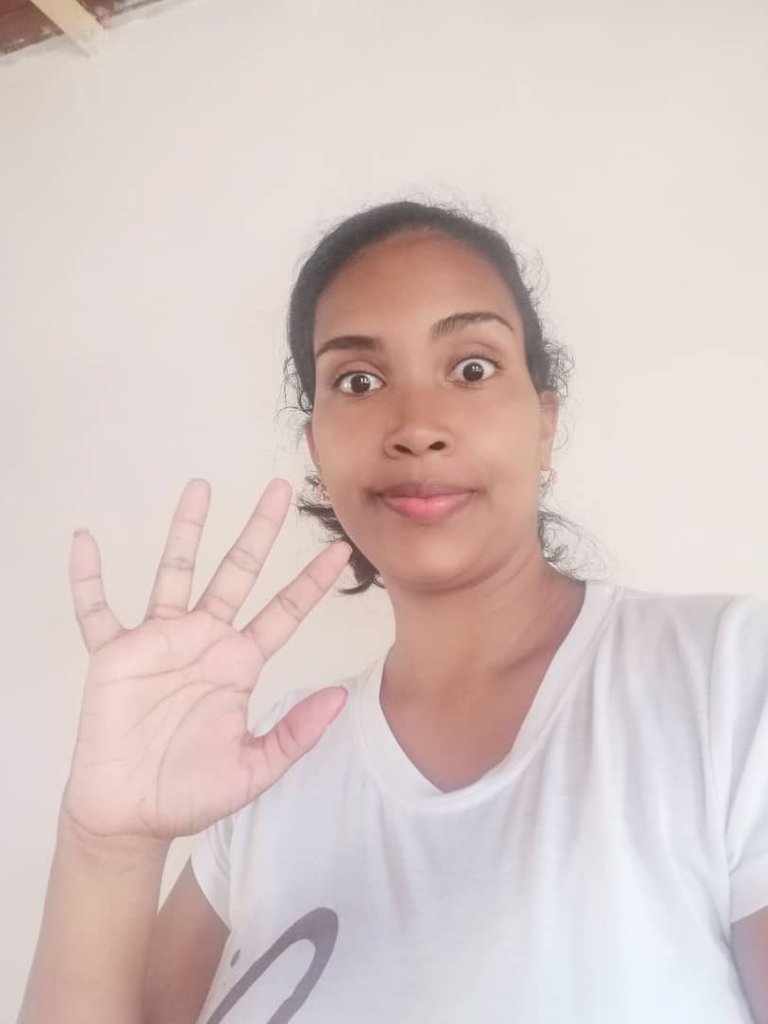 We can say that we have already finished our routine for buttocks and legs, where we toned and define the muscles of the lower body, I feel very tired ahahaha, but every effort is worth it never forget this, and well I'm ready, I must run 🏃‍♀️🏃‍♀️🏃‍♀️🏃‍♀️🏃‍♀️ to perform my duties as a super mom 🏿‍♀️ 🏿‍♀️ 🏿‍♀️ it will be a new opportunity that we see each other to continue exercising 🏋🏾‍♀️🏋🏾‍♀️🏋🏾‍♀️🏋🏾‍♀️🏋🏾‍♀️, I love you very much a huge bear hug 🐻🐻🐻🐻 chaitoooooo 🙋🏾‍♀️🙋🏾‍♀️🙋🏾‍♀️🙋🏾‍♀️ 👩‍👦‍👦.
---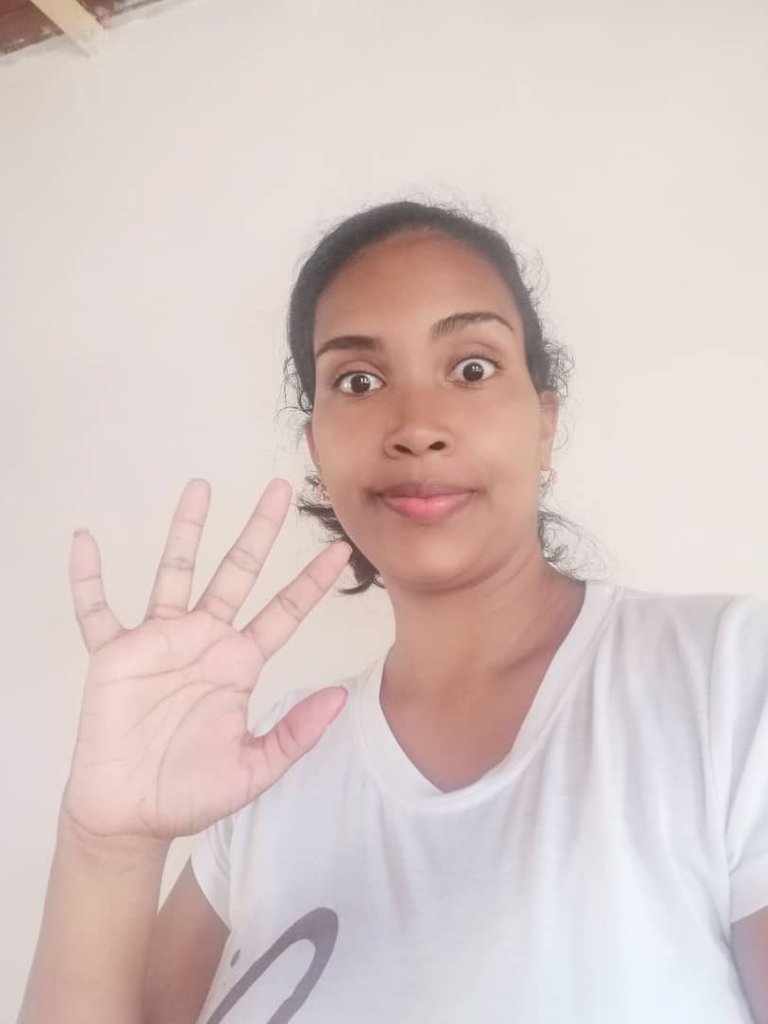 Todo el contenido que se encuentra en esta publicación es amplia-mente original del autor, cualquier duda y recopilación del mismo, deben hacer mención de mi persona.
---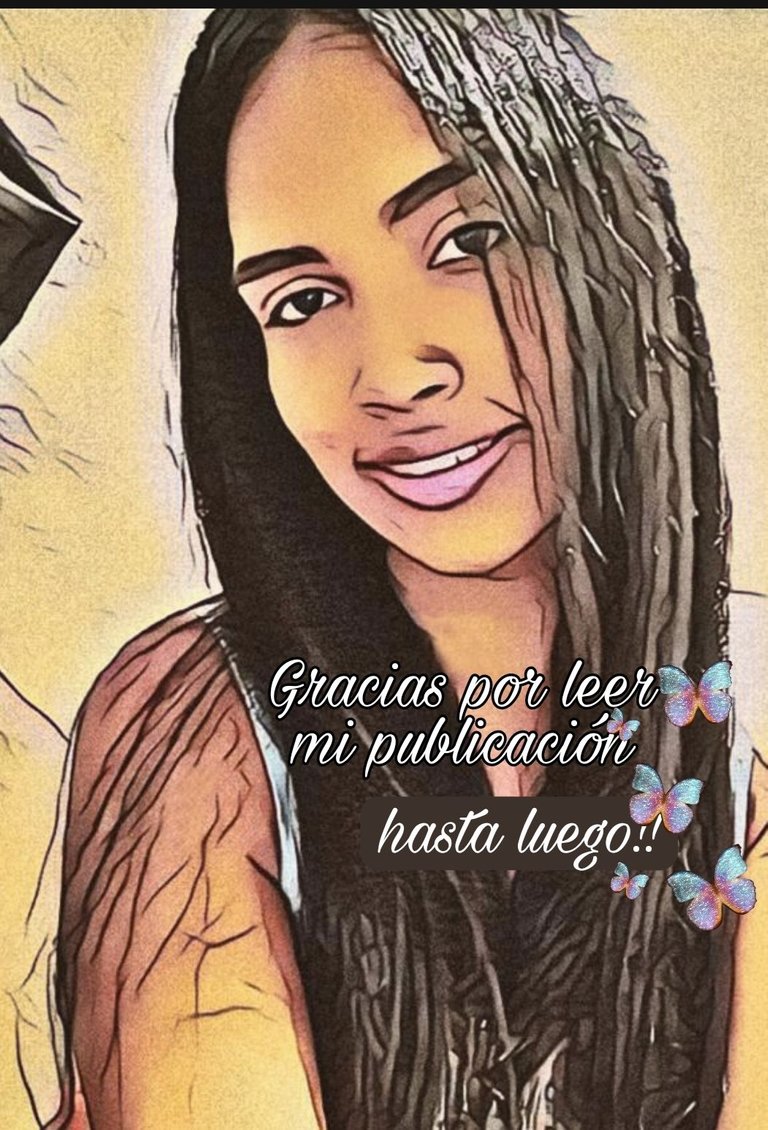 ---
---