[ESP/ING] VIDEO - RUTINA BÁSICA PARA TRABAJAR BRAZOS, HOMBRO Y ESPALDA EN CASA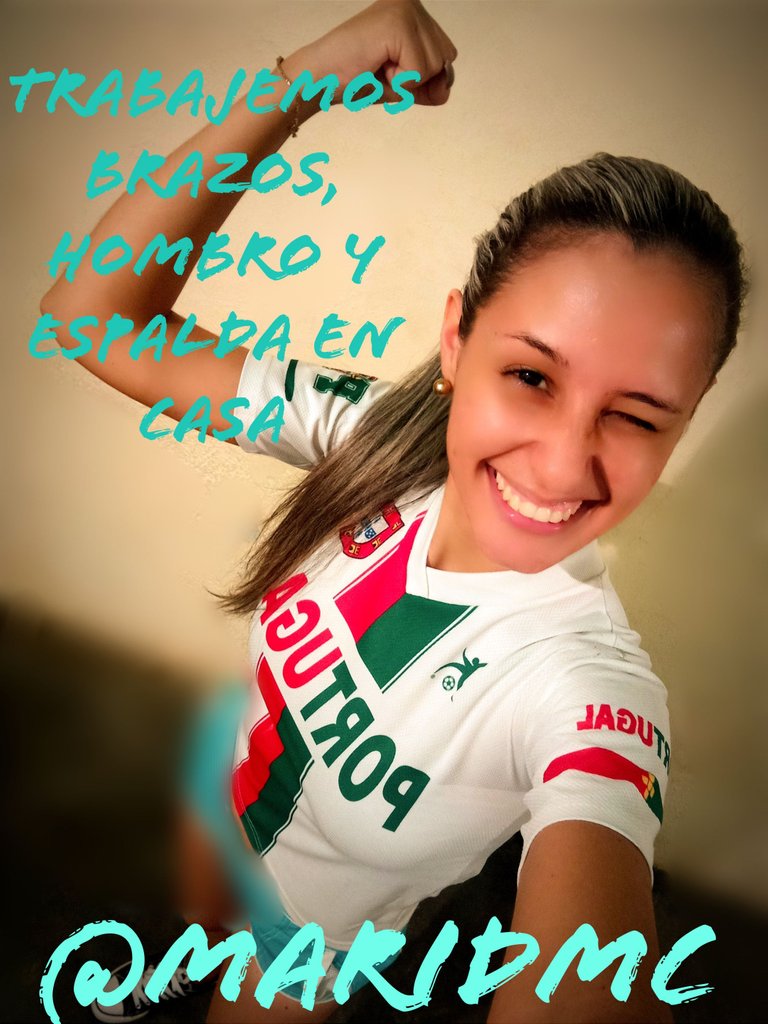 Algunas mujeres a la hora de ejercitarce centran su mayor atención en las piernas y glúteos dejando de lado otras partes importantes del cuerpo.
Hablo de los brazos, hombros, pecho y espalda... Sin embargo a medida que vamos avanzando en edad, va apareciendo la flacidez, algunos rollitos molestosos e incluso la mala postura y es precisamente una buena rutina en la parte superior la que nos mantendrá tonificadas y en excelente forma!
No sólo a nivel estético nos veremos mejor, también evitaremos molestias físicas como dolores lumbares, menos lesiónes, mayor equilibrio... Entre otros!
Sin más preámbulos les anexo el vídeo de mi rutina práctica en casa y los ejercicios paso a paso.
A medida que las semanas avancen, obviamente se irá aumentando el peso con el que voy trabajando!
Some women when it comes to exercise focus their attention on legs and buttocks leaving aside other important parts of the body.
I'm talking about the arms, shoulders, chest and back... However, as we get older, flaccidity, some annoying rolls and even bad posture appear and it is precisely a good routine in the upper body that will keep us toned and in excellent shape!
Not only aesthetically we will look better, we will also avoid physical discomfort such as lower back pain, less injuries, better balance... Among others!
Without further ado, here is the video of my practical routine at home and the exercises step by step.
As the weeks go by, obviously the weight I work with will increase!
---
---
"RUTINA PARA TRABAJAR HOMBROS, BRAZOS Y ESPALDA EN CASA // ROUTINE TO WORK SHOULDERS, ARMS AND BACK AT HOME"
---
Como siempre antes de cada entrenamiento es recomendable calentar el cuerpo, esto previene lesiones, activa nuestra circulación y ritmo cardíaco y nos prepara para la actividad física.
Para esta rutina use 2 potes con agua de 900ml que hacían la función de las pesas, porque aún no tengo las mancuernas! (Lo se, no pesan nada, pero poco a poco iré incrementando el peso en las posteriores rutinas)😁
---
- PRESS ARNOLD
---
Este ejercicio es para hombros.
Realice 3 series de 15 repeticiones.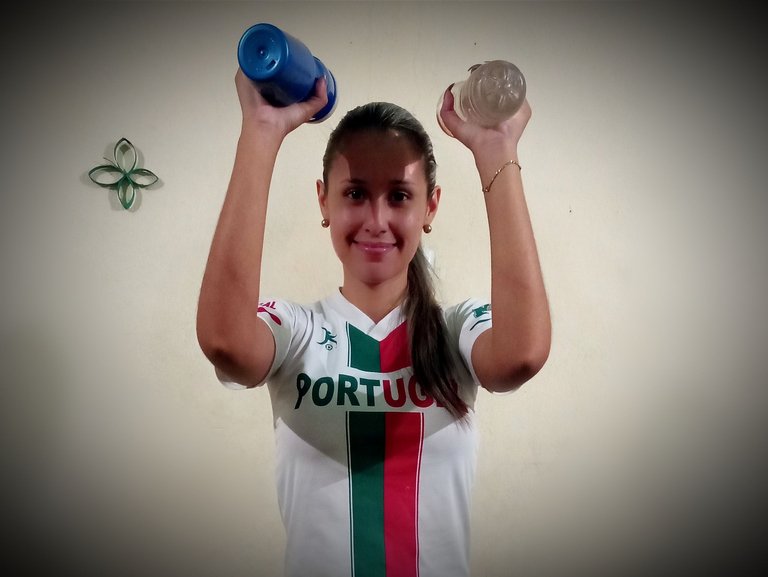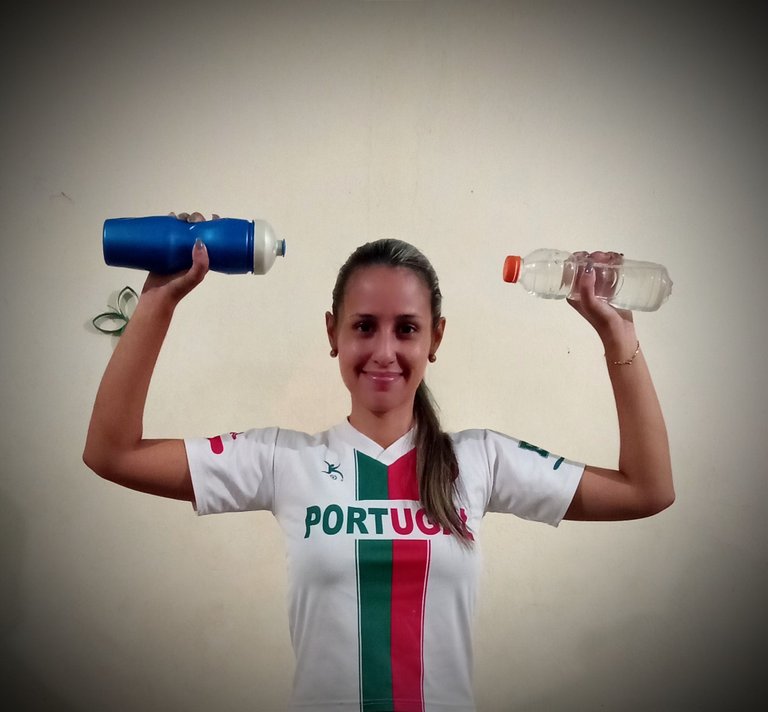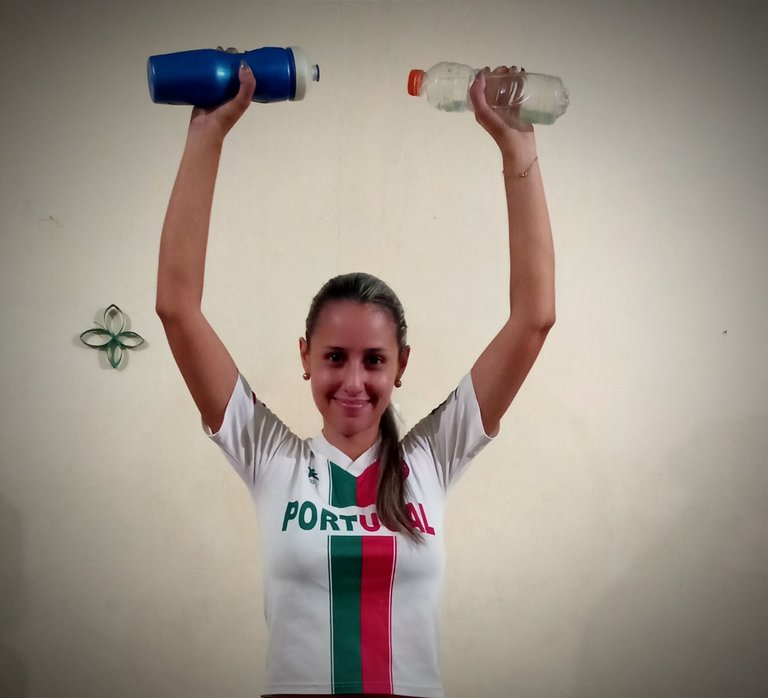 As always before each workout is advisable to warm up the body, this prevents injuries, activates our circulation and heart rate and prepares us for physical activity.
For this routine I used 2 pots with water of 900ml that made the function of weights, because I still do not have the dumbbells! (I know, they weigh nothing, but gradually I will increase the weight in subsequent routines)😁.
---
- PRESS ARNOLD
---
This exercise is for shoulders.
Perform 3 sets of 15 reps.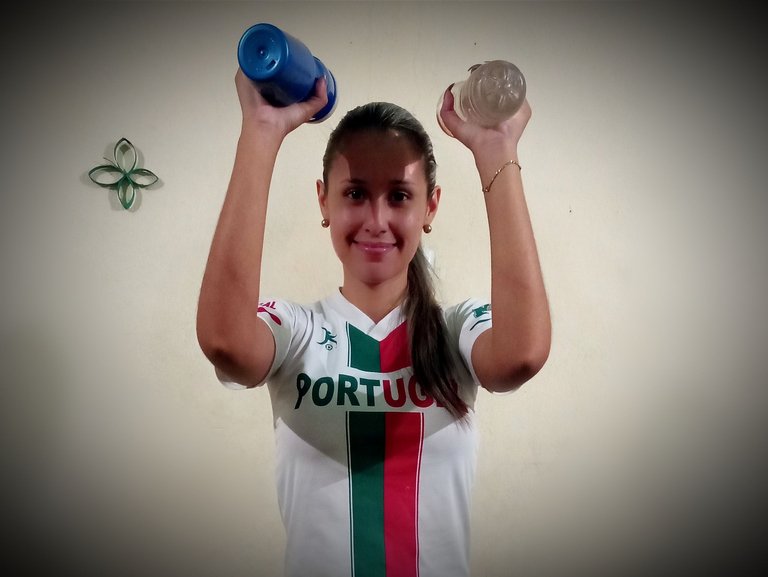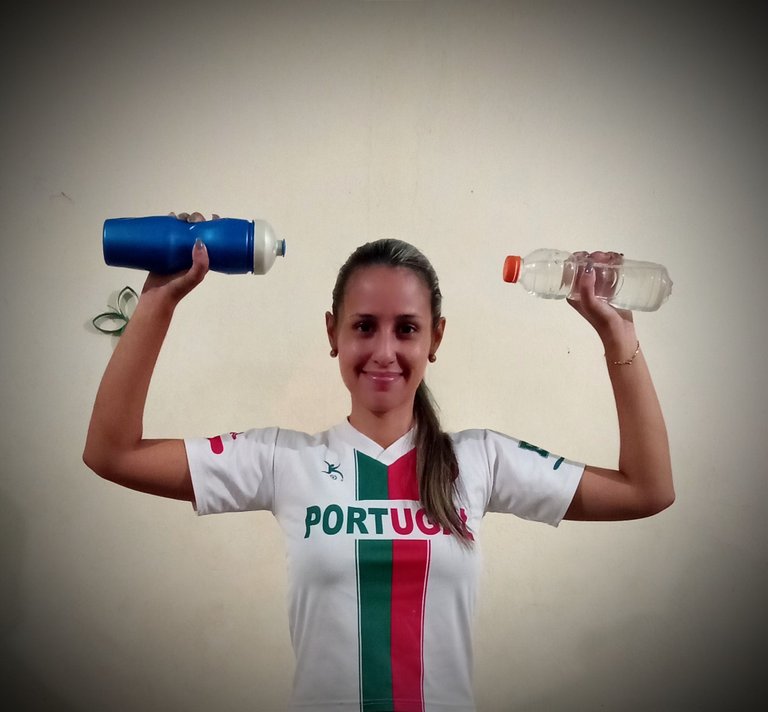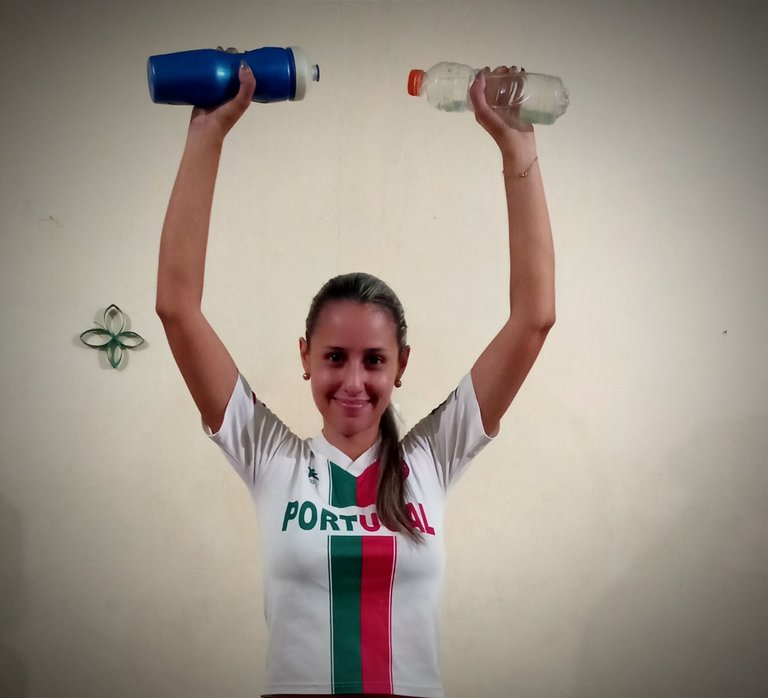 ---
ELEVACION LATERAL Y ELEVACION FRONTAL.
---
Realice 3 series de 15 repeticiones sin descanso. Este ejercicio también trabaja los hombros.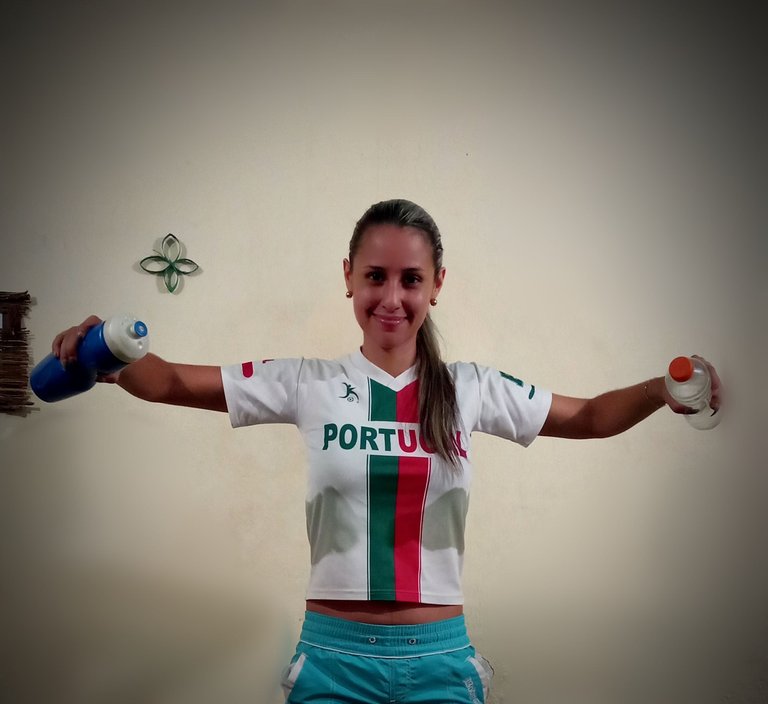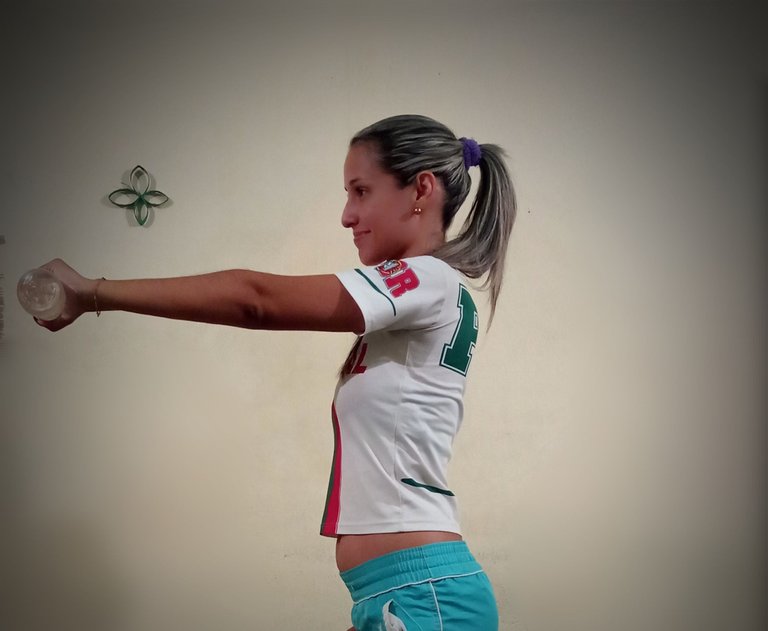 LATERAL ELEVATIONS AND FRONTAL ELEVATIONS.
---
Perform 3 sets of 15 repetitions without rest. This exercise also works the shoulders.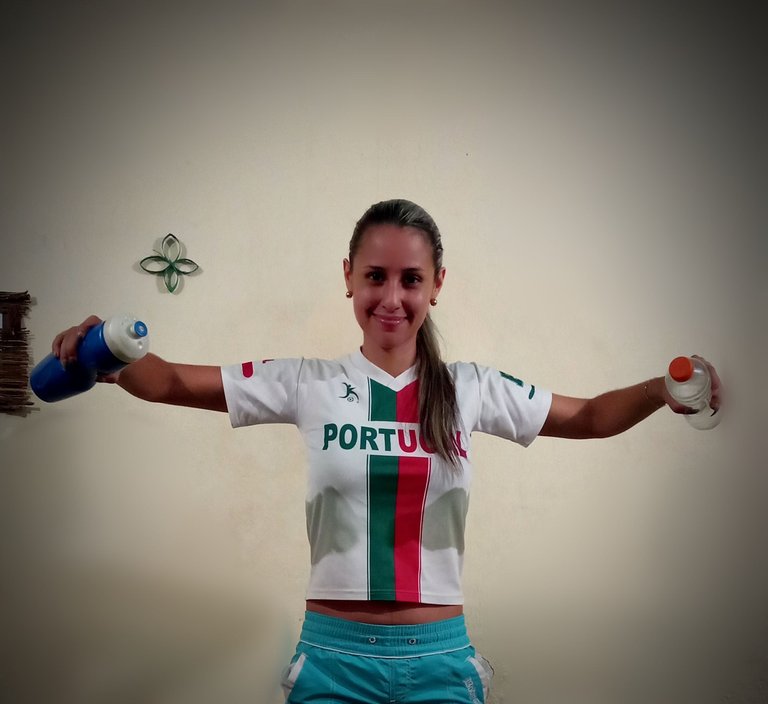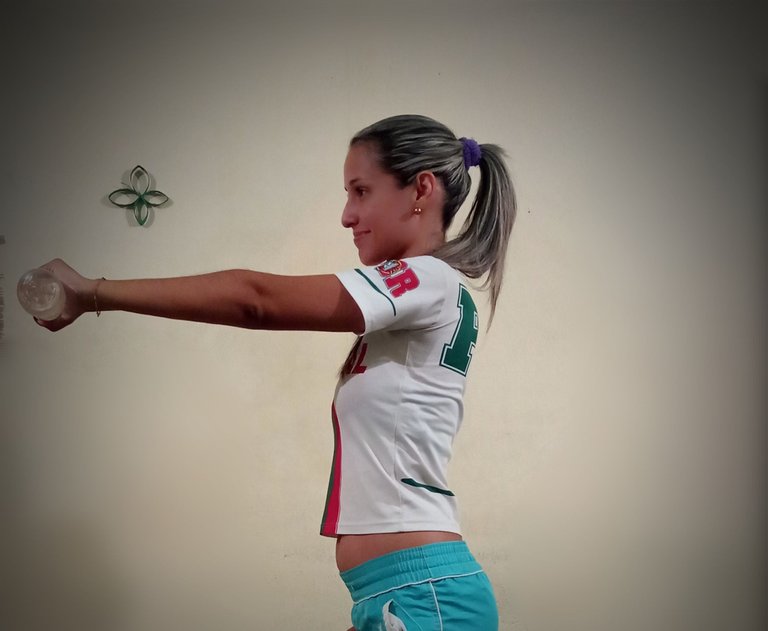 ---
- CURL DE BÍCEPS
---
Mantendremos uno de los brazos en 90 grados y con el otro haremos el curl de bíceps.
3 series de 15 repeticiones.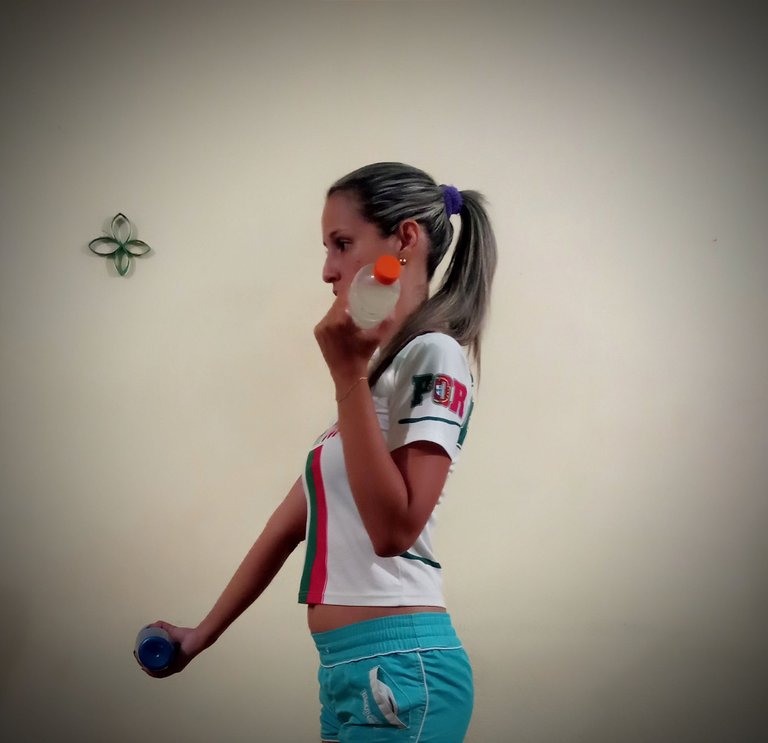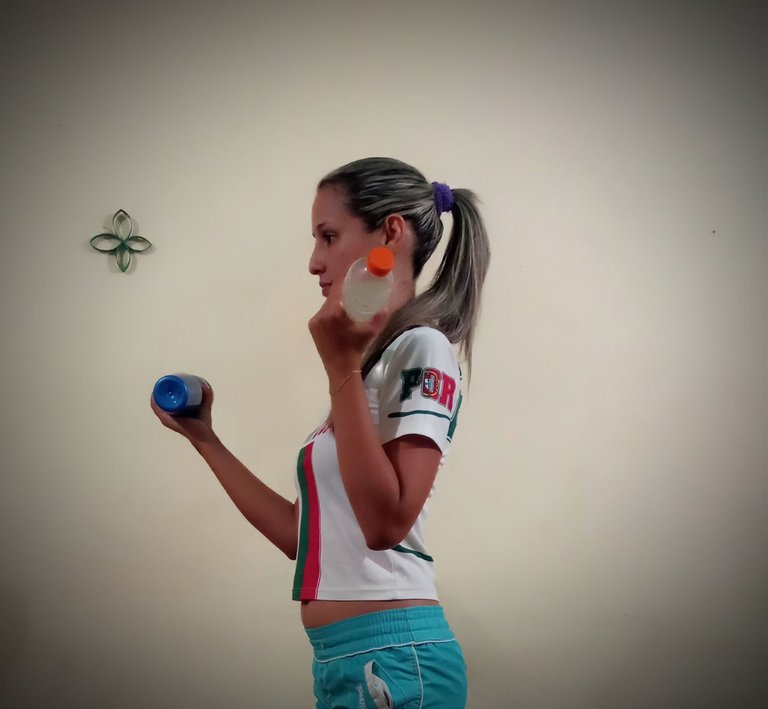 - BICEPS CURL.
---
We will keep one of our arms at 90 degrees and with the other one we will do the biceps curl.
3 sets of 15 repetitions.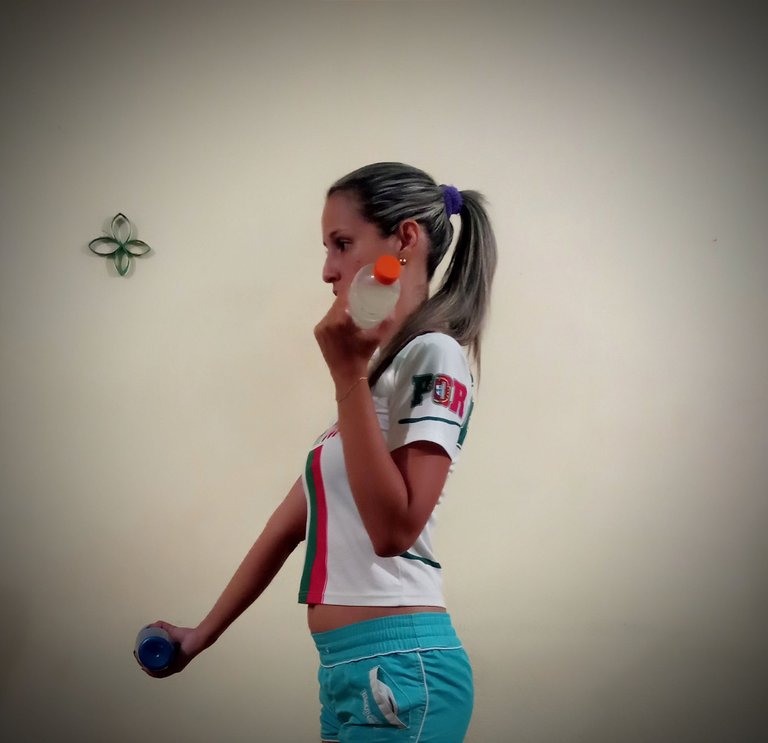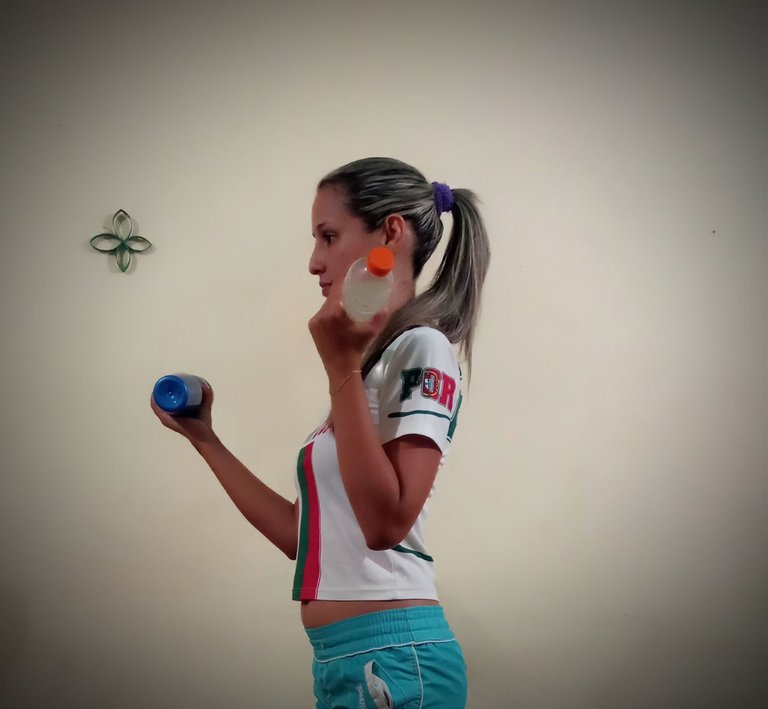 ---
- EJERCICIO PARA TRÍCEPS.
Tomamos una mancuerna o un este caso mi botella de agua y moviendo solo la parte del codo hacia arriba hago elevaciones.
3 series de 15 repeticiones.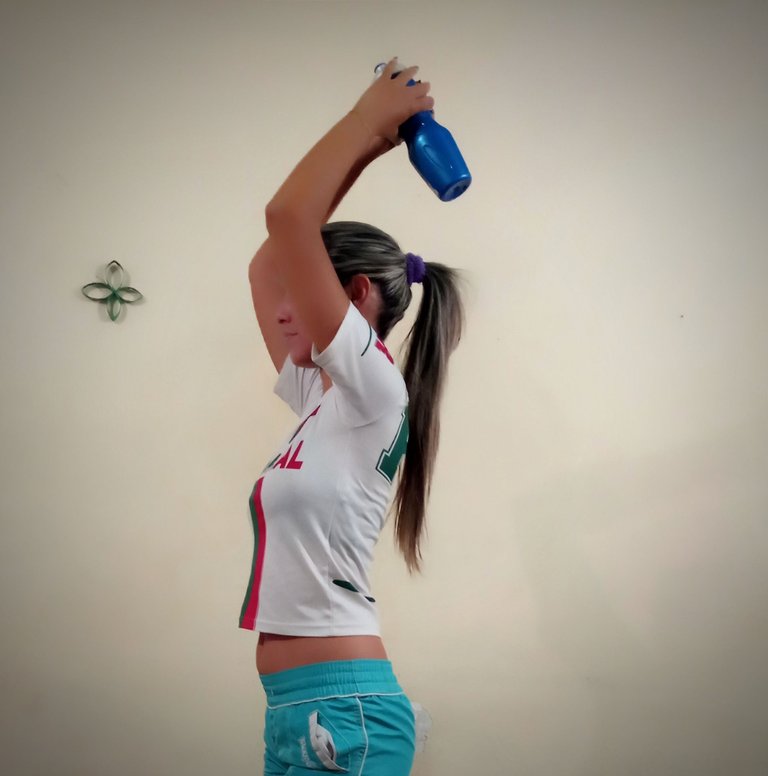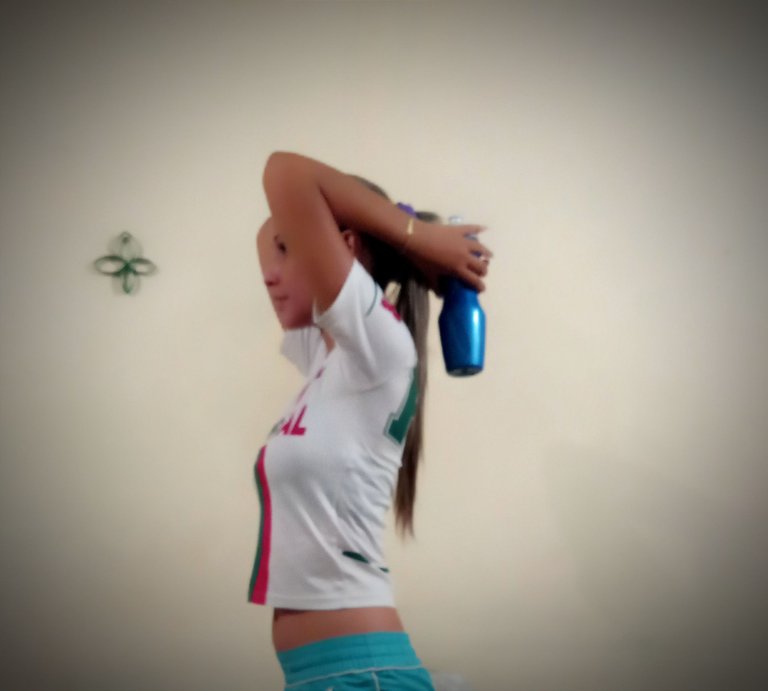 - TRICEPS EXERCISE.
We take a dumbbell or in this case my water bottle and moving only the elbow part up I do lifts.
3 sets of 15 reps.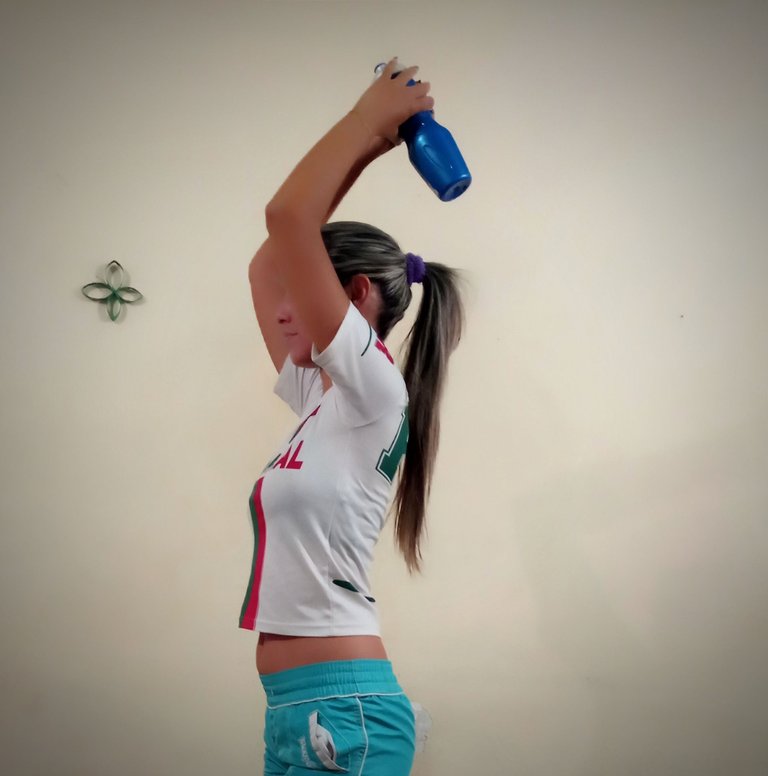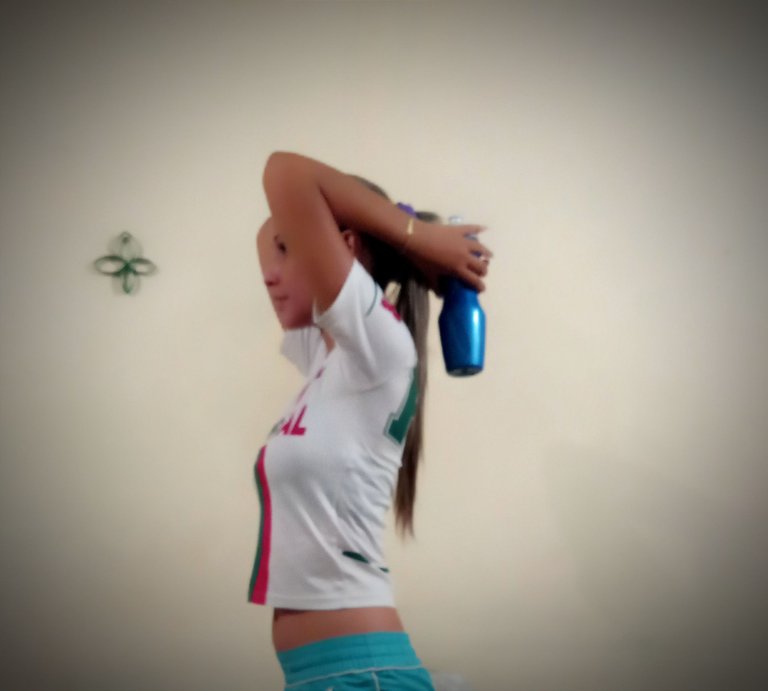 ---
"REMO DE ESPALDA"
---
Inclinamos un poco el tronco y llevamos hacia atrás los codos. Manteniendo lo más pegados que se puedan al cuerpo.
Realice 3 series de 15 repeticiones.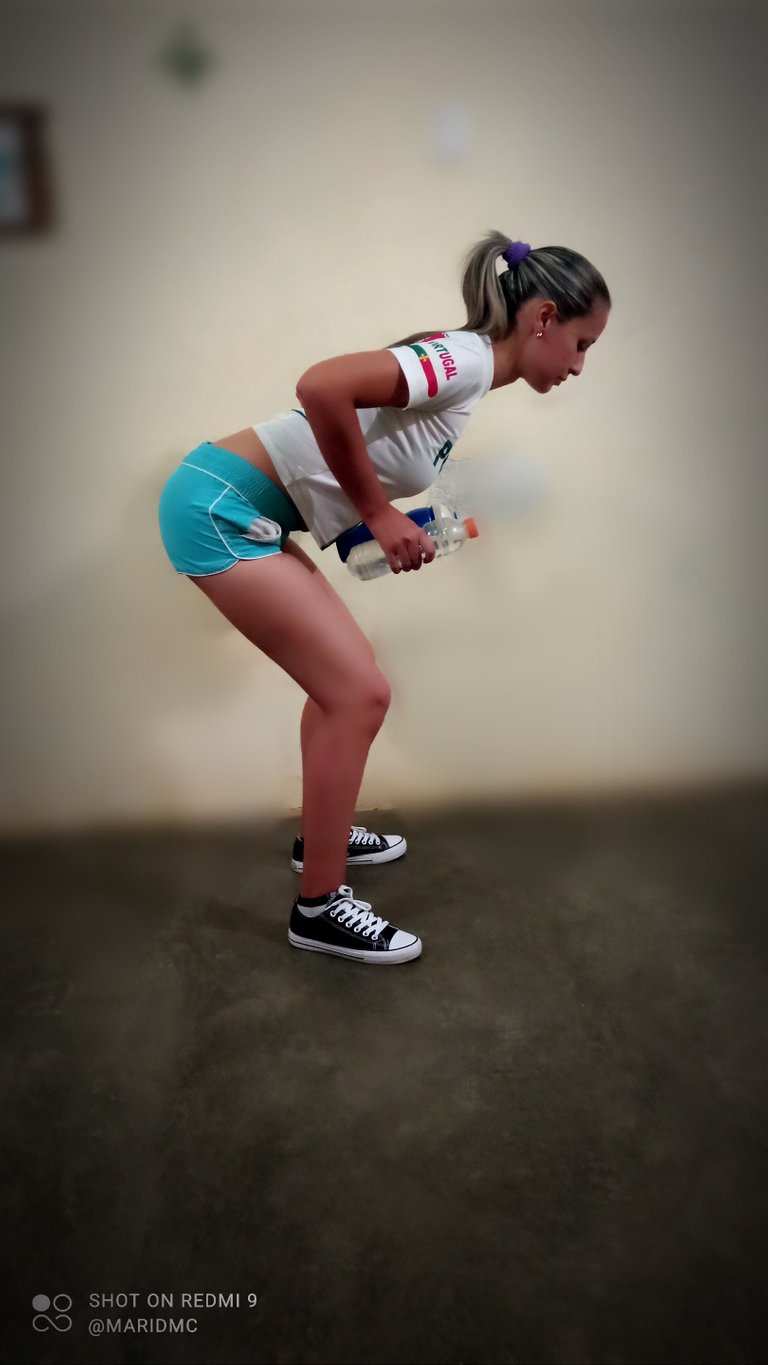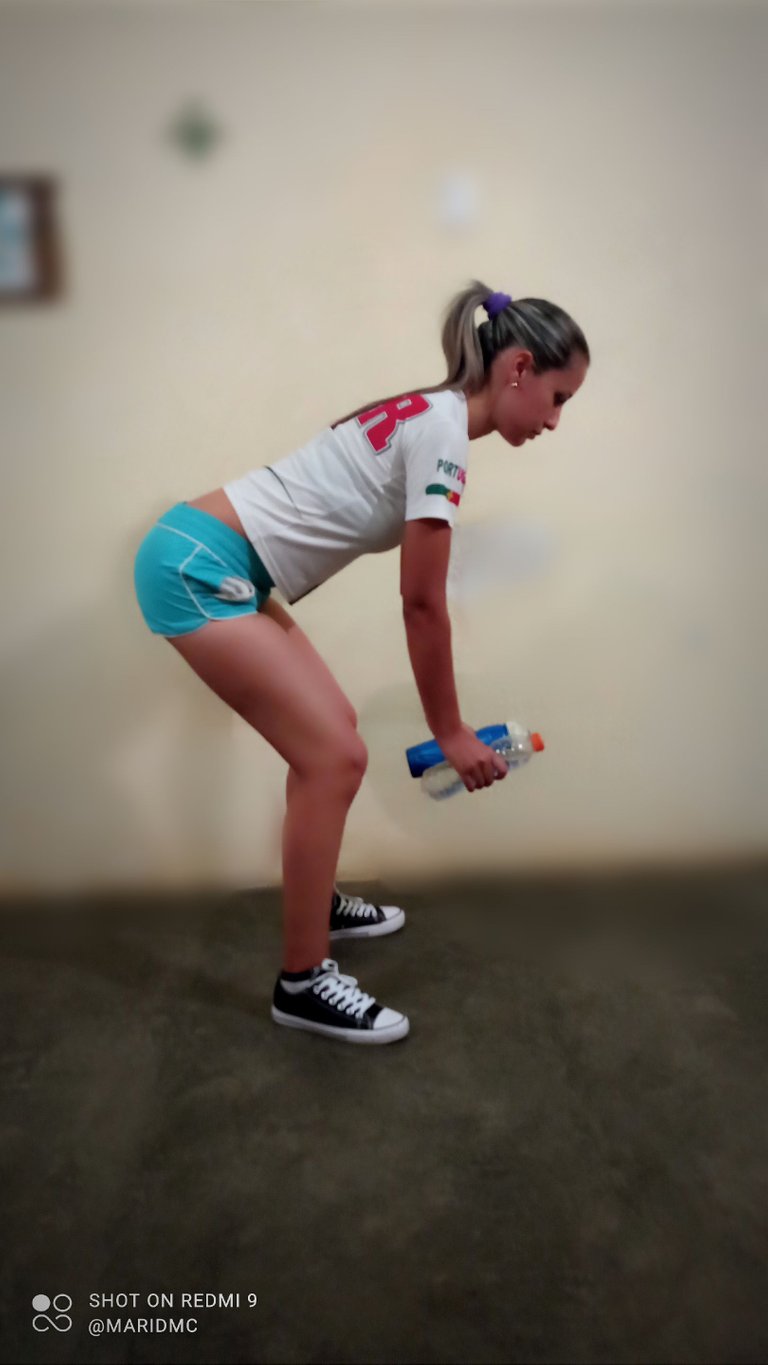 "BACK REMOTE"
---
Tilt the trunk slightly and bring back the elbows. Keeping them as close to the body as possible.
Perform 3 sets of 15 repetitions.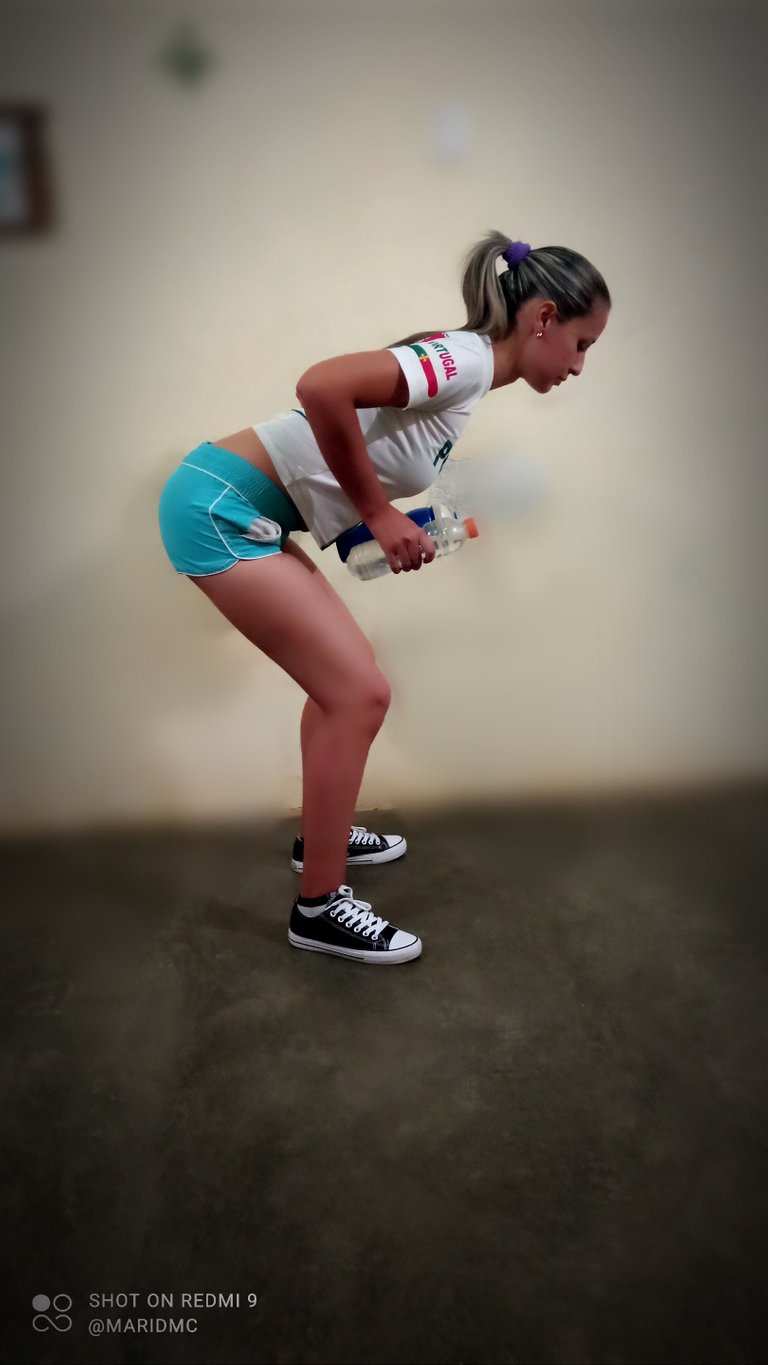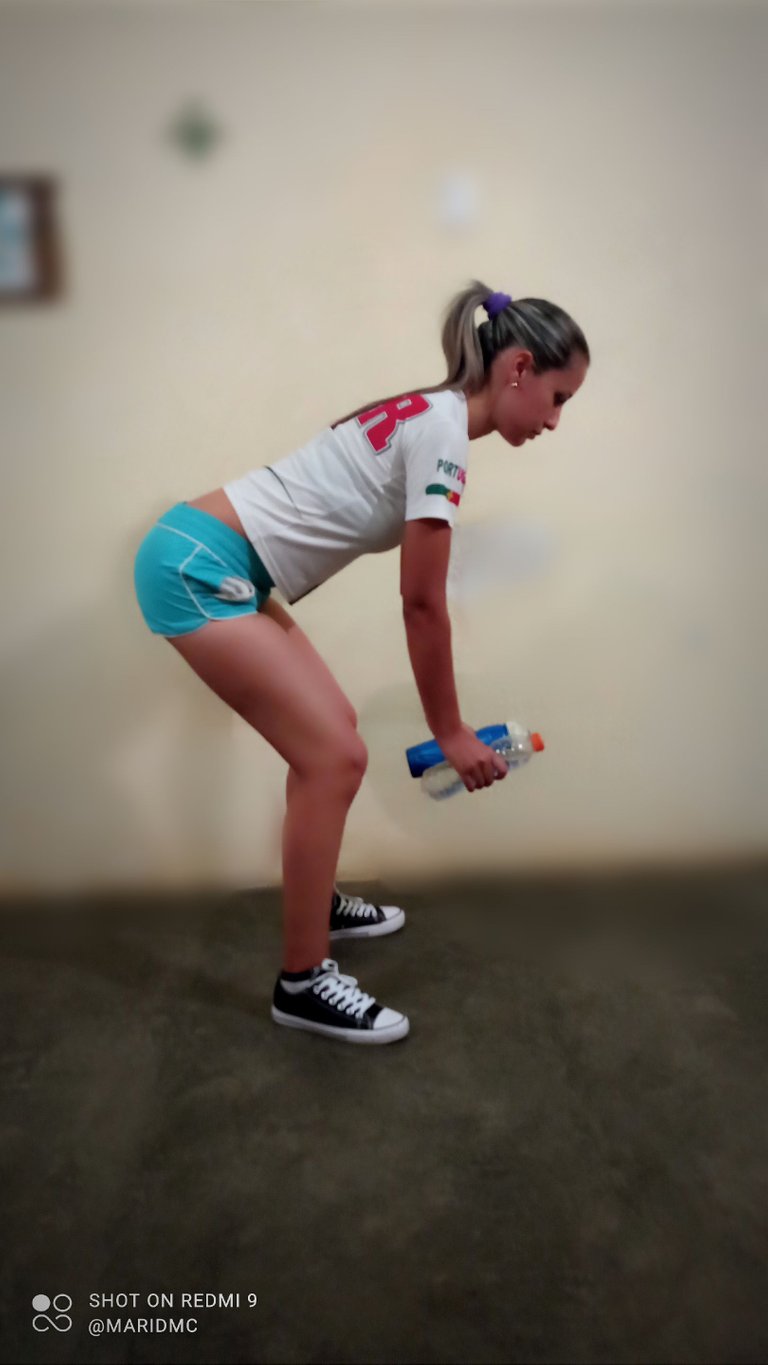 ---
Finalicé con los estiramientos y esta fue toda mi rutina del día! Menos agotadora que cuando trabajo piernas y glúteos 😁.
Nos vemos en un próximo post, gracias de antemano por su tiempo y atención!
Un abrazo fuerte! Chao chao!
I finished with stretching and this was my whole routine for the day! Less strenuous than when I work legs and glutes 😁.
See you in a next post, thanks in advance for your time and attention!
Big hugs! Bye bye bye!
---
▶️ 3Speak
---
---