Volvemos con tren inferior 🔥🔥 [esp-eng]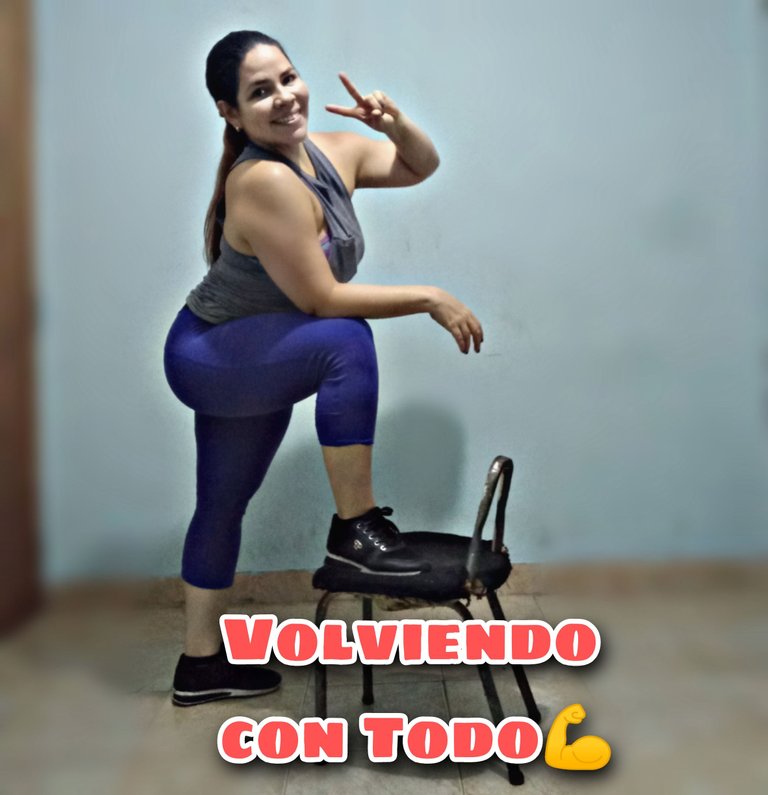 Hola hola amigos💜💜 andaba un poco perdida por aca, en casa cayó una de esas gripes bien bien fuertes y recien salimos de ella!! Pero ya andamos activos con todas las pilas puestas!! A mi siempre me gusta iniciar con tren inferior, me recargo de energia para el resto de la semana, suena loco, pero asi es. Sin embargo debo confesarles que esta pausa me costo muchisimo😰😰😥 estaba mas cansada que cuando retomé el entrenamiento despues de mi cesarea, ay no! Me faltaba el aire jaja horrible. Pero igual se cumplió, con pocas repeticiones, perl vamos asi, de a poco!! Pero bueno sin mas que contar aqui les muestro los 5 ejercicios con los que inicié esta semana despues de mi calentamiento Previo👇👇
Hello friends💜💜 I was a little lost around here, at home fell one of those very strong flus and we just came out of it! But we're already active with all the batteries in place! I always like to start with lower body, it recharges my energy for the rest of the week, it sounds crazy, but that's how it is. However I must confess that this break cost me a lot😰😰😰😥 I was more tired than when I resumed training after my cesarean, oh no! I was short of breath haha horrible. But still it was accomplished, with few repetitions, but let's go like this, little by little!!! But well without more to tell here I show you the 5 exercises with which I started this week after my Previo👇👇👇👇 warm up.

SENTADILLA TRADICIONAL || TRADITIONAL SADDLE
Iniciamos con la que no puede faltar cuando de tren inferior se trata, y aqui quiero recordarles que la tecnica cprrecta es abrir los pies al ancho de hombres y bajar rompiendo el paralelo (que nuestros gluteos esten por debajo de las rodillas) llevando todo nuestro peso a los talones para asi no levantarlos al bajar, la respiracion por supuesto exhalamos por la boca al bajar e inhalamos por la nariz al subir, realizamos de 10 a 15 repeticiones, segun el nivel, en mi caso yo inicie con 10, ya en la proxima realizo 12 y luego 15 y asi hasta ir retomando condicion
We start with the one that can not miss when it comes to lower body, and here I want to remind you that the correct technique is to open the feet to the width of men and down breaking the parallel (that our buttocks are below the knees) taking all our weight to the heels so as not to lift them down, the breathing of course we exhale through the mouth on the way down and inhale through the nose on the way up, we do 10 to 15 repetitions, depending on the level, in my case I started with 10, and in the next one I do 12 and then 15 and so on until we get back in condition.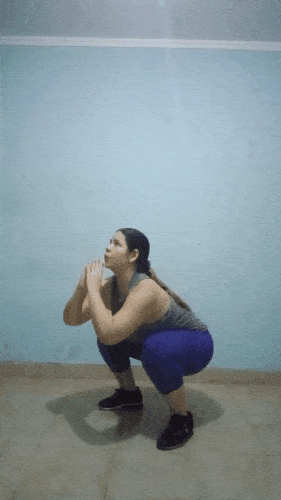 SENTADILLA SUMO || SUMO SQUAT
Para el siguiente movimiento vamos a realizar la sentadilla sumo, que consiste en abrir los pies por fuera de nuestros hombros, manteniendo la punta de los pies apuntando hacia afuera y bajamos con la espalda siempre recta, la tecnica de la respiracion es igual que en el ejercicio pasado, vamos a realizar de 10 a 15 repeticiones
For the next movement we will perform the sumo squat, which consists of opening the feet outside our shoulders, keeping the tip of the feet pointing outward and down with the back always straight, the technique of breathing is the same as in the last exercise, we will perform 10 to 15 repetitions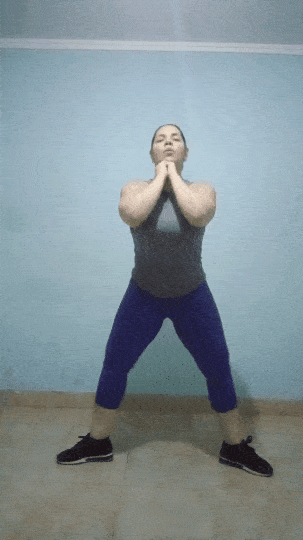 SENTADILLA BÚLGARA || BULGARA SITTING
Este es uno de los ejercicios que mas se me dificultaban, pero al encontrar la tecnica correcta es mas "sencillo" para este ejercicio utilicé una silla, pero ustedes pueden usar un banco, mueble, muro, lo que les permita subir la pierna y que no se mueva, vamos a colocar los pies juntos y vamos a dar 3 pasos hacia adelante para que al bajar formemos el angulo de 90 grados, llevamos la rodilla hacia el piso, realizamos de 10 a 12 repeticiones
This is one of the exercises that was more difficult for me, but to find the correct technique is more "simple" for this exercise I used a chair, but you can use a bench, furniture, wall, which allows you to raise the leg and not move, we will place the feet together and we will take 3 steps forward to go down to form the angle of 90 degrees, we take the knee to the floor, perform 10 to 12 repetitions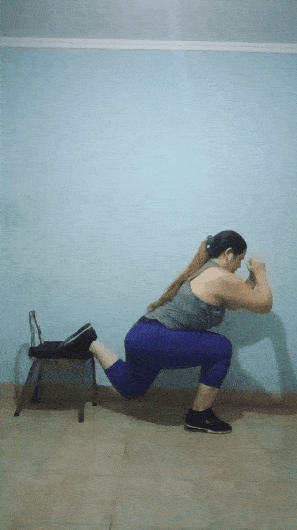 HIP THRUST
Este es de mis favoritos cuando de trabajar gluteos se trata, lo amo!! Lo podemos hacer con o sin peso, en mi caso lo hice normalito porque vengo de una larga pausa jeje asi que poco a poco, yo use igual la silla, de la que me agarre de su espaldar, aunque realice bien el movimiento lo ideal es hacerlo en un banco o mueble, bajamos los gluteos lo mas que podamos y al subir formamod una especie de mesa, nos quedamos 1 segundo arriba apretabdo gluteos y repetimos hasta lograr 15 repeticiones
This is one of my favorites when it comes to working glutes, I love it!!! We can do it with or without weight, in my case I did it normalito because I come from a long break hehe so little by little, I used the same chair, which I grabbed his back, but perform the movement well ideally do it on a bench or piece of furniture, we lower the buttocks as much as we can and up formamod a kind of table, we stay 1 second up squeezing buttocks and repeat until 15 reps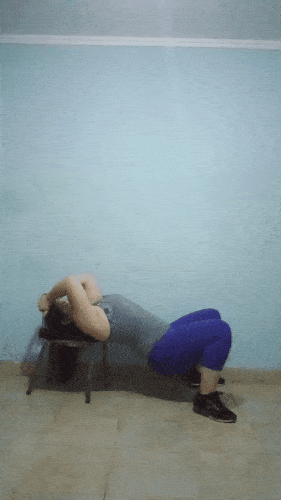 STEP UP
Para Finalizar con la misma silla vamos a realixar un step up, con ambos pies, pero primero 12 repeticiones con un pierna y al finalizar las 12 con la siguiente, nos colocamos las manos en la cintura para mayor equilibrio, y al subir llevamos la pierna contraria hacia atras
To finish with the same chair we will perform a step up, with both feet, but first 12 repetitions with one leg and at the end of the 12 with the next, we put our hands on our waist for balance, and when we go up we take the opposite leg backwards.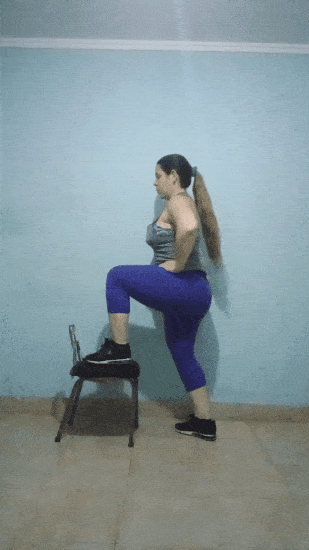 Como ven inicie con una rutina sencilla, pero que despues de una pausa les juro que parecia una carrera de 42 kilometros 😂😂 pero bueno logre hacer 3 rondas! Pueden hacer hasta 5 segun su capacidad 💪 al finalizar por supuesto estiramos un poco y estamos listos😜
As you can see I started with a simple routine, but after a pause I swear it looked like a 42 km race 😂😂 but well I managed to do 3 rounds! You can do up to 5 depending on your ability 💪 at the end of course we stretch a bit and we are ready😜

Espero que hayan disfrutado la rutina y se animen a hacerla 🔥🔥
I hope you enjoyed the routine and are encouraged to do it 🔥🔥.

Todos los videos fueron grabados con mi Redmi 9, convertidos en Gifs en GifShop
La portada la edité en PicsArt
All the videos were recorded with my Redmi 9, converted to Gifs in GifShop.
The cover was edited in PicsArt
---
---