Munster Vs Toulouse. European 1/4 final.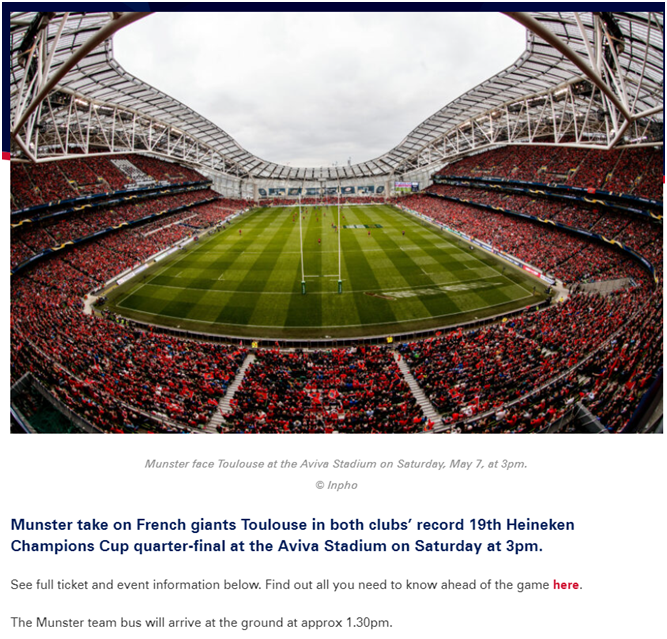 Ref: Munster rugby
Munster rugby and the European cup have a long and storied relationship. Some of their best and worst days were spend in pursuet of the top honour across club rugby.
It has had many different names and sponser in that time but for me it is always going to be known as the heineken cup.
It's a great competiition that pits the bets teams in European club rugby against each other for the past 25 years or so.
Munster have two and Toulouse have five medals to their name. Heavyweights by any stretch of the imagination.
It's a tough ask today however. While both team are entering their record equalling 19th european quarter final. Munsters best days were in the noughties as a group of average individuals that came together as more than the sum of their parts.
Winning games that the had no right to win and just refusing to lie down and accept that they were not good enough.
Their first final win was spectacular to behold. At a neutral venue in wales it was 90% Munster fans.
They are known for having an almost perfect home record in this competitiion which is why it's goin to be even harder for them to get the win as they had to give up home advatage with the Ed Sheeran concert that was on this weekend. Notthat I'm complaining as we went and had a great night out but losing the 19th man and your home pitch is not a great start.


Ref: Youtube
Instead they have to play in Dublin which is technically enemy territiory to this team as it's the home of their countrymen and greatest rivals Leinster.
But munster fans will do what munster fans always do.
They will travel in their thousands and take over the stadium anyway. They have done it for all of the big game sand this is as big as they have had for a long time.
"Yeah, there was news that we couldn't play at Thomond Park but it didn't bother anyone. Everyone just said, 'Where's the game on? On we go, up to the Aviva.' The sea of red is just following us around and it's going to be an incredible atmosphere having 30,000-plus Munster fans there as well as the travelling Toulouse fans, it's really going to make for a special occasion and I think the atmosphere is going to be electric."
Ref: Irish examiner
And those are not even the latest numbers. With a capacity of 51K in the Aviva stadium I don't think that there will be too many empy seats at kick off which isn't bad for a club team playing away from home.
This is one that I am really looking forward to and always love to see the big club matches. I will watch almost any of them but Munster games are always something alittle bit different. Not just as a supporter but as a neutral they have that bit of magic around the team.
THat's what makes competitions like this. The outliers. The big results and the superstars. Our team doesn't have any individuals superstars at the moment but the red army itsef is a form of celebrity as it washes over cites for matches like this.
Posted using SportsTalkSocial
---
---