Mi Diario Actifit: 21 mayo 2023 // My Actifit Report Card: May 21 2023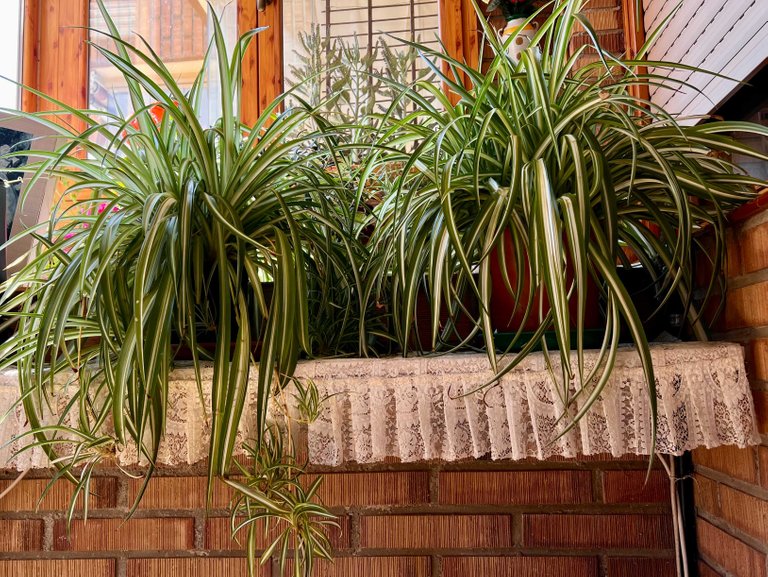 Hola, querido hiver.
Hoy sí. El viento se ha transformado en brisa agradable que ya no molesta ni se torna peligroso. ¡Por fin! Casi se me había olvidado que era primavera. Como si el universo lo supiera ha coincidido con la comida familiar que teníamos programada, así que esta es una jornada de descanso y disfrute.
Otro tema que quiero contarte es que llevo desde el viernes dándole vueltas a la conveniencia o no de ir ampliando mis delegaciones de HP actuales. Mi idea inicial era esperar hasta acumular un mínimo de 5000 HP para que mi voto adquiriese un peso que considero relevante. Pero por otro lado me apetece apoyar los proyectos que me gustan y con los que tengo alguna vinculación especial.
Al final he tomado una decisión salomónica, jeje. No frenaré mi crecimiento y aumentaré mis delegaciones. ¿Te estás preguntando cómo? Pues tan sencillo como dedicar un porcentaje semanal de mis recompensas a subir esas delegaciones. Cada semana irán para una comunidad diferente y he preparado una lista de control para no dejarme ninguna. Cuando complete el objetivo que me haya marcado en cada una añadiré proyectos a la lista.
¿Qué te parece mi plan? ¿Cómo lo haces tú? Creo que repartir el poder de colmena nos beneficia a todos, al menos esa es mi filosofía de vida y así procuro practicarla.

Cita estoica del día
Aquella [prosperidad] que se ha alcanzado en lucha constante contra las incomodidades, produce callos ante las injurias y no se rinde a los infortunios.
Séneca.

Mi reflexión
La vida es una lucha interminable. Está en nuestro instinto aspirar a algo mejor, al menos es lo que siento en mi interior. Como un fuego interno que pugna por abrirse paso hacia la superficie, encuentro obstáculos que se antojan insalvables, pero con paciencia y esfuerzo sé que lograré hallar el agujero por el que deslizarme.
Todos recibimos golpes que duelen. Supuestas amistades que desaparecen cuando más las necesitas, envidias de quien se siente inferior y paga contigo su frustración, familias demandantes al punto de ser egoístas o asfixiantes… y como manda la naturaleza, desapariciones que son ley de vida y nada podemos hacer para evitarlas.
Es mi responsabilidad establecer una estrategia defensiva adecuada y proporcionada a cada caso. Hasta hace poco no supe hacerlo y los golpes recibidos dolían más. Ahora tengo hecho ese callo que decía el filósofo cordobés. Sigo decepcionándome ante según qué situaciones, pero ya no me duelen como antes. Protejo mi bienestar y aprovecho mejor mis energías entregándolas a los proyectos en los que creo.
Las malas rachas seguirán llegando, sin embargo cuento con mi fuerza interior que me guía para resistir los embates y seguir en pie en medio del ring. Aprovecharé cada segundo que me quede aliento hasta que suene la campana.

Bitácora del día
Por la mañana: tareas domésticas, tareas variadas de Hive, escritura.
Por la tarde: pasamos toda la tarde en casa de mis padres y al regresar doy el paseo con el perrito.

Aviso: Todo lo publicado en este post es de mi autoría, excepto los elementos en los que doy crédito a su/s autor/es. Por tanto, en caso de plagio o difusión sin mi permiso, ejerceré mis derechos de autor si así lo estimo oportuno.
Realizo mis fotografías con mi móvil iPhone, las edito en el editor de fotos de Mac y con la versión gratuita de la aplicación PicsArt.
Si te gusta lo que publico, únete a mi Fanbase pinchando aquí



Hi, dear hiver.
Today, yes. The wind has turned into a pleasant breeze that is no longer annoying or dangerous. At last! I had almost forgotten that it was spring. As if the universe knew it, it has coincided with the family meal we had planned, so this is a day of rest and enjoyment.
Another thing I want to tell you is that since Friday I've been thinking about whether or not to extend my current HP delegations. My initial idea was to wait until I had accumulated a minimum of 5000 HP so that my vote would acquire a weight that I consider relevant. But on the other hand, I want to support the projects I like and with which I have a special connection.
In the end I have made a Solomonic decision, hehe. I will not slow down my growth and I will increase my delegations. Are you wondering how? It's as simple as dedicating a weekly percentage of my rewards to increase those delegations. Each week they will go to a different community and I have prepared a checklist so I don't miss any. When I complete the target I have set for each one, I will add projects to the list.
What do you think of my plan, how do you do it? I believe that sharing the power of the hive benefits us all, at least that's my philosophy of life and that's how I try to practice it.

Stoic Quote of the Day
That [prosperity] which has been achieved in constant struggle against discomforts, is calloused in the face of insults, and does not yield to misfortunes.
Seneca.

My reflection
Life is an endless struggle. It is in our instinct to aspire to something better, at least that is what I feel inside me. Like an internal fire that struggles to break through to the surface, I find obstacles that seem insurmountable, but with patience and effort I know that I will find the hole through which I can slip.
We all take blows that hurt. Supposed friendships that disappear when you need them most, envy from those who feel inferior and take their frustration out on you, families that are demanding to the point of being selfish or suffocating... and as nature dictates, disappearances that are a fact of life and there is nothing we can do to avoid them.
It is my responsibility to establish an adequate and proportionate defensive strategy for each case. Until recently I didn't know how to do it and the blows I received hurt more. Now I have that callus that the Cordovan philosopher used to say. I am still disappointed in certain situations, but they don't hurt as they used to. I protect my wellbeing and make better use of my energies by giving them to the projects I believe in.
The rough patches will continue to come, but I count on my inner strength to guide me to resist the onslaught and stay on my feet in the middle of the ring. I will make the most of every second I have left until the bell rings.

Log of the day
In the morning: housework, various Hive tasks, writing.
Afternoon: spend the whole afternoon at my parents' house and then go for a walk with the puppy when I get back.

Notice: Everything published in this post is of my authorship, except for the elements in which I give credit to its author/s. Therefore, in case of plagiarism or dissemination without my permission, I will exercise my copyright if I deem it appropriate.
I take my photos on my iPhone, edit them with the Mac photo editor and the PicsArt application (free version).
Translated with (free version) www.DeepL.com/Translator
If you like my content, join my Fanbase clicking here





This report was published via Actifit app (Android | iOS). Check out the original version here on actifit.io




21/05/2023

5270

Daily Activity,House Chores,Moving Around Office,Walking
---
---