Mi Diario Actifit: 22 mayo 2023 // My Actifit Report Card: May 22 2023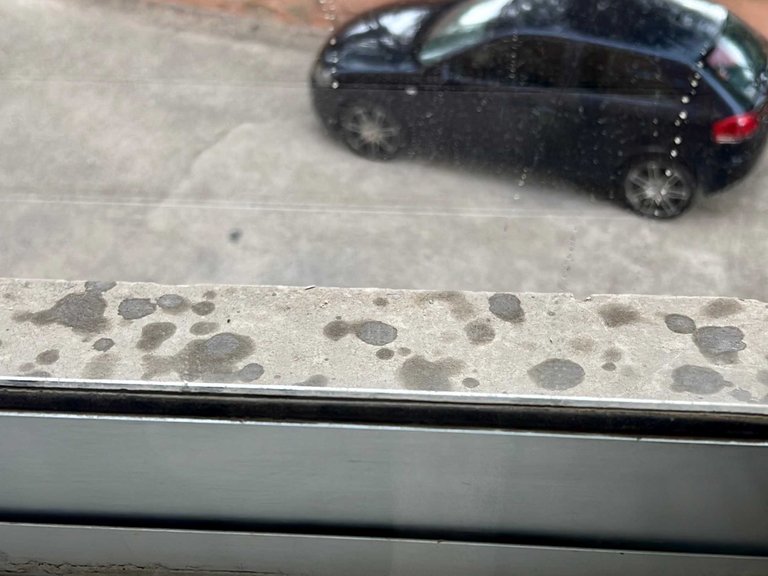 Hola, querido hiver.
Con el viento en calma las nubes toman el dominio del cielo. Por el momento no llueve aunque alguna gota se espera según las previsiones. En otros lugares del país las tormentas han arrasado campos y casas, al menos no lamentamos heridos ni fallecidos, que eso tiene peor o ningún remedio.
Hablando de salud, he llevado a mi perrito Rocky al veterinario para que le hicieran una ecocardiografía. Le han salido achaques normales de su edad y por ahora no precisan medicación, así que he regresado contenta. Él odia ir a la clínica, en cuanto le subo a la mesa de exploración salta como un canguro y se tiraría al suelo sin pensar, el muy bruto. Supongo que dormirá toda la tarde, recobrando las fuerzas tras el estrés sufrido. Le dejaré tranquilo hasta su hora del paseo.
Por lo demás no tengo mucho que contar, quiero escribir y publicar un post que no sé si saldrá hoy o esperará a mañana. Sigo sin encontrar una programación estable a la hora de publicar al margen de estos reportes. Hay tantas iniciativas interesantes dentro de Hive que es fácil dispersarse. Seguiré buscando el equilibrio.
Actualización vespertina: ¡Llovió! No ha sido mucho, pero lo suficiente para volver a aspirar el olor a tierra mojada. 😃

Cita estoica del día
Con razón llevas tu merecido. Pues esperas aplazar hasta mañana el ser bueno, antes que serlo desde hoy mismo.
Marco Aurelio.

Mi reflexión
Sé lo que tengo que hacer para mejorar. Lo difícil es aplicarlo día a día, pues los resultados son a largo plazo y apenas se aprecia la evolución. Es tentador aplazar para el día siguiente aquello que nos cuesta un esfuerzo extra, ¿verdad?
Una estrategia que me ayuda a cumplir con lo que no me apetece afrontar es asociarlo con otra actividad que me agrade y disfrute. Me autoimpongo la condición de premiarme con esta última solo cuando haya realizado la primera. No he inventado la rueda, se trata de un condicionamiento clásico de libro y de hecho lo estudié en la asignatura de Psicología. Lejos de la academia, las abuelas y madres lo practican de forma intuitiva toda vez que te incitan a comerte la verdura para ganarte tu postre preferido.
No es lo mismo sentir que sacrificas tus energías en algo desagradable que pensar que después de eso viene algo mejor. Por eso el pensamiento a largo plazo es necesario y el sistema lo acalla. Nos quieren endeudados hasta las cejas para que presos del miedo no nos atrevamos a protestar, no sea que perdamos lo poco que tenemos. Me rebelo ante eso, y hoy en día practicar la mejora continua, el ahorro y la inversión me hace sentir alejada de la sociedad en general pero cerca de la tranquilidad que quiero en el futuro.
Cuando tienes claro lo que quieres vivir mañana es más sencillo esforzarte hoy. Este momento es el único en el que puedes hacer algo, deja de soñar y ponte a trabajar por conseguir lo que quieres.

Bitácora del día
Por la mañana: tareas domésticas, curación de contenidos, visita al veterinario, escritura.
Por la tarde: otra tanda de curación, edición y publicación del post de Photo-essay, paseo con el perrito.

Aviso: Todo lo publicado en este post es de mi autoría, excepto los elementos en los que doy crédito a su/s autor/es. Por tanto, en caso de plagio o difusión sin mi permiso, ejerceré mis derechos de autor si así lo estimo oportuno.
Realizo mis fotografías con mi móvil iPhone, las edito en el editor de fotos de Mac y con la versión gratuita de la aplicación PicsArt.
Si te gusta lo que publico, únete a mi Fanbase pinchando aquí



Hi, dear hiver.
With the wind calm, clouds take over the sky. For the moment it is not raining, although a few drops are expected according to the forecast. In other parts of the country the storms have devastated fields and houses, but at least there are no injuries or deaths, which is worse or hopeless.
Speaking of health, I took my little dog Rocky to the vet for an echocardiogram. He showed normal ailments for his age and so far he doesn't need any medication, so I came back happy. He hates going to the clinic, as soon as I put him on the examination table he jumps up like a kangaroo and will jump on the floor without thinking, the brute. I guess he'll sleep all afternoon, regaining his strength after the stress he's been through. I'll leave him alone until it's time for his walk.
As for the rest, I don't have much to tell, I want to write and publish a post that I don't know if it will come out today or wait until tomorrow. I still can't find a stable schedule for publishing apart from these reports. There are so many interesting initiatives within Hive that it's easy to get scattered. I'll keep looking for a balance.
Evening update: It rained! It wasn't much, but enough to breathe in the smell of wet earth again. 😃

Stoic quote of the day
You are rightly deserving of what you deserve. For you hope to put off being good until tomorrow, rather than being good today.
Marcus Aurelius.

My reflection
I know what I have to do to improve. The difficult thing is to apply it day by day, because the results are long term and the evolution is hardly noticeable. It is tempting to put off until the next day what costs us extra effort, isn't it?
A strategy that helps me to do what I don't feel like doing is to associate it with another activity that I like and enjoy. I set myself the condition of rewarding myself with the latter only when I have done the former. I have not invented the wheel, it is a classic book conditioning and in fact I studied it in my Psychology course. Far from the academy, grandmothers and mothers practice it intuitively whenever they encourage you to eat your vegetables to earn your favourite dessert.
It is not the same to feel that you are sacrificing your energy on something unpleasant as it is to think that something better comes after it. That's why long-term thinking is necessary and the system silences it. They want us to be up to our eyebrows in debt so that, in fear, we dare not protest, lest we lose what little we have. I rebel against this, and today practising continuous improvement, saving and investing makes me feel distant from society in general but close to the peace of mind I want in the future.
When you are clear about what you want to live tomorrow, it is easier to make an effort today. This moment is the only one in which you can do something, stop dreaming and start working to get what you want.

Logbook of the day
Morning: housework, content curation, vet visit, writing.
Afternoon: another round of curation, editing and publishing the Photo-essay post, walk with the puppy.

Notice: Everything published in this post is of my authorship, except for the elements in which I give credit to its author/s. Therefore, in case of plagiarism or dissemination without my permission, I will exercise my copyright if I deem it appropriate.
I take my photos on my iPhone, edit them with the Mac photo editor and the PicsArt application (free version).
Translated with (free version) www.DeepL.com/Translator
If you like my content, join my Fanbase clicking here





This report was published via Actifit app (Android | iOS). Check out the original version here on actifit.io




22/05/2023

5150

Daily Activity,House Chores,Moving Around Office,Walking
---
---