The TOTAL african cup of nations is on the horizon.
The 2021 African cup of nations is only a week away, The competition had originally been slated to start in January 2021 but was postponed and moved to January 2022 due to covid 19 pandemic which had already disrupted and halted African and global football activities.
More info: https://amp.france24.com/en/20200630-africa-cup-of-nations-postponed-from-january-next-year-to-2022
The 2021 African cup of nations will take place in Cameroon, The Algerian national team are defending their second title while Egypt have won the most title, They are now at their seventh cup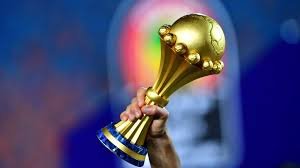 Source: https://www.google.com/imgres?imgurl=https%3A%2F%2Fimgresizer.eurosport.com%2Funsafe%2F1200x0%2Ffilters%3Aformat(jpeg)%3Afocal(1269x729%3A1271x727)%2Forigin-imgresizer.eurosport.com%2F2021%2F06%2F06%2F3147503-64505788-2560-1440.jpg&imgrefurl=https%3A%2F%2Fwww.eurosport.com%2Ffootball%2Fafrica-cup-of-nations%2F2022%2Fafrica-cup-of-nations-2022-opinion-the-solution-to-the-continued-disrespect-just-support-your-clubs-_sto8688253%2Fstory.shtml&tbnid=aBvOwe9-3FmU_M&vet=1&docid=loB4kIYHAIRpkM&w=1200&h=675&itg=1&source=sh%2Fx%2Fim
As previously reported by CAF, The African football federation, AFCON will increase its participants from 16 to 24 countries so as to increase number of African nations competing at the event, The prize money for the winner of 2021 AFCON will be a massive 4.5 million dollars.
The 2021 african cup of nations will be known as the TOTAL African cup of nations after its headline sponsors.
The AFCON has come under massive criticism mainly from European fans as big teams in Europe will lose their star players to the cup competition over the monthly long tournament.
Liverpool manager Jurgen klopp was blasted by senegal manager Aliou cisse over his comments referring to the African cup of nations tournament as a small tournament, Aliou cisse called out Jurgen klopp saying he owes all his cup success to African players namely Senegalese born sadio mane and Mohammed Salah, naby keita and matip.
MORE info: https://www.si.com/soccer/liverpool/interviews/african-players-saved-him-senegal-manager-aliou-cisse-angered-by-jurgen-klopp-jibe
Former England and arsenal striker Ian Wright said the tournament is being disrespected due to negative media coverage where I think that major media stations are only reporting the negative effects of AFCON tournament to European football in terms of teams losing their star players at a crucial stage of the season.
The Senegalese football federation has released a statement accusing premier league club Watford over their behaviour to not allow star player Ismail Sarr to join the national team.
MORE info: https://www.google.com/amp/s/www.aljazeera.com/amp/sports/2022/1/2/senegal-accuse-watford-of-blocking-sarr-africa-cup-participation
This is not the first run in that watford has had with an African football federation as they have recently blocked star Striker Emmanuel Dennis to link up with the Nigerian national team over injury concerns.
I think FIFA should interfere in this matter as The Senegalese football federation will with no doubt ask for their assistance in ensuring a non discriminatory process in global football.
It has to be said that many Africans including myself pay more attention to european football than local and African football due to its global and entertaining nature but I have put it on my #bucketlist to watch a local match here in Rwanda as soon the league resumes and watch as many afcon matches as possible.
My country Rwanda didn't get the chance to qualify but I will be cheering for Nigeria to win it. They are my second best team in Africa, I love their attacking footballing nature and kits.
Where will you be watching Afcon from and who is your predicted winner, Feel free to air them in the comments. HAPPY NEW YEAR HIVERS.
---
---