Who Dares Wins .:. #MyHiveGoals December 12th, 2021
Back in my youth, I was a big fan of Formula 1... I remember the time of battles between Alain Prost and Ayrton Senna as those were my first steps into this huge motorsport craziness... When I was 16, I was watching the infamous San Marino Grand Prix when the bit Senna crashed and died... Somehow, that was the moment when I get even deeper into this world... I have created the first website about F1 in my native language, the next year I was writing for the auto magazine about motorsport...
When I was 18, I got 3-5 minutes in one Auto show on one local TV... In the meantime, my website was growing and I have met some awesome people that today are famous TV and radio reporters, newspapers journalists, etc... Actually, those were my first steps in creating a community and it was awesome! We had bi-weekly meetups where we would watch F1 races live, together...
Why am I talking about this in this post at all? lol... Well, today was the last race of this season and 2 drivers were sitting in first place in the championship with the same amount of points... But, there could be only one winner and that has been decided today...
The race was full of questionable decisions and a lot of crucial things have been decided OUT of the racing track... We had Hamilton on the lead the whole race and Verstappen who was sitting in the second place waiting for his chance... 10 laps before the end, even the boss of Verstappen's team said that they need a "miracle" to win... And it happened... There was an accident and the safety car had to go in...
At that moment, we had 2 racers with different views about the race... Hamilton was first, almost without a chance to LOSE the victory, not willing to risk anything... And, on the other side, we had Verstappen who was in a "losing position" with a "nothing to lose" attitude... He went to the box, changed his tires, and waited for his chance... We had 1 RACING lap when the safety car went out, he used his chance and won...
He took ACTION and made a move... Who dares wins...
Be a leader, take an action, always be on the move, find the problems and then find the solutions, too...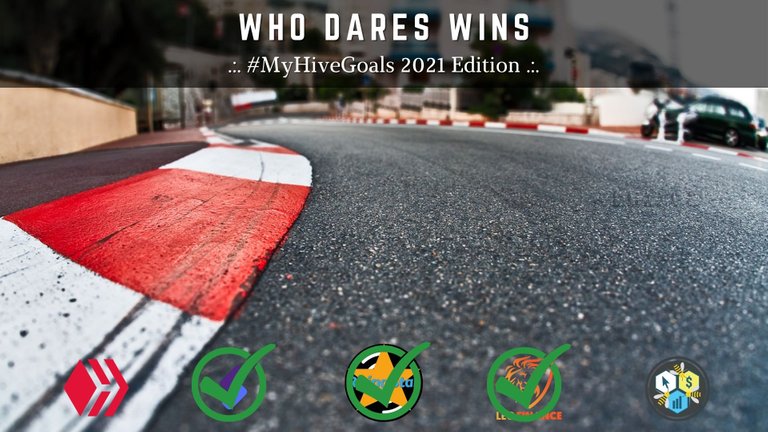 Created in Canva.com
It's time to calculate the numbers for #MyHiveGoals...

I'm very excited about the HIVE Power goal as I got very, very close to reaching it... I need only 35 HP more to hit my yearly goal and it's just a matter of a day when it will happen... As I have added almost 60 HP during this week, I suppose that I will get there next week!
My dream of reaching Orcan rank next year is also getting more real... I know that it's very far from where I am at the moment, but I will DARE myself to get there... That will probably be one of the biggest goals that I will face myself... Can't wait for it! :)

I'm still stubborn about my LEO Power accumulation and repeating the same mantra over and over again... It's a Hive-Engine gem of tokens and it will be huge... Repeating myself to accumulate it further and I will probably continue doing it next year too! I have added 46 LEO to my stake and bought and put some more in liquidity pools...

The CTP(SB) Power Up Challenge is on fire! After only 10 days there are plenty of staked tokens, the leader has changed 3 times and it's crazy how many tokens people are powering up! I knew from the beginning that winning the challenge is a long shot, but it helps me a lot with focusing on my CTP goal... I have powered up over 1100 tokens during the week and will continue doing it next week... I'm only 5.5K CTP Power far from my yearly goal... Not impossible to do it in the next 18 days...
I have noticed the fact when I'm not that concerned about a certain goal, it goes even better than expected... The perfect example is my SPORTS POWER goal which I have reached before, but I have continued building my stake... So, I have added almost a quarter of a million SPORTS tokens to my stake in just 1 WEEK! I'm over 16M at the moment and catching the 20M milestone... :)

GAMING GOALS
Another goal that I have already reached is the number of cards in the RISING STAR game... The goal was 2800 cards until the end of the year, and I'm at a bit over 3000 cards at the moment! The new Christmas mission has started which means that I will not control myself from buying packs in a hope of getting the special Christmas Choir NFT... lol... So, the saga continues...

In the end, I would like to make an update of my current numbers (December 12th, 2021) on #MyHiveGoals: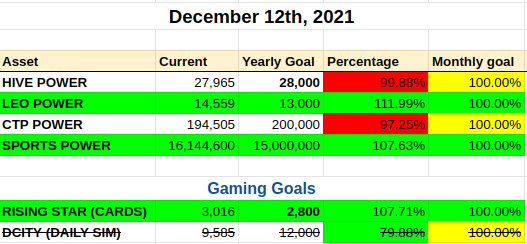 Join us in this awesome #MyHiveGoals and let's grow together! You can find the original post about the challenge by @robwillmann here.
Thank you for your time,
~ph~

The link to my initial 2021 Goals Edition is here...
These are my initial goals for 2021 on January 15th, 2021, and this #MyHiveGoals Challenge:
HIVE POWER - 20,000 / 25,000    80.00%  needed monthly grow 1.66%
LEO POWER     - 8,000 / 12,000  66.00%  needed monthly grow 2.83%
CTP POWER - 150,000 / 200,000   75.00%  needed monthly grow 2.08%
SPORTS POWER   - 5M / 15M       33.33%  needed monthly grow 5.55%

Gaming Goals:
RISING STAR (CARDS) - 189 / 2,000    9.45%  needed monthly grow 7.54%
DCITY (DAILY SIM) - 5,488/ 12,000   45.73%  needed monthly grow 4.52%   (base Income - before taxes) - goal dropped 06.06.2021.

The revised goals - May 16th, July 4th, November 7th 2021:
HIVE POWER - 26,000 --> 28,000 (2nd revision)
LEO POWER - 13,000
RISING STAR (CARDS) - 2,500 --> 2,800 (2nd revision)


If you want to support my witness, you can do it by voting for @ph1102.ctp here https://tribaldex.com/witnesses, or just scan the QR code down below...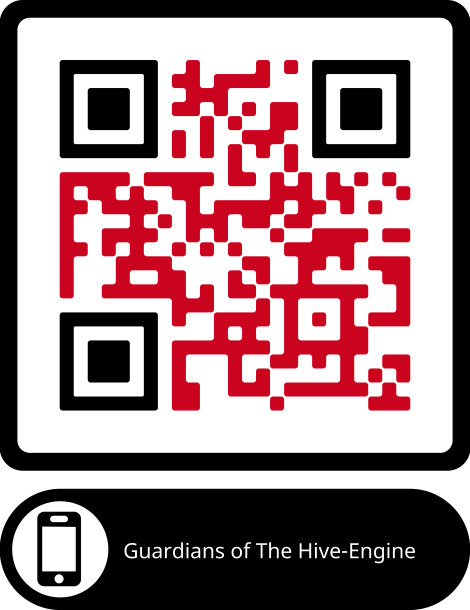 Don't forget to follow, reblog, and browse my Hivepage to stay connected with all the great stuff!
You can also find me on LEO Finance .:. Twitter .:. LBRY
---
---