Fantasy Premier League: My Current Team
It's come to that time of year when I mess around with my Fantasy Premier League team on a nightly basis.
I think I've stumbled upon the perfect team by the time I go to bed, but I always wake up with the niggling feeling that I could make 'just one more' change to improve it.
With that in mind, I've spent the last couple of hours trying to perfect my team. Yeah, that's right, I've got nothing better to do with my Friday night.
Anyway, what's the harm in sharing my team with you all? You're either going to think it's dreadful or you'll want to copy it and I'll know if you're taking part in @blanchy's Sports Talk Social league ;)
You should definitely join, by the way.
Right, onto my current team.
Let's get the bench players out of the way first. The strategy I took here was to spend as little as possible on these players in order to stack my starting 11 with the best quality possible. This is, of course, a bit of a risk because you can be left with a dud of a player in your team if your starting players get injured or suspended.
Bench
GK - David Button (Brighton). Cost: 4
DEF - Martin Kelly (Crystal Palace). Cost: 4
DEF - Jack Simpson (Bournemouth). Cost: 4
FWD - Mason Greenwood (Manchester United). Cost: 4.5
I'm pretty happy with this selection but there's not much more to say about it. These players are unlikely to make my actual team.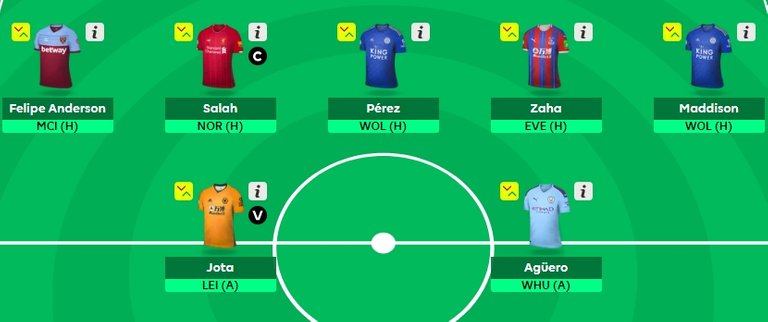 Starting 11
GK - Ederson (Manchester City). Cost: 6
I had initially planned to pick Alisson here but as you can only have 3 players from a single team, I saved my Liverpool selections for elsewhere. Ederson is likely to gain a lot of points from clean sheets so was worth spending big on.
DEF - Trent Alexander-Arnold (Liverpool). Cost: 7
Expensive for a defender, but Alexander-Arnold was a big points earners last season with 13 assists and 16 clean sheets.
DEF - Andrew Robertson (Liverpool). Cost: 7
Likewise, Robertson is expensive but contributed with 12 assists and a whopping 21 clean sheets. Too good to miss out on.
DEF - Nathan Ake (Bournemouth). Cost: 5
Nathan Ake is a really good defender and a steal at just 5 points. Although he plays for Bournemouth, he recorded 10 clean sheets in the league last season. His low cost frees up points for further up the pitch.
MID - Wilfried Zaha (Crystal Palace). Cost: 7
Zaha is a bit of a wild card but has been consistently delivering around 140-150 fantasy points for the last 3 seasons. He may move to Everton where I feel he'll record more assists and goals.
MID - James Maddison (Leicester). Cost: 7
With 7 goals and 7 assists, I think there is room for improvement with Maddison. He's a freekick specialist and I am wondering if VAR will allow him to take more shots at goal next season. For just 7 points, he's a good balance between guaranteed points on the board and more budget for elsewhere.
MID - Mohamed Salah (Liverpool). Cost: 12.5
The main man. Salah has had two monstrous seasons at Liverpool and I feel he's going to up his game yet again this coming season. I had initially opted for Mane, but with VAR in play, Salah will take penalties when Milner isn't on the pitch. This could give him an edge, points-wise.
MID - Ayoze Perez (Leicester). Cost: 6.5
Perez looks to be a bargain at just 6.5 points. He has recorded two impressive seasons in terms of fantasy points with Newcastle but will probably have a better time of it in a more attacking team like Leicester. He scored 12 goals last season so I'll be interested to see if he could be my hidden gem.
MID - Felipe Anderson (West Ham). Cost: 7
I rate Anderson extremely highly and would love to see Klopp sign him for Liverpool. At just 7 points, he's a real bargain in my opinion. He scored 9 goals last season and recorded 6 assists. I think he'll improve again this time out.
FWD - Diogo Jota (Wolves). Cost: 6.5
I needed a lower-priced forward to free up funds for the next guy in the list. Jota was the perfect match because he's not just there to make up the numbers. He scored 9 goals last season and contributed with 8 assists. Wolves could look to push on again so I'm excited to see how Jota does.
FWD - Sergio Aguero (Manchester City) Cost: 12
I had planned to include Sterling in this team, as much as I dislike the turncoat, but again, VAR made me rethink this one. If Aguero is on the pitch then he's going to be taking penalties and I think this gives him a big edge.
Let me know how you're getting on with your selection below!
---
---