Brawl Report #8 - Witch of Warwick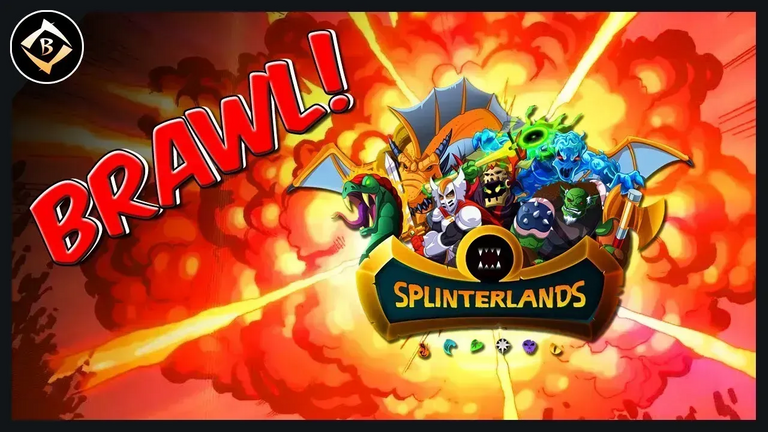 Alright, this week another round of Brawl Report. I have been contemplating for a really long time if I should write this, but well. I guess, agree to disagree, and a blog is a place to voice your thoughts so probably it is fine if I do so.
Very unfortunately, I am unable to comment on this week's brawl as I did not manage to get a fray. There were 2 last frays which have ridiculous requirements (gold only and gold with alpha/beta only). Being a new comer, I am unable to enter these frays and pleaded in the Guild for existing players to do a swap with me, but to no avail. This got me thinking a small bit. There are a couple who are able to fit the criteria that are in easy frays, why wouldn't they do the swap. Had they made the swap, not only would they be able to help a fellow guild member out, they would too be able to enjoy the same amount of merits. So literally, it is just if someone were willing to help another member out or not. I couldn't think of any other benefits that may arise from joining the easier frays other than the excitement of playing a match. So yes, I have to admit I was so disappointed, and putting myself in their shoes had I know of this I would definitely have made a swap since it will not affect me adversely otherwise.
Nevertheless, now this is absolutely important I must stress on, I still absolutely love this amazing guild and in no way will I ever feel otherwise. Being a Chinese, we have this saying called 饮水思源, meaning that we should always remember and appreciate those who have helped you along the way for you to achieve who/what you have right now. And there are absolutely wonderful leaders in this guild whom I cannot thank enough, amazing guys who helped me in pretty much every single thing I do be it in game or other ideologies. A mere incident like this does not change the indebtedness I have to this guild. Not to mention, they were the first few who reached out to me and help to attempt to solve this problem when it arise, and at the same time were the very few champs who were nice enough to tell gave me the closure. So yea, this in my opinion, I really couldn't ask for anything more from a guild.
This small little incident aside, now for the Gladiator Feature! Today we have, Witch of Warwick! Now this little witch caught my attention, and all thanks to @nevashia who introduced it to me. Very thankfully, I managed to receive a copy of it as well!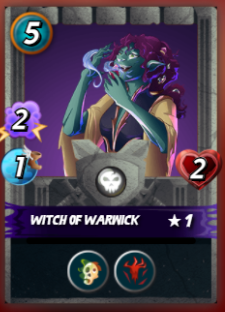 At Level 1 it is already a bit of Over Powered. With just 5 Mana, it can dish out 2 magic damage and it even have the Bloodlust ability. Not to mention, Life Leech! I think this is just a ridiculously insane combination! With Bloodlust, her stats will just keep increasing, which will further enhance her magic attack and in turn cause her Life Leech abilities to be equally enhanced too! Also, the fact that it is a magic attack allows it to attack even when placed in the first position!
To put things into perspective, this is Ancient Lich, a Legendary Card.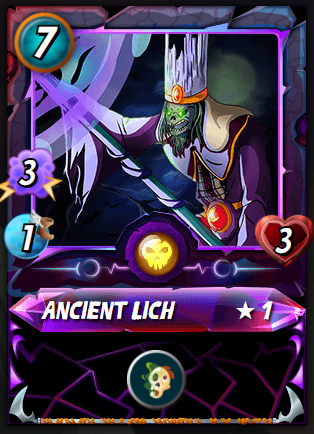 See the resemblance now? This Gladiator is a bit of an overkill under the right conditions! My fellow friend @nevashia was right, this Gladiator is indeed to be reckoned with!
---
---