Weekly Challenge - Haunted Spider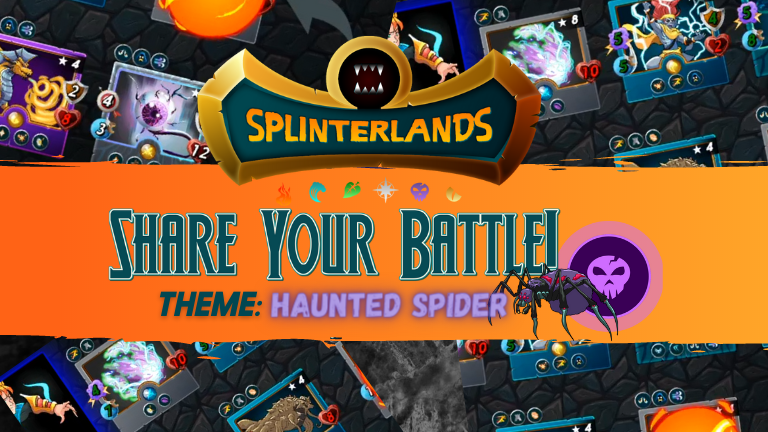 Well well well, once again we have our Weekly Challenge! Nevertheless, this week's challenge is once again, very VERY challenging.... Haunted Spider...
This challenge is in no way easy, as the stats of a Level 1 Haunted Spider literally will give you nightmares!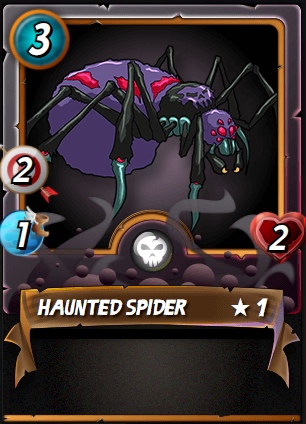 Totally wicked. For a 3 mana, the health is at a miserable 2, speed is the slowest it can get, and damage is range at 2 damage. It is really hard to put him into any lineups in my opinion. Nevertheless, miracles do happen! I managed to fit this little nightmare in, and yet managed to beat a Scarred Llama Mage and Kron the Undying Combo. I call it the Krola Combo! Here is the lineup!
https://splinterlands.com?p=battle&id=sl_1cd90d8a2d362323f1a1956f7e63706f&ref=rayius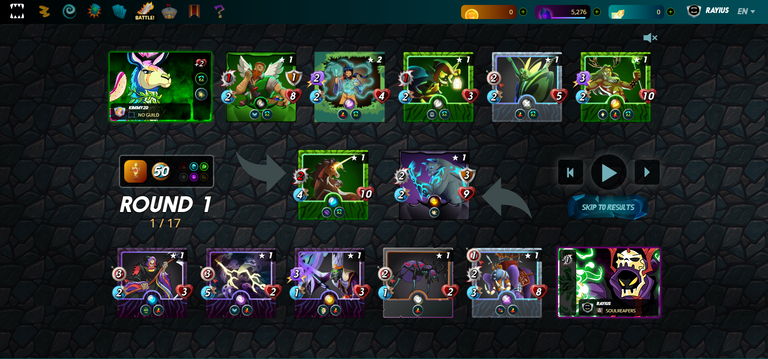 Once again I am embarrassed to admit, I place the featured monster as a non essential role in the lineup. There are literally better monsters to choose from, and the only reason why I choose Haunted Spider is really just for the Weekly Challenge.
Now my Tank is Harklaw! I just bagged this card lately and this is the first few battle that it is seeing, and it sure isn't disappointing me! The "Shield" ability is awesome for a tank! I choose my second monster to be War Chaang, reason because it has both a range and a melee attack. I tend to find putting a melee attack on the second place being a waste as it just sits there, idling, waiting for the tank to die and for his turn to attack. However, War Chaang has a range damage of 1. Though not a huge deal, but it beats nothing! And for the remaining of my lineup, I only focus on 1 thing, HIGH DAMAGE! As you can see from the 3 monster at the back, they can all dish out a whopping 3 damage each, either Ranged or Magic. I tend to put my Range monsters last as they cannot attack from the first position. I thus have my Ancient Lich ahead of them, also with the hope that if it ever reaches the first position, the Life Leech ability would have buffed up his health to a great deal.
And yes, it was quite amazing to see Kron The Undying, Dying! Haha. The irony, but it is wonderful to watch. I tend to click on the "Skip to Results" button when I see the Krola combo but thank goodness I didn't, or I would have to go through the hassle of replaying just to watch!
And there you have it, this is how I managed to counter the Krola Combo!
Will I use the Haunted Spider again? Hmmmm.... NAH! At level 1, it is a nightmare not for the opponent but for myself. So nope, unlikely I would be using!
I am really new to this blogging but I will do my best, so any form of follows or upvotes will be really appreciated! And of course, reshared this on my twitter (@Rayius5)!
If you like this blog and wish to see further contents like this (or any other kind of comments), do let me know in the comment section.
Good Day
---
---