Weekly Running Update: 'fast', intervals, slow!
So it's a measure of just how much I enjoy running around my local circuit that I'm happily just settled on the idea of only running this circuit for a while!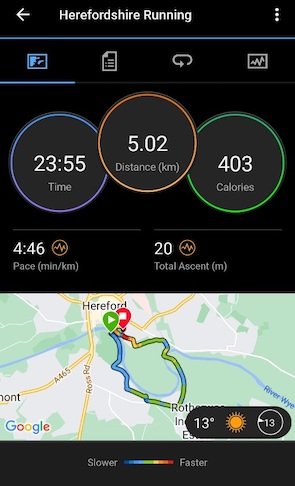 It really is perfect: mix of park and offroad mainly and some pavement, right out of my front door, and a loop, ending in a nice park 2 minutes down the road.
I'll mix it up eventually, for now I'm happy with the mix of three classic runs, the one's I'm sure every runner knows...
Tuesday - 'fast' 5K
Thursday - intervals.
Sunday - slow 'long' 5K.
I say long for the last as I MIGHT extend this, but this week it was only a 5K slow, I was a bit knackered after some work on the allotment.
The route is the same in all the runs below, so I'll just share the pace and heart rate data for the three runs, they are pretty interesting in contrast!
Tuesday - 5K 'fast'
This was simply out the door, a bit of a warm up and then 5Ks as fast as I dared without pushing it too much until the last 1500 metres. I was quite pleased with the result...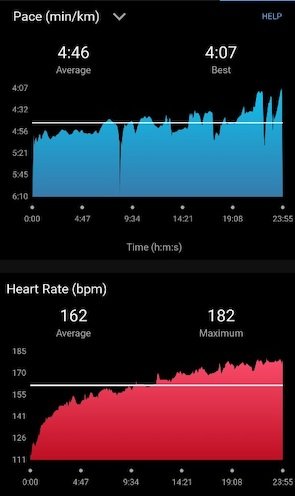 4.46 average pace and I hit it at the end, but you can see I wasn't really up to sustaining a 4.10 for too long, but I'm happy enough with this, for now I'll take it!
Thursday - Good old intervals
I hadn't planned to do intervals, oddly I wasn't feeling it so after 1K I thought that a few bursts and walking breaks would work, and it did. Turns out my fave route lends itself to some pretty obvious interval sessions, of different lengths with some natural walking breaks where it's a bit windier or roads.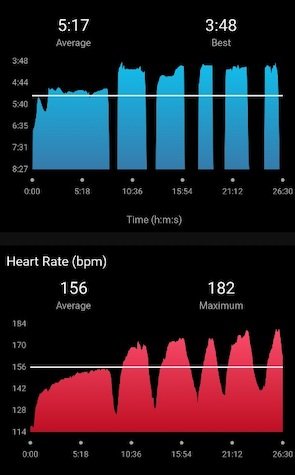 I didn't actually stop, it's just the way Garmin displays the data, walking in between the spikes - so five natural intervals. I think in future I will make two and three into one long one of around 800 metres, that would make more sense, there's just a bridge 2/3rds of the way which means a hill which is a nice walking break!
I wasn't at 3.48 for very long!
Sunday slow 5K
I wanted to take it easy on the heart rate anyway with this run, and it worked out perfectly because I was a bit shattered after allotment digging the day before... I put my Garmin on HR and just tried to keep it under 155, I think I did pretty well with a max of 153, and in the 140s for most of the run, which is just about what I wanted, low stress.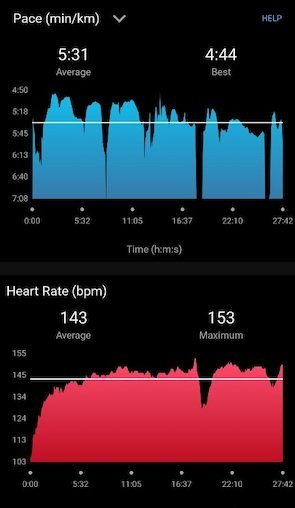 There is a theory that these lower intensity runs actually mean you improve faster than just hammering out HRs of 160 average, and mixing up the max and the easy suits me just fine ATM.
Next week's plans...
It's basically just rinse and repeat. I won't stress myself out too much about beating my 'fast' time - I'll aim to up it every other week I think.
---
---