El Sevilla se corona en su competición favorita (es/en)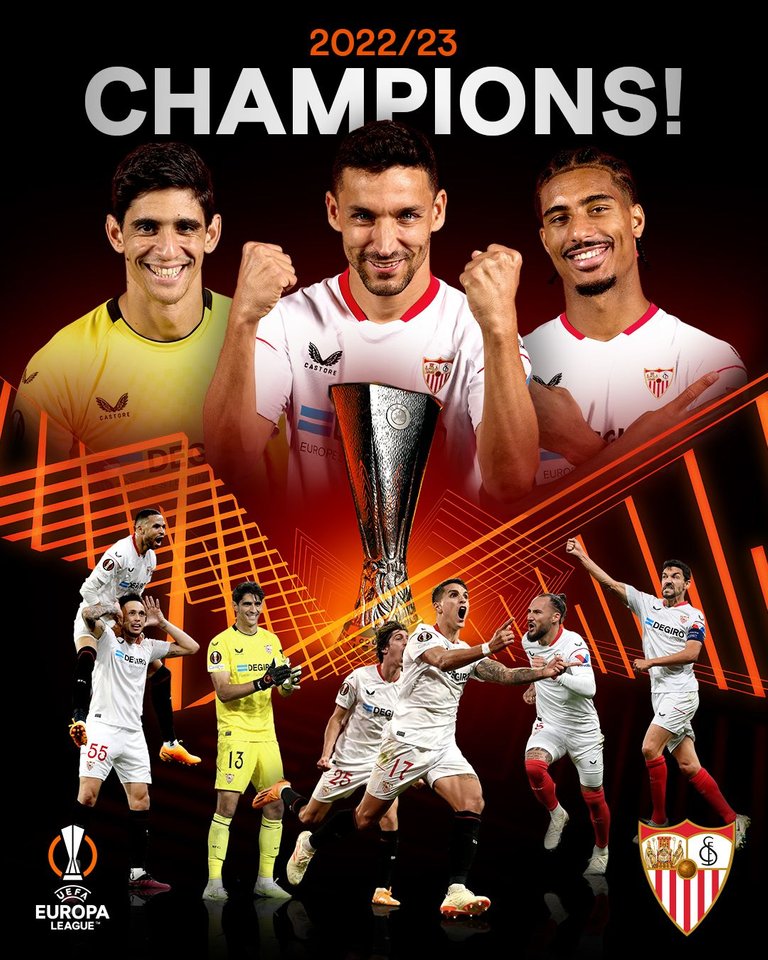 Sources:
Un saludo especial a toda la comunidad de Full Deportes, es una jornada llena de felicidad, y es que hoy fuimos testigos del mejor equipo en la UEFA Europa League, el segundo de mayor importancia en el viejo continente. El estadio Puskas Arena con sede en Budapest, capital de Hungría, fueron rivales el Sevilla español, comandado por el experimentado técnico José Luis Mendilibar y la Roma de Italia, liderada por el siempre controvertido y mediático técnico portugués José Mourinho.
El Sevilla llegaba a esta final después de una temporada en la que fueron de menos a más, llegaron incluso a estar en puestos de descenso, y esta final era la verdadera prueba de fuego de un entrenador como Mendilibar con tan poca experiencia en competiciones europeas, mientras que la Roma venía con una temporada muy estable en su competición local, luchando palmo a palmo con los mejores clubes de su nación, y siempre con ese estilo característico de Mourinho en el que poco le importa jugar bonito, lo importante para el luso, son los triunfos.
A special greeting to the entire Full Deportes community, it is a day full of happiness, and is that today we witnessed the best team in the UEFA Europa League, the second most important in the old continent. The Puskas Arena stadium based in Budapest, capital of Hungary, were rivals the Spanish Sevilla, commanded by the experienced coach José Luis Mendilibar and the Italian Roma, led by the always controversial and mediatic Portuguese coach José Mourinho.
Sevilla reached this final after a season in which they went from strength to strength, even being in the relegation places, and this final was the real test of a coach like Mendilibar with so little experience in European competitions, while Roma came with a very stable season in their local competition, fighting inch by inch with the best clubs of their nation, and always with that characteristic style of Mourinho in which he cares little about playing nice, the important thing for the Portuguese, are the victories.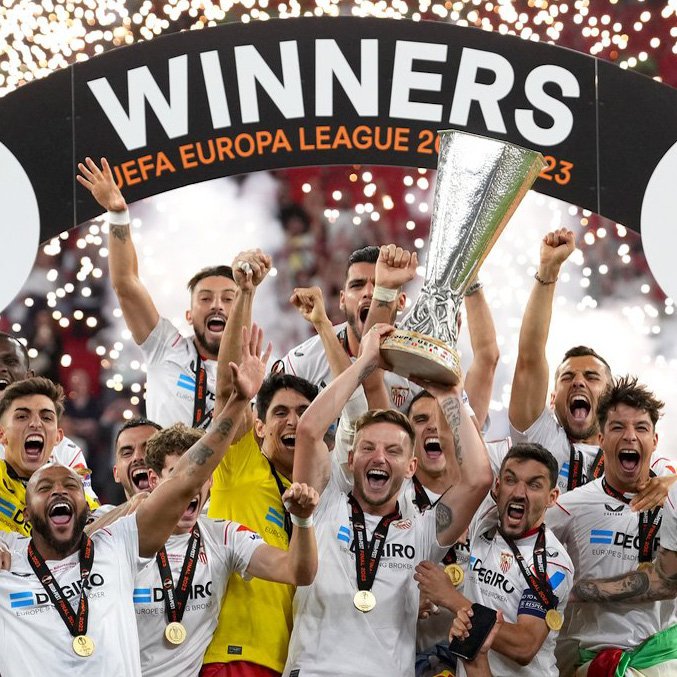 Sources:
Las alineaciones
Sevilla
Formación: 4-3-3
Portero: Bono
Defensas: Jesús Navas-Badé-Gudelj-Telles
Mediocampistas: Fernando-Rakitic-Oliver Torres
Delanteros: Ocampos-Bryan Gil-En Nesyri
AS Roma
Formación: 4-3-3
Portero: Rui Patricio
Defensas: Ibañez-Mancini-Smalling-Spinazzola
Mediocampistas: Cristante-Matic-Celik
Delanteros: Pellegrini-Abraham-Dybala
The lineups
Sevilla
Formation: 4-3-3
Goalkeeper: Bono
Defenders: Jesús Navas-Badé-Gudelj-Telles
Midfielders: Fernando-Rakitic-Oliver Torres
Strikers: Ocampos-Bryan Gil-En Nesyri
AS Roma
Formation: 4-3-3
Goalkeeper: Rui Patricio
Defenders: Ibañez-Mancini-Smalling-Spinazzola
Midfielders: Cristante-Matic-Celik
Strikers: Pellegrini-Abraham-Dybala
La acción
Con el pitazo inicial del árbitro inglés Anthony Taylor, el balón se ponía en juego desde el centro del campo en un Puskas Arena completamente abarrotado y dividido entre dos aficiones y dos tradiciones completamente distintas. Los de Mendilibar controlaron el balón en los primeros 20 minutos, mostrando un asedio casi constante sobre la portería rival y mostrando una inminente superioridad sobre su oponente.
Esto no fue bien visto por Mourinho, e inmediatamente indicó que sus jugadores deberían presionar más en la salida del contrario, esto abrió algunos espacios en la defensa de los romanos, que intentaron ser aprovechados por los sevillistas, pero estos intentos fueron anulados por sendas atajadas de Rui Patricio. La Roma entonces, decidió apostar por jugar al contragolpe y esto le dio resultado, ya que en una jugada a la contra llegaría el primero, obra de la pierna zurda de Paulo Dybala, el argentino se convirtió en el primero de su nación en marcar en una final europea desde que un tal Leo Messi lo hiciera en 2011 por Champions frente al Manchester United.
The action
With the opening whistle blown by English referee Anthony Taylor, the ball was put into play from the center of the pitch in a completely packed Puskas Arena and divided between two completely different supporters and two completely different traditions. Mendilibar's men controlled the ball in the opening 20 minutes, laying almost constant siege to the opposition goal and showing an imminent superiority over their opponents.
This did not go down well with Mourinho, and he immediately indicated that his players should put more pressure on the opposition's defence, which opened up some spaces in the Romans' defense, which the Sevillistas tried to exploit, but these attempts were cancelled out by Rui Patricio's saves. Roma then decided to play on the counter-attack and this paid off, as in a counter-attack the first goal came from the left foot of Paulo Dybala, the Argentine became the first of his country to score in a European final since Leo Messi did it in 2011 in the Champions League against Manchester United.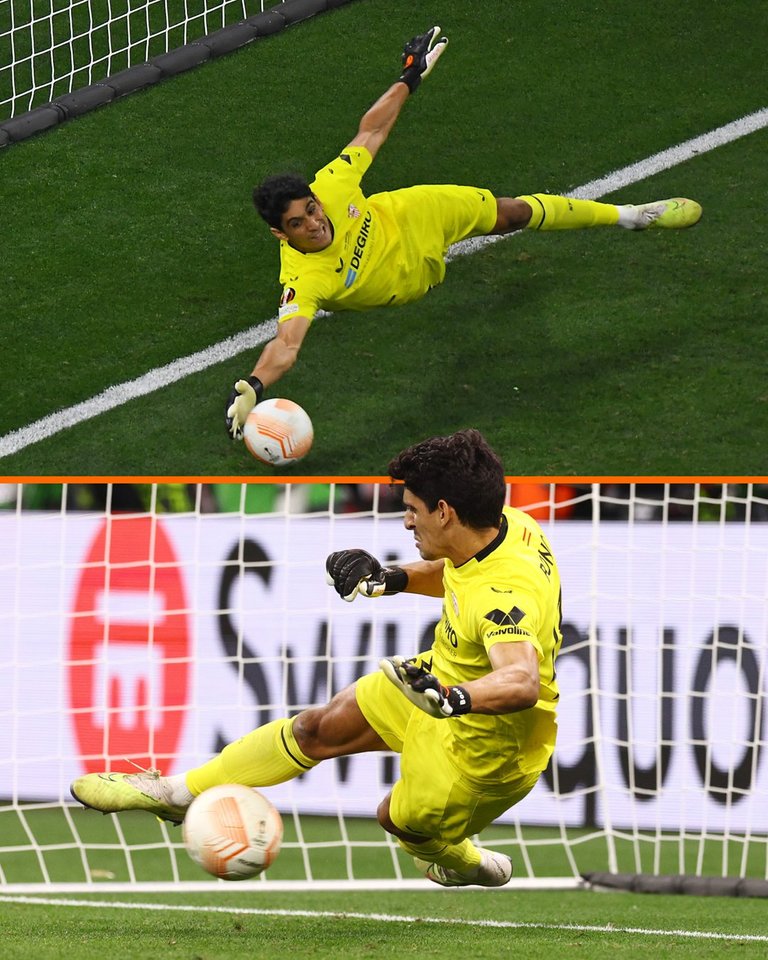 Sources:
Con la ventaja de los italianos se iban al descanso y para el segundo tiempo, el Sevilla abrió más la cancha y consiguió el empate tras fuerte asedio a la portería de la Roma, y por más que los de Mourinho se defendían, su vaya fue perforada por un autogol de su capitán Mancini. De ahí en adelante, el partido se desluciría de una cierta manera y los cambios introducidos por ambos técnicos poco aportaron en su momento. El VAR igualmente fue protagonista al anularle un penal al Sevilla que fue pitado previamente por el colegiado del partido, y minutos después, una posible mano dentro del área del Sevilla que el VAR volvió a determinar como nulo, quitándose peso de encima, y que fueran los jugadores que decidieran sobre la cancha.
Tras finalizar los 90 minutos reglamentarios, eran visibles rostros de total cansancio en ambos conjuntos, y en el tiempo extra el partido se volvió muy poco vistoso, comenzaron las faltas en ambos equipos, las protestas y las amarillas llovían, hubo pocas ocasiones claras, solo un travesaño de Smalling para la Roma que estuvo cerca de levantar a la tribuna italiana. Además de que se perdió muchísimo tiempo, entre sustituciones y lesiones llegaron hasta 12 minutos de descuento en el segundo tiempo extra. Una jugada muy polémica igualmente cerca del pitazo final, en donde el defensor Roger Ibáñez recibió un manotazo sin intensión de lastimar, pero le provocó un pequeño sangramiento en el rostro.
The Italians went to the break with the advantage and for the second half, Sevilla opened the field more and got the equalizer after a strong siege to Roma's goal, and even though Mourinho's team defended, their goal was scored by an own goal by their captain Mancini. From then on, the match became somewhat lackluster and the changes introduced by both coaches contributed little at the time. The VAR was also the protagonist when it disallowed a penalty to Sevilla that was previously whistled by the referee, and minutes later, a possible handball inside the Sevilla area that the VAR again determined as null and void, taking the weight off their shoulders, and leaving it to the players to decide on the pitch.
After the end of the 90 minutes, there were visible faces of total fatigue in both teams, and in the extra time the match became very little showy, fouls began in both teams, protests and yellow cards rained down, there were few clear chances, only a crossbar by Smalling for Roma that came close to lifting the Italian tribune. In addition, a lot of time was wasted, between substitutions and injuries, 12 minutes of stoppage time were added in the second extra time. There was also a very controversial play near the final whistle, where the defender Roger Ibáñez received a slap without intending to hurt, but it caused a small bleeding in his face.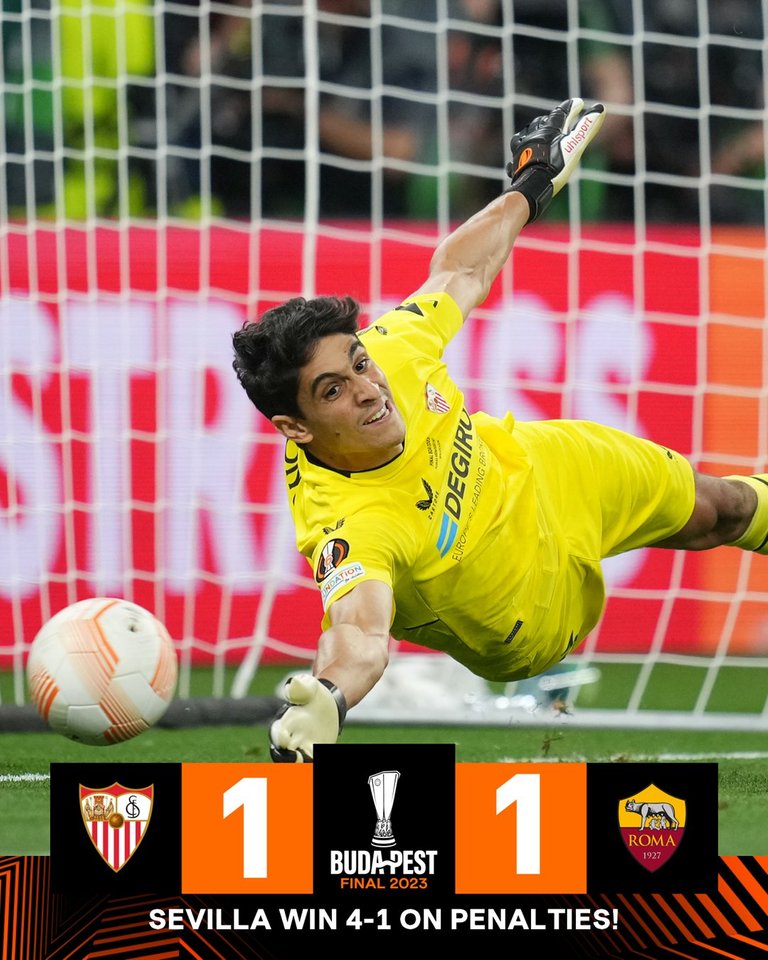 Sources:
Con el tiempo más que cumplido, se fueron a los penales en donde el Sevilla tenía ligera ventaja al contar con un maestro parando penales como el marroquí Yacine Bono, lo demostró en el Mundial de Qatar y aquí no sería la excepción. El primer gol del Sevilla en la tanda sería obra de Lucas Ocampos que engañó por completo a Rui Patricio, mientras Cristante igualmente marcaría a pesar de que Bono logró adivinar la intensión del mediocampista italiano, Erik Lamela puso en ventaja nuevamente al Sevilla, y vendría Mancini, que ya había marcado en propia puerta, y este falló su tiro al ser atajado por la pierna salvadora de Bono, definitivamente, no era la noche de Mancini.
Entonces vendría Rakitic que con su magistral cobro hacía que el Sevilla acariciara el título, más cerca estuvo cuando Roger Ibáñez estalló su cobro contra el poste, por último y como en el Mundial, le tocaba el penal decisivo al argentino Gonzalo Montiel, y este lo falló en primera instancia, pero para hacer más dramático el final, el árbitro se percató que Rui Patricio se había adelantado y Montiel lo repitió, y no fallaría, clavó el balón en el fondo de las redes, y el Sevilla conquistaba su séptimo título de Europa League.
With time running out, they went to penalties, where Sevilla had a slight advantage thanks to the Moroccan Yacine Bono, a master penalty kick taker, as he proved in the Qatar World Cup and here would be no exception. Sevilla's first goal in the shootout would be scored by Lucas Ocampos who completely fooled Rui Patricio, while Cristante would also score despite the fact that Bono managed to guess the Italian midfielder's intention, Erik Lamela put Sevilla ahead again, and then came Mancini, who had already scored in his own goal, and he missed his shot when it was saved by Bono's saving leg, it was definitely not Mancini's night.
Then came Rakitic who, with his masterful shot, brought Sevilla close to the title, and even closer when Roger Ibáñez smashed his shot against the post, and finally, as in the World Cup, it was the turn of the Argentine Gonzalo Montiel to take the decisive penalty, He missed it in the first instance, but to make the end even more dramatic, the referee realized that Rui Patricio had stepped forward and Montiel repeated it, and he would not miss, he put the ball in the back of the net, and Sevilla won its seventh Europa League title.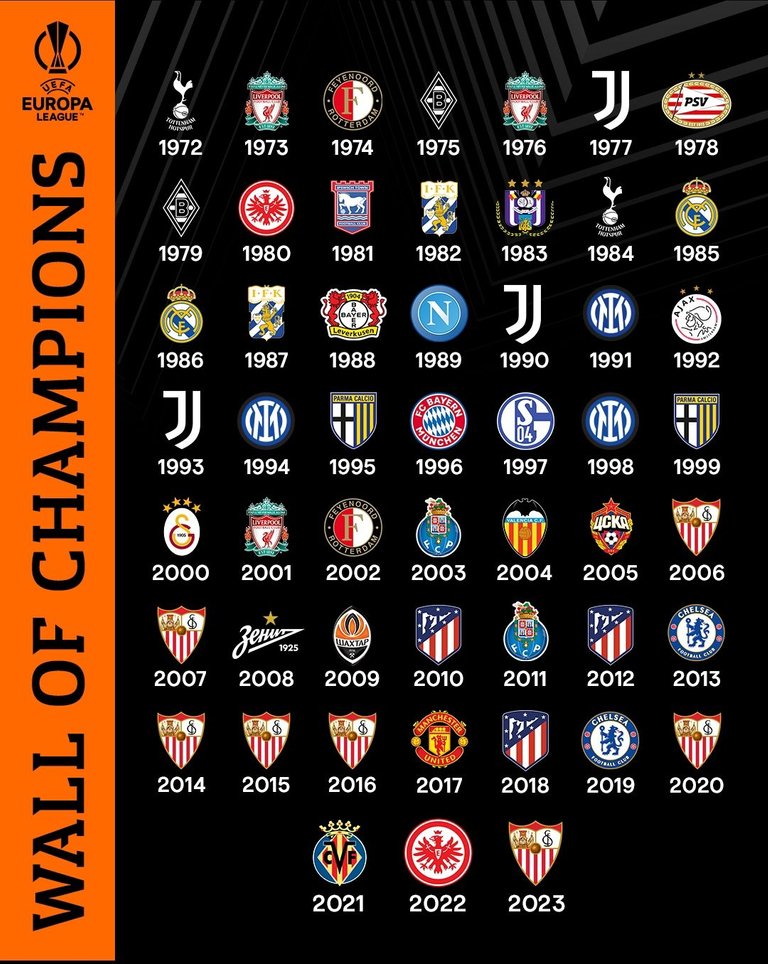 Sources:
Comentario Final
Más allá de lo deportivo o lo mediático, se demostró que todos los clubes tienen una competición a la que más interés le ponen durante la temporada, y sin dudas, el Sevilla con su séptimo título, es amo y señor de la Europa League. Las palmas para José Mourinho, un técnico que tomó una Roma en horas bajas y los hizo campeones de Conference League en 2022 y los llevo a una final de Europa League en 2023, sin dudas la magia de Mou como técnico se ve reflejada en el campo en donde sus jugadores lo dan todo por vencer.
Final Comment
Beyond the sporting or media, it was shown that all clubs have a competition to which they put more interest during the season, and undoubtedly, Sevilla, with its seventh title, is master and lord of the Europa League. The palms for Jose Mourinho, a coach who took a Roma in low hours and made them champions of the Conference League in 2022 and took them to the final of the Europa League in 2023, without doubt the magic of Mou as a coach is reflected on the field where his players give everything to win.
Créditos:
Las imágenes utilizadas en el post fueron dadas las fuentes. Textos llevados al Inglés por Deepl Traslate.
Credits:
Images used in the post were given sources. Texts translated into English by Deepl Translate.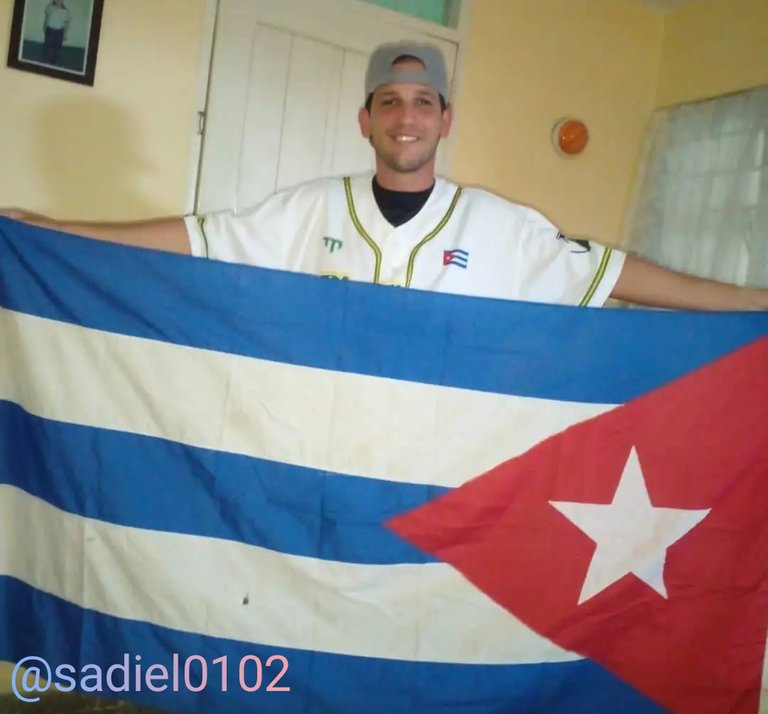 Puedes encontrarme en mis redes sociales Facebook y Twitter.
---
---