Mi recorrido para formar parte de la selección olímpica de ajedrez | That was my journey to the olímpicc national team

▶️
Watch on 3Speak
---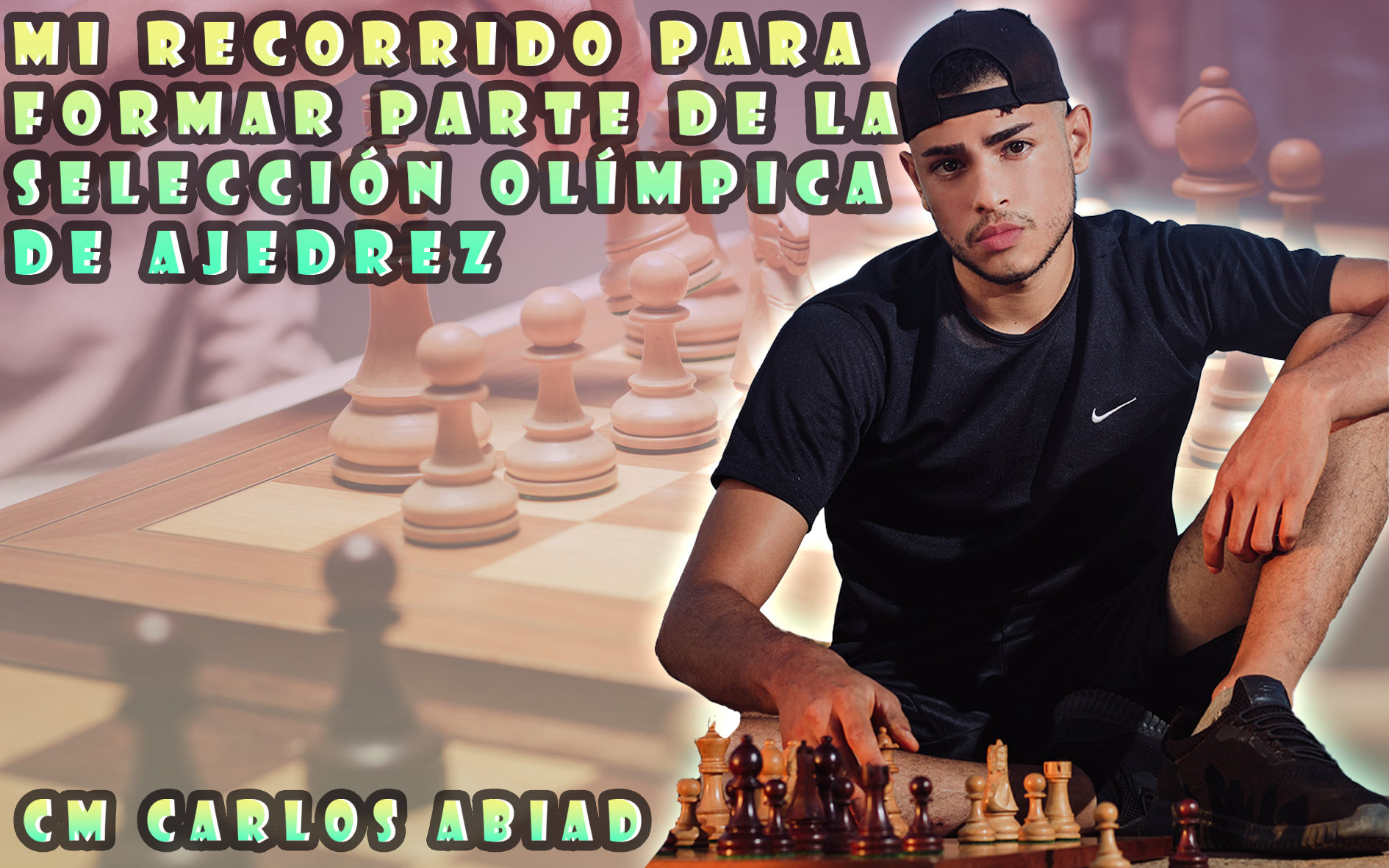 ES Saludos amigos de Hive especialmente a la comunidad de #fulldeportes, hoy quiero compartir con ustedes un poco de lo que fue mi camino para llegar a la selección olímpica de ajedrez de Venezuela. Honestamente no fue nada fácil, tuve que pasar por 2 chequeos preolímpicos de los cuales me enteré que iba a jugar un día antes 😅. Mentalmente no estaba preparado para jugar tan importante evento y mucho menos preparado, ya que debería haber tenido una planificación y preparación previa a ello. Cabe destacar que este evento fue llevado de forma online con todas las medidas anti-cheat para evitar cualquier inconveniente por las trampas. Absolutamente todos los jugadores debían compartir sus pantallas de la computadora y también dar imagen suya con alguna webcam, hubo presencia por parte de un gran grupo de árbitros internacionales que apoyaron todo el evento para que reinara el juego limpio.
Sin embargo, a pesar de ser avisado 1 día antes del torneo fui con todo lo que tenia y tratando de dar lo mejor de mi. El primer chequeo preolímpico consistía en un torneo con los 10 mejores jugadores de la nación todos contra todos, en el cual los atletas que quedaran entre los 4 primeros lugares serian los que pasarían a la otra fase. De esta forma daba inicio este chequeo preolímpico, a pesar de todo lo antes mencionado tuve un buen comienzo e incluso lideré en primer lugar en solitario todo el clasificatorio, aunque no todo fue color de rosas, en la ultima ronda del torneo estando prácticamente en una partida con ventaja decisiva (con muchas posibilidades de ganar) hay un falla con la electricidad (algo muy raro acá en Venezuela jajaja).
Sinceramente, fue un choque anímico muy fuerte ya que ganando esa partida lograría consolidarme en el primer lugar de forma invicta. Asimismo, al perder esa partida pase al segundo lugar en la tabla de clasificación con un empate en el primer lugar (con el jugador que me ganó por la desconexión), a pesar de ese percance logré cumplir el objetivo de clasificar para la segunda fase del chequeo olímpico, tal y como pueden apreciar a continuación: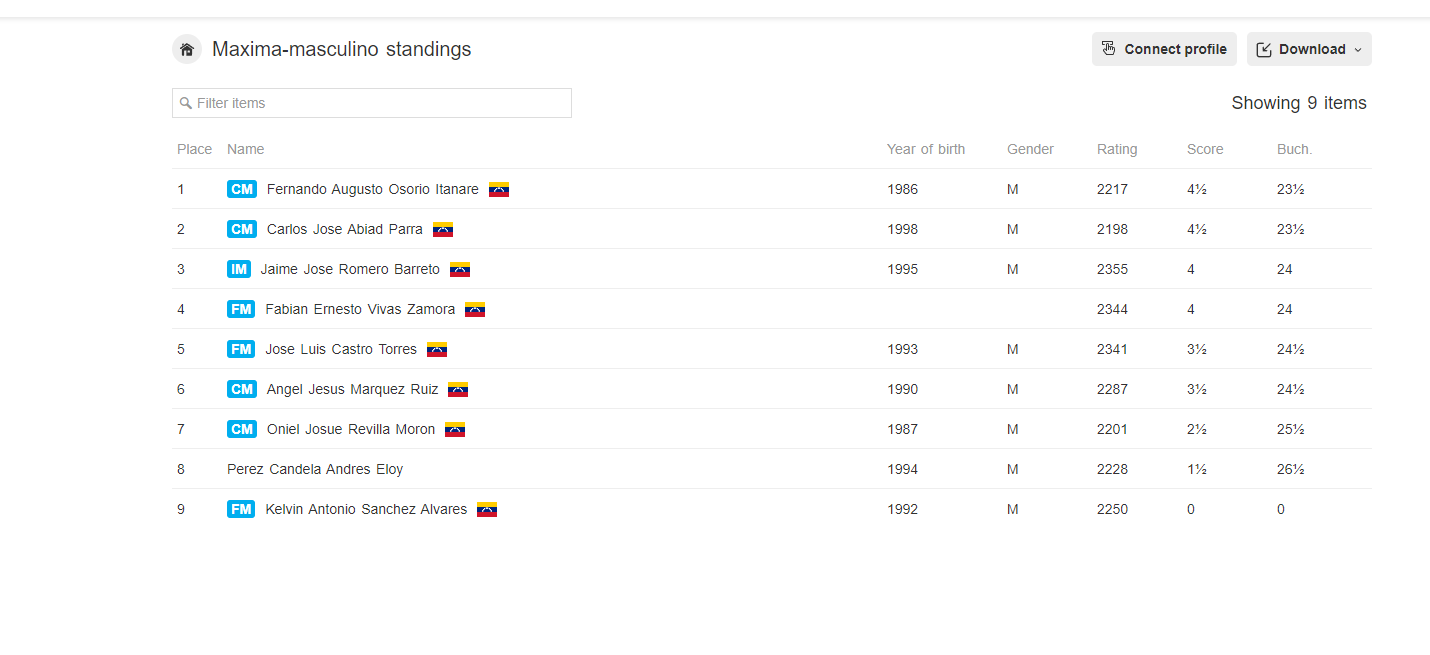 @sawko Ranking final de chequeo preolímpico venezolano fase 1 2021.
**EN** Greetings Hive friends especially to the #fulldeportes community, today I want to share with you a little bit of what was my path to get to the Venezuelan Olympic chess team. Honestly it wasn't easy at all, I had to go through 2 pre-Olympic checkups of which I found out I was going to play a day before 😅. Mentally I was not ready to play such an important event let alone prepared, as I should have had planning and preparation prior to it. It should be noted that this event was run online with all anti-cheat measures to avoid any inconvenience from cheating. Absolutely all players had to share their computer screens and also give their image with some webcam, there was presence of a large group of international referees who supported the whole event so that fair play reigned.
However, despite being warned 1 day before the tournament I went with everything I had and trying to give my best. The first pre-Olympic check consisted of a tournament with the 10 best players in the nation all against all, in which the athletes who were among the top 4 places would be those who would move on to the next phase. Thus began this pre-Olympic check, despite all the above mentioned I had a good start and even led in first place alone throughout the qualifier, although not everything was rosy, in the last round of the tournament being practically in a game with a decisive advantage (with many chances of winning) there is a failure with electricity (something very rare here in Venezuela hahaha).
Sincerely, it was a very strong emotional shock since winning that game would consolidate me in the first place undefeated. Also, by losing that game I moved to second place in the leaderboard with a tie for first place (with the player who beat me by disconnection), despite that mishap I managed to meet the goal of qualifying for the second phase of the Olympic check, as you can see below: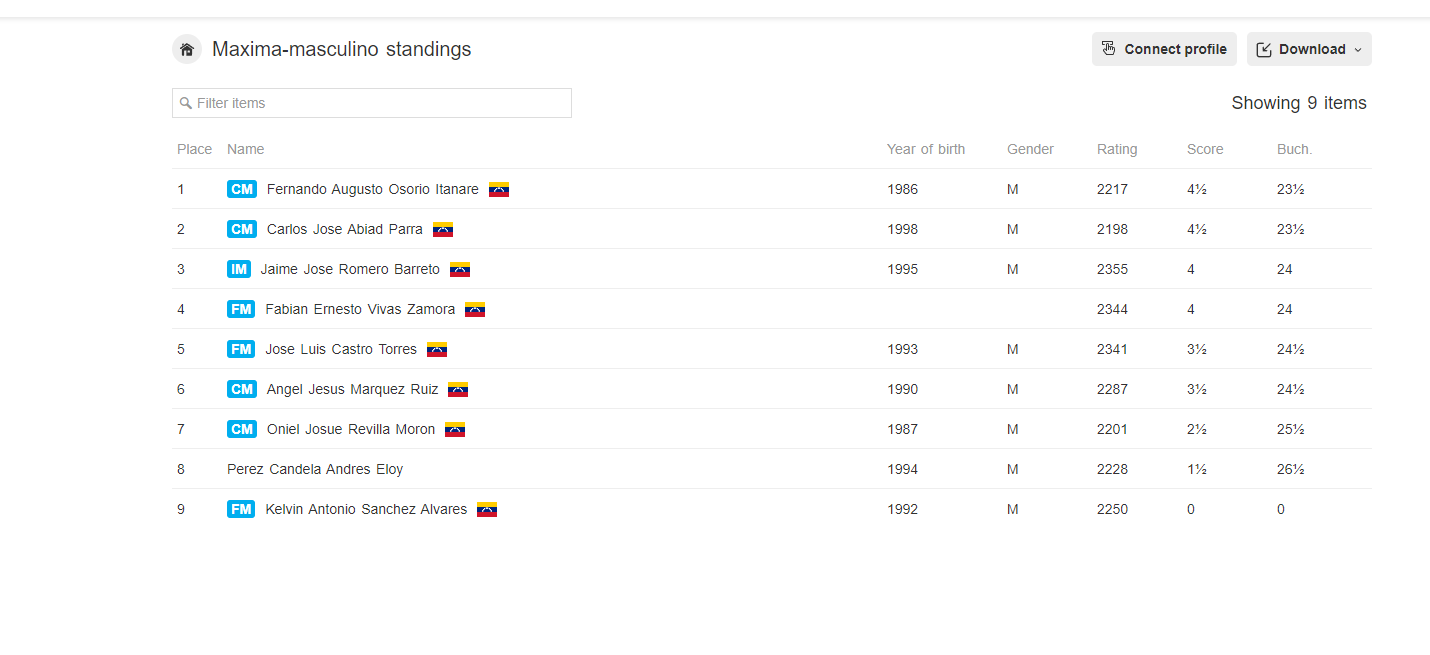 @sawko Ranking final de chequeo preolímpico venezolano fase 1 2021.
ES De esta forma, ya pasada la primera fase del chequeo preolímpico se pudo lograr la clasificación pero lo impactante es que la 2da fase es el mismo día de haber terminado la primera solo que con un tiempo de 3 horas de receso aproximadamente y yo aún no tenia energía eléctrica. En mi desespero buscaba la forma de poder continuar el torneo de algún modo, mi salvación fue un amigo que en ese momento tenía electricidad, como pude, salí en camino a su casa con mi computadora y los accesorios para poder seguir el torneo, fue una variante arriesgada pero como decimos en el ajedrez era la jugada "'única" que podía hacer en ese momento, para mi fortuna tenia a 2 amigos que estaban en mi casa y me ayudaron a movilizarme. tal y como se puede apreciar en la siguiente imagen: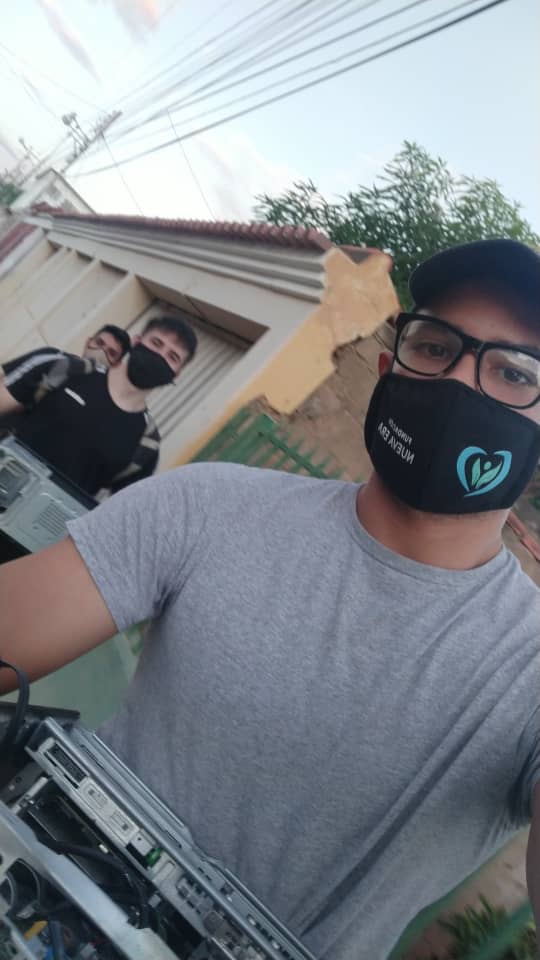 @sawko Movilización en la calle con la computadora 2021.
**EN** In this way, after the first phase of the pre-Olympic check, the qualification could be achieved but the shocking thing is that the 2nd phase is the same day of finishing the first one but with a time of 3 hours of recess approximately and I still had no electricity. In my desperation I was looking for a way to continue the tournament somehow, my salvation was a friend who at that time had electricity, as I could, I went to his house with my computer and accessories to continue the tournament, it was a risky variant but as we say in chess was the "only" move I could do at that time, for my fortune I had 2 friends who were in my house and helped me to mobilize me, as you can see in the following image: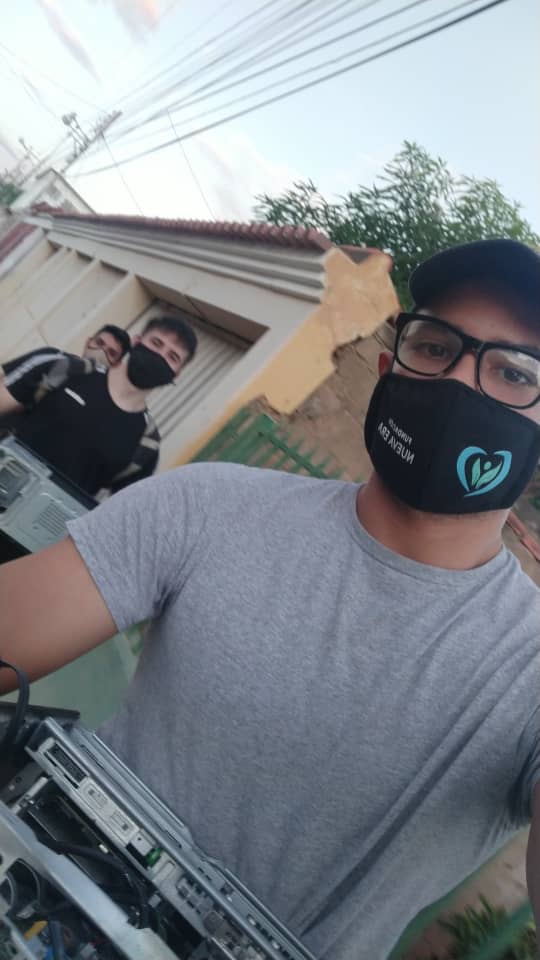 @sawko Movilización en la calle con la computadora 2021.
ES Para resumir un poco lo que paso después fue que al llegar a la casa de mi amigo me instale y jugué el primer match de la 2da fase, en esta 2da fase el torneo todos contra todos ida y vuelta y los 2 primeros lugares serian los que conformarían parte de la selección olímpica, al finalizar ese primer match, me informan que ya había llegado la electricidad en mi casa y decidí devolverme para jugar de forma mas cómoda en mi hogar y no molestar tanto en casa ajena.
Continúe el torneo desde mi casa y pude lograr el 2do puesto, el cual era lo necesario para poder formar parte del equipo nacional. Definitivamente no fue un camino muy sencillo, pase por muchas complicaciones para obtener ese logro, la moraleja es que siempre hay que luchar hasta el final y poner siempre lo mejor de uno en todo momento, sonará algo cliché pero ciertamente en este caso fue así, nunca desistí hasta completa la meta. En esta ocasión no doy un enfoque profundo sobre algún tema de ajedrez en especifico sino que simplemente comparto mi historia para servirles así sea un poco de motivación, anexo un ejercicio para que lo resuelvan (será la partida que perdí por desconexión😂) dejen en los comentarios la respuesta 👇, los estaré leyendo, ¿Cuál es la mejor continuacion para las negras en este momento?: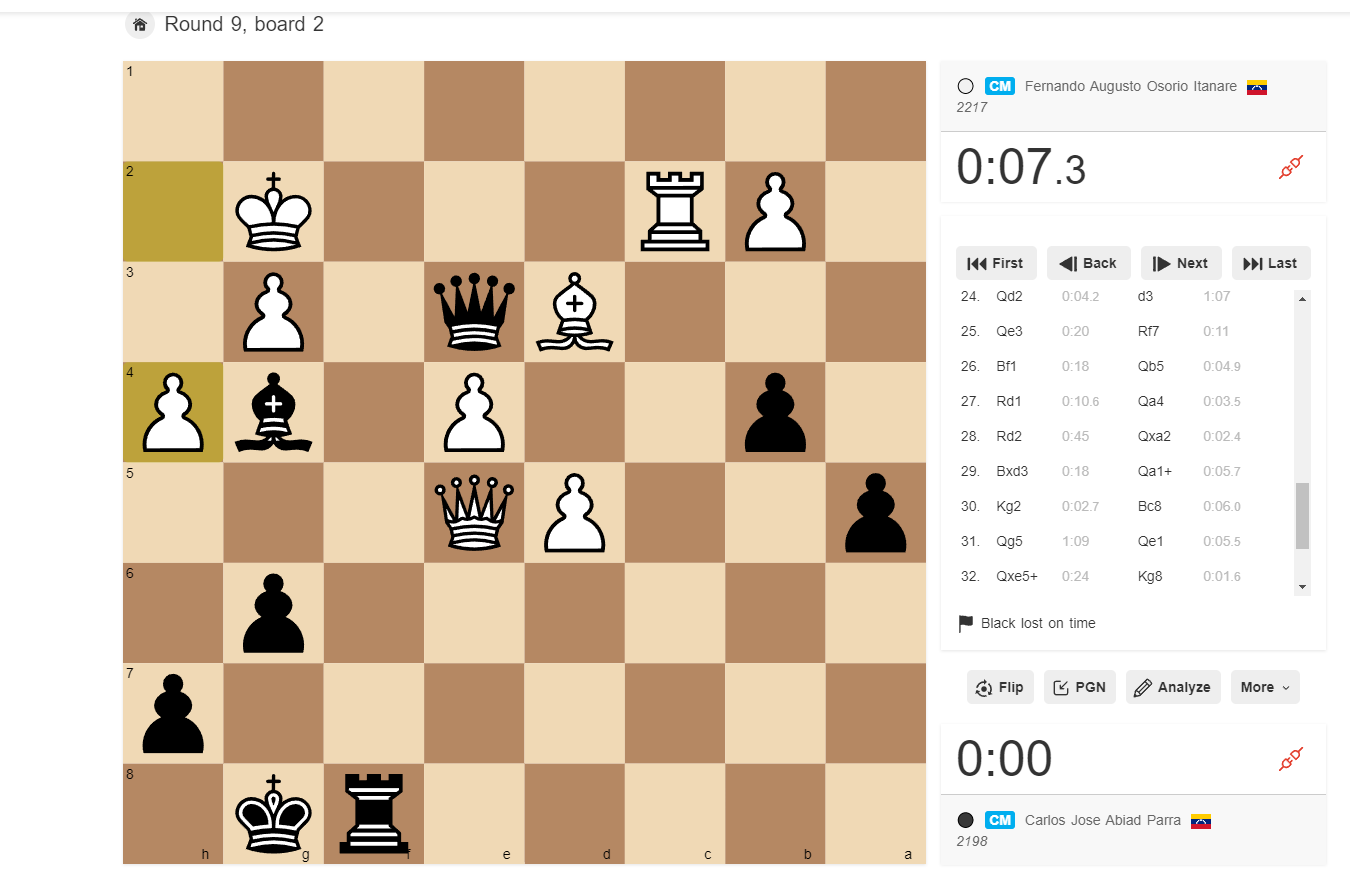 @sawko captura de diagrama abiad vs osorio 2021.
**EN** To summarize a little what happened next was that when I arrived at my friend's house I settled in and played the first match of the 2nd phase, in this 2nd phase the tournament was round-robin and the first 2 places would be the ones that would be part of the Olympic selection, at the end of that first match, I was informed that the electricity had arrived at my house and I decided to return to play more comfortably in my home and not bother so much in someone else's house.
I continued the tournament from home and was able to achieve 2nd place, which was necessary to be part of the national team. Definitely it was not a very easy road, I went through many complications to get that achievement, the moral is that you always have to fight to the end and always put the best of you at all times, it will sound somewhat cliché but certainly in this case it was so, I never gave up until the goal was completed. This time I do not give a deep focus on any specific chess topic but simply share my story to serve as a little motivation, I attach an exercise for you to solve it (it will be the game I lost by disconnection😂) leave in the comments the answer 👇, I'll be reading you, what is the best continuation for black at this time?: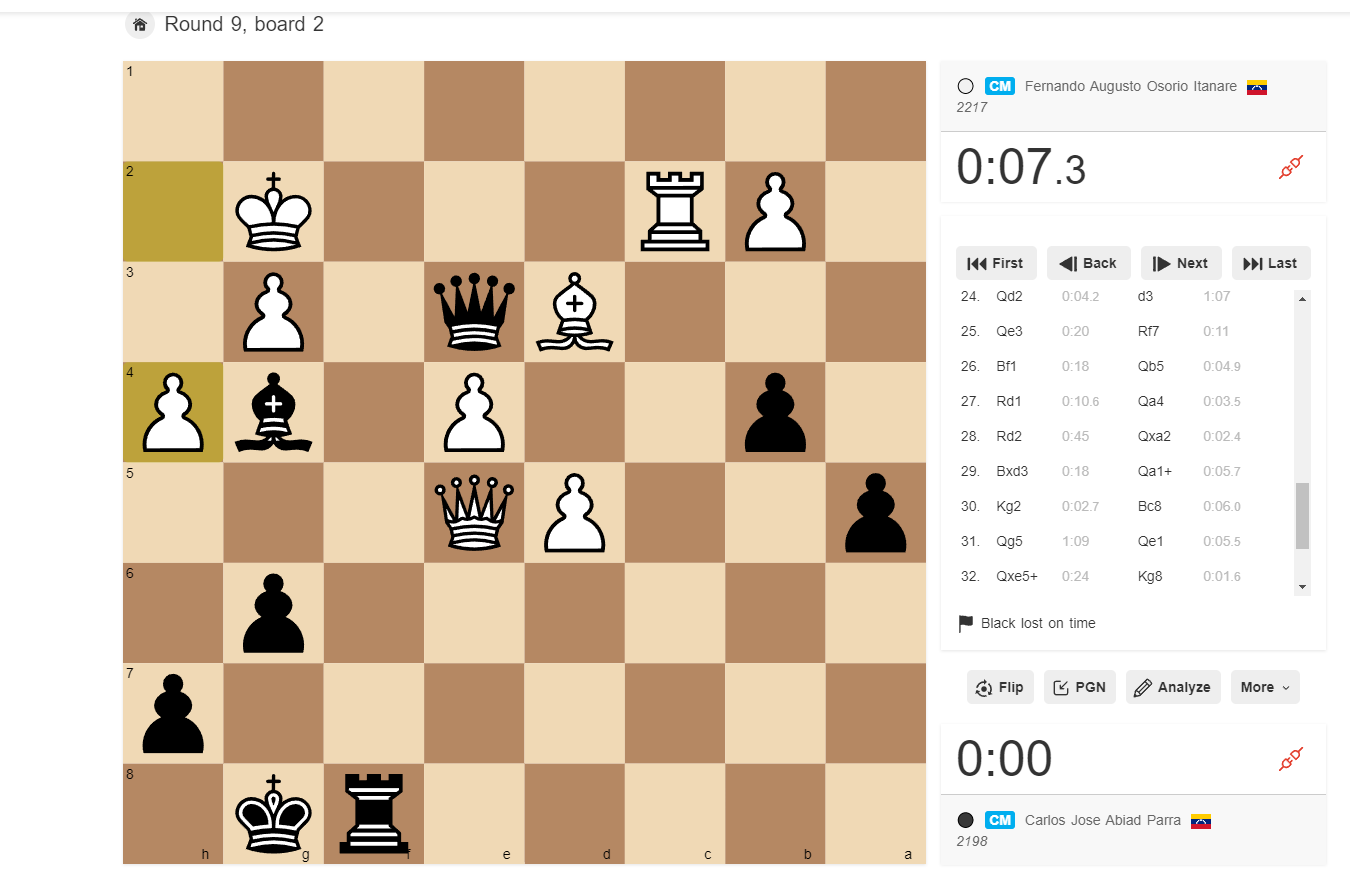 @sawko captura de diagrama abiad vs osorio 2021.
Some of the players called up: @aakrist, @abimbola753, @agreste, @alberto0607, @almightymelon, @ambarvegas, @amirl, @anli, @anomadsoul, @apy, @arsenal49, @behiver, @bitsignal, @burnoutawesome, @cerati, @chesthetica, @cryptoph0823, @darruiz, @diegofitness92, @digitalis, @ebingo, @eliaschess333, @elprofe62, @eniolw, @eenriquerivas, @evgsk, @flaws, @foxconnmars, @franciscomarval, @gabotask, @gingerbyna, @gravitcaper, @heimindanger, @hierro21, @hirohurl, @iceblue, @iobates, @jaki01, @jkms, @johannesboldt, @juanmi96, @kintokris, @kreur, @lighteye, @lucianosky, @maciejficek, @manncpt, @marcusantoniu26, @masterswatch, @maverieux000, @meedo, @mstafford, @nerdvana, @oshiokhenhoya, @parung76, @pereu4ivatel, @petreius, @primersion, @rafaelaquino, @renerondon, @rexplanet, @rodrook, @ropavejero, @rosmarly, @samostically, @sawko, @schamangerbert, @soluce07, @spacetoon, @stayoutoftherz, @the01crow, @therealflaws, @tony1294, @tungphong, @uliseshb, @vasigo, @vjap55, @walner, @xoflox, @yazp, @zacherybinx and other players from #HiveChess and other corners of the blockchain and the world. You are all welcome!
▶️ 3Speak
---
---