10th Splinterlands Brawl Report - PIZZA 2 The Deep Dish - October 22, 2021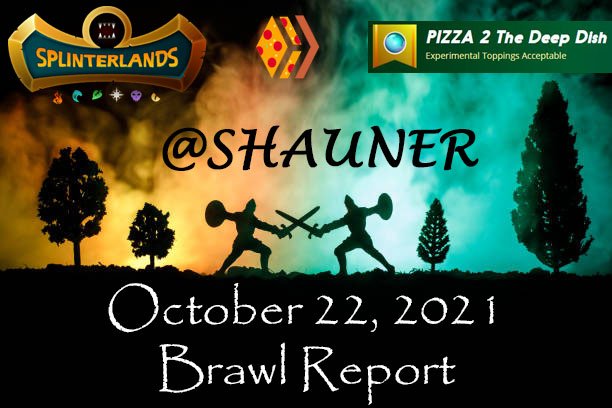 Welcome to my 10th #BrawlReport as part of the @hive.pizza PIZZA 2 The Deep Dish guild!
I entered Fray #7 for this brawl again, which is a bronze fray, but only allows Untamed edition cards to be used for battle.
I faced 7 opponents in Fray #7 this time and my record was 5W-2L which put me in 5th place for our Guild.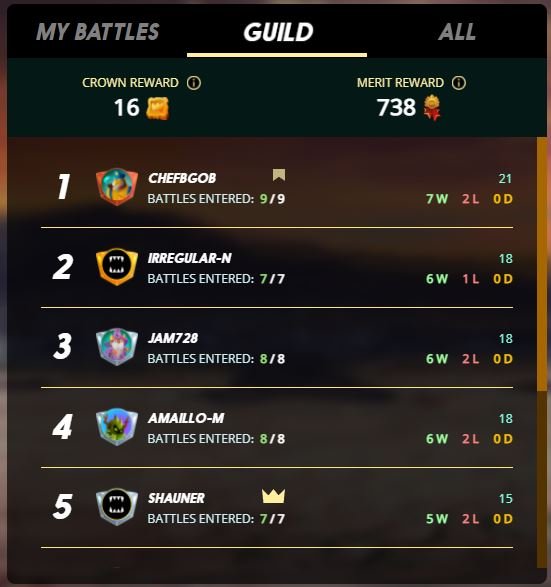 Congrats to @chefbgob for winning the most battles with 7 wins! The best win percentage goes to @irregular-n with an 86% win rate.
---
PIZZA 2 The Deep Dish Results
We finished in the top 3 this time! We continue to make great progress in moving up the leaderboard each brawl. We had a total of 42 wins and 27 losses which earned us 126 points. The 2nd place team was far ahead of us with 165 points.
We also earned 16 crowns and 738 merits for our 3rd place finish! This brings my merits balance up to 800. Only 1200 more to go until my next Gladius case!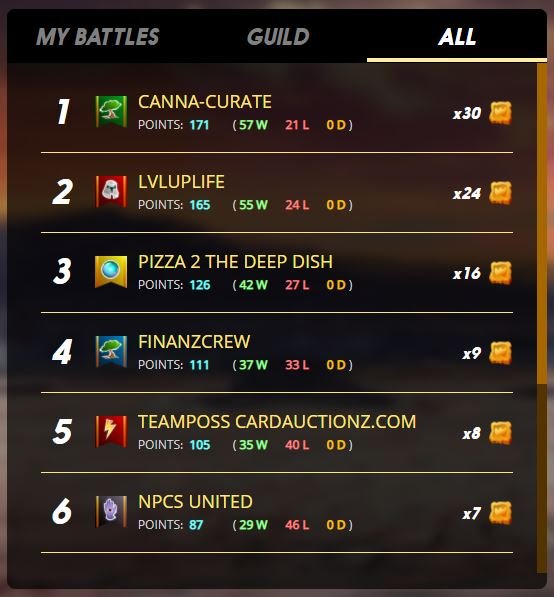 ---
---
My Battles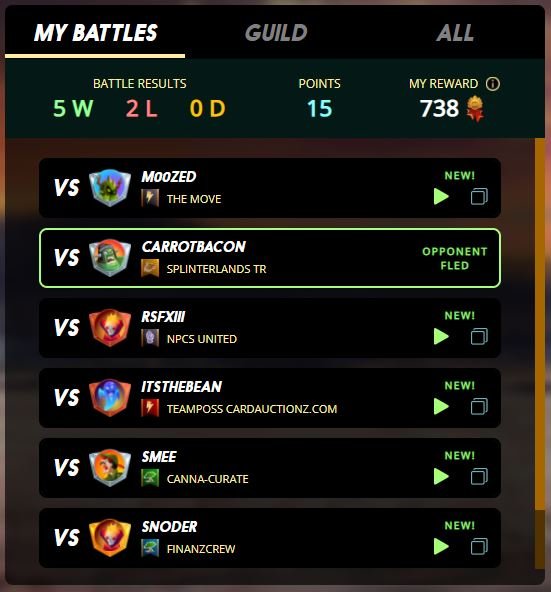 ---
Battle 1 - Win
Armored Up: All monsters have 2 armor in addition to their normal armor stat.
Healed Out: All healing abilities are removed from monsters and summoners.
Even though the Healed Out buff would impact my Llama/Kron combo, I decided to go with it anyway. I expected my opponent to use magic power on me so I setup my deck to counter or minimize magic. Well, I was wrong, they didn't use any magic at all. But, Kron was able to take them out with ease.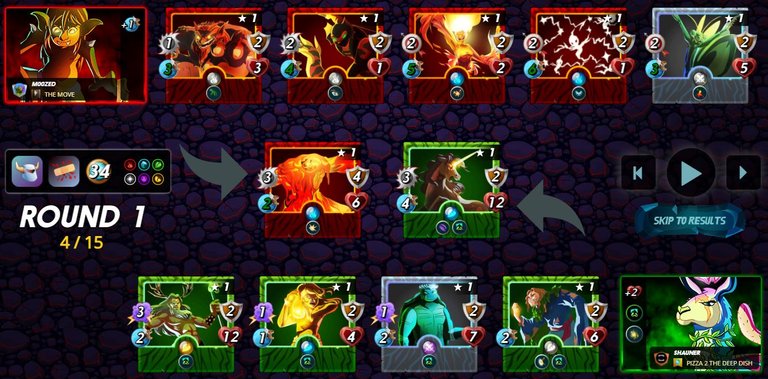 Watch this battle
.
---
Battle 2 - Win
Opponent Fled
---
Battle 3 - Loss
Reverse Speed: Monsters with the lowest speed attack first and have the highest chance of evading attacks.
Close Range: Ranged attacks may be used in the first position in battles.
This is a fairly high mana battle with a lot of splinter options and I put together a very bad lineup. First, I didn't take advantage of the +1 range attack from my summoner, but in hindsight, it wouldn't have mattered because my opponent used a -1 range attack summoner. The Blast ability from my summoner was the best thing I had going for me, but my opponent had some fairly strong health monsters as well as one with healing that proved quite persistent.
This was just a straight up bad setup from me, although there is some consolation that my opponent had several higher level cards versus my level 1 rented deck.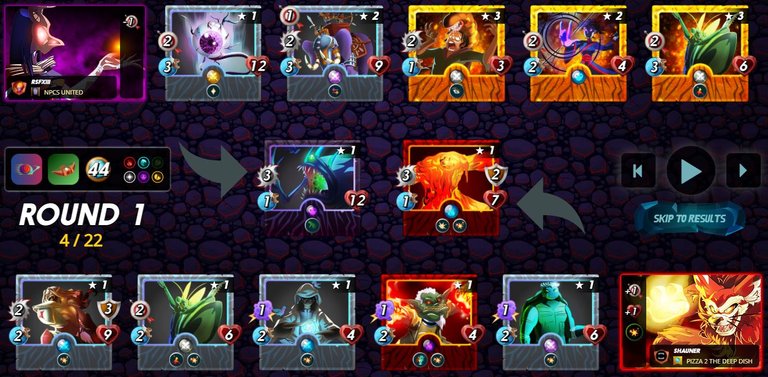 Watch this battle
.
---
Battle 4 - Win
Back to Basics: Monsters lose all abilities.
This battle was very restrictive, allowing only earth and life splinters, no monster abilities and only 16 mana. I relied on my summoner Llama to provide any bit of boost to my monsters. I only had enough mana for one or two monsters and decided to go with a single Elven Defender and rely on the Last Stand ability from my summoner to supercharge its attack and defense stats.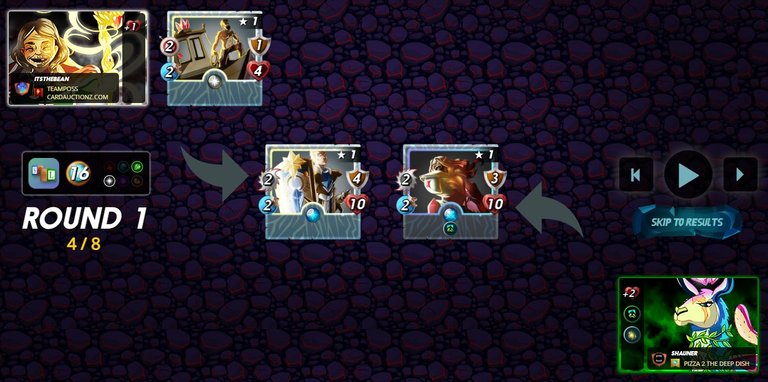 Watch this battle
.
---
Battle 5 - Win
Aim True: Melee and ranged attacks always hit their target.
I figured I'd use Llama/Kron here because it was a 19 mana battle. I had two extra mana to use so I put a Failed Summoner up front to act as a buffer.
Once Kron took the tank position, he made quick work of destroying my opponents health with his 5 magic attack per turn.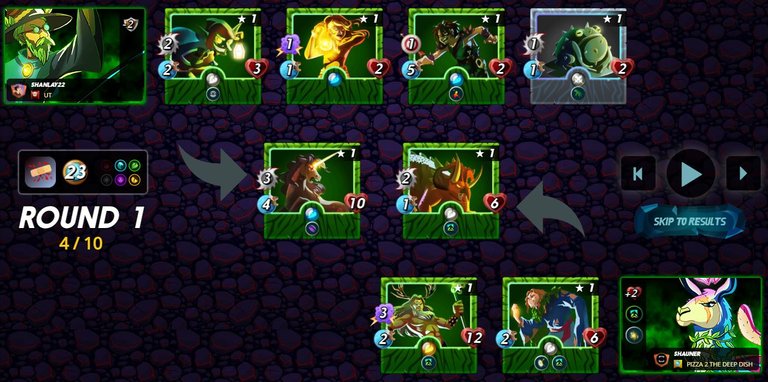 Watch this battle
.
---
Battle 6 - Win
Stampede: The Trample ability can trigger multiple times per attack if the trampled monster is killed.
Lost Magic: Monsters with magic attack may not be used in battle.
We both used a Shieldbearer in the tank position and the same summoner too. These two decks were actually very similar but I managed to prevail because I used a Truthspeaker to give me +2 shields and that made all the difference in the world.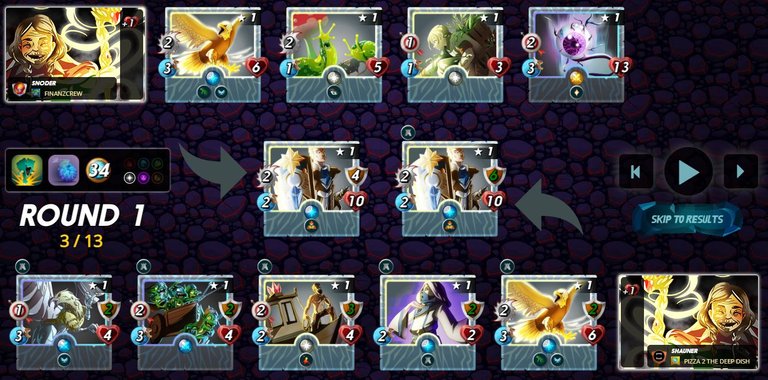 Watch this battle
.
---
Battle 7 - Loss
Noxious Fumes: All monsters start the battle poisoned.
Lost Legendaries: Legendary monsters may not be used in battles.
This battle was tough because my opponent had the bloodlust ability from the new Gladius cards! I didn't stand a chance as that monster in the back row kept building in power with every turn.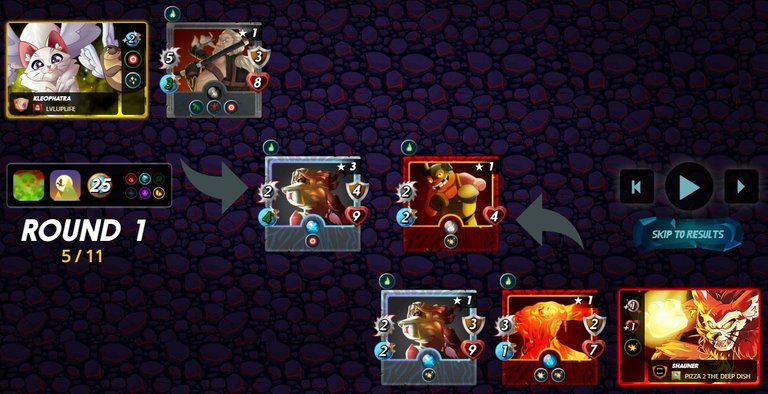 Watch this battle
.
---
Final Thoughts
I thought that I would be able to use my new Gladius cards in battle, but it turns out our Guild needs to upgrade the Barracks first. As you can see in my final battle, those Gladius cards are wicked! It seems using Gladius cards with that bloodlust ability against someone using standard cards is going to result in complete domination by the Gladius player.
I opened my first Gladius case last week and wrote about it. It's just too bad I can't use it yet! We have to contribute a total of 20,000 DEC to our barracks in order to bump them up to level 2. That's a few hundred dollars worth of DEC, but hopefully we can scrape it together.
---
1Up Project
If you haven't seen the news yet, check out the new 1UP project by @flauwy. This looks like a great new gaming project for Play2Earn blockchain games like Splinterlands! I seem to be getting more than 100 OneUp tokens on each of these posts, so the earnings will add up over time!
I keep staking my OneUp tokens and am loving all the rewards coming my way by using the #OneUp tag and writing about Splinterlands. The OneUp token is currently trading for almost 4 cents USD too!
---
---
@kennysgaminglife has spearheaded the #BrawlReport project as a way to get PIZZA guild members more engaged in the @Splinterlands community. Here's what he had to say:
Starting with the brawl that just ended, I've invited/asked members of the #HivePizza guild to publish a #BrawlReport, breaking down their highs & lows, where they need help, questions they have, strategies they love, and so on. The idea is to help us all reflect a bit, learn a bit, share a bit, earn a bit, and connect a bit :-)
Any other guilds interested in publishing a #BrawlReport, either as individuals, or one for the whole guild, I'm happy to send some curation love your way!
My last BrawlReport: https://www.splintertalk.io/@shauner/splinterlands-brawlreport-pizza-2-the
Check out the other recent #BrawlReport posts from the #HIVEPIZZA family:
@kennysgaminglife - 🥉 Kenny Goes Undefeated! 🥉 #HivePizza #BrawlReport 🥉 Brawl Ending 10/20/2021 🥉
@failingforward - My Brawl Report 7 - HivePizza BrawlReport 22/10/2021
---
---
---
---