2nd Bundesliga, week 15, Darmstadt vs. Hannover & Rostock vs. Sandhausen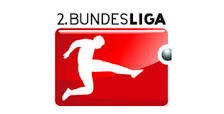 Morgen beginnt der 15. Spieltag in der 2. Bndesliga.
The 15th matchday in the 2nd Bundesliga starts tomorrow.

vs.

Darmstadt spielt zu hause gegen Hannover. Darmstadt als Spitzenreiter sicher der Favorit im Heimspiel, aber Hannover spielt auch eine gute Saison. Ich tippe 2:1 Heimsieg.
Darmstadt plays at home against Hannover. Darmstadt, as the leader, is definitely the favorite in the home game, but Hannover is also having a good season. I guess 2:1 home win.
---

vs.

Rostock spielt zu hause gegen Sandhausen. Ich sehe Rostock im Heimspiel mit leichten Vorteilen und tippe 1:0 Heimsieg.
Rostock plays against Sandhausen at home. I see Rostock in the home game with a slight advantage and predict a 1-0 home win.
Funny matches @all
Best regards & Glück auf
sportfrei
Posted using SportsTalkSocial
---
---