Introducing the Lichess Liga Team Battle, starting tomorrow, Sunday 18h GMT!

Dear chessfans!
While we have a break from the classical Friday´s Hivechess season, there is no stop from playing chess on Hive (besides @schamangerbert has started the Saturday´s tournament again)!
In this new tournament it is not about playing against each other (in fact we won´t be even paired against each other!). In the Lichess Liga Team Battle it is all about our Blockchain chess team against other teams!
It starts tomorrow, Sunday 14th May, 18h GMT, so one hour earlier than usually.
How can we as a global chess team - built mostly by a common interest in Hive - compete against many other teams who come from traditional chess clubs? I think this is a great question waiting to be answered and at the same time also can promote crypto and Hive to nocoiners.
Those tournemants are organized by Lichess moderator FM jeffforever and are conducted 2 times per week (every Thursday and Sunday), with varying time formats. It is a huge event, ongoing since 2020, with app. 500 teams and >4000 players participating each time and dozens of leages in parallel (here is an overview)! The highest possible liga is the "Lichess Bundesliga". There are often IMs and FMs as team leaders, so expect some strong opponents. But don´t be afraid, on the higher board numbers there are less experienced players, so in fact the teams are mostly as heterogenous as ours.
There is no registration for you needed. We start in liga 12B. The more from our team participate, the higher our chances will be to get a good result and improve in the rankings. E.g. if we end up in the top 3, we will be in liga 11 next time! If we make it to rank 8 only, we will be downgraded to liga 13, as can be seen on the left side of the tournament page:
Update: Currently we are #1 seeded, with @pamboy27 as our strongest player!



https://lichess.org/tournament/OU35ogi6
How far can we get?
The rules:
Everybody in our Lichess team can join using the link to the tournament (pick our team if asked 😃, in case you are part of multiple teams)
A win collects 2 points for our team, a draw 1
Only the results of the 6 best contributors of each team are counted in this liga (but all skill levels are important, because each win means potentially less points for the other teams!)
Every Thursday and Sunday are tournaments
The links to the upcoming tournaments are - dependent on our result - already provided in the description of the tournament itself and also on our team page! But I plan to post reminders as well.
Mode: 3+0 (3 minutes per game, no increment), 100 min. rated arena, win streaks & berserk allowed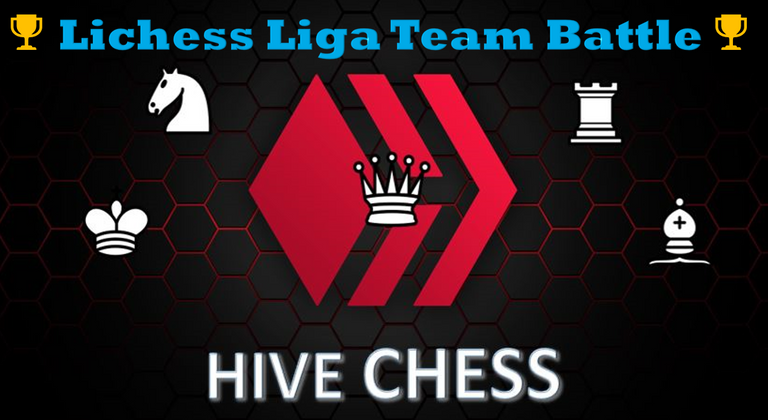 So please give it a try and lets show the Lichessers around the globe that there is an awesome team dedicated to blockchain and Hive! As far as I can judge, we are anyway quite strong and should manage to get a good place if several of our top players are able to join!
! [Mention List]
Potentially of interest to:
@aakrist @abimbola753 @acidtiger @agreste @aiuna @alucian @artsbreezy01 @ajumaa @alberto0607 @alexmag1988 @almightymelon @alpha @ambarvegas @anadello @andzhi @anli @anomadsoul @apy @arsenal49 @artistparthoroy @astrolabio @awesomeintrigue @b0s @behiver @beyondhorizonmm @bitsignal @burnoutawesome @camiloferrua @cerati @chessbrotherspro @chesthetica @clixmoney @cryptogee @cryptoniusraptor @cryptoph0823 @cryptopi314 @dhilan04 @darruiz @diegofitness92 @digitalis @ebingo @eliaschess333 @elprofe62 @emeka4 @eniolw @eenriquerivas @engilhramn @evgsk @fcastro177 @fiona777 @flaws @foxconnmars @franciscomarval @franu @gabotask @giacomone @gingerbyna @grafo07 @hannes-stoffel @heimindanger @herz-ass @hierro21 @hirohurl @hivetrader @iamchessguy @iammanythings1 @ibizaki @iceblue @iobates @ironshield @jaki01 @jesusmgl1995 @jesustiano @jkms @johannfrare @josesmoke @juanmi96 @justfavour @kaungsett8388 @kintokris @kreur @levitant @lighteye @lofone @lucianosky @maciejficek @maestroask @marcusantoniu26 @mario89 @masterswatch @maverieux000 @meedo @memess @mrsarri @mstafford @mundocuriosidad @mypathtofire @nftland1989 @nikoszzz @oadissin @officialrosh1 @olujay @omonomo @orlanzavala @oshiokhenhoya @pamboy27 @parung76 @perpz @petreius @philipp87 @pokerarema @pokermaria @pravesh0 @primersion @ptmaker @rafaelaquino @rafzat @razzor @renerondon @rexplanet @rheda @rodrook @ropavejero @rosmarly @salomijale @samostically @sanjamkapoors @sawko @schamangerbert @schnitte @soluce07 @solymi @spacetoon @steamloled @steemychicken1 @stranger27 @syndmitrij @the01crow @thedoc07 @therealflaws @timix648 @timofey @tin.aung.soe @tony1294 @tungphong @uliseshb @vaipraonde @vasigo @victorbch2 @vjap55 @volkiceper @walner @wegflexor @xoflox @yazp @zacherybinx @ziabutt3836
(just let me know if you don´t want to get the mentions)
As a small incentive, to every player who will be contributing points to the end result (i.e. the top 6 of our team) I will send 1 Hive!
Also, 30% of the rewards of this post go the prizepool of S16!
---
---