Reminder: Round 2 of the Hivechess Tournament S13 , Friday 19h GMT and some BREAKING NEWS!
Dear chess fans!
the 2nd round of S13 is played this Friday, 9th Sep., 19h GMT, as usual.
The current standings after the first round you can find here.
Mode: 5+1 (5 minutes per game, 1 sec. increment), 70 min. arena mode with no streaks.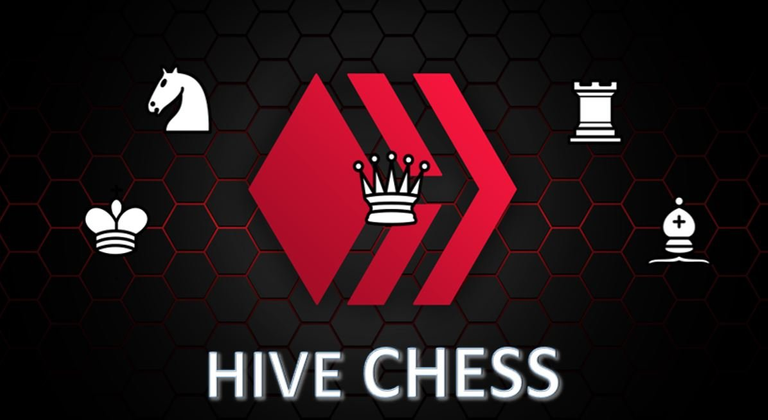 The price pool contains already app. 168 Hive plus 500 LEO!
Rules
Players of all skill levels are welcome, from newbies to experts, you just need a free Lichess-account and join our team in Lichess here!
The season goes over 10 rounds, every Friday is one round.
Time mode is varying (5+0, 3+2, 2+1,...) and sometimes berserking is not allowed.
The winner of each round gets the number of points equaling the number of players in that round, the second ranked one point less and so forth until the one on the bottom of the table who gets one point. In order to be counted, at least 3 games must have been played.
Occasionally a round may be divided into 2 skill classes.
In case two players have the same number of points, the one who played less rounds is first. If that is equal too, then the average tournament performance decides.
The worst result from the season in terms of points achieved will not be counted.
PAYOUT: The tournament points are summed up. 70% of all Hivechess-related post rewards go to the price pool (PP). The tournament winner will get 50 Hive as bonus, the runner-up 25, the third 10 and the rest of the PP (minus 30) is divided among all players equally (40%) and according to the number of tournament points achieved (60%). 40% participation is required in order to qualify for the prices.
There will be special prices of 10 Hive plus 50 LEO each for the highest performance in relation to the own rating (counted by averaging the rating after the first and the last round) and for the most rating points gained during the tournament (counted from after first to last participation). If a player would qualify for both prices, he still gets 10 Hive /50 LEO only and the second placed of each score gets 5/25.
There will be a special price of 1 Hive plus 5 LEO in each round for the game won with the biggest upset in rating difference.
If I don´t know your Hive username, you won´t be considered for prices, so please let me know your Hive name in the comments! Group or badge accounts can participate but are not qualified for prices! Only individuals can get prices.
Please share this announcement among your (chess) friends and colleagues!
The more participate, the more fun! And maybe some are even interested to join Hive and it´s Chess Community?
See you on Friday and good luck to all!

Potentially of interest to:
@aakrist @abimbola753 @agreste @alberto0607 @alexmag1988 @almightymelon @alpha @ambarvegas @amirl @anadello @andzhi @anli @anomadsoul @apy @arsenal49 @artistparthoroy @astrolabio @b0s @bechibenner @behiver @beyondhorizonmm @bitsignal @burnoutawesome @camiloferrua @cerati @chessbrotherspro @chesthetica @clixmoney @cocacolaron @cryptoph0823 @darruiz @diegofitness92 @digitalis @ebingo @eliaschess333 @elprofe62 @emeka4 @eniolw @eenriquerivas @evgsk @fairy-of-comfort @fcastro177 @fiona777 @flaws @foxconnmars @franciscomarval @franu @gabotask @giacomone @gingerbyna @grafo07 @heimindanger @herz-ass @hierro21 @hirohurl @hivetrader @iammanythings1 @ibizaki @iceblue @iobates @jaki01 @jesusmgl1995 @jkms @johannfrare @josesmoke @juanmi96 @kintokris @kreur @levitant @lighteye @lofone @lucianosky @maciejficek @maestroask @marcusantoniu26 @masterswatch @maverieux000 @meedo @mrsarri @mstafford @mypathtofire @nftland1989 @orlanzavala @oshiokhenhoya @pamboy27 @parung76 @perpz @petreius
@philipp87 @pokerarema @pravesh0 @primersion @ptmaker @rafaelaquino @renerondon @rexplanet @rheda @rodrook @ropavejero @rosmarly @salomijale @samostically @sawko @schamangerbert @schnitte @soluce07 @solymi @spacetoon @steamloled @stranger27 @syndmitrij @the01crow @thedoc07 @therealflaws @timofey @tony1294 @tungphong @uliseshb @vaipraonde @vasigo @victorbch2 @vjap55 @walner @wegflexor @xoflox @yazp @zacherybinx
(just let me know if you don´t want to get the mentions)

On another note, I finally was kicked out at stage 2 of the FIDE Fischer Random World Championship Qualification. In order to pass, I needed to land in the Top 500 of that arena, but I ended up only as 790th. It was brutal, after 2 of the 4 hours nonstop-960-playing I was even in the Top 400, but then in the second half I was pushed out. Both I had seemingly stronger opponents and also I played less concentrated and blundered more.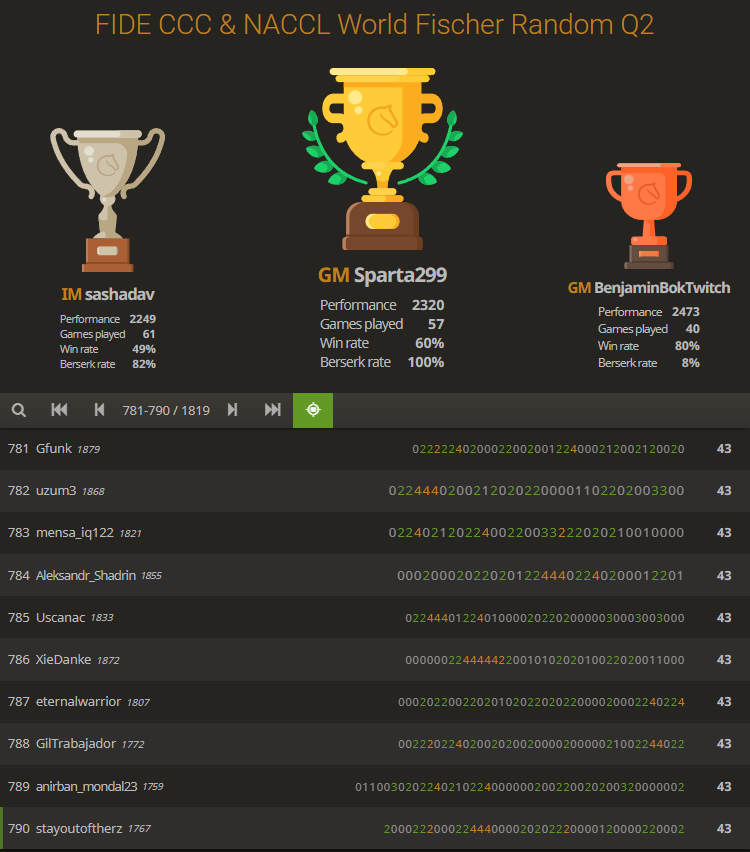 https://lichess.org/tournament/C960Q222
Anyway it was an interesting experience. But for some time I have now enough of Chess960!

BREAKING NEWS!
Magnus Carlsen withdrew from his participation in the prestigous 2022 Sinquefield Cup after 3 of 9 rounds played and after getting beaten by the 19y-old US Newcomer Hans Niemann in round 3. This is unheard of in the recent chess history! According to Gothamchess it is the biggest scandal in chess history!
Speculations were going wild after Magnus´ tweet:
https://twitter.com/MagnusCarlsen/status/1566848734616555523
Hikaru Nakamura in his YT-channel and others have indicated that Hans had been cheating, but with no evidence other than some videos of Niemann after the games where he had confused some lines. Also Hans in the past had cheated on chess.com, like some say. No clue how serious that was. To me it seems that a scenario where Magnus´s preparation was leaked and Hans having access to that prep have some justification. In that case it would be no illegal computer assistance, but still to be considered as cheating, wouldn´t it?
That would also explain Magnus´ reaction to leave the tournament, because if there would be indeed a leakage of prep, this would affect other games as well.
On the other hand, if the prep leak theory is true, how could Hans win against Magnus's GOAT-like endgame capabilities? The advantage after the opening wasn´t that high. Or was Magnus so confused that Hans was so well prepared that he couldn´t concentrate anymore?
This is the eval bar during the game Magnus-Hans Niemann:



https://lichess.org/broadcast/sinquefield-cup--grand-chess-tour-2022/round-3/jNzNS3br
What is your take about this drama?
---
---