@vjap55 wins the Hivechess Candidates Tournament!
Hi chessfans,
yesterday the final, deciding rounds of the HCT were played, only @anomadsoul was again absent. Let´s go straight to the - partly surprising - results:
Results
*indicates a missed game
@vjap55 scored 4 out of 4 while both his main competitors @eniolw and @sawko couldn´t score 100%.
Also @samostically played very strong with 4,5/5 (beating @eniolw and almost @sawko as well) - you can find an analysis of his games here.
The presumably deciding game (but in fact it´s outcome didn´t decide on the first place!) in the last round between @eniolw and @sawko (with White) was pretty crazy. Black made some dubious decisions right in the opening and allowed White in the 9th move already to make a new Queen. This is the end position after move 10 from White in which Black resigned! Identical material, but completely winning for White as Black can´t prevent mate or loss of the Queen.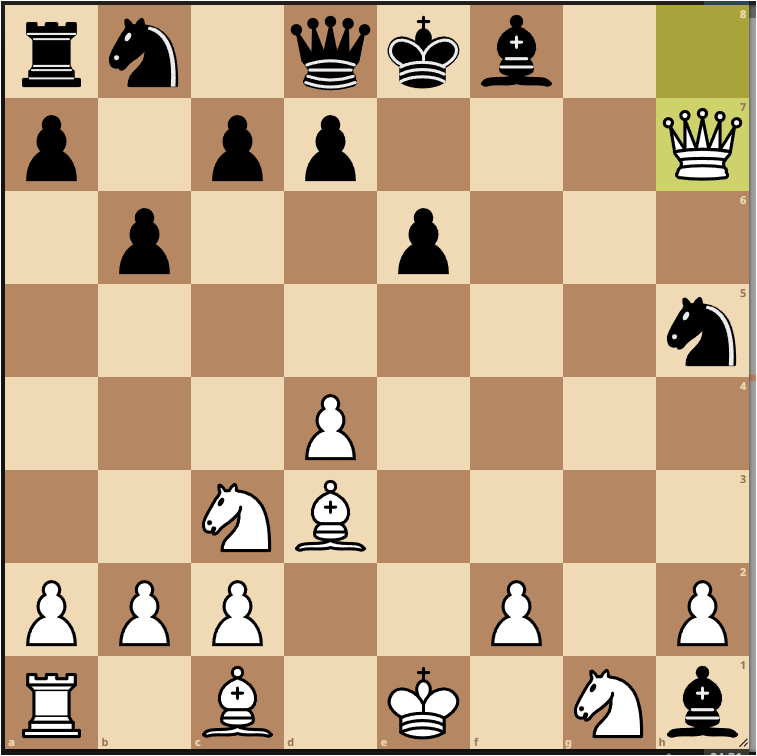 https://lichess.org/ikipNXF3/black#19
Final Standings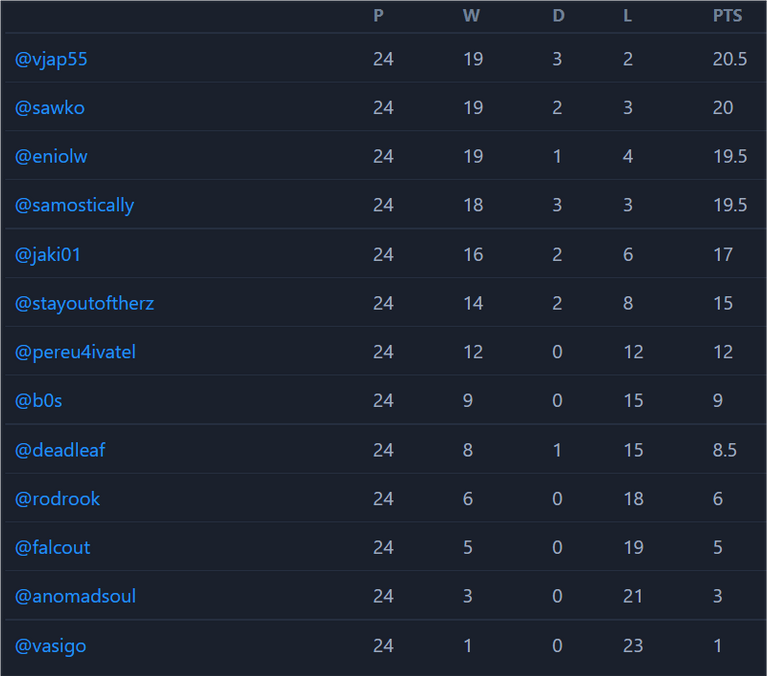 We have a new champion! @vjap55 could very deservedly win the HCT thanks to a very strong second half, with 12/13 and ending up with 20,5 points, followed by @sawko as runner-up with 20 points. The previous leading @eniolw ended up only as 3rd due to losing 2 games yesterday. @samostically got the fourth rank, very closely behind @eniolw (same points, equal match results, but @eniolw had a higher number of wins), and @jaki01 was placed fifth.
Overall, this tournament was very close until the last day, not like in previous seasons, where one player always had a huge lead already.
Of note: If @samostically would not have had the forfeit loss against @b0s, he would have been the champion with same points as @vjap55 but a win in the direct match!
Congratulations to the new champion!!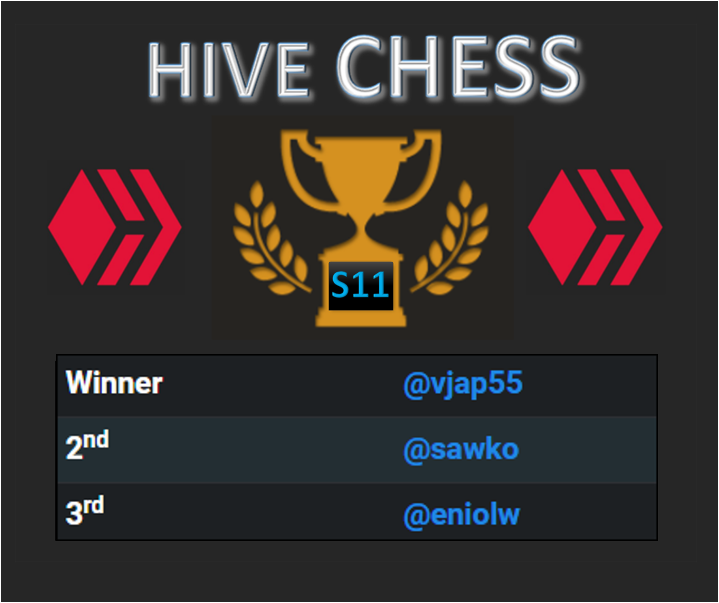 As always, the prices (and the registration fee) will be distributed after the payout of this post, in a week.
Thank you all for your participation & engagement (and the upvotes)!
And thanks to the other posters for streaming (shoutout to @schamangerbert for the 2 livestreams on Twitch!), tournament reports, putting @chesspricepool as beneficiary and advertising this event in your blogs!
Stats
In total 156 games were played (13x24/2). Only 19 games (8%) were missed, not a bad relation. The vast majority (app. 70%) of players played all games on schedule, so thanks for the compliance!
The average rating of the participants was app. 1870, but unfortunately strongly divided in a group of players >2000 and another one of ratings <1500 with nobody in between! This unfortunately resulted in an unusally high number of games with very high rating differences. This was not foreseen nor intended and can be only partially blamed to the mode of the tournament.
On a positive side, this kind of tournament is the most fair one, completely lacking the somewhat erratically pairing of the arena tournaments, where the opponent rating average can easily differ 200 rating points despite similarly placed in the tournament. Here at least the opponent rating average was 100% identical for all players.

Our previous Champions:
Winner of Season 10 was @sawko
Winner of Season 9 was @tungphong
Winner of Season 8 was @sawko
Winner of Season 7 was @jaki01
Winner of Season 6 was @sawko
Winner of Season 5 was @sawko
Winner of Season 4 was @sawko
Winner of Season 3 was @jaki01
Winner of Season 2 was @jaki01
Winner of Season 1 was @jaki01

Potentially of interest to:
@aakrist @abimbola753 @agreste @alberto0607 @alexmag1988 @almightymelon @alpha @ambarvegas @amirl @anadello @anli @anomadsoul @apy @arsenal49 @astrolabio @b0s @behiver @bitsignal @burnoutawesome @camiloferrua @cerati @chessbrotherspro @chesthetica @cocacolaron @cryptoph0823 @darruiz @diegofitness92 @digitalis @ebingo @eliaschess333 @elprofe62 @eniolw @eenriquerivas @evgsk @fairy-of-comfort @fiona777 @fjcr @flaws @foxconnmars @franciscomarval @franu @gabotask @giacomone @gingerbyna @gravitcaper @heimindanger @hierro21 @hirohurl @iceblue @iobates @ibizaki @jaki01 @jesusmgl1995 @jkms @johannfrare @josesmoke @juanmi96 @kintokris @kreur @levitant @lighteye @lofone @lucianosky @maciejficek @marcusantoniu26 @masterswatch @maverieux000 @meedo @mrsarri @mstafford @nftland1989 @orlanzavala @oshiokhenhoya @pamboy27 @parung76 @perpz @petreius @pravesh0 @primersion @rafaelaquino @renerondon @rexplanet @rodrook @ropavejero @rosmarly @salomijale @samostically @sawko @schamangerbert @schnitte @soluce07 @spacetoon @steamloled @stranger27 @syndmitrij @the01crow @thedoc07 @therealflaws @tony1294 @tungphong @uliseshb @vaipraonde @vasigo @victorbch2 @vjap55 @walner @wegflexor @xoflox @yazp @zacherybinx
(just let me know if you don´t want to get the mentions)

There will be a break in the next weeks, but somewhere in June 2022 S12 will start, this time again with a more classical series of weekly arena (or Swiss) tournaments, unless someone convinces me to make another round robin tournament.
---
---