Morning Run - parkrun 42

I just finished a 5.02km running that lasted about 0hh:26mm:9ss !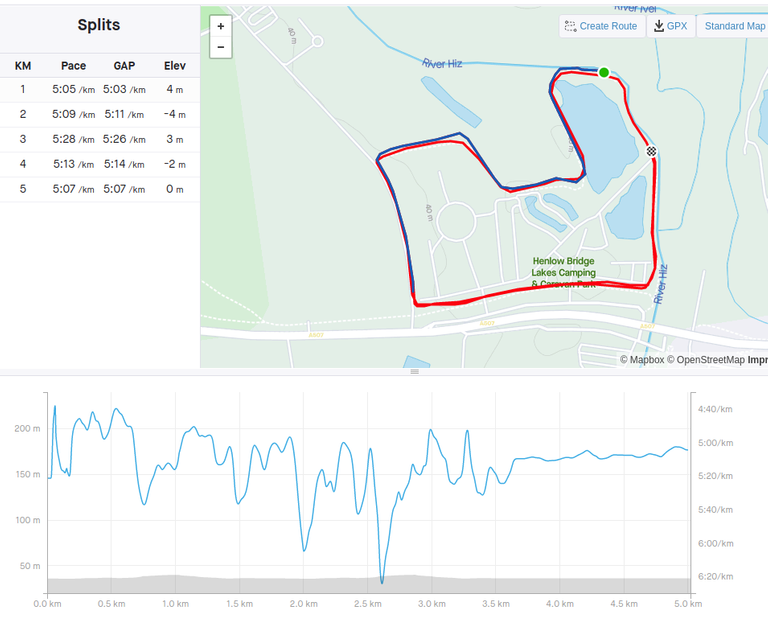 It was a nice morning for running today. No rain and a bit warmer than the frosty mornings we had in the week. I did my usual mix of jogging and walking through Arlesey to the start. I have not seen many people doing the same. A lot seem to come by car, train or over from Henlow.
Numbers seem to be going down a bit, but they are likely to vary. We seem to get a fair few 'tourists' and there were some first-timers too. At least we did not have the annoying flies from a couple of weeks ago near the start.
As usual I set off a bit quick and squelched through the mud after the first corner. The rest of the course is not too bad. I just tried to keep up with those around me, but the field was soon strung out. This time I was not just behind anyone much time.
After the first lap I seemed to slow down a bit. I need to keep pushing there. For the final full lap I managed to pick up the pace a bit to finish just over 26 minutes. The pace graph goes unusually flat for the last bit. I really do not know why there are big dips elsewhere. Some may have been on corners and maybe the GPS got confused at times.
I finished 30th out of 105. I was quickest in my age band, but there were some older guys ahead of me. One is over 70!
I walked and jogged home for a shower and just had a coffee whilst I type this up. The results email comes through pretty quick. They use an app to record times now, so it must be easier than when it was stopwatches and dedicated barcode scanners.
Run free and stay well!
Check out some detailed info at my EXHAUST page
Join me in testing out EXHAUST!
---
---