Ronaldo signs for Rangers⚽️ My Hive FPL review

What a fluffing night it was last night.
When Rangers lost the Europa League final last season we missed out on automatic entry into the Champions League.
Over the last four weeks we played four matches culminating in a 1-0 in Eindhoven in Holland last night.
RANGERS are back in the big time⚽️
Did you know the eight stars represent the eight founding clubs of the Champions League?
Rangers are one of those founding members!
It feels great to be back.
This evening we had the draw! And what a draw it is.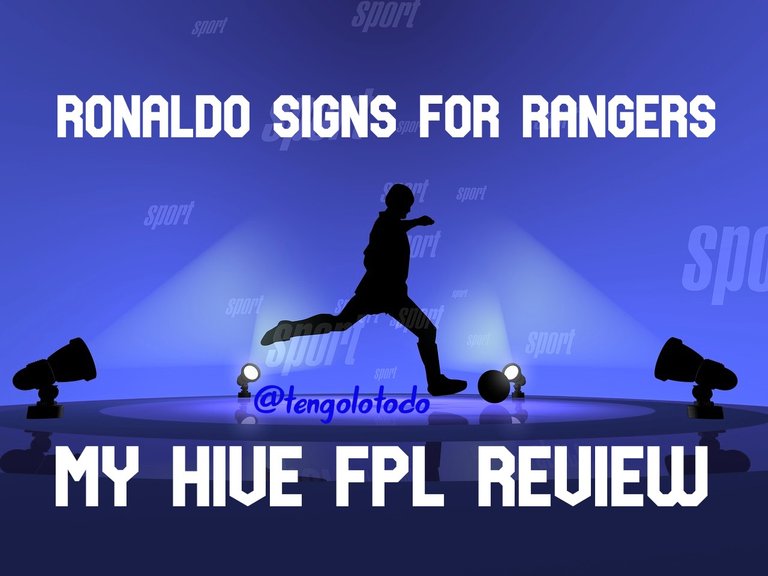 source Image by 3D Animation Production Company from Pixabay modified by me in pixlr.com
Group A Ajax Liverpool Napoli and Rangers!
It will be nice to have some banter with Liverpool fans like @acidyo and @kenechukwu97 in @hivefpl discord!

Ronaldo signs for Rangers⚽️⚽️⚽️
This is the rumour up here, although it is tongue in cheek.
Ronaldo has openly admitted he wants to play in the Champions League and of course his club Manchester United are not in it! Sorry @olawalium and @khaleesii maybe next year 🤣
Now that Rangers have drawn Liverpool, he may well have his chance to play them in the Champions League with Rangers.
Hey this is football, stranger things have happened!
Joking aside, it may well mean Rangers do sign a decent Premier League player on loan. I would not be surprised to see a couple of Premier League fringe players turn up at Ibrox hoping to get to play in the Champions League.

My current Hive FPL Standings.
First things first, I was a fluffing numpty. I entered a team and chopped and changed it and left out a couple of players that I wanted in it. most notably Jesus!
Traditionally I was a Chelsea fan, yea the Blues Brothers stuck together, and indeed when I was working in London, I went to many a game at The Bridge,even went to White Hart Lane and Highbury in the away ends.
The money though turned me off, it is great that you can buy trophies now. I now have a soft spot for Arsenal, solely down to their manager Arteta being a Rangers player and hey he is Spanish!
| | Week 1 | Week 2 | Week 3 |
| --- | --- | --- | --- |
| Points | 39 | 55 | 59 |
| Average | 57 | 57 | 48 |

My current standing is 68th!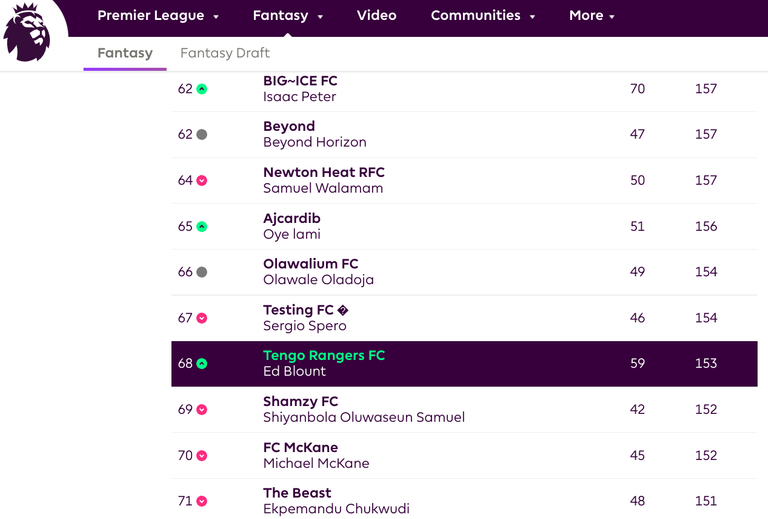 It has been years since I last played fantasy football properly and it shows. I did not really research the scoring, and what sort of players (positionally) I should be picking. Nor did I grasp my formation importance.
Week One ~ The shocker!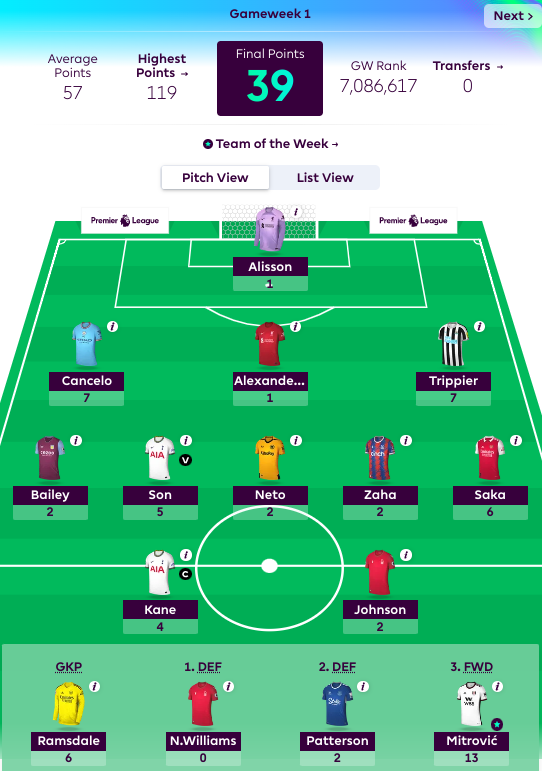 I saw Rangers destroy West Ham in a preseason friendly and decided that they will struggle this season and so picked no Hammers in my team.
I watched Spurs play at Ibrox and saw a master class in world-class finishing from Kane, surely he would get the golden boot this year now that all transfer rumours are quashed with City signing Haaland. I have always rated Son, so Kane and Son formed my big money spine in Tengo Rangers.
Did I shoot myself in the foot again? Yes I did, I left Mitrovic on the bench and he of course got a double!
Week 2 - Finding my feet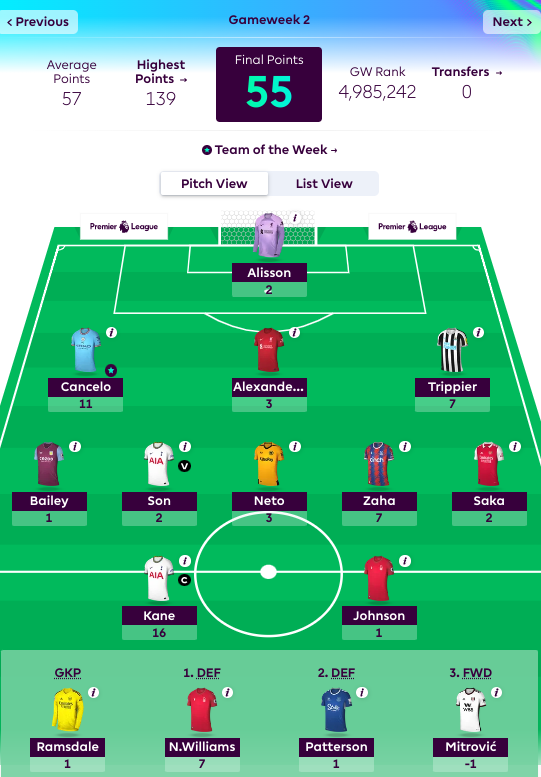 Liverpool have got the yips! Normally such a good defence and now leaking goals. My two expensive defenders are Cancelo of Man City and T A-Arnold from Liverpool. Cancelo is doing the biz, Trent nope. Zaha is doing okay and Kane started to get going.
Much was made of how Newcastle would do this season and so I did pick Trippier for his free kick prowess.
But Son though, wtf is going on!
Week 3 At last , better than average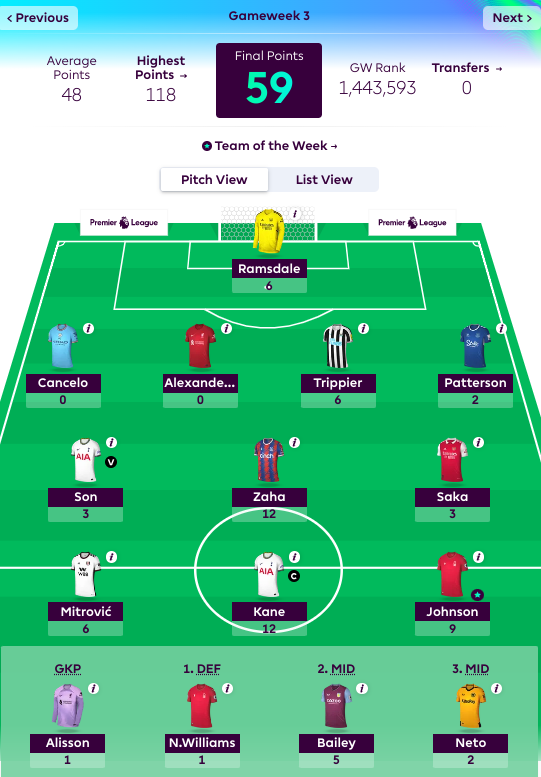 Back when I wrote hivefpl play for free and join in the fun and win there were some banter comments.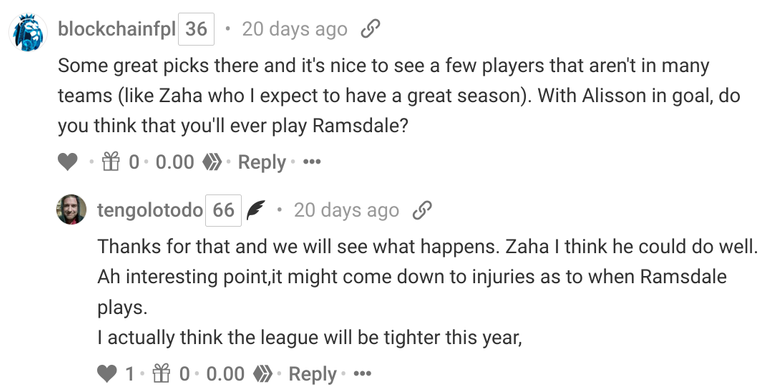 @blockchainfpl asked a great question about would I ever play Ramsdale as I had Allison in goal, well due to the defence in Liverpool and the success that Arteta has instilled in Arsenal I swapped them and dropped Allison to the bench.
Arsenal and Ramsdale duly proved me right, as Man Utd consigned Liverpool to a defeat, Salah saved people that week.
My faith in Johnson and Mitrovic is paying off. Last season Johnson and Mitrovic with Forest and Fulham were scoring goals for fun in the Championships, so it was great to see all three of my strikers get on the score sheet this week!
Son man what are you doing to me though! You are skating on thin ice. I don't want to transfer you for Salah! So please help me out.
Week 4 First transfer made ~ bye bye TAA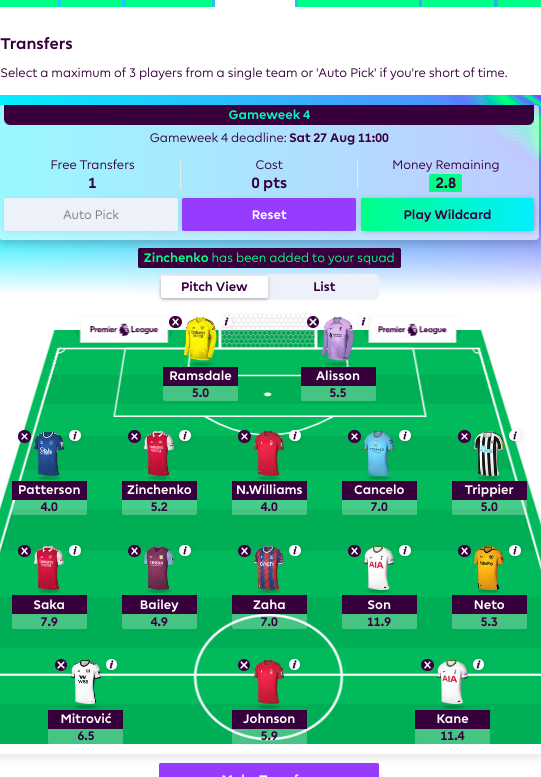 I did it, I made my first transfer. The seven year itch I think is hitting Klopp. I think his squad is aging and cope anymore with this high press. That defence is leaking goals and I think some of their high values are over rated.
Man Utd finally turned over Liverpool, not a surprise to me, and I had enough, out has gone TAA and in his place has come the Ukrainian Zinchenko, the former Man City full back now playing at Arsenal.
This has given 2.8 million in the bank. Son I am watching you.
There are two games coming up and this for me could be make or break.
Spurs have got an easy Champions League group and am hoping that this will boost Son, maybe he over performed last year. Who knows, but Tengo Rangers needs you!

The tightest Premier league in years
With the World Cup towards the end of the year, this season's premier League was always going to be a strange one.
Squad depths will prove pivotal, I know may Arsenal fans are worried about that for example. One thing though is that any team having a bad day is capable of being beaten by a so called lesser team.
Chelsea are going to be hit and miss, so I have left out their players. Man City I think will get better and better, how will Halaand cope with the rigours of the Premier League though, and will Liverpool survive the raucous tackles they will be getting from Rangers players at a hostile Ibrox.
This is Tengo Rangers and our cry is No Surrender
Posted using SportsTalkSocial
---
---