Manchester city narrowly defeated Newcastle United: EPL recap
If you noticed properly you will see that I use the word narrowly despite the Manchester city team winning the match between them and Newcastle United by two (2) goals to nil. One thing I will like to say is that they are matches were you will win by a big goal margin, that doesn't means that you performed perfectly. We have seen matches were you perform poorly and at the end of the day you will ended up winning the match with a big goal margin. As for your information, this is normal when you are refering to soccer matches in particular. If you are to go with matches which teams performed poorly but ended up winning match you will discover that the list is endless. The fun side about soccer is that when you are referring to this cool amazing game, you will discover that as for winning, it doesn't guaranty that you are the one that performed the best. Any team can eventually win matches base on different criteria. You can perform well and you will ended up winning matches and also you can perform poorly and at the end you will ended up winning matches. The list is endless. Should in case you don't know, you should knows that soccer is an amazing game irrespective of how you sees it.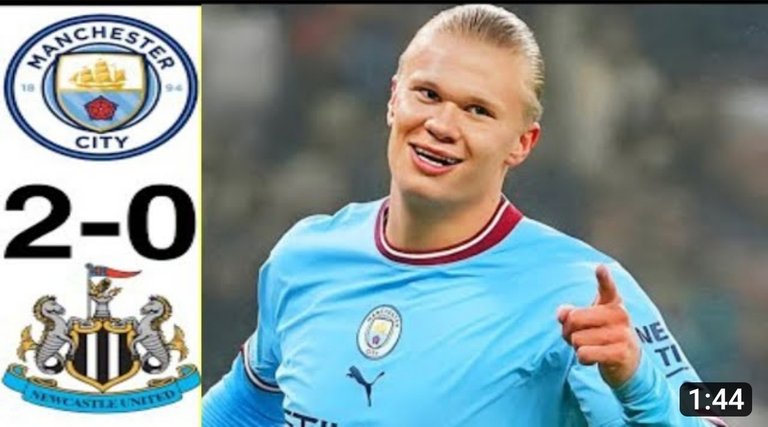 If you are a fan of the English premier league competition you will see that the return season has been fantastic and superb. The fun part of it is amazing, that is one fact that we can't pretend we are not seeing. When it comes to the English premier league competition we all should knows that the fun from it is overwhelming, this is the simplest fact why I have rated the English premier league competition as one of the best that I have seen so far. You can't say that you are bored once you are watching any English premier league matches, they are all amazing. This is the simplest reason why I have rated the English premier premier league competition as the best in the entire world. I have seen people challenging me that why will I be saying that the English premier league competition is the best in the world. Well, I will say that this is how I sees it, you can as well rate any league as the the best. You are free to do whatsoever thing that you like. When it comes to soccer, your choice are your choice. It is how you understand the beautiful game that you will rate it.
As for the Manchester city match versus the Newcastle United match, I must admit that it was indeed a beautiful game. While I was watching the match I saw how it was a tug of war between the two elephant. They both played a very fine game but at the end it was one team that walked away with the three (3) point. What makes the match between this two team interesting is simply holding to the fact that the Manchester city team are aiming to win the English premier league trophy. As for the Manchester city team they knows that if they fails to win this match it will be a big issues on their side since they knows that a win for the Arsenal fc side will be a big issue for them. We all knows that when such thing happens, it will be extending the gap between them and the Arsenal fc team to about 8 point. This is the simplest reason why the Manchester city team don't in any way wants to make sure that the Newcastle United match goes not their way. A win is just what they needed since they knows that anything that leads to a draw or loose will cause more chaos just like the way that I hinted it above.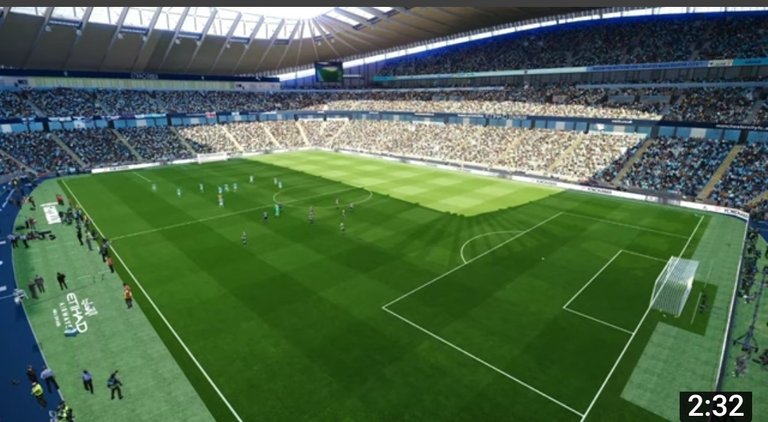 As per the Newcastle United side they knows that a lost for them will cause more chaos for them since they are aiming to qualify for the English premier league top 4 position. Qualifying for such position will definitely means a lot for them because it will opens more doors of progress for them. There is something that might happen to them if they eventually qualifies for the Uefa champions league competition. It is said that with the clause that Cristiano Ronaldo signed with Al Nassr, he will be heading to the English premier league side since it is same owner that owned the two team. Another thing that the Newcastle United wants to correct is their current poor form. They have been struggling poorly for some time now.
As we have it, we all can see that it was the Manchester city side that ended up winning the match with two goals to nil. It was a narrow win just like what I hinted above. Well, wether narrow or not, a win is a win. With this win the Manchester city side are still in the trophy race between them and the Arsenal fc side. Goals came in from Phil Foden in the 15th minute and the assist was from Rodri while the other goal came from Bernardo Silva in the 67th. The fine and amazing assist was from Erling Haaland. This makes it the two goals that ended up giving the Manchester city team the win they desire.
Photos from YouTube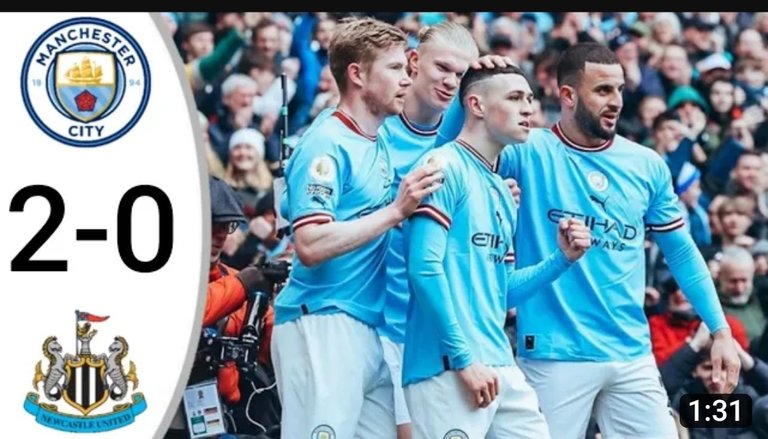 I will end the post here, if you have anything else to say please air your view by commenting under this post.
Posted using SportsTalkSocial
---
---