My Curation Capacities and Growth on Hive Blockchain as at July 6, 2020: HIVE, LEO, SPORTS, CHARY & CTP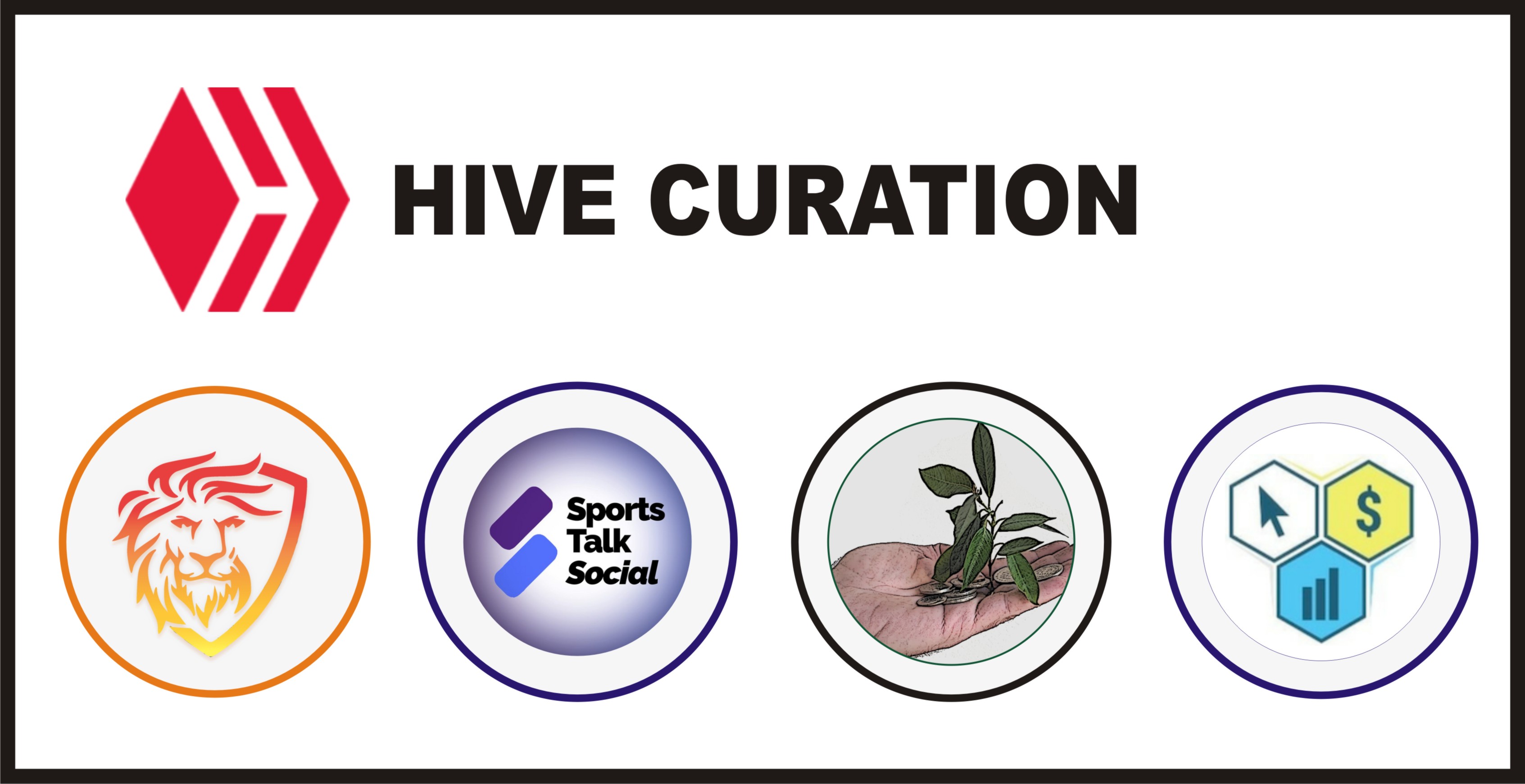 Figure 1
---
Few days ago, I attempted to create a new word "Curapreneur" which means "an entrepreneur who specializes in holding stakes in a DPoS blockchain and using his stakes to upvote contents which earn him curation rewards in return". I'll love to see this word for a part of the blockchain/Cryptocurrency vocabulary and the vocation dictionary in the future. I hope I will be remembered as the one who used it first.
I discovered after two years of engaging the Steem/Hive blockchain that curation is an awesome way to earn steady income. What makes curation an awesome earning opportunity is that it motivates more users to keep creating contents as well as endears new users. As long as new contents are being created, there is a market for the Curator.
I define content curation on Hive blockchain as "a user's expression of his level of acceptance/support for a content which he consumes with a "like" in a process known as upvote/downvote". When a content is curated, both the author and the curator share in the rewards on a 50%/50% basis. On Hive blockchain, there are Hive tokens with curation potentials though some have a different reward split as was shared in this post. Moreover, I see content curation as a learning opportunity.
For my understanding, curation is one of the sweet ways of making money in the Hive blockchain because it affords the curator the opportunity to learn from the array of contents he reads and then earns part of the author's rewards in the process.
Curating contents through Hive tokens is a way to multiply curation earnings and as well grow your HIVE holdings more speedily. It is true that a curator can easily grow and faster with Hive token curation because the tokens are way cheaper than HIVE. All the Hive tokens earned through content creation/curation are exchangeable for HIVE via https://dex.leofinance.io/ or https://hive-engine.com/. Below is my statistical computation of my curation capacities and earnings with HIVE, LEO, SPORTS, CHARY and CTP stake as at yesterday, 6th July, 2020.

From the Table above, I hold curation capacities for HIVE (1,703), LEO (25,000 tokens),SPORTS (18,500,000 tokens), CHARY (6,300 tokens) and CTP (1,300 tokens) which gives upvote values: $0.028, 5.6 LEO and 12,600 SPORTS, 115 CHARY and 0.62 CTP at full upvote. I detailed the computations of the daily and weekly curation value with their corresponding ROI for each of the cryptocurrency stakes. The charts below shows a graphic representation of the data.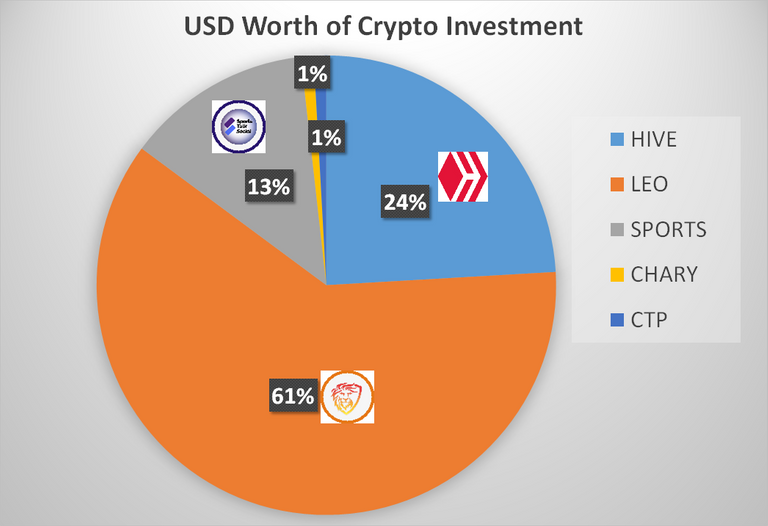 Figure 2
Figure 2 above shows that my curation investment has a distribution of 61% for LEO, 24% for HIVE, 13% for SPORTS, 1% for CHARY and 1% for CTP. This means that the bulk of the efforts has been channeled to LEO tokens. CHARY and CTP however, constitute the least investment because they are new additions. The distribution of the curation earnings for HIVE, LEO, SPORTS, CHARY and CTP is shown in Figure 3.
It is amazing to note that CHARY tops in upvote value with $0.253 worth. This is followed by LEO with $0.213 worth of upvote, $0.13 for SPORTS, $0.028 for HIVE and $0.006 for CTP. The highs of CHARY is the fact that the token is used to reward chariuty/humanitarian activities.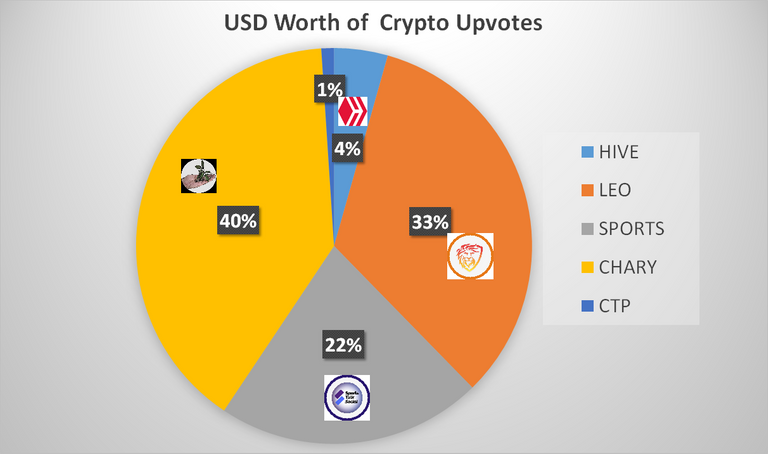 Figure 3
Thus, CHARY contributes the most (40%) of my total curation capacity in HIVE followed by LEO with 33%.
I hope to level-up the contributions of the different cryptocurrencies in the coming weeks while looking forward to add more cryptocurrencies to my curation portfolio.
All computations and charts are made manually by me using Microsoft Excel 2013. I'll love to engage you in the comments section of this post.
I am consciously sharing blogs on my investment activities in Hive blockchain to help show prospective investors the awesome opportunities already available on Hive Blockchain. Besides, this serves as a reference point top rack my growth within the communities involved.
---
It would be educative to read this post I made on "Viscous Circle of Poverty" as it relates with staking tokens in the a DPoS like Hive.
---
Disclaimer: In all, the above are my personal views about HIVE, LEO, SPORTS, CHARY and CTP tokens that fuels my convictions to invest in the cryptocurrencies. These are not investment advice. Always make your extra research before investing in any cryptocurrency.
Posted Using LeoFinance
---
---