Hivechess Tournament Round 2 Arena STREAMING

---
Hey everyone, I an so glad to stay here with the entire #hivechess community...!
Today was played the "Hivechess Tournament Round 2 Arena" and once again @sawko won with a great score.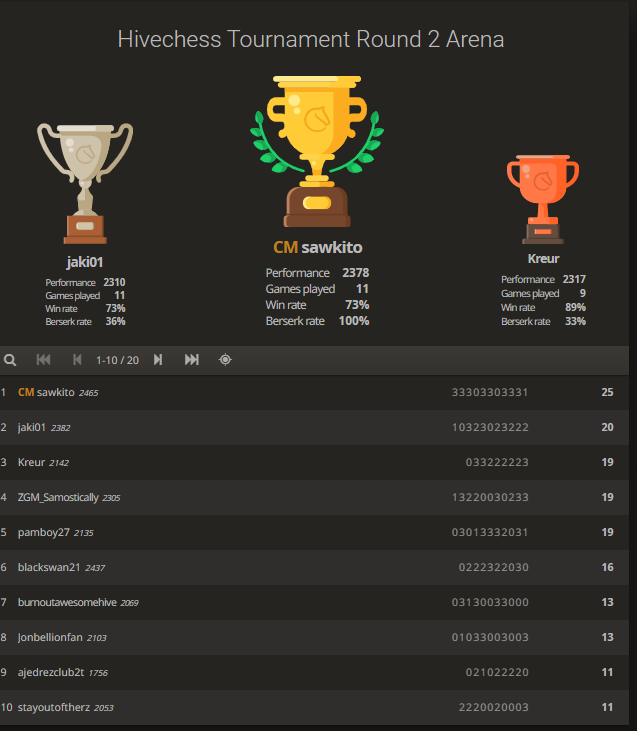 I wanted to do something different this time and while playing the tournament I was recording my games which is not easy at all lol, I had some good chances but in the end I couldn't materialize the decisive points.
My first intention was to broadcast live but the option to do this is not available in #3speak at the moment. How ever you can see the full stream on the following link :
Hivechess Tournament Round 2 Arena - YOUTUBE
I hope you like this new way of showing the games, everyone is invited to participate. I hope to see you soon in this kind of activities
Do you want to play chess? We have chess for you all weekend!!!
.
Check out @stayoutoftherz's posts and join the #HiveChess Friday tournament on lichess.org, also @schamangerbert's posts to join the Saturday Blitz Chess Tournament and now on Sundays you can enjoy the Chess Brothers Chess League @chessbrotherspro, all these tournaments are free to join and with deprecations on HIVE.
Some of the players called up: @aakrist, @abimbola753, @agreste, @alberto0607, @almightymelon, @ambarvegas, @amirl, @anli, @anomadsoul, @apy, @arsenal49, @behiver, @bitsignal, @burnoutawesome, @cerati, @chesthetica, @cryptoph0823, @darruiz, @diegofitness92, @digitalis, @ebingo, @eliaschess333, @elprofe62, @eniolw, @eenriquerivas, @evgsk, @flaws, @foxconnmars, @franciscomarval, @gabotask, @gingerbyna, @gravitcaper, @heimindanger, @hierro21, @hirohurl, @iceblue, @iobates, @jaki01, @jkms, @johannesboldt, @juanmi96, @kintokris, @kreur, @lighteye, @lucianosky, @maciejficek, @manncpt, @marcusantoniu26, @masterswatch, @maverieux000, @meedo, @mstafford, @nerdvana, @oshiokhenhoya, @parung76, @pereu4ivatel, @petreius, @primersion, @rafaelaquino, @renerondon, @rexplanet, @rodrook, @ropavejero, @rosmarly, @samostically, @sawko, @schamangerbert, @soluce07, @spacetoon, @stayoutoftherz, @the01crow, @therealflaws, @tony1294, @tungphong, @uliseshb, @vasigo, @vjap55, @walner, @xoflox, @yazp, @zacherybinx and other players from #HiveChess and other corners of the blockchain and the world. You are all welcome!
---
▶️ 3Speak
---
---