Rutinas de Straddle Planche (Nivel Avanzado- Parte 4/4)-Straddle Planche Routines (Advanced Level -Part 4/4)
Straddle Planche Rutinas 4/4
Straddler Planche Routines
---
video
▶️ Watch on 3Speak

Hola Atletas de la comunidad de Hive hoy tengo el placer de presentar ante ustedes la parte final de la serie que yo había planeado para darles a ustedes rutinas de que a mi en el tiempo que he entrenado este estático me sirvieron para aguantarla de buena manera, la rutina que les voy a presentar tiene un nivel de dificultad avanzado para lo que vendría siendo la Straddle planche pero sin llegar a la dificultad de un entrenamiento de full planche.

Hello Athletes of the community of Hive today I have the pleasure to present to you the final part of the series that I had planned to give you routines that in the time that I have trained this static I served me to hold it in a good way, the routine that I am going to present has an advanced level of difficulty for what would be the Straddle planche but without reaching the difficulty of a training of full planche.
---
---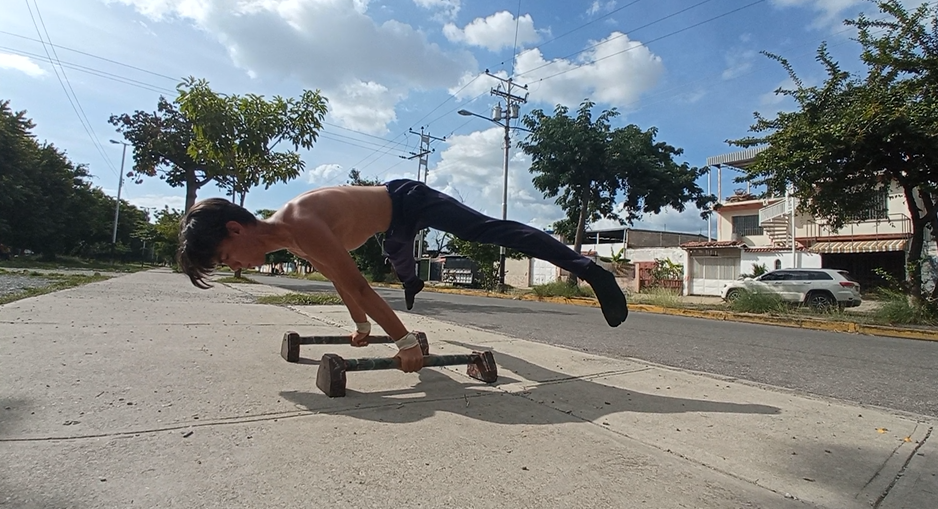 ---
Si eres capaz de hacer las rutinas de nivel 1 al 3, comprenderás que los ejercicios que requieren aguantar como el tuck planche tienes que enfocarte en sacar tus escapular y apretar el abdomen con el objetivo de que la postura se mantenga en la adecuada, y así el trabajo muscular estará bien distribuido .
If you are able to do the level 1 to 3 routines, you will understand that the exercises that require endurance like the tuck planche you have to focus on pulling out your shoulder blades and tightening the abdomen in order to keep the posture in the right position, so that the muscle work will be well distributed.
---
---
---
Los ejercicios en esta rutina son:
- 1.- Maximo En Straddle
- 2.- Handstand Push Ups
- 3.- Tuck Planche Adv
- 4.- Tuck Push Ups + Fondos
The exercises in this routine are:
- 1.- 4 Series
- 2.- 10 o 12 Repeticiones 4 series
- 3.- 10 o 12 Segundos 4 series
- 4.- 5 reps + 5 reps x 4 series
The exercises in this routine are:
- 1.- Maximo In Straddle
- Handstand Push Ups
- Tuck Planche Adv
- Tuck Push Ups + Pull-ups
The exercises in this routine are:
- 1.- 4 sets
-2.- 10 or 12 reps - 4 sets
- 3.- 10 or 12 Seconds 4 sets
- 4.- 5 reps + 5 reps x 4 sets
---
---
| Recomendaciones | Recommendations |
| --- | --- |
---
Los Ejercicios de esta rutina no son para hacer muchas repeticiones, sino que la idea es que los ejercicios sean realizados con la mejor técnica posible y buscar perfeccionarlos y ser capaces de hacerlos sin dificultad con esto la straddle planche se vera beneficiada ya que considerando que después de los entrenamientos de las rutinas pasadas ya serias capas de unos 3 o 4 segundos de straddle, lo que necesitamos ahora es aumentar y perfeccionar esos segundos y el realizar esta rutina una o dos veces por semana es capaz de conseguirlo.
The exercises in this routine are not to do many repetitions, but the idea is that the exercises are performed with the best possible technique and seek to perfect them and be able to do them without difficulty with this the straddle planche will benefit because considering that after the workouts of the past routines we already have layers of about 3 or 4 seconds of straddle, what we need now is to increase and perfect those seconds and performing this routine once or twice a week is able to achieve this.
---
---
---
Si necesitan un consejo no duden en consultarmelo en los comentarios o en mi Instagram.
If you need any advice, don't hesitate to ask me in the comments or on my Instagram.
---
---
---
---
---
Creador de contenido original
---
---
---
---
Social Medial
---
---
---
---