Entrenamiento de Hombro y Parada de Manos | Shoulder and handstand training
Handstand Rutine
---
Entrenamiento de hombro para mejorar el la parada de manos
Hola Atletas de Hive Blog y miembros de la comunidad de
Full Deportes
.
Hello Hive Blog Athletes and members of the
Full Deportes
community.
---
---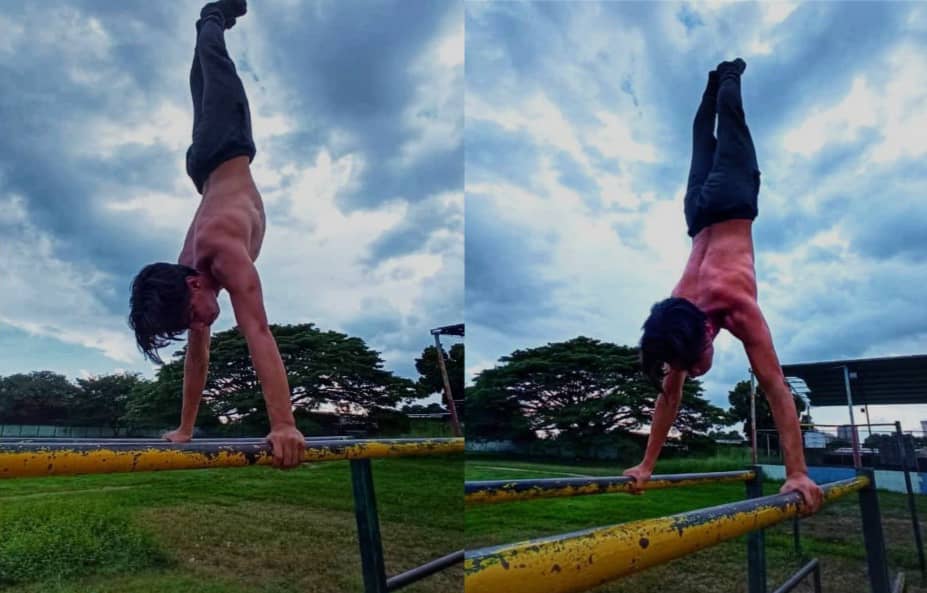 ---
Hoy voy a traerles una rutina, en la cual trabajaran la zona anterior y media del deltoide, además de hacer un trabajo en la parte central y baja del pecho y en menor medida del tríceps, esta rutina la cree en un punto para mejorar mi resistencia y la fuerza de tranque que necesita el handstand o la parada de manos ya que, a menos de que tengas un equilibrio perfecto necesitaras fortalecer la zona de tus hombros ya que es ahí donde se encuentra la fuerza de este estático. El hombro es la zona que en la calistenia mas se debería entrenar, ya que, es ahí donde se concentra el tranque de la mayoría de sus estáticos, y en esta rutina se trabaja tanto la parte anterior como media de este musculo y que además de a la parada de manos pueden ayudarte a mejorar tanto en la plancha como en estáticos como el V-sit y la Human Flag.
Today I am going to bring you a routine, in which you will work the anterior and middle deltoid area, in addition to work on the central and lower chest and to a lesser extent the triceps, I created this routine at one point to improve my endurance and strength tranque that needs the handstand or handstand because, unless you have a perfect balance you need to strengthen the area of your shoulders because that is where the strength of this static. The shoulder is the area that in calisthenics should be trained the most, since it is there where the tranque is concentrated in most of the statics, and this routine works both the front and middle part of this muscle and that in addition to the handstand can help you improve both in the plank and in statics such as the V-sit and the Human Flag.
---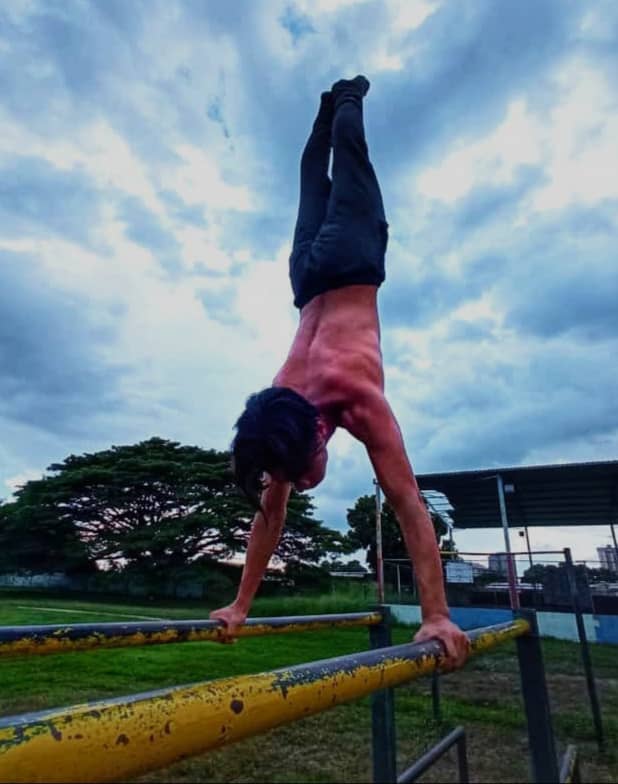 ---
Esta Rutina es nivel medio/alto, es para calistecnicos que están empezando apenas a aguantar la parada de manos pero que no consiguen mas de 10 segundos por falta de fuerza.
This is a medium/high level routine for calisthenics who are just starting to hold the handstand but can't get more than 10 seconds due to lack of strength.
---
---
▶️ Watch on 3Speak
---
---
---
Handstand Push Ups: Este es el primer ejercicio, el punto de este ejercicio es que bajen hasta los 90°, si ven que se les dificulta demasiado pueden usar una pared para asistirse y aumentar las repeticiones.

Fondos Profundos: En este ejercicio bajen todo lo que puedan sacando el pecho, aquí trabajaran más la zona del pectoral que la del hombro.

Fondos con Pausas: Este ejercicio es un fondo profundo en el cual bajaras completo, subirás a la mitad y volverás a bajar para luego subir completo, creando un efecto de rebote.

Pike Push Ups: Ejercicio de hombro muy bueno para los entrenamientos en los cuales la parada de manos está involucrada.

Pseudo Push Ups: Flexiones normales pero con la muñeca con los dedos apuntando hacia tus piernas, que en lugar de trabajar el deltoide medio y pecho como una flexion normal trabaja mas la zona del deltoide anterior que es lo que buscamos.
Handstand Push Ups: This is the first exercise, the point of this exercise is to go down to 90°, if you see that it is too difficult you can use a wall to assist you and increase the repetitions.

Deep Lunges: In this exercise lower your chest as far as you can, here you will work more on the pectoral area than the shoulder.

Bottoms with pauses: This exercise is a deep bottom in which you will go all the way down, go half way up and then go all the way back down and then all the way back up, creating a bounce effect.

Pike Push Ups: Very good shoulder exercise for workouts in which the handstand is involved.

Pseudo Push Ups: Normal push ups but with the wrist with the fingers pointing towards your legs, which instead of working the middle deltoid and chest like a normal push up works more the anterior deltoid area which is what we are looking for.
---
Esta es la rutina que sale en el video:
Handstand Push Ups: 5 repeticiones x 4 series
Fondos Profundos: 15 repeticiones x 4 series
Fondos con Rebote: 10 repeticiones x 4 series
Pike Push Ups: 15 repeticiones x 4 series
Pseudo Push Ups: 15 repeticiones x 4 series
This is the routine shown in the video:
Handstand Push Ups: 5 reps x 4 sets
Deep Dips: 15 reps x 4 sets
Rebound Wall Raises: 10 reps x 4 sets
Pike Push Ups: 15 reps x 4 sets
Pseudo Push Ups: 15 reps x 4 sets
---
Cosejos y Guias de esta y otras rutinas porfavor consultar en la zona de los comentarios y síganme a mi instagram
Creating Quality Content
Creador de contenido original
Social Medial
---
▶️ 3Speak
---
---