❇️ YOU DON'T HAVE TO LIFT WEIGHTS TO GET IN SHAPE ...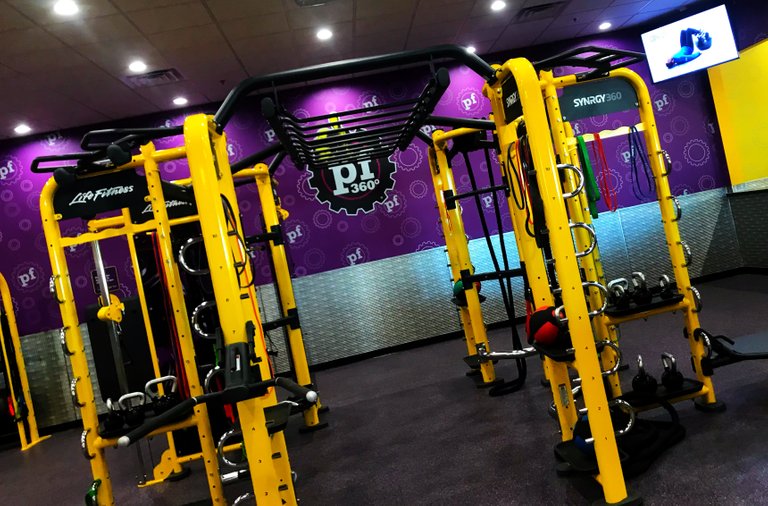 Check out this weird apparatus called SYNRGY360 at planet fitness... it's like a playground for adults if you really think about it. 😂
People get confused that you have to lift weights to get in shape and thats 100% false. If you're a computer dude like myself who sits on his ass for 18+ hours a day from home, all you have to do it get your body movin'. 🏋
Working out can be fun... instead of lifting just free weights today like I usually do, I decided to use the SYNGRY360 equipment!
What did I do? Climbed, pulled, moved "kettle bells" around, jumped etc... etcc... in other words, I just moved in circles around this thing and started "doing stuff" for an hour HAHA.
I'm going to have to say that "playing" around this thing for an hour made my ass really tired... Shit was a pretty good workout. 💁‍♂️
Sometimes working out can get boring for most people by doing the same thing everyday. If that happens, all you have to do is change it up a bit... and it will never get boring. 🙋‍♂️
If you see this thing around, I recommend it that you give a it a try... you might really like it.
Keep on STACKIN! 😎
~ Charles Fuchs
For those who's interested in following my "Content" and "Daily" Posts... you can just follow me @stackin to get my updates.
You Can Follow Me Here:
➡️ UpTrennd: https://uptrennd.stackin.co
➡️ Facebook: https://facebook.stackin.co
➡️ Twitter: https://twitter.stackin.co
➡️ Instagram: https://instagram.stackin.co
➡️ Steem: https://steem.stackin.co

PI NETWORK: Pi is a new digital currency you can mine on your mobile phone for free without draining the battery or using data. Use The Referral Code: ( stackin ) to be on my personal team.

Crypto.com: Get The World's First ELITE Cryptocurrency MCO Debit Card and we both get $50! NOTE: You must stake 50 MCO to get the $50 + 2% cashback on all purchases. Must use Ref code: ( mqanqykcym )
---

---
---