My Dream Trip Stateside - Part 1.
Inspired by @mypathtofire, and tales of his dream trip to the USA, which you can read about HERE, I have come up with my own dream trip to the same destination. The idea being to do my trip arranged the sports fixtures (preferably the home games) of the major US sports I follow, which are (in no particular order) :
Baseball - San Francisco Giants
Basketball - Charlotte Hornets
Ice Hockey - San Jose Sharks
American Football - New Orleans Saints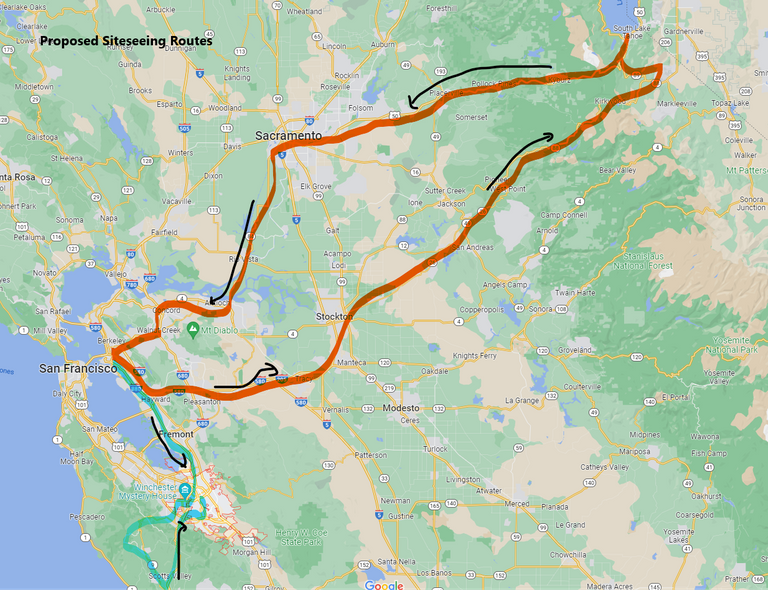 Obviously this is a mammoth undertaking, since San Francisco, and San Jose are both in California on the West Coast, whilst Charlotte in North Carolina is way over on the opposite side of the country towards the East Coast, with new Orleans, Louisana, down south on the Gulf of Mexico (although considerably closer to Charlotte than San Francisco).
The obvious starting point therefore is San Francisco to watch the Giants, and then onto watch the Sharks. The main issue to resolve, however, is the time between the MLB season ending - especially if the Giants don't make the playoffs, and the NHL season beginning.
If I were to do the trip this year, as an example, then the Giants last home regular season game according to their published schedule is 2nd October, against the Arizona Diamondbacks. The Sharks have yet to publish their schedule for the 2022/23 season, but looking at last year, the opening game was on 16th October, so would mean I'm floating around California for at least a couple of weeks, if a similar start date occurs.
So what to do while I'm waiting to get my sports fixes...
Well, I'm in San Francisco, so one of the first places I'd visit is Alcatraz, the infamous penitentiary situated on an island in the bay, and immortalised, if a building can ever be given a human trait, in the films Birdman of Alcatraz, and Escape from Alcatraz (among others).
Looking around for options I found I could combine two attractions in one and spend a few days exploring the areas of Lake Tahoe and Old Sacramento. I've deliberately chosen to loop out and back to Lake Tahoe to take in any other opportunities to sightsee. Love the outdoors, so anywhere with fantastic scenery, any excuse to get the photography gear out is a huge plus, has to be a must do. On the way back a visit to a place that harks back to the goldrush era, Old Sacramento, with its carefully preserved buildings etc, is the kind of place I love to explore, experiencing living history.
Of course I have to eat and drink while I'm there so exploring Fisherman's Wharf is a definite stopping place (probably several times over) to experience the wealth of seafood on offer. Also, being a passionate real drinker I couldn't leave out visiting one or two (or more) of the breweries in the area, and my research so far has highlighted I'm pretty much spoilt for choice...what a headache to have (and that's before I've had a beer lol!!).
Moving onto San Jose, might give an opportunity to get in some extra baseball, as the Giants have a minor league affiliate based there - Single A San Jose Giants. Their regular season, however ends in mid-September, so attending a game would be dependant on the dates of any play-off games that may occur. Sticking with sport though, I might be be able to squeeze in a game of soccer, with the San Jose Earthquakes, with their season ending in October.
Breweries, again, seem to be well represented so I'd be back in my element visiting those - it's a hard job, but someones got to do it!!
Back to sightseeing, and one of the attractions that pops up on most recommendation lists is the Winchester Mystery House, a huge mansion with quirky features designed to confuse apparently. Sounds fun. Following that with getting out in nature again and, perhaps, a hike in the Big Basin Redwoods State Park to the south-west, gasping in awe at the sight, and size, of those magnificent trees.
So that would be two of my chosen sports covered, without too much hassle as long the schedules match up, and fingers crossed i'd be seeing my two teams win, after all it's a long way to go to see them lose...lol!!
In Part 2 I'll cover the drive to New Orleans, and some of the stop-offs along the way to view more wonderful sights, so stay tuned.
---
---