How Much Data is Too Much??
I just finished a 16.396km cycling workout that lasted about 0hh:44mm:33ss !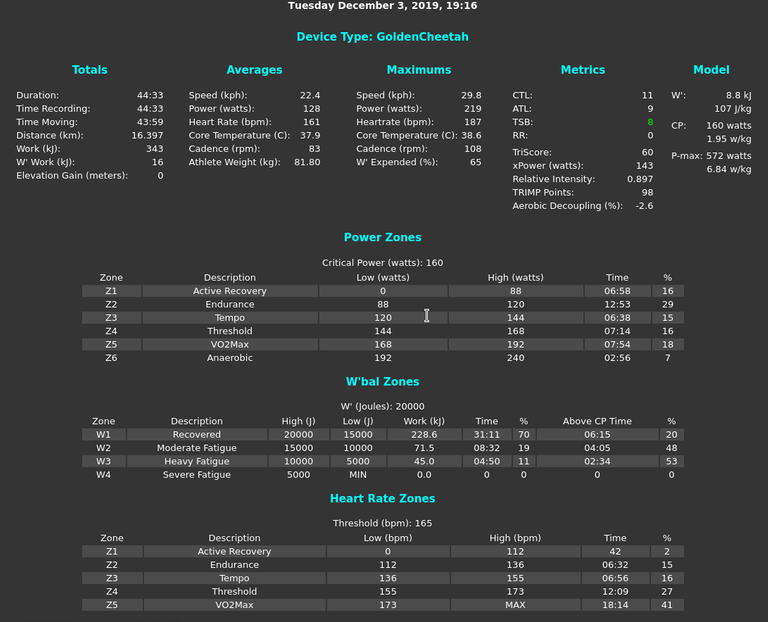 First ride in a couple weeks. Amazing how easy it is to get overwhelmed by work and other life activities and forget about exercise.
Ride felt pretty good part, but kinda struggling w/ where I have my critical power set. I don't think the wattage is what's killing me -- it's trying to hit that wattage at 110+ rpm. Feel the the gear ratios don't work. I think I need to stop paying attention to the power-cues in GoldenCheetah AND the cadence cues from the old-ish video that has nothing to do w/ GC.... ?
The software that I use when I'm riding my indoor trainer at home is called "GoldenCheetah" (It's free, and open source! Check it out!) -- it seems really usefl, but I don't know what half of this stuff means. I get confused pretty easily.
And I'm not totally certain how much I enjoy these cycling videos that don't respond to what I'm doing. I feel that a game like Zwift would be significantly more motivating. Seeing the character move on-screen and being able to race would be great -- but I'm not super jacked up on the idea of paying for it. I pay for enough shit.
....
....
....
I kinda wanna make my own... And I think I'm gonna try. I've got two weeks off this winter -- sounds like a great opportunity to try to get a python library working with Godot -- the amazing open source game engine!
...any game devs out there got experience w/ Godot and any tips??
It's gonna be slow going, and python-based, but god damn it I'm gonna do it. What else am I gonna do? Actually work out? HAHAHAHA.. Unlikely.
Check out some detailed info at my EXHAUST page
Join me in testing out EXHAUST!
---
---