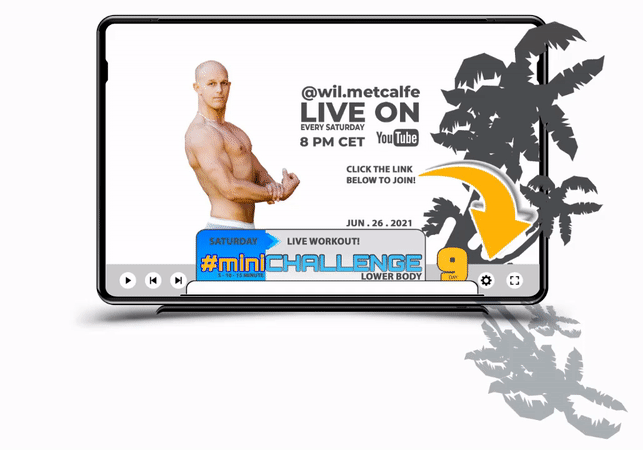 ARE YOU READY?
We are back for our 9th #miniCHALLENGE back to back to back!
So the fact that your back reading today's post means your on track!
Thank you everybody for your excitement and support! 9 weeks of working out! You all must be starting to see and feel the results!
UPDATE
So! Now it's time for a little update on where we are taking the #miniCHALLENGE!
There's so much to do to level up what we have to offer here with @BeachReady! In order to do what we have in mind we are going to have to pace ourselves!
This means that we have decided to rotate the #miniCHALLENGE's.
What does that mean?
It means that we will be going LIVE for 10 weeks at a time followed by 5 weeks "break" to reconfigure.
So, including today's #miniCHALLENGE, there will be 2 more training sessions before we take 5 weeks off to learn and adjust from the previous 10 weeks.
Sounds like a plan right?!
We want to continue to evolve and level up the #miniCHALLENGE's and this seems like the best way to go about it.
Of course your feedback is wanted so please feel free to drop your thoughts, ideas, and anything else down bellow in the comments!
There you have it!
A @BeachReady update before today's #miniCHALLENGE LIVE kicks off!
Speaking of which...
ARE YOU READY!
Today's #miniCHALLENGE goes live in just a little less than 1 hours time!
We will see you over there!
-The @BeachReady Crew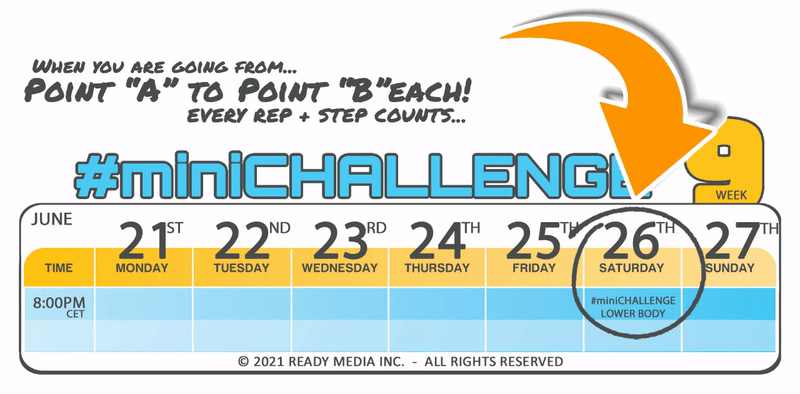 Here's the details:
Mark your calendars and block off your schedules! 30min. #miniCHALLENGE #workout EVERY Saturday @ 8PM CET!
Today's workout will be targeting your lower half and core.
Your also going to need:
✅ Synchronize your clocks! [8pm CET] 🕗
✅ Having a pair of ankle weights for this workout would be good. ⛓
✅ Set out your workout gear. 👟
✅ Your going to need some water too. 🚰
✅ Yes! A towel might also be a good idea. ⬜️
✅ Invite your friends! Challenge them to a #miniCHALLENGE! 👱‍♀👦
✅ Remember! It only takes 5min. at a time to #Win! 🏆
There! Now your READY!
It's time to GET those RESULTS!
Let's MAKE IT HAPPEN!
---
As we normally do, we are broadcasting from 2 YouTube Channels today! Select the channel you would like to attend bellow! 👇
The Ready Media Channel
Here's how the LIVE workout's will flow. 👇
---
✅ 8PM CET — GO LIVE!
---
❤️ [5min] — REP + RALLY
---
👟 [5min] — WARMUP
---
💪 [5+5+5min] — WORKOUT INTERVAL
[30 — 60sec. Catch Your Breath + Intensity Check]
---
👍 [5min] — STRETCH
---
🙌 everybody #HighFive everybody!
---
---
⭐️CONGRATULATIONS!⭐️
---
ABOUT YOUR PERSONAL TRAINER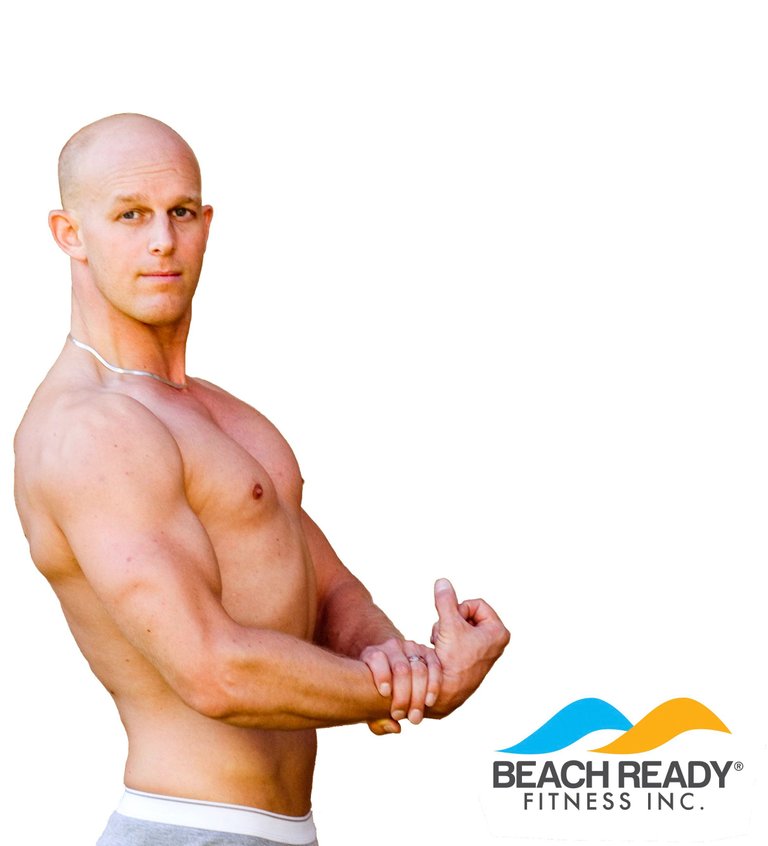 @BeachReady @Actifit Trainer @wil.metcalfe will be taking us through another rush of reps! This time we will be targeting the UPPER BODY!
Wil is a certified personal trainer with over 10 years of experience so you are going to get something from this #miniCHALLENGE. Buuuuut keep in mind...
Your health is important because your the only one who can make a healthy lifestyle happen! No one else can do that for you... but we sure as heck are going to try our best to inspire you to do what it takes!
Let's all continue to prioritize our health and fitness!
➕ Find out more about the #miniCHALLENGE! 👇
1️⃣ https://peakd.com/minichallenge/@beachready/2nd-minichallenge-are-you-ready-lets-go-may082021
2️⃣ https://peakd.com/fitness/@beachready/a-new-fitness-challenge-launching-the-minichallenge-lives
➕ Don't wait! You can do a #miniCHALLENGE right now! Check out and follow along to some of our pervious #miniCHALLENGES! 👇
🎧Looking for more? How about listening for more?

Listen to the @BeachReady Rap! Let's get PUMPED!🎧

© 2021 BEACH READY FITNESS INC.®