Fight Classics 🥊: Spence vs Porter (GIVEAWAY!!!) 🏆

What's up Boxing Fans!!!
Time for another classic fight with your boy Tako! Today we have Errol "The Truth" Spence Jr. (26-0, 21 KOs) vs "Showtime" Shawn Porter (30-3-1,17 KOs) in their fight that took place in September of 2019. These are two REALLY good boxers that come to fight, and they always give the fans a good performance.
Their styles and personalities make for a really exciting fight. Shawn Porter is the type of guy who gonna come straight at you and FIGHT like a mad man. Errol Spence is just a super skilled boxer that can do EVERYTHING well, but he doesn't sit back on his skills and fight safe, he's bringing the fight to people dropping dudes.
---
But other than sharing my thoughts on the fight I'll also be doing a giveaway!
All you have to do is watch the fight and let me know how you scored Spence vs Porter for a chance to win 1 Hive SBI Unit!!!
Example: 115 - 112 Porter
---
Hope you enjoyed that great fight!
Here's my thoughts:
ROUND 1: Spence
After they got a feel for each other I think Spence won the round landing more punches. Although Porter was the more active guy Spence's skill won the round.
ROUND 2: Spence
Spence won the round but these rounds are really close. Porter has his own nice setups and flips and things but Spence can adapt to anything, he's just too good.
ROUND 3: Spence
Porter is doing his thing, he wants to make this a dog fight! I love the excitement but I still feel Spence won the round though. Both guys are landing and putting together a good fight though.
ROUND 4: Porter
Porter landed a lot of really good clean power shots that round. He continues to attack and it's starting to pay off. Spence got through the round but I think Porters gonna be going like this all night
ROUND 5: Spence
Really close round for Spence. This is a really hard fight to judge by the way. It's sooo even, I'm having a hard time saying who won the roung.
ROUND 6: Spence
Spence's skill won him most of the exchanges
ROUND 7: Porter
Porter is out there being aggressive and landing combos! Spence has been landing to the body quite a bit as well though, but porter won that one.
ROUND 8: Porter
Porter is being more aggressive and landing the clean hard punches. Even though Spence might have landed more total shots, Porter won the round.
ROUND 9: Porter
This is so even that it ain't funny. I have Porter winning the round landing more shots, but Spence is landing some big shots too. great round!
ROUND 10: Porter
I think Porter narrowly won that round. Both guys took a beating but I felt Porter controlled the round a little more
ROUND 11: Spence 🥊
And Spence about knocked his head off! That was a monster punch, but respect to Porter for getting right back in there! The dude is a fighter!
ROUND 12: Spence
Another tight round but I feel like Spence edged him out a little bit to win that round closing the Fight...
---
RESULT: Errol Spence Jr. - Split decision Win
Punch TOTALS: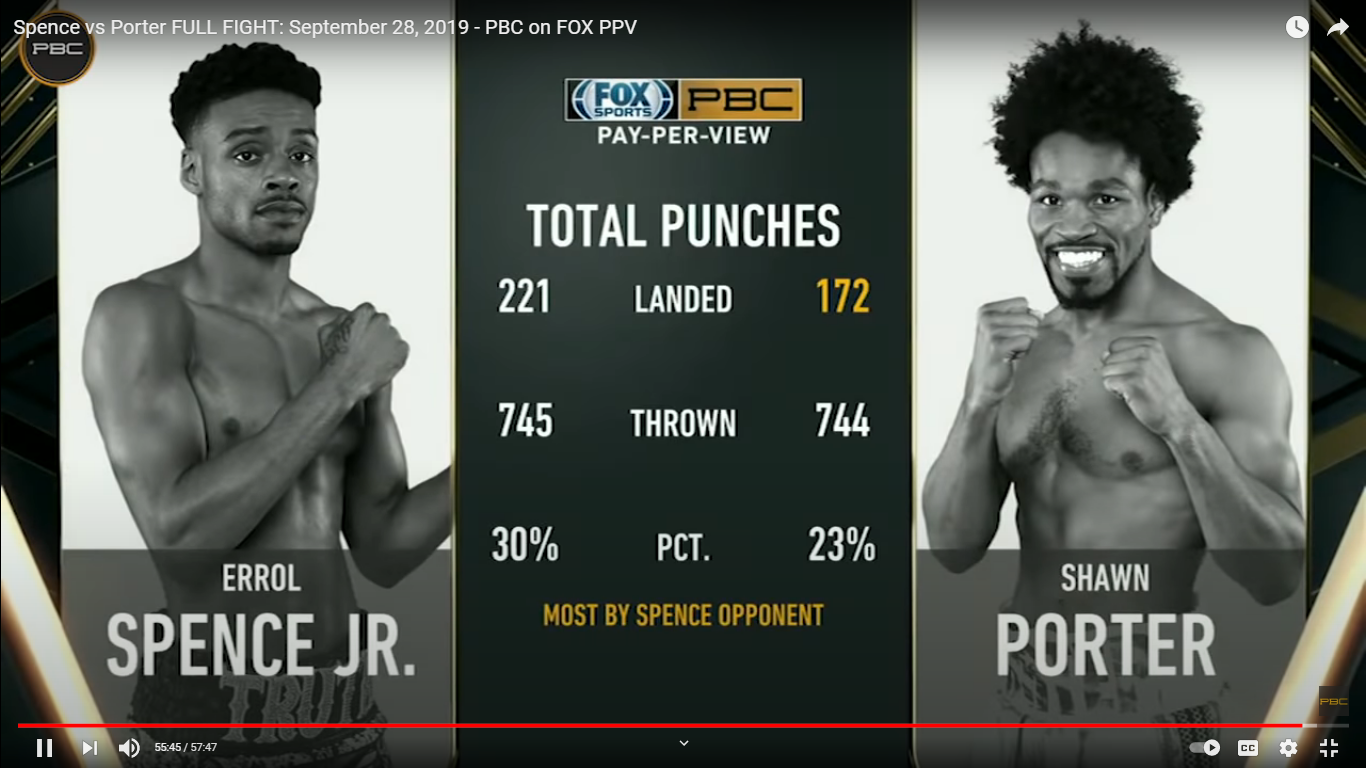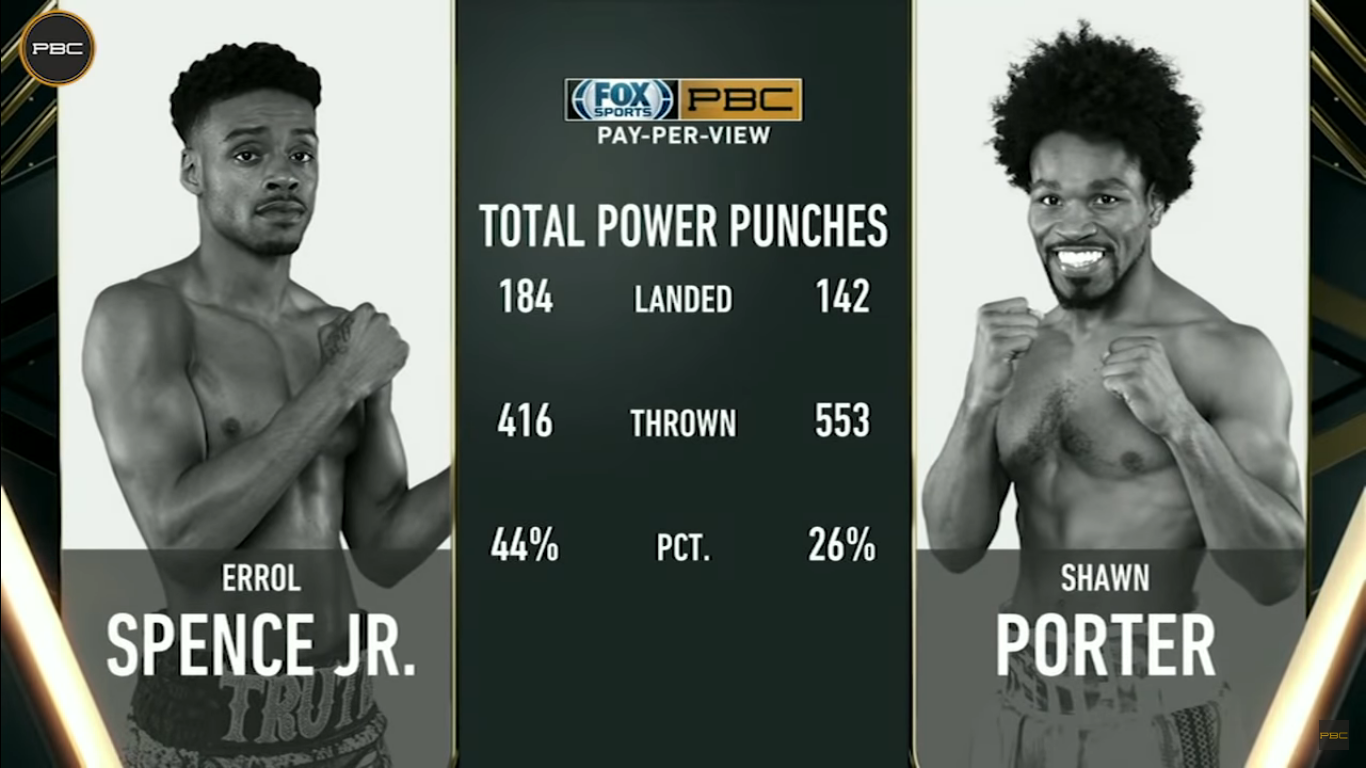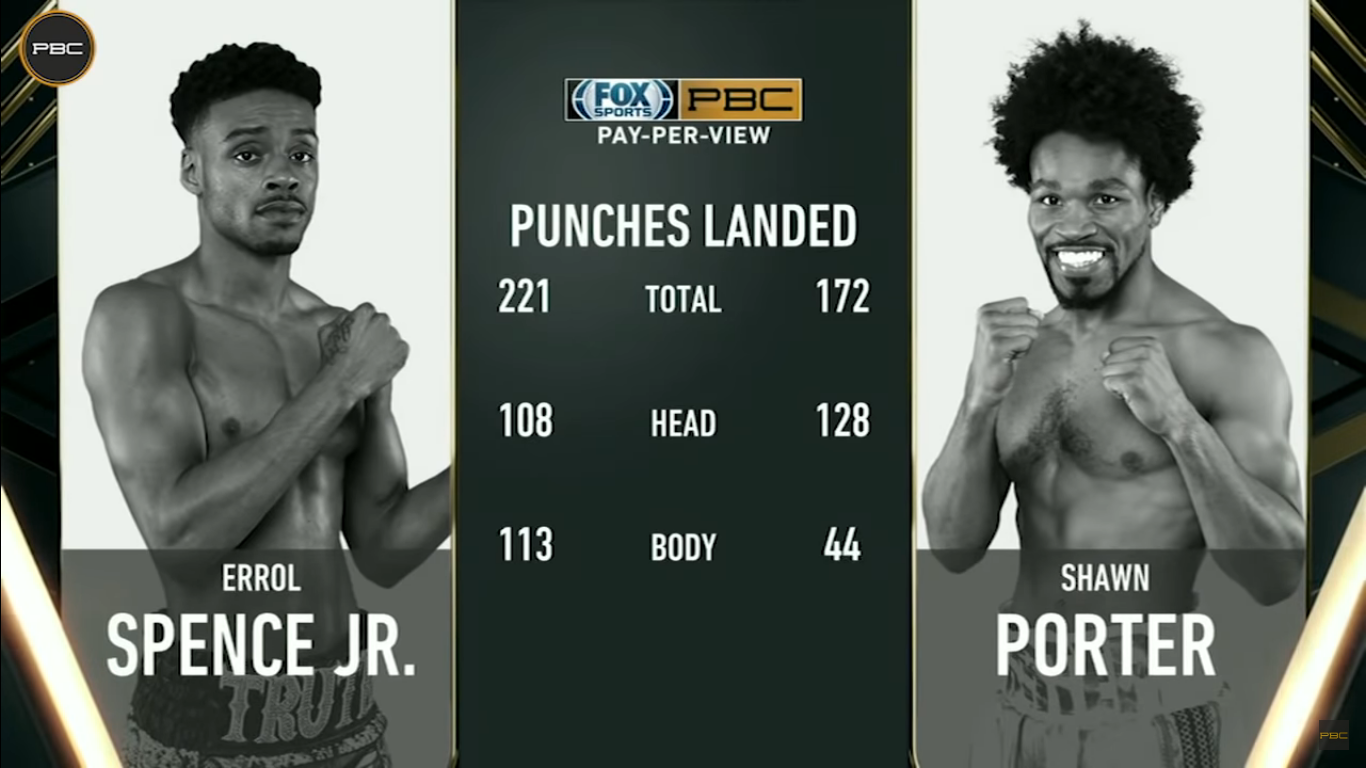 ---
MY SCORE: 115 - 112 Errol Spence JR.
I scored a really close fight for Errol Spence Jr. I felt like his skill was winning him rounds and the late knockdown really put him over the top in a very close overall fight.
But let me know how you scored it and what you think in the comments!
I'm gonna be giving one lucky commenter an SBI unit for sharing how they scored the fight! (Free upvotes)
Good Luck!
Congratulations to the previous winner: @cryptoandcoffee 🏆
---
If you're not on Hive yet be sure to create your free account here to participate in the giveaway: https://hiveonboard.com/?ref=bigtakosensei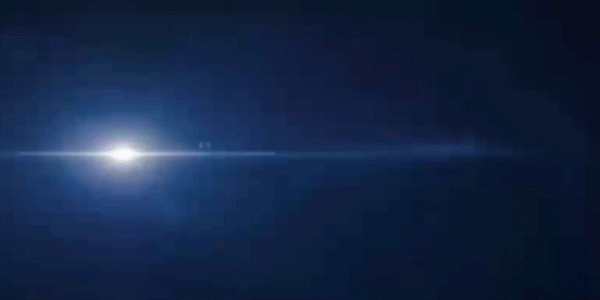 ---
(Unsupported https://lbry.tv/$/embed/how_to_bet_on_spots_on_the_eos_blockchain_wombat_wallet_tutorial/9038982d597d50bf44c209956e5434f93b070281?r=Fxger7EDm18E3c2T55hEoiknMVVkSfJx)
---
---