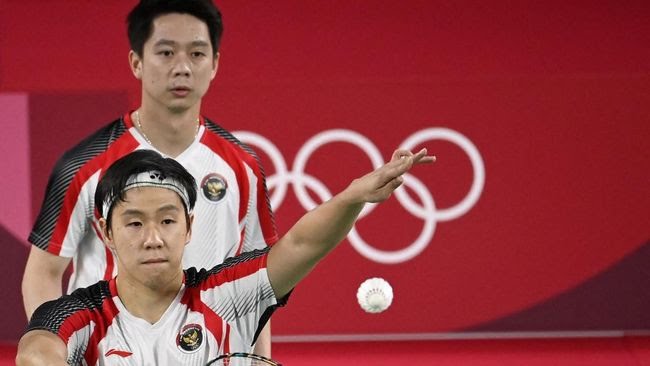 Source
Kevin Sanjaya Sukamuljo/Marcus Fernaldi Gideon stopped in the last 8 of the Tokyo 2020 Olympics. The Minions admitted that they played badly. At Musashino Forest Sport Plaza, Thursday (29/7/2021) morning WIB, Kevin / Marcus fell to the Malaysian pair, Malaysia Aaron Chia / Soh Woii. The Minions lost two straight games, 14-21 and 17-21. This defeat feels disappointing because of Marcus/Kevin's status as Indonesia's first seed to win a medal at the 2020 Tokyo Olympics. Moreover, Aaron/Soh are opponents that Marcus/Kevin have often managed to overcome in previous meetings. In total, Marcus/Kevin managed to record seven victories over the Malaysian representative. Kevin feels that his preparations to compete in the 2020 Tokyo Olympics are mature and maximal. Warming up ahead of the match, has also been done earlier than when they faced the preliminary round.
"We played badly and the result is like this. What else can we do," Kevin said in the release of the Indonesian Olympic Committee.
The pressure to win a medal is said by Marcus to be a heavy burden to be able to show the best ability.
"There are a lot of pressure factors on us, we hope to win or bring home a medal. But actually all the players who appear in this Olympics are balanced and we don't know anything like that.
what," said Marcus.
"Our game is under pressure, we also really want to win. Meanwhile, the opponent has nothing to lose and their game is indeed better than us," he added.

Source
With this result, The Minions also failed to meet the medal target from Indonesian Badminton Federation, PBSI. Kevin showed frustration during the match, because in the second game the referee judged that there was an error while serving. After the match, Marcus admitted that Aaron Chia / Soh Woii Yik did play better. He also revealed the reason for not being able to play optimally at the 2020 Tokyo Olympics. Prior to this, Kevin/Marcus also lost in the last group game. Kevin/Marcus were defeated by the Taiwanese pair, Lee Yang/Wang Chi-lin, rubber games 18-21, 21-15, and 17/21.
The course of the match
Marcus/Kevin started the match less well by trailing 1-4 from Chia/Soh. The Minions don't seem to have found their rhythm yet because they often throw out punches and misplaced positions. This made them even more behind with a score of 2-8 from representatives of Malaysia. After that, Marcus / Kevin started to heat up by doing a lot of hard kissing. The Indonesian pair can also score five points and reduce the position 7-8. Unfortunately, Marcus/Kevin missed out again so they fell behind 8-11 in the first game interval. Chia / Soh who are still aggressively attacking make their advantage increase 15-10. Marcus/Kevin can actually show better defense and attack than before. However, they made shuttlecocks several times so that Chia/Soh could reach game points. The Malaysian representative was then able to lock the first game with a score of 21-14. Entering the second game, Marcus/Kevin were still having trouble with Chia/Soh. However, they drew 3-3 at the start of the game. Unfortunately, the hard smashes from the Malaysian pair left The Minions 3-6 behind. Marcus/Kevin continued to strive for the score, but their attacks were not effective enough to fall behind 7-11 in the second game interval. Do not stay silent, The Minions can reduce the gap to 12-14. Marcus/Kevin who appeared more careful were finally able to equalize with a score of 16-16. A long rally then saw both pairs. Chia / Soh in a position that is more often in the attacking position then won the rally through a sharp smash. As if gaining momentum, Chia/Soh then managed to reach game points of 20-16. Marcus/Kevin had time to reply, but their fight ended after Chia/Soh's smack couldn't be contained. Score 21-17 for the victory of the representative of Malaysia. The Minions were knocked out in the quarter-finals after losing two games, while Chia/Soh advanced to the next round.