SURFING: Surfing in the rain - what exactly goes on in a surfer's brain?
Hello everyone on HIVE and especially the Sports Talk Social Community! My name is Jasper and I'm writing to you from Cape Town, South Africa! One of my topics that I tend to post about a lot on HIVE is one of my favorite sports, surfing!
So… what goes on in a surfer's brain?
Last Saturday morning, I was on "good husband and dad" duty, spending time with my wife and baby daughter, which was actually lovely as we all shopped and had brunch together before hanging out with other parents and their baby. Eventually, from about 15:30 onwards, I got my "permission slip" to pack my boards and head for the coast.
The average person must have thought I was crazy… why?
•The rain was about to start at about 16:00 and then get heavier and heavier. It was already a cold winter's day in Cape Town… So? Hmmm well, I was going to get cold and wet anyway… and hopefully it will mean less crowds in the surf to compete with for the limited resource of waves!
•The all-important second rugby match between South Africa and New Zealand would start at about 17:00. South Africa won the first match the weekend before. No red-blooded South African man would dream of missing this!... So? Hmmm well… rugby is fun to watch when there are no waves... hopefully it will mean less crowds in the surf to compete with for the limited resource of waves!
So… I turned up at a little local reef I have been visiting a lot recently… and saw that I wasn't alone in my thinking! It was spring high tide, making the waves a little bit easier to catch than usual, and around 8-10 other surfers and bodyboarders were packed around the same condensed take-off spot to enjoy this fact!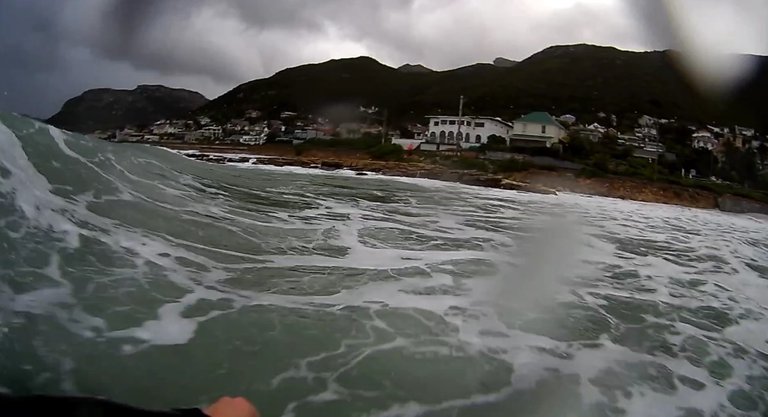 At first the rain was just a soft drizzle, and I was enjoying surfing in the normal direction to the left…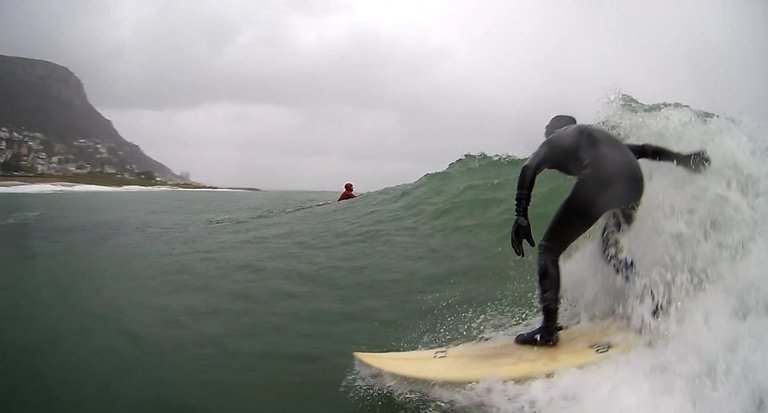 The tide was so high that you could go right over a section of reef that is usually too shallow or even "dry" (visible). A lot of the people were enjoying this rare opportunity, which made for this nice image of a surfer doing the forbidden act – dropping in on me! Luckily, I'm pretty chilled – I'm sure he thought I planned on going the other way instead! Lots of hoods, booties and even gloves are helping to keep us all warm in the frigid conditions!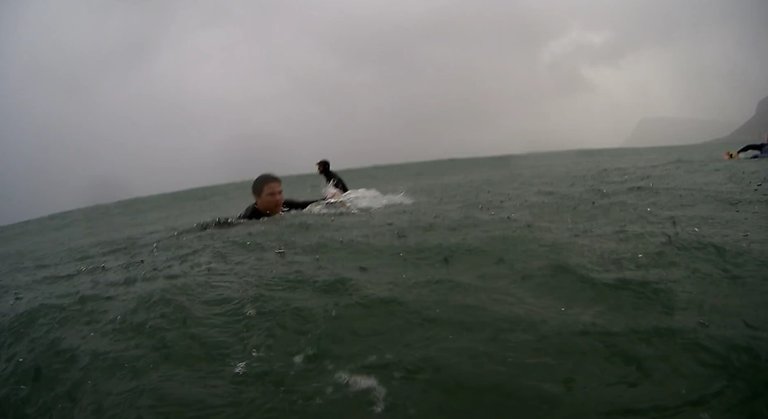 The rain and wind kept getting harder and harder, but we kept enjoying ourselves! Look at the happy smiles – hahaha!
Eventually it was time to go home, and by then the rain was bucketing down. The storm water drains were overflowing into the sea, and the roads were flooded with massive puddles! In these conditions it actually makes sense to just stay in your towel, rather than waste time putting your clothes back on, and drive home like that with the car heater on full blast!
So, that's some insight into the surfer's brain. We would do just about anything to surf, especially if it means less crowds than usual!
South Africa lost that second rugby match anyway – I'm glad I missed it! Hahaha!
THE END
---
---