Hola mis apreciados amigos de #hive y @sportstalksocial, el #deporte nos vuelve a juntar, y en hora buena, porque vamos a iniciar una tertulia muy especial sobre los venezolanos que dejaron, dejan y siguen dejando huella en el #beisbol de las #grandesligas; sin embargo, cuando se habla de #Venezuela, se nos viene a la mente, #petroleo, #pabellon, #riquezas, #bebidas y nuestro #saltoangel; pero, a pesar de todo eso, y nuestras surtidas riquezas, también pensamos sobre #deportes; así es, pero no es sobre el #futbol, porque hablamos queridos amigos, del deporte rey, hablamos de nuestra pasión el #beisbol, verdad que sí, porque aquí manda la #pelota, el #guante y el #bate; y es que nos referimos a la pelota caliente, la Liga Venezolana de Béisbol Profesional, y cuando decimos #LVBP, inmediatamente pum decimos #Caracas y #Magallanes la eterna rivalidad, unos dicen león, león, león, león, león; otros Magallanes será campeón, este año les ganará; bueno ustedes saben lo demás; y también saben que esto es una fiesta familiar que se da de año en año, donde se ve el ir y venir de batazos, ponches y gritos de la fanáticada más alegre del caribe y del mundo.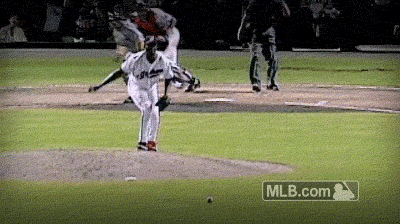 Omar Vizquel
Hello my dear friends of #hive and @sportstalksocial, #sport brings us together again, and at good time, because we are going to start a very special gathering about the Venezuelans who left, leave and continue to leave their mark on #baseball de #bigleagues; However, when we talk about #Venezuela, #petroleum, #pavilion, #rich, #beverages and our #saltoangel come to mind; but, despite all that, and our assorted wealth, we also think about #sports; That's right, but it's not about #football, because we talk, dear friends, about the beautiful game, we talk about our passion for #baseball, it is true, because here the #ball, the #glove and the #battle rule; and is that we refer to the hot ball, the Venezuelan Professional Baseball League, and when we say #LVBP, immediately bang we say #Caracas and #Magallanes the eternal rivalry, some say lion, lion, lion, lion, lion; other Magellan will be champion, this year he will beat them; well you know the rest; And they also know that this is a family party that occurs from year to year, where you see the coming and going of hits, strikeouts and shouts of the most joyous fans in the Caribbean and in the world.

Pero esto no es nada, porque nuestra liga, ha sido, es y seguirá siendo una máquina productora de Grandes Ligas, son muchos quienes desde 1939 han transitado por la #MLB, y hasta la fecha son más de 429 jugadores que se han dado y se dan cita en la #grancarpa, imponiendo marcas, ejecutando hazañas y espectaculares jugadas, jugadores que se destacan en todas las posiciones, ganadores de imnumerables premios, y a pensar de la grandeza de estos peloteros, solo tenemos uno en el salón de la fama del #beisbol en Cooperstown; sin embargo, estamos totalmente convencidos que pronto serán exaltados más de nuestros #jugadores. No podemos olvidar los 11 guantes de oro del gran #OmarVisquel; el récord de juegos salvados en una temporada de #FranciscoKidRodriguez con 62, marca impuesta en el 2008; o el no hit no run de #JohanSantana, y el juego perfecto del rey #FelixHernandez, primer y único juego perfecto realizado por un venezolano, ambos en el 2012; ¡Ah!, y seguro me llaman la atención, sino menciono al tigre mayor #MiguelCabrera, quien desde su llegada lo que ha hecho es repartir palo, y producir números de lujo, y estamos muy seguros, que a pesar de las lesiones, seguirá avanzando e imponiendo la ley del bate.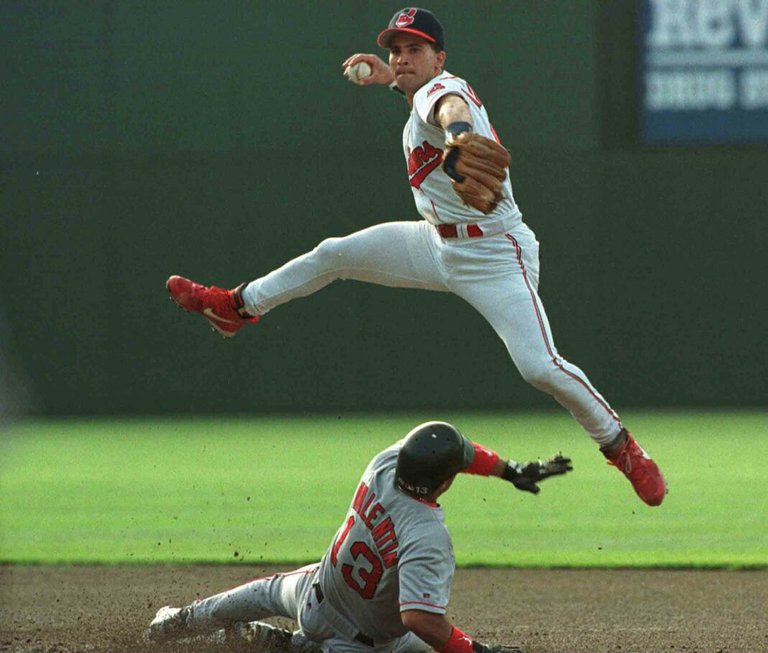 Omar Vizquel
But this is nothing, because our league has been, is and will continue to be a Major League production machine, there are many who have traveled through the #MLB since 1939, and to date there are more than 429 players who have given and They meet in the #bigtent, setting marks, executing feats and spectacular plays, players who stand out in all positions, winners of countless awards, and to think about the greatness of these players, we only have one in the hall of fame of the #baseball in Cooperstown; however, we are fully convinced that more of our #players will soon be exalted. We cannot forget the 11 golden gloves of the great #OmarVisquel; #FranciscoKidRodriguez's record for games saved in a season with 62, a mark set in 2008; or the no hit no run of #JohanSantana, and the perfect game of the king #FelixHernandez, the first and only perfect game made by a Venezuelan, both in 2012; Oh, and I'm sure they call my attention, if not I mention the older tiger #MiguelCabrera, who since his arrival what he has done is distribute stick, and produce luxury numbers, and we are very sure, that despite the injuries, he will continue advancing and enforcing the law of the bat.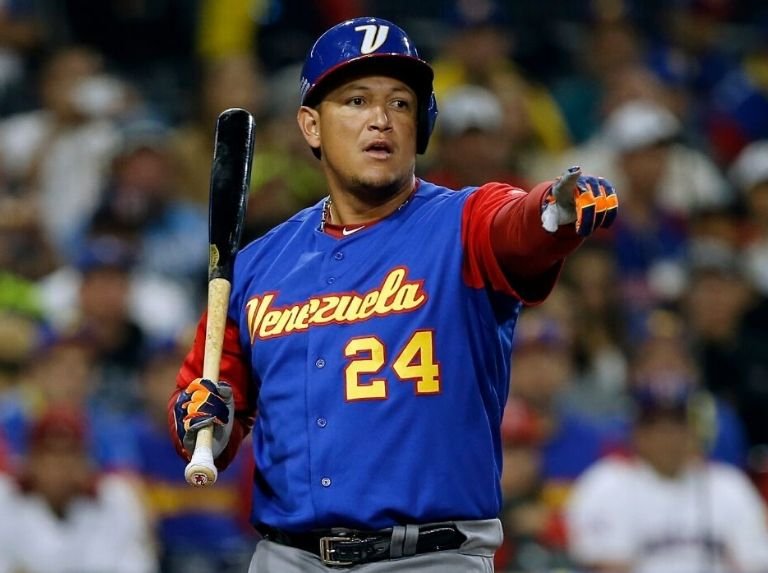 Miguel Cabrera

Esto no termina aquí y seguimos avanzando, porque la historia es larga; no se adelanten, pero tampoco se atrasen; y es que nuestro béisbol es tan espectacular y tan caliente, que todo el mundo quiere jugar aquí, porque saben que este escenario es la vitrina ante el mundo; ejemplo de ello, son muchos extranjeros que han vivido lo descrito en carne propia, se convirtieron en estrellas, y que hoy en día ya han sido exaltados al salón de la fama del béisbol mundial; entre ellos, #RodCarew, Salón de la Fama en 1991, por ser uno de los mejores bateadores; y defendió a los Tigres de Aragua en la 1971-72; 73-74. El apaga y vámonos #MarianoRivera, el mejor cerrador de todos los tiempos, quien fue parte del pitcheo de los Tigres de Aragua en la 91-92, y solo lanzó una entrada por lesion en el codo. Otro grande, #RoyHalladay, se vistió con Cardenales de Lara en la 1997-1998 siendo prospecto de los Azulejos de Toronto. #GregMaddux, lanzó con las Águilas del Zulia en la 87-88, tuvo marca de 7-4 con 1.59 de efectividad en 12 aperturas.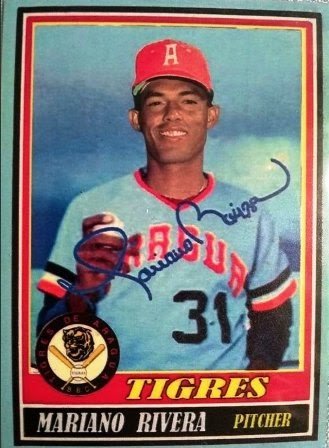 Mariano Rivera
This does not end here and we continue to advance, because the story is long; do not get ahead, but do not fall behind; And it is that our baseball is so spectacular and so hot that everyone wants to play here, because they know that this stage is the showcase to the world; An example of this are many foreigners who have lived what is described in their own flesh, became stars, and who today have already been inducted into the world baseball hall of fame; among them, #RodCarew, Hall of Fame in 1991, for being one of the best hitters; and defended the Tiger of Aragua in 1971-72; 73-74. He turns off and let's go #MarianoRivera, the best closer of all time, who was part of the pitching of the Tiger of Aragua in 91-92, and only threw one inning due to an elbow injury. Another great, #RoyHalladay, dressed with the Lara Cardinals in 1997-1998 as a prospect for the Toronto Blue Jays. #GregMaddux, pitched with the Eagles of Zulia in 87-88, was 7-4 with a 1.59 ERA in 12 starts.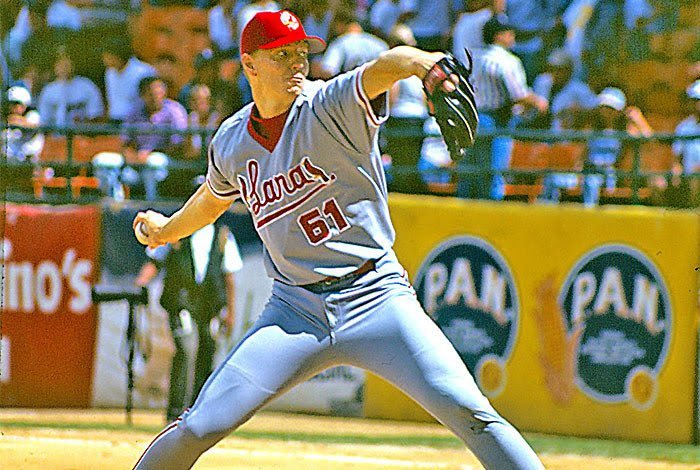 Roy Halladay

¡Ah!, seguimos, #JimRice jugó en Venezuela con los Navegantes del Magallanes en la 1973-74. Fue uno de los mejores bateadores de los Medias Rojas de Boston en las décadas de los 70 y 80. #AndreDawson, Jugó con los Cardenales de Lara durante la temporada 1975-76, cuando tenía sólo 21 años de edad. #BobbyCox fue jugador y manager en la #LVBP. Antesalista de los Cardenales de Lara 1967-68 y 1968-69; y de los Leones del Caracas 1969-70; además fue manager de Cardenales desde 1974 a 1977. #RyneSandberg, Jugó para las Águilas del Zulia en las temporadas 1980-81 y 1981-82. Se dieron cuenta que aquí se desarrolla la calidad; pero ellos no sólo se dieron cita en nuestra pelota caliente, han sido muchos y no nos alcanzarían las palabras.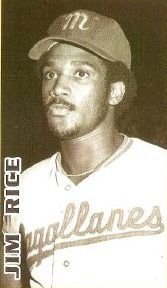 Jim Rice
Ah, we continue, #JimRice played in Venezuela with the Magellan navigators in 1973-74. He was one of the best hitters for the Boston Red Sox in the 1970s and 1980s. #AndreDawson, He played for the Lara Cardinals during the 1975-76 season, when he was only 21 years old. #BobbyCox was a player and manager in the #LVBP. Third baseman for the Cardinals of Lara 1967-68 and 1968-69; and of the Caracas Lions 1969-70; He was also the manager of the Cardinals from 1974 to 1977. #RyneSandberg, He played for the Eagles of Zulia in the 1980-81 and 1981-82 seasons. They realized that quality develops here; But they not only came together in our hot ball, there have been many and words would not reach us.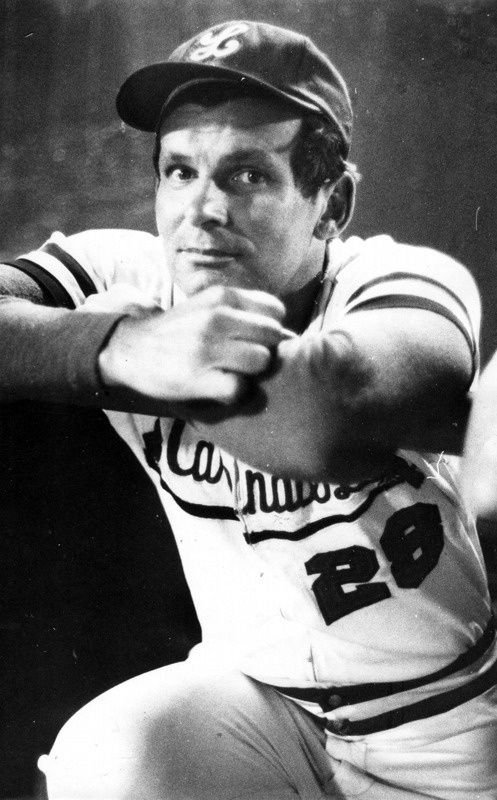 Bobby Cox

Como un dato muy especial, y que está dentro del tema en cuestión, es que se presentaron tres oportunidades donde un jugador venezolano de posicion, tuvo que dejarla para subir a la lomita y convertirse en pitcher; el primero, #CesarTovar en 1968, inició para Minnesota ante Oakland, completando una entrada en blanco con boleto y ponche. Luego, en 1969 #VictorDavalillo lo hizo dos veces con los Cardenales de San Luis, no retiró a ningún bateador. Pero amigos míos, el punto, es que ésta situación produjo la interacción entre la primera batería de venezolanos en las grandes ligas, cuando el 3 de junio de 1988, el rey #DavidConcepción lanzó para los Rojos de Cincinnati por 1.1 Inning, haciendo batería con el gran #BaudilioDiaz; recibiendo un #hit y otorgando un #ponche, y aunque perdieron ese juego; solo importó e importa el momento histórico vivido. Se dan cuenta, que en #Venezuela el béisbol es nuestra pasión, además de exportar gran cantidad de valiosos peloteros; pero no se detengan, que seguimos con más.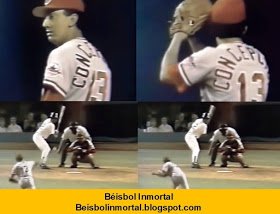 David-Baudilio
As a very special fact, and that is within the subject in question, is that there were three opportunities where a Venezuelan position player had to leave it to climb the mound and become a pitcher; the first, #CesarTovar in 1968, started for Minnesota against Oakland, completing a blank inning with a walk and strikeout. Then in 1969 #VictorDavalillo did it twice with the St. Louis Cardinals, he didn't retire any batters. But my friends, the point is that this situation produced the interaction between the first battery of Venezuelans in the major leagues, when on June 3, 1988, King #DavidConcepcion pitched for the Cincinnati Reds for 1.1 Inning, drums with the great #BaudilioDiaz; receiving a #hit and awarding a #struckout, and even though they lost that game; only the historical moment lived mattered and matters. They realize that in #Venezuela, baseball is our passion, in addition to exporting a large number of valuable players; but do not stop, we continue with more.

El Club de los 5
The Club of 5
Como se ha demostrado y los hechos así lo indican, #Venezuela es una de las potencias de la #MLB en cuanto a producción de jugadores se refiere; atletas que día a día han y siguen demostrando su poder ofensivo y defensivo, quienes desde 1939 cuando ingresó a la gran carpa el primer jugador venezolano, han puesto a nuestra nación en todo lo alto y desde allí, la cita se fue dando a gran escala, y aunque la cantidad de peloteros que hacen vida en las grandes ligas es alta, aquí haremos énfasis en 5 jugadores, desde el primero en participar como jugador MLB, y los que le sucedieron haciendo lo propio; sin dejar de lado nuestro único salón de la fama. Entonces mis amigos, no se diga más, síganme los pasos y vamos a la acción.
As has been demonstrated and the facts indicate, #Venezuela is one of the #MLB's powers in terms of player production; athletes who day by day have and continue to demonstrate their offensive and defensive power, who since 1939 when the first Venezuelan player entered the big tent, have put our nation on top and from there, the event was given on a large scale , and although the number of players who make life in the major leagues is high, here we will emphasize 5 players, from the first to participate as a MLB player, and those who succeeded him doing the same; without leaving aside our only hall of fame. So my friends, say no more, follow in my footsteps and let's take action.

Alejandro El Patón Carrasquel
El fabuloso lanzador derecho Alejandro Eloy Carrasquel Aparicio, El Patón, conocido por su bola rápida, y la aterradora bola de nudillos, inicia su transitar en la MLB el 23 de abril de 1939 con los Senadores de Washington en la Liga Americana. Posteriormente, El Patón, rechaza un trato con los Medias Blancas, quienes lo habían comprado a los senadores, por lo que se fue a jugar a México por tres años. Regresa a las Grandes ligas en 1949 con los Medias Blancos, pero solo jugó tres veces, cumplió una trayectoria de 8 temporadas, imponiendo el record de 252 ponches, efectividad de 3.73 en 30 juegos completos, 4 shutouts o blanqueadas, 16 salvados, y 861 innings en 258 juegos, de los cuales, 64 fue como abridor. Como un hecho particularmente curioso e histórico, fue que en su debut, ponchó nada más y nada menos que a Joe DiMaggio, a Lou Gehrig, y a Bill Dickey, una pelusa, dígalo ahí mi gente.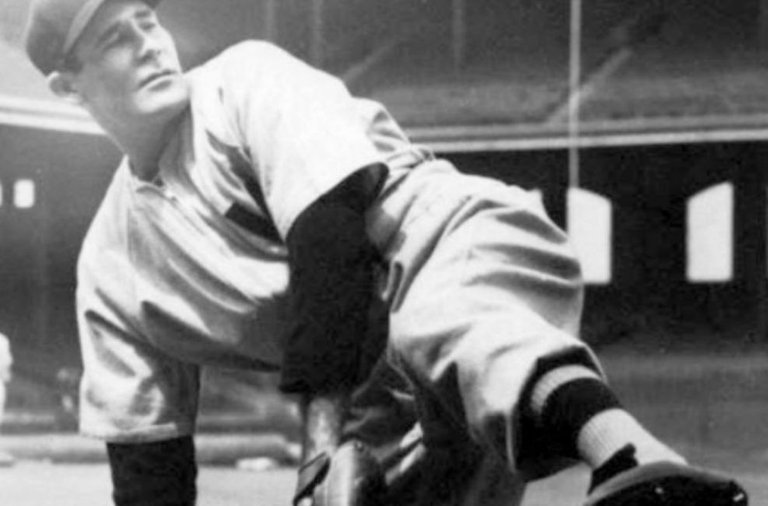 El Patón Carrasquel
The fabulous right-hander Alejandro Eloy Carrasquel Aparicio, El Patón, known for his fastball, and the terrifying knuckle ball, begins his journey in the MLB on April 23, 1939 with the Washington Senators in the American League. Later, El Patón, rejected a deal with the White Sox, who had bought him from the senators, so he went to play in Mexico for three years. He returned to the major leagues in 1949 with the White Sox, but only played three times, completed an 8-season career, setting a record of 252 strikeouts, a 3.73 ERA in 30 complete games, 4 shutouts or shutouts, 16 saves, and 861 innings in 258 games, of which 64 was as a starter. As a particularly curious and historical fact, it was that in his debut, he struck out none other than Joe DiMaggio, Lou Gehrig, and Bill Dickey, a fluff, say so my people.

Alfonso El Chico Carraquel Colón
El espectacular #shortstop y bateador derecho, Alfonso Chico Carrasquel, ingresa en 1949 con los Brooklyn Dodgers, sin embargo por dificultades de idioma es cambiado a los White Sox, donde militaba su tío, Alejandro "Patón" Carrasquel como lanzador, quien para ese momento se desempelaba de relevista. Pero realmente, desde 1950, es cuando tiene su auge como jugador tirular de su posición, haciendo dupla fabulosa con Nellie Fox; convirtiéndose en 1951 como el primer latinoamericano en participar en un Juego de las Estrellas, como siempre los venezolanos imponiendo la ley de la historia, lo que le valió su asistencia en cuatro juegos de estrellas. Como si fuera poco, impuso el récord de 297 juegos sin errores de la liga americana, jugadas perfectas en su posición, que locura. Al tiempo, en 1955, Chicago lo cambió a los indios de Cleveland, dejando la posición libre para otra leyenda venezolana, Luis Aparicio Jr. En fin El Chico Carrasquel, vistió las camisetas de los Indios entre 1956 y 1958, con Kansas City Athletics en 1958, y la de los Orioles de Baltimore en 1959. En sus 10 temporadas, el fabuloso número 17, disparó 1.199 hits, con 55 para la calle, 4 fueron #granslam, obtuvo promedio de .258, empujó 474 y anotó 568 carreras, 31 bases estafadas; 172 dobletes, 25 triples y mucho más, todo esto en 1.325 juegos. Que numeritos, una locura de jugador.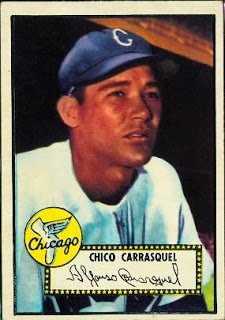 Alfonso Chico Carrasquel
The spectacular #shortstop and right-handed hitter, Alfonso Chico Carrasquel, joined the Brooklyn Dodgers in 1949, however due to language difficulties he was changed to the White Sox, where his uncle, Alejandro "Patón" Carrasquel, played as a pitcher, who for that moment he was a reliever. But really, since 1950, it is when he has his peak as a player pulling from his position, making a fabulous duo with Nellie Fox; becoming in 1951 as the first Latin American to participate in an All-Star Game, as always the Venezuelans imposing the law of history, which earned him his assistance in four star games. As if that weren't enough, he set the American league record of 297 error-free games, perfect plays in his position, what a madness. At the time, in 1955, Chicago changed him to the Cleveland Indians, leaving the position free for another Venezuelan legend, Luis Aparicio Jr. In short, El Chico Carrasquel, wore the Indians jerseys between 1956 and 1958, with Kansas City Athletics in 1958, and that of the Baltimore Orioles in 1959. In his 10 seasons, the fabulous number 17, shot 1,199 hits, with 55 for the fairway, 4 were #granslam, averaged .258, drove in 474 and scored 568 runs, 31 bases scammed; 172 doubles, 25 triples and much more, all in 1,325 games. What numbers, a crazy player.

Pompeyo Antonio El Yoyo Davalillo Romero
El #campocorto Pompeyo Davalillo, inició su carrera profesional con los Leones del Caracas, el 17 de octubre de 1952. Como ugador del cuadro, era versátil en segunda, tercera base o el campo-corto, con un gran brazo, buen bateador, corredor veloz, su juego era intenso, por lo que le imprimía su toque de picardía. Siendo el cuarto venezolano en grandes ligas y con 25 años de edad, debuta el 1 de agosto de 1953 con los Senadores de Washington, jugando contra el equipo de los Medias Blancas de Chicago, enfrentando a Alfonso Chico Carrasquel. La oportunidad de Davalillo se da por la lesión del parador en corto Pete Runnels, por lo que entra al juego en el séptimo inning, representando este momento otro hito histórico, por ser la primera vez en que se enfrentaron dos peloteros venezolanos.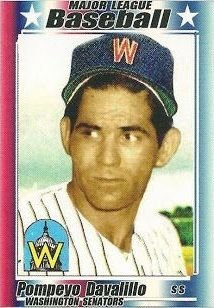 Pompeyo Davalillo
#Shortstop Pompeyo Davalillo began his professional career with the Caracas Lions on October 17, 1952. As an infield player, he was versatile at second, third base or shortstop, with a great arm, good batter, fast runner, his game was intense, so he gave him his touch of mischief. Being the fourth Venezuelan in the major leagues and with 25 years of age, he made his debut on August 1, 1953 with the Washington Senators, playing against the Chicago White Sox team, facing Alfonso Chico Carrasquel. Davalillo's opportunity is given by the injury of shortstop Pete Runnels, so he enters the game in the seventh inning, this moment representing another historical milestone, for being the first time that two Venezuelan players faced each other.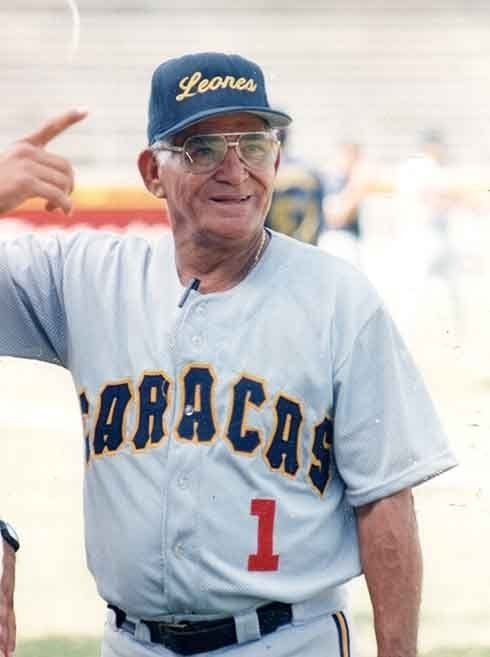 Pompeyo Davalillo
La carrera como grandeliga fue corta, y fue truncada gracias a una doble fractura ocasionada durante el partido entre Caracas y Gavilanes, el 28 de enero de 1954. Por lo que solo participó en 19 partidos de la Liga Americana, con Washington, conectando 17 hits, 1 doble, anotó 10 carreras e impulsó 2, recibió 1 base por bolas, se poncho 7 veces y robó 1 base, con promedio de .293. Solo jugo la temporada de 1953; lastimosamente, porque tenía un futuro muy prometedor.
His career as a major league was short, and was truncated thanks to a double fracture caused during the match between Caracas and Gavilanes, on January 28, 1954. For this reason, he only participated in 19 American League games, with Washington, connecting 17 hits, 1 double, scored 10 runs and drove in 2, walked 1, struck out 7 times and stole 1 base, hitting .293. He only played the 1953 season; unfortunately, because he had a very promising future.

Luis Ernesto Aparicio Montiel
Y con esta estrella del cuadro, continuó escribiédose la historia de los venezolanos, porque con Luis Ernesto Aparicio Montiel, inicia la era de distinciones, premios y leyendas; cuando debuta en la #MLB el 17 de abril de 1956, como campocorto de los Medias Blancas de Chicago, obteniendo el premio Novato del Año de la Liga Americana. Participó con Chicago hasta 1963, fue cambiado a los Orioles, jugando hasta 1967; regresó a los Medias Blancas a finales de ese año hasta 1970, cuando es cambiado a Boston desde 1971 hasta su retiro en 1973. Se perfiló por 9 años consecutivos como líder en bases estafadas con 506, además de ganar la #SerieMundial en 1966 con los Orioles de Baltimore. Por si fuera poco, este gigante, para su momento también ocupó el liderato de todos los tiempos en juegos jugados, asistencias, y dobles matanzas para un #shortstop de grandes ligas.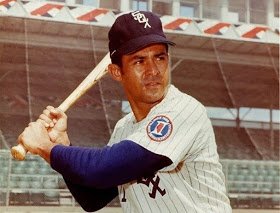 Luis Aparicio
And with this star in the painting, the history of Venezuelans continued to be written, because with Luis Ernesto Aparicio Montiel, the era of distinctions, awards and legends began; when he made his #MLB debut on April 17, 1956, as a shortstop for the Chicago White Sox, winning the American League Rookie of the Year award. He participated with Chicago until 1963, he was traded to the Orioles, playing until 1967; He returned to the White Sox at the end of that year until 1970, when he was traded to Boston from 1971 until his retirement in 1973. For 9 consecutive years he was the leader in swindled bases with 506, in addition to winning the #WorldSeries in 1966 with the Baltimore Orioles. As if that weren't enough, this giant, for its moment, also held the all-time lead in games played, assists, and double kills for a major league #shortstop.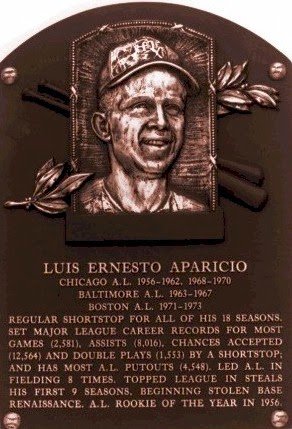 Luis Aparicio
Y seguimos mi gente, porque participó en 10 juegos de las estrellas, y ay papa, tres fueron en doble cartelera; y si nos quedamos cortos fue ganador de 9 Guantes de Oro; y no paramos, que orgullo, Luis Aparicio fue exaltado al Salón de la Fama del Béisbol en 1984, siendo hasta ahora el único venezolano en alcanzar este logro, orgullo y mas orgullo criollo. En cuanto a sus números para su retiro, ya había jugado 2601 partidos, anotó 1335 y empujó 791 carreras, propinó 2677 #hits, 83 #homerun, con un promedio de .262, modesto el muchacho verdad. Defensa imbatible, la pared del cuadro.
And we continue my people, because they participated in 10 games for the stars, and oh dad, three were on a double card; and if we fall short he was the winner of 9 Gold Gloves; And we do not stop, what pride, Luis Aparicio was inducted into the Baseball Hall of Fame in 1984, being until now the only Venezuelan to achieve this achievement, pride and more Creole pride. As for his retirement numbers, he had already played 2601 games, scored 1,335 and drove in 791 runs, hitting 2,677 #hits, 83 #homerun, with an average of .262, modest true boy. Unbeatable defense, the wall of the painting.

Omar Enrique Vizquel González
Omar Vizquel, un campocorto de locura, defensa pura; firmado por Seattle en 1984, su debut en grandes ligas se dió el 3 de abril de 1989 en un juego contra los Atléticos de Oakland. En 1993 es cambiado a Cleveland haciendo dupla con Roberto Alomar, representando una de las mejores parejas defensivas de la historia. Para la temporada 2004 firma con los Gigantes de San Francisco, donde realizó la doble matanza 1.591 batiendo el récord Ozzie Smith. Pero la rumba de historia continúa, porque para el 2008 Omar Vizquel participó en una doble cartelera, reventando la marca de Luis Aparicio, convirtiéndose en el venezolano con más partidos disputados, arrivando en el 2010 a su juego 2832, siendo ahora el latinoamericano con más partidos jugados en la historia de las grandes ligas, sobrepasando la marca del cubano Rafael Palmeiro.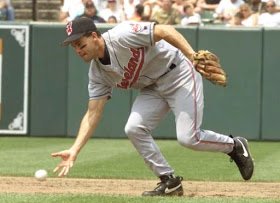 Omar Vizquel
Omar Vizquel, a crazy shortstop, pure defense; signed by Seattle in 1984, his major league debut occurred on April 3, 1989 in a game against the Oakland Athletics. In 1993, he was traded to Cleveland in a duo with Roberto Alomar, representing one of the best defensive couples in history. For the 2004 season he signed with the San Francisco Giants, where he made the 1,591 double kill, beating the Ozzie Smith record. But the rumba of history continues, because in 2008 Omar Vizquel participated in a double card, busting the mark of Luis Aparicio, becoming the Venezuelan with the most games played, arriving in 2010 at his 2832 game, now being the Latin American with the most games played in the history of the major leagues, surpassing the mark of Cuban Rafael Palmeiro.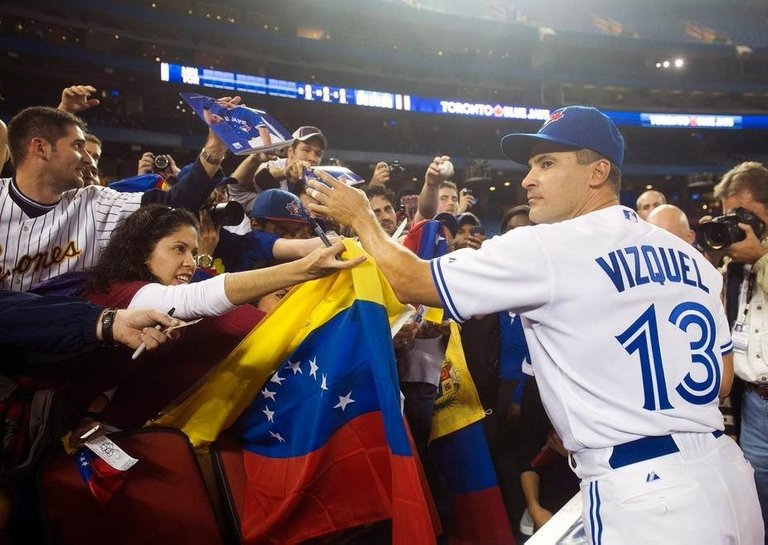 Omar Vizquel
Esto no queda aqui, ahora es que vamos por el 2012, cuando en el Yankee Stadium ante los envíos de Andy Pettitte y David Robertson, Vizquel propina, los hits 2873 y 2874 respectivamente, igualando y superando al Gran Babe Ruth, en la lista de hitteadores de todos los tiempos. En ese mismo año, en doble tanda enfrentó a Toronto y Baltimore en Campdem Yards, bateando en el segundo juego el #hit 2876 y 2877 igualando y superando a Mel Ott, quedando en solitario en el puesto 40 de máximos hitteadores de la historia #MLB. En números definitivos Omar Vizquel ganó 11 guantes de oro, la segunda cantidad más alta en la historia detrás del legendario Ozzie Smith; conectó 2.877 hits, promedió .272, 80 para la calle, 404 bases estafadas, 951 impulsadas, todo ello en un total de 2968 juegos; esto sin contar que participó en tres Juegos de Estrellas. Una joya defensiva, puro lujo en el cuadro, exaltado en 2014 al Salón de la Fama de los Indios de Cleveland. Aun en espera para la entrada a Cooperstow.
This does not stop here, now we are going to 2012, when at Yankee Stadium before the shipments of Andy Pettitte and David Robertson, Vizquel tipped, the hits 2873 and 2874 respectively, equaling and surpassing the Great Babe Ruth, in the list of hitters of all time. In that same year, in a double run he faced Toronto and Baltimore at Campdem Yards, hitting #hit 2876 and 2877 in the second game, equaling and surpassing Mel Ott, being alone in the 40th position of top hitters in history #MLB . In definitive numbers Omar Vizquel won 11 gold gloves, the second highest amount in history behind the legendary Ozzie Smith; he had 2,877 hits, averaged .272, 80 for the fairway, 404 bases ripped off, 951 RBIs, all in a total of 2,968 games; this without counting that he participated in three All-Star Games. A defensive gem, pure infield luxury, inducted into the 2014 Cleveland Indians Hall of Fame. Still waiting for entrance to Cooperstow.

Los criollos en las grandes ligas son cada día motivo de orgullo para todos, en cada momento, en cada jugada, siempre está presente la mano de un venezolano, ya sea con su guante, con su bate o con su explosivo lanzamiento, estos jugadores se han ganado su puesto, se ha ganado su gloria, y por ello se hizo este pequeño pero gigantesco homenaje a casa uno a través de nuestro contenido, contenido que he disfrutado como no tienen una idea, ya que hemos revivido momentos inolvidables; quien no vio a nuestro manos de seda Vizquel tomar esa polea a mano limpia y completar la jugada con un out espectacular, o los kilométricos estácazos de Miguel Cabrera, Víctor Martínez, José Altuve, entre muchos otros. Hasta aquí amigos míos, espero hayan disfrutado y vivido este momento con mucha satisfacción, saludos a todos y hasta pronto.
The creoles in the major leagues are every day a source of pride for everyone, at every moment, in every play, the hand of a Venezuelan is always present, either with his glove, with his bat or with his explosive throw, these players are They have earned their place, they have earned their glory, and that is why this small but gigantic homage to home one was made through our content, content that I have enjoyed as they have no idea, since we have relived unforgettable moments; Who did not see our silk hands Vizquel take that pulley by hand and complete the play with a spectacular out, or the kilometric hits of Miguel Cabrera, Víctor Martínez, José Altuve, among many others. So far my friends, I hope you have enjoyed and lived this moment with great satisfaction, greetings to all and see you soon.
...Gracias Por Visitar...

...Thanks for visiting...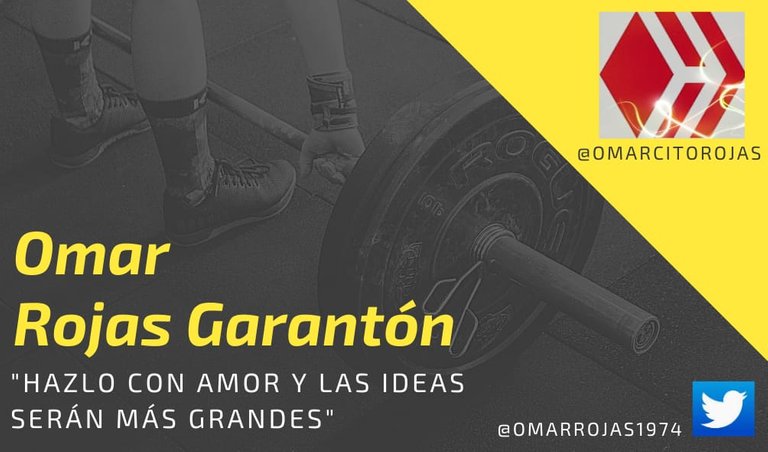 Sorry. English is not our native language. Therefore, a web translator is used for texts in English. (Spanishdict)