Hola que tal mi fabulosa familia de #hive y @sportstalksocial. Como siempre ofreciendo temas de interés y que gustan a nuestro público. El día de hoy estamos con un punto que para mí significó mucho durante mi infancia, y me imagino que en algún momento de sus vidas pudieron estar inmerso en ese juego nostálgico. Todos sabemos que en nuestra infancia no había iniciado la aparición de los videos juegos, por lo menos en mi caso, no es que sea viejito pero hay edad. Ahora al momento de jugar al fútbol nuestra pandillita lo hacía tanto en el campo de juego, como en un tablero creado por nosotros mismos. Siempre teníamos que jugar en el estacionamiento cerca de nuestro apartamento, donde las arquerías no eran ni las famosas que se ven en el fútbol, ni como las de fútbol de salón. Amigos, las aceras eran las arquerías marcadas de acuerdo a ciertas medidas, y jugábamos en pleno asfalto. Cuando no era de esta forma, lo hacíamos como dije anteriormente con un tablero donde los jugadores eran clavos. Si así mismo amigos, los jugadores eran clavos y eso es lo que vamos a disfrutar porque para ese momento ese era nuestro Play Station. Claro está iremos evolucionando. Pero te pregunto ¿cómo jugabas al fútbol antes de los videos juegos?.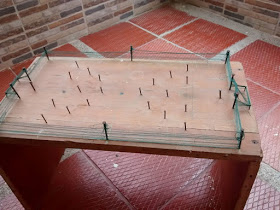 Source-Fuente
Hi, how's my fabulous #hive and @sportstalksocial family. As always offering topics of interest and that our audience likes. Today we are at a point that meant a lot to me during my childhood, and I imagine that at some point in their lives they could be immersed in that nostalgic game. We all know that in our childhood the appearance of video games had not begun, at least in my case, it is not that I am old but there is age. Now when playing soccer, our little gang did it both on the playing field and on a board created by ourselves. We always had to play in the parking lot near our apartment, where the arches were neither the famous ones you see in soccer, nor like those of indoor soccer. Friends, the sidewalks were the arches marked according to certain measurements, and we played on the asphalt. When it wasn't like this, we did it as I said before with a board where the players were nails. Yes, likewise friends, the players were nails and that is what we are going to enjoy because at that time that was our Play Station. Of course we will evolve. But I ask you, how did you play soccer before video games?

Este tema hace que prenda la máquina del tiempo y me remonte a mi infancia, que tiempos aquellos donde todos eramos felices y no lo sabíamos. Solo importaba la diversión sana, practicar el #deporte específicamente el #futbol de cualquier manera que se nos ocurriera, y el hacerlo en el tablero de madera era una total alegría y satisfacción, donde hasta campeonatos hacíamos todos los de la pandilla. Este recuerdo también tiene momentos tristes, ya que uno de los integrantes de nuestra pandilla en una de esas jugadas, no en el tablero, sino en el estacionamiento se llevó un golpe en la cabeza casi mortal, estuvo mucho tiempo convaleciente, se recuperó pero ya no era el mismo. Este tema nos produce sentimientos encontrados, pero bueno la idea es recordar y llevarles a ustedes un bonito contenido. Por ello, ahora vamos a disfrutar de como se construye este futbolín y como se juega en él. Además veremos la evolución desee aquí, hasta la forma de jugar al #futbol en las consolas actuales de video. Vamos amigos.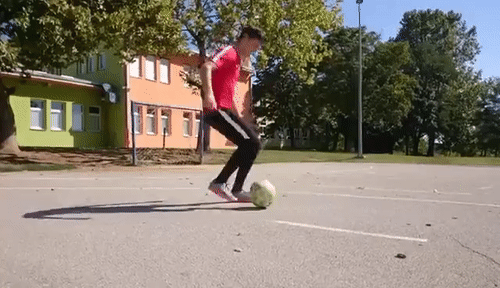 Source-Fuente
This theme makes the time machine turn on and I go back to my childhood, those times where we were all happy and we did not know it. Only healthy fun mattered, practicing #sport specifically #soccer in any way we could think of, and doing it on the wooden board was a total joy and satisfaction, where even championships we did all of the gang. This memory also has sad moments, since one of the members of our gang in one of those plays, not on the board, but in the parking lot, took a near-fatal blow to the head, he was convalescing for a long time, he recovered but now it was not the same. This topic produces mixed feelings, but hey, the idea is to remember and bring you some beautiful content. Therefore, now we are going to enjoy how this table football is built and how it is played. We will also see the evolution you want here, even the way of playing #football on current video consoles. Let's go friends.

Futbolin con Clavos
Foosball with Nails
Aja amigos, desde aquí volviendo en el tiempo vamos a disfrutar de como nuestra pandillita elaboraba este famoso juego. Lo primero es tener a mano una tabla rectangular de madera. Clavos de dos tipos, de 2 y 3 pulgadas. Para el borde de la cancha se necesitan ligas gruesas o hilo grueso; material que daremos vuelta en los clavos de 3 pulgadas, esto sería la cerca de la cancha. Por supuesto debes tener un martillo, pintura y marcador para demarcar la cancha. Lo principal una metra, canica o picha, la cual va a funcionar como el balón, y para impulsar ese balón necesitamos unas paleticas de madera de esas que traen los helados o de plástico. Como lo hacemos: primero tomamos la tabla y la pintamos demarcando todas sus áreas, incluso el punto penal, porque aquí también hay penaltis. Los clavos de 3 pulgadas se martillan alrededor de la tabla y junto a las ligas o hilo, evitarán que salga el balón. Aja, ahora con los clavos de 2 pulgadas hacemos la portería y colocamos en el centro de la misma el clavo que será Casillas, digo el portero. Los otros 10 clavitos de 2 pulgadas serán el resto de los jugadores, los cuales se colocan de acuerdo a la formación que desees, por su puesto la formación que se escoja quedará así ya que se van a clavar. Siguiendo estas indicaciones mis panas hemos construido nuestro #Futbolito de clavos y a jugar se ha dicho.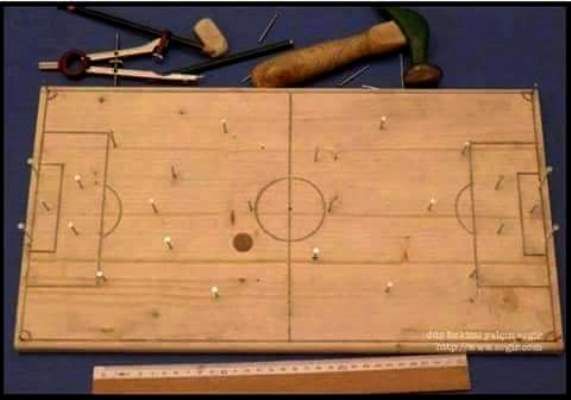 Source-Fuente
Aha friends, from here going back in time we are going to enjoy how our little gang made this famous game. The first thing is to have a rectangular wooden board on hand. Nails of two types, 2 and 3 inches. For the edge of the court you need thick rubber bands or thick thread; material that we will turn into the 3 inch nails, this would be the court fence. Of course you must have a hammer, paint and marker to mark the court. The main thing is a meter, marble or dick, which will work like the ball, and to propel that ball we need some wooden pallets of those that bring ice cream or plastic. How we do it: First we take the table and paint it marking all its areas, including the penalty spot, because here there are also penalties. The 3-inch nails are hammered around the board and together with the rubber bands or string, they will prevent the ball from coming out. Aja, now with the 2-inch nails we make the goal and place in the center of it the nail that will be Casillas, said the goalkeeper. The other 10 2-inch brads will be the rest of the players, which are placed according to the formation you want, of course the formation that is chosen will remain like this since they are going to be nailed. Following these indications my friends we have built our #Football of nails and to play it has been said.

Pero como jugamos, en nuestro caso jugamos dos personas, cada uno tiene un turno impulsando la metra o picha con la paletica. Puedes darle como desees mientras la metra no salga del área de la tabla, de suceder eso la metra se coloca en el centro, puedes darle y elevarla, o pegarla contra la liga, cada quien tenía su estrategia para avanzar y meter el gol. Mientras todo esto sucede, el otro jugador debe esperar que la metra o balón se detenga, ya que de no detenerse y es tocada, o se golpea dos veces seguidas, el árbitro que es uno de la pandilla canta penalti, lógicamente la metra va al punto penal del lado del infractor y se lanza procurando meter el gol. Como es normal si hay gol ya sea por penalti o por accionar normal, la metra se coloca en el centro. En juegos normales se establecen 2 goles para el ganador, y cuando hacíamos campeonatos proponíamos 1 gol para jugar todos. Que momentos, que recuerdos, mucha nostalgia.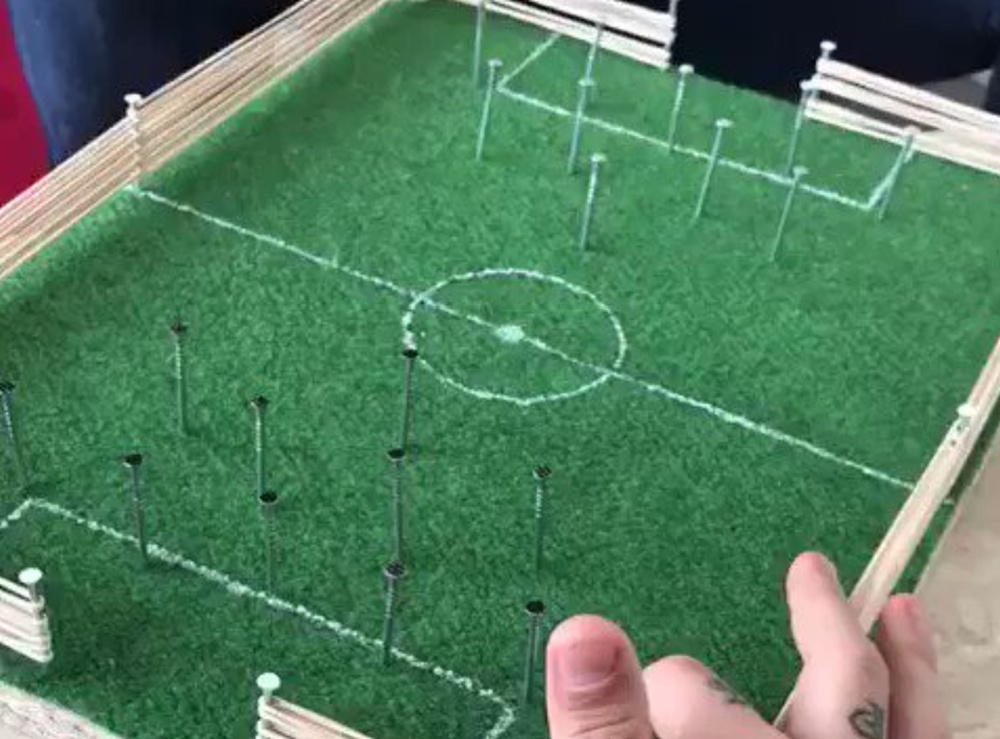 Source-Fuente
But how we play, in our case we play two people, each one has a turn driving the meter or dick with the pallet. You can hit it as you wish while the meter does not leave the area of ​​the table, if that happens the meter is placed in the center, you can hit it and raise it, or hit it against the league, each one had their strategy to advance and score the goal. While all this is happening, the other player must wait for the ball or ball to stop, since if it does not stop and is touched, or is hit twice in a row, the referee who is one of the gang calls a penalty, logically the ball goes to the Penalty spot on the offender's side and is launched trying to score the goal. As is normal if there is a goal either by penalty or by normal action, the score is placed in the center. In normal games, 2 goals are established for the winner, and when we held championships we proposed 1 goal to play all. What moments, what memories, a lot of nostalgia.

Futbolito de Mesa
Ahora me imagino que de este tipo de juegos también se acuerdan porque los disfrutábamos mucho en las salas de videos juegos. Estas mesas, igualmente estaban construidas en su mayoría de madera como en una especie de cajón, por supuesto la estructura estaba demarcada con sus áreas y todo como sucede en el terreno de fútbol. La variedad es que aquí ya los jugadores no eran clavos, y tampoco existía la paletica para impulsar el balón. Acá el cajón era atravesado por palancas, muchos de ellos con empuñaduras en sus bordes, donde en cada palanca estaban encrustados muñequitos que cumplían la función de jugadores. Entonces una o dos personas por lado se encargaban de manipular las palancas que les correspondían golpeando la pelotica hasta lograr el avance de la misma y meter gol. Que juego tan fabuloso hermanos, todo esto previo a mi incursión del deporte rey en los videos juegos. Este tipito tiene varios nombres, metegol, fulbito, futmesa, taca-taca, fulbatin, tacatoco, futillo, fulbacho. Además como dato especial fue creado por por Harold Thornton por allá en 1921 en el Reino Unido, y patentado en 1923. Por otra parte amigos este deporte tiene hasta campeonatos mundiales, y está regido también por una federación llamada Federación Internacional de Fútbol Mesa o FIFM, que tal, allí tienen por si no lo sabían.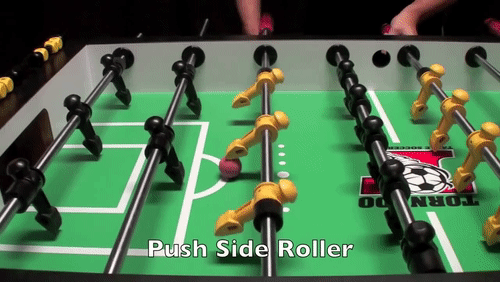 Source-Fuente
Table football


Now I imagine that these types of games are also remembered because we enjoyed them a lot in video game rooms. These tables were also built mostly of wood as in a kind of box, of course the structure was demarcated with its areas and everything as happens on the soccer field. The variety is that here the players were no longer nails, and the pallet to propel the ball did not exist either. Here the drawer was crossed by levers, many of them with handles on their edges, where little figures were embedded in each lever that fulfilled the role of players. Then one or two people per side were in charge of manipulating the levers that corresponded to them, hitting the ball until it advanced and scored a goal. What a fabulous game, brothers, all of this prior to my foray into the beautiful game of video games. This tipito has several names, foosball, fulbito, futmesa, taca-taca, fulbatin, tacatoco, futillo, fulbacho. In addition, as a special data, it was created by Harold Thornton back in 1921 in the United Kingdom, and patented in 1923. On the other hand, friends, this sport has even world championships, and is also governed by a federation called the International Federation of Table Soccer or IFTS How are you, there you have in case you did not know.

Fútbol en Consolas de Videojuegos
Mis panas ya para este punto están más actualizados, eso sí jugando el fútbol con controles verdad. Bueno, particularmente después de disfrutar al fútbol de la forma que les mencione con anterioridad, si jugué bastante en muchas consolas. Y digo esto porque mi papá en su afán de que no saliera mucho de casa, cada nueva consola que salía al mercado chupulum, sin pedirlo ya la comproba. La primera que tuve y casualmente el primer juego que jugué fue al #futbol en el famoso #atari con el fabuloso Pele fútbol, y vaya que si jugué demás y con gusto. Más adelante me trajo el #odyssey donde la publicidad de la consola la hacía el popular actor venezolano Pepeto Lopez que decía Papupapa, jajajaja; luego tuve el #colecovision, #intellivision, hasta ahora que juego el #Fifa21 en el #PlayStationIV. En cada una de esas consolas pase horas y horas jugando al fútbol. Todo esto es pura emotividad rememorando tiempos fabulosos.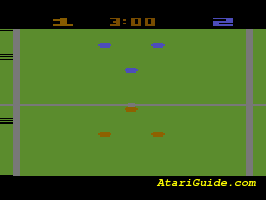 Pele Soccer Atari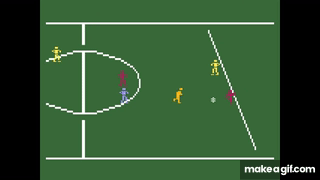 NASL Soccer (Intellivision)
Soccer in Video Game Consoles


My friends are already more up to date at this point, that is, playing soccer with true controls. Well, particularly after enjoying football in the way I mentioned earlier, I did play a lot on many consoles. And I say this because my father, in his eagerness not to leave the house much, every new console that came out to the chupulum market, without asking for it, he already checked it. The first game I had and coincidentally the first game I played was #football in the famous #atari with the fabulous Pele football, and boy did I play more and with pleasure. Later the #odyssey brought me where the console's advertising was made by the popular Venezuelan actor Pepeto Lopez who said Papupapa, hahaha; then I had #colecovision, #intellivision, until now that I play #Fifa21 on #PlayStationIV. On each of those consoles I spent hours and hours playing soccer. All this is pure emotion recalling fabulous times.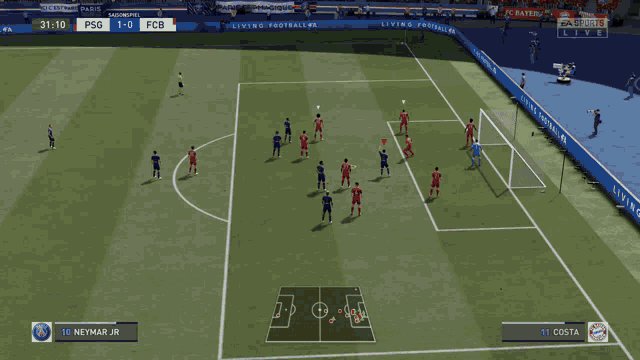 Fifa21

Hasta aquí mis amigos, espero que hayan disfrutado bastante y que los que pudieron vivir estos momentos, hayan podido volver al pasado. Un pasado hermoso lleno de alegría y emoción, por lo menos para mí, aunque ocurrió un hecho triste, si viajé en el tiempo y sin lugar a dudas lo volvería a vivir una y mil veces más. Saludos y hasta pronto.
So far my friends, I hope you have enjoyed yourself a lot and that those who were able to live these moments have been able to return to the past. A beautiful past full of joy and emotion, at least for me, although a sad event occurred, if I traveled in time and without a doubt I would live it again a thousand times more. Greetings and see you soon.
...Gracias Por Visitar...

...Thanks for visiting...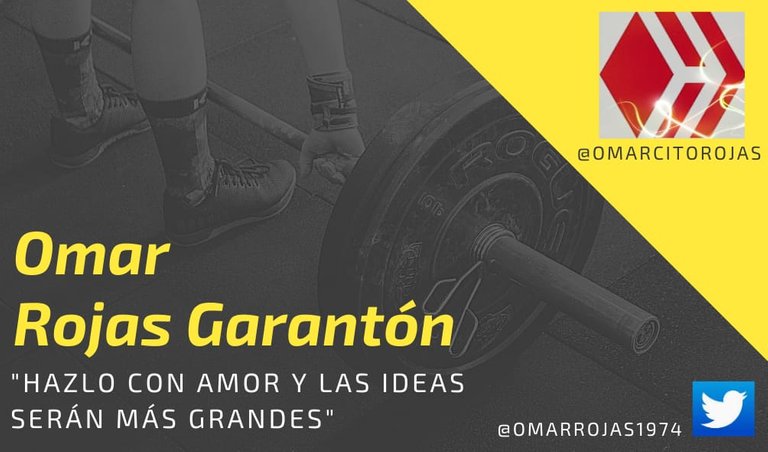 Sorry. English is not our native language. Therefore, a web translator is used for texts in English. (Spanishdict)