ARE YOU READY FOR ALL ENGLISH CHAMPIONS LEAGUE FINAL ?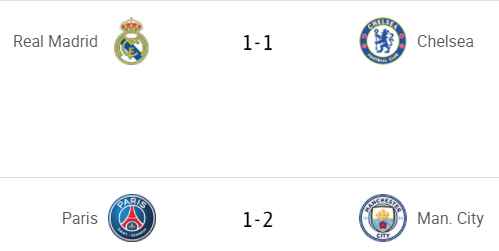 source
I am way ahead of myself for thinking that way.
It is well within the reach looking how both English clubs perform.
If you read me prior you know where I am heading. Unfortunately I cannot
decide the real winners by now. Yesterday Chelsea did play their game and found
the net first with Pulisic. What is wrong with the rain? It was a solid game for both teams.
I was not sure how Chelsea will play with the usual UEFA winner Real Madrid. I watched Real with
Zidane winning this tournament for three years. I know they are missing a big piece but the core
is still intact to bring fire to the opponent.
Chelsea full of youth and hungry players willing to play all the way surprised Real with an early goal.
I was ready to cry victory early but Benzema spoiled the moment with another unbelievable
goal. Usually you do not expect Benzema to score but it was the guy they need to
change the momentum. Real will have a task to score and flip the cards if
possible. Chelsea will be at home so I am pretty sure they will hold
on to the ball and find their game for 90 minutes. Hazard came
to the party late but I do not think he is a threat.
Timo finds so many golden opportunities to score but
he loves to pass the ball. Kante, the man of the match leads the
middle of the field and helps his team to build from there. I really do not
like when a team play backwards to hold on to the ball. Luckily Chelsea defense has
veterans for defense with Rudiger and Thiago.
Mount is the iron for Chelsea in offense. Chelsea has so many strikers, it is hard to know which one can change a game lately. Ziyech, Havertz, Abraham the list is long. Tuchel is still looking for the right recipe. Hopefully if he did great this year, I know he has to Chelsea will be a threat for years to come. I am not sure about Giroud and Abraham going forward.
Manchester City did play a big match today. Against PSG in the first half, you can see they were in trouble. Luckily PSG wasted too much energy and got burned in the second half. At first
I was not sure how PSG will control the game in the second half. Unable to pass
the ball and play like elite team, PSG was focus too much on individualism.
Mbappe and Neymar think they can handle City just by themselves.
Less than 45 minutes they forgot to play a team sport.
On the other hand you know Manchester City starts to
develop the collective that separate them from PSG. At the
end it has proven to be too much pressure from the DeBruyne's goal.
The goal was tricky since everyone think it is going outside. By the time Navas
reacts, it is way too late. The second goal is a weird mistake knowing Navas will not
attack the ball on time. It is sad to see PSG losing at home. This is another year where
Neymar feels the pressure even more. The only way for them to win at the Citizens' mercy
they need to pressure them like Chelsea did and not letting them control the tempo.
So this could be a repeat of 2019 final of the Champions League where two
English clubs may go to the Finals. If you have Chelsea vs Manchester
City, this could be a rehearsal made in Heaven. These two clubs
played multiple times this year. FA League, EPL and now
if happen UEFA. This will be a plus for Chelsea
a team build with a winning mentality.
I should say they have enough
players to reach the top.
The last time Chelsea win
something big went way back
to 2019 with Europa League. Champions
League you have to go way back to Drogba time
in 2012. What a drought! For the EPL it was a little while
back in 2016. FA Cup 2017. Chelsea may get two out three since
they are so far behind for EPL. It is about time they bring the glorious day
back for the fans. Less than a week all four teams will play again on Tuesday and
Wednesday to reach the Finals. Still no fans but the matches are awesome
and breathtaking. Is your team still on the pitch this year ?
---
---