If you need a way to forget a little about crypto, June is the perfect month
to look for. Wherever you are, there should be something playing for you.
In the states we are loaded to begin the Summer like month. Great weather.
Playoffs basket ball. Baseball is moving up quite well with fans. This is the past
time sport of America. American Football training camp is starting for new players.
And for the world, Football will get busy in less than one week. We want it, now you get it.
What will be your favorite event to watch?

source
FOOTBALL
I had a chance to see France handling Wales. It was night and days for the two teams.
Wales are loaded with players all over Europe. Unfortunately meeting with France was not plausible. I think they are preparing for the EURO2020. Looking at each pool, you can start playing the regular guessing game to see which teams will advance to the next round.
Already I am thinking of the World Cup and see where problems will start.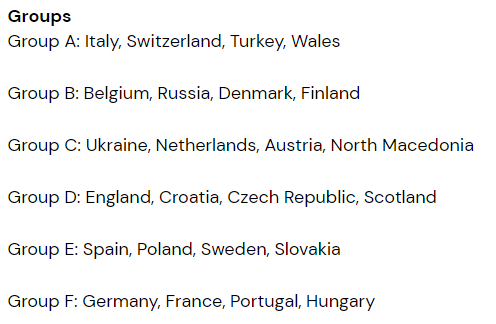 Group A I wish not to waste your time. Italy and Swiss are the favorites. Wales and Turkey I do not know much about them. Group B is a little problematic. Belgium should be the favorite. Russia did play well in 2018. Can they repeat? Denmark and Finland, not sure what they will do. You guys can help in here.
Group C I am definitely blank after Netherlands. Ukraine and Austria should go for second. Group D will be a group to watch for. England should be a clear favorite. Croatia can steal the show. I am just saying. Scotland will play England tough. Czech??
Group E Spain should take it easy and Sweden will follow. Any surprises with Poland and Slovakia?
Group F is the craziest of all the group. I am not saying a word cause it is too tight. Only France could take first and let the fight begins.
Event like this is spectacular cause the players are tired from the leagues duty. No real training and they have not played together for long. Individualism always show itself throughout the event. If you recap from last Euro, Portugal took everything. This year England should find a way to win something. France can easily repeat but I am not so sure. Belgium may show some interest along the way.
Going all over the new World, we will have Copa America. Brazil will host the event due to issue from Argentina. It will be less teams than Euro and the usual suspects will be there. This event may not happen. You know TV deals are so lucrative, it may happen as plan.
Here are the teams
GROUP A
Argentina
Bolivia
Uruguay
Chile
Paraguay
GROUP B
Colombia
Brazil
Venezuela
Ecuador
Peru
Looking at group A, you can easily put Argentina up front with Chile to follow close. Paraguay and Uruguay can give problem if they score first. They are very good defensive teams. Bolivia is by himself. Group B is all for grab. Starting with Brazil and Colombia. Peru, Venezuela and Ecuador will be huge spectator. Usually we have 12 teams for this event. Again I am not sure if Copa America will take place.
BASKET BALL
NBA playoffs are almost over this weekend for first round. Lakers are in trouble. No AD, I think LeBron may go fishing early. That lost to Phoenix is the worst a Laker team can witness in first round. Tomorrow I will see if they really meant what really happen to them.
Tonight Hawks sent Knicks packing. You can sense the playoffs when trash talks are common.
I am telling you trash talks are the way to know the players are serious to show their skills.
The best series everyone should be looking for Bucks vs Nets. I think the winner could win the whole thing. Lakers without AD are done. Clippers should manhandle Mavericks. It is unfortunate Luka has a back issue. Denver is pushing Lillard too much. Poor guy scored 55 points and lost the match. This is madness. Jazz will advance and 76ers did handle their business in five. Second round will tremble more knowing only true contenders are advancing to second round. Hopefully there will be enough space for us to watch Football, basketball. Lucky for the vacationers this month.
Enjoy your preferred sport