Silva actually did a lot better in today's fight than I thought he was going to. Because I have been rather unimpressed with his performance since around 2015 and actually started to believe that he was no longer taking the sport seriously I thought he would turn up for the fight without even training very hard with the intention of losing and just collecting another paycheck that for some reason his legendary name still warrants.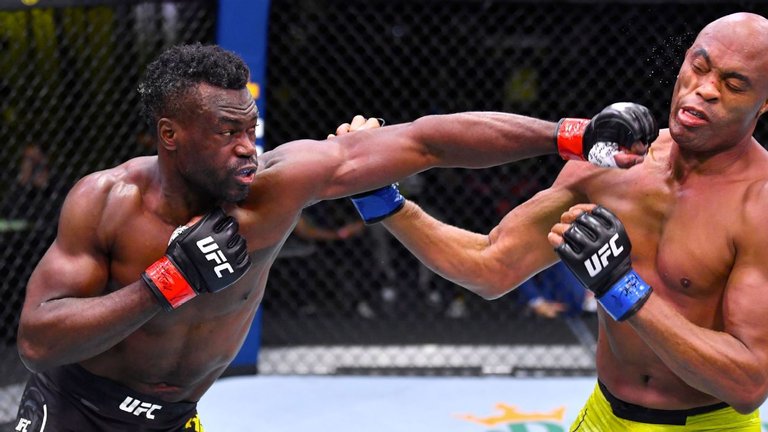 src
He held his own in the first 2 rounds and while they haven't been released anywhere that I can find online I believe that round 1 may have actually went to Anderson. His stand up game was almost completely devoid of the arrogant antics of the past that made me hate him years ago but I have to admit that today I was actually rooting for the guy but a lot of this has to do with me kind of feeling sorry for him after his rather rapid fall from grace.
That being said, the first two rounds were actually quite boring because neither fighter seemed to be very committed to causing any sort of damage but was rather feeling out their opponents and very few shots were landed.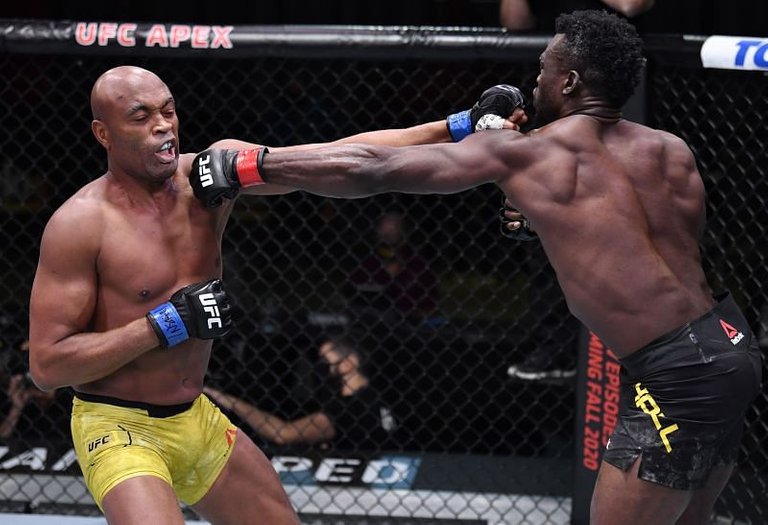 src
In round 3 (at least for a bit) it started to look like Silva was getting the upper hand as he was the aggressor and made a few quality significant strikes that seemed to stagger Hall. The crowd (all 20 of them) were on the edge of their seats because at least for a moment, it looked like Silva could actually finish this thing. This was all short lived as Hall seemed to discover at this point that The Spider didn't seem to have much of an answer for the repeated jabs that headed his way.
One of these resulted in Silva getting sent to the ground and if there had been more than 10 seconds left it would have likely ended in the 3rd by TKO.
Silva came out in the 4th probably a bit too aggressively, perhaps because he suspected he was behind on the scorecards and since not a great deal of action actually had been occurring up to this point, he realized he needed to go in for the kill or face a decision loss. As a long time fan I realize that this was his only real choice at this point but then Hall clipped him with a right very similar to what happened at the end of round 3 but this time there was plenty of time left on the clock.
Silva tried to cover but official Herb Dean did not allow this ground and pound beating to continue for very long. The fight was called and Hall was declared victor by TKO.
Then something that I love to see in UFC but unfortunately don't get to see very often happened: There was a tremendous show of mutual respect in the middle of the octagon.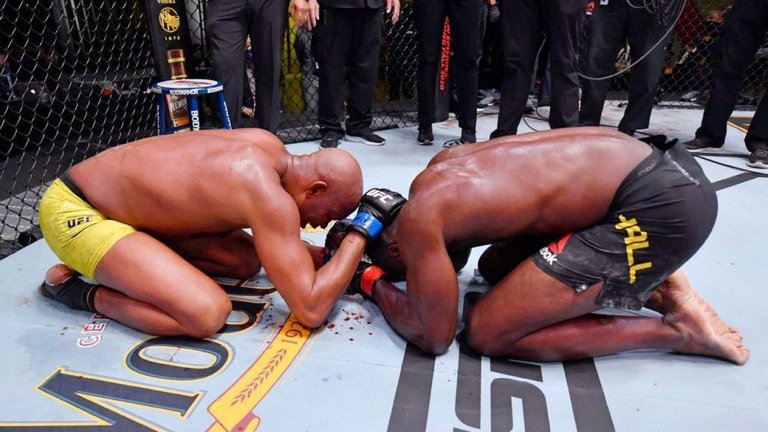 src
Silva, still bleeding from the TKO was approached by Uriah Hall who said something along the lines of "I love you man, I'm so sorry." Silva was inaudible but it was later said that he was very gracious in defeat and told Hall that he has a lot of promise... and that he will be champ one day.
Awwwwwww
In a sport filled with so much trash talking and theatrics that drive me crazy and will quickly make me dislike a fighter, it is nice to see this sort of sentiment between two combatants that just moments ago were trying to take one another's heads off.
---
The rest of the night unfortunately was pretty boring and this surprises no one since it was a minor event card anyway.
Following the fight, Silva did not announce his retirement and even dodged questions about whether or not that was the case. Will we see more fights from the man? It's tough to say but he probably still has the clout to be lower down on main cards in the future. I am sure there are still plenty of fighters out there that would like to have a crack at one of the best fighters this sport has ever known. At 1-7 in his last 8 fights it does seem unlikely that it is going to be a big draw though and if Silva was anyone other than who he is Dana White wouldn't allow it anyway.
We'll have to wait and see!