As I am writing this we are awaiting her main event fight against Irene Aldana as she attempts to scrap her way back up the charts to have another attempt at the belt, which to be honest with you, I think seems pretty unlikely to be offered to her anytime soon since she was convincingly dispatched by Amanda Nunes already. At 39 years of age, it seems likely that retirement is just around the corner but if she can continue to win most of her fights, Dana White will probably keep her around.
It does have to be a little bit frustrating to be Holm though, since unlike her younger counterparts every single fight that she takes is a fight to keep her career. The younger fighters it is always easier to say that they are going to improve in the coming years but for someone nearing 40, that all seems really unlikely.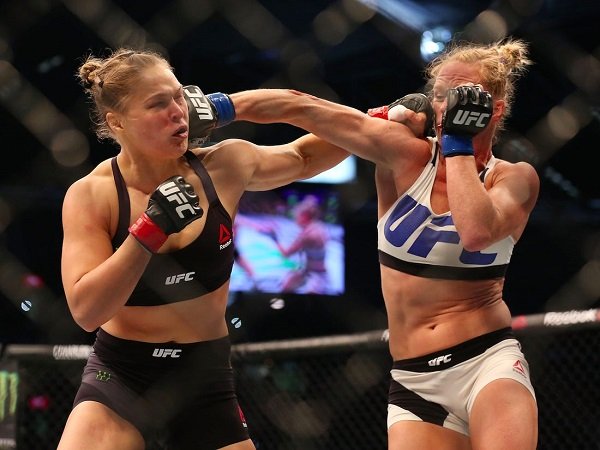 src
She experienced the highest of highs when she convincingly dispatched the person that at that time seemed to be unstoppable in an undefeated Ronda Rousey. She was on cloud 9 and was surprisingly being very gracious and modest about her abilities. It is a good thing that she did so because she lost her very first title defense to Miesha Tate (who she really shouldn't have lost to) and then would go on to lose her next 2 fights after that, which chased her nearly out of the top 10 in the ranking system.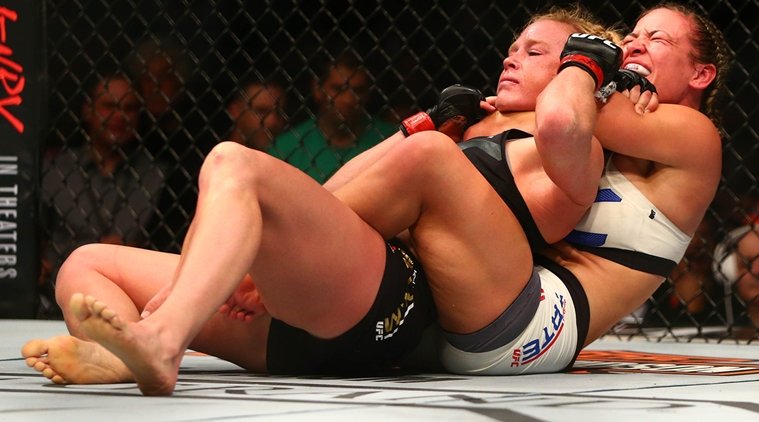 src
Holm refused to give up and it wasn't until her body went limp that the fight was stopped
Since then, her results have been a mixed bag as she has lost to anyone that was ranked higher than her and beat anyone who was below her. I suppose this is to be expected and is the very reason why that ranking system is meant to be somewhat accurate.
It's impossible to not like Holly Holm, she seems like a very nice person but I think that she has already gone down the path of what so many ex-champions have gone through: They make it to the top and then quickly fall from grace.
Holm is currently ranked at number 2 but a lot of this has to do with the lack of depth that exists in the women's Bantamweight division. In her fight in the next hour (at the time of me writing this) she faces a number 5 seed and while the Vegas odds have Holm at a slight advantage, the professional pundits are split on who they think will win.
Holm has already been relegated to the "side stages" of UFC, only being featured on the non pay-per-view ones and if she loses this, she could see herself drop off as a main card fighter altogether. This exact same scenario happened with Johny Hendricks, who rose to the top, claimed the belt, and then started to lose with regularity. Once that happened his fights became increasingly defensive as he seemed more focused on not losing than he was on winning. While he did enjoy a 50% win rate his fights were all boring and he quickly saw himself as an undercard fighter on PPV's and later as an undercard on non-PPV's. Later he retired / was released from his contract.
I see the same thing happening to Holm if she can't manage to scare up some excitement in this fight. Moreso than her opponent, I feel like this is a must win situation for Holm and she needs to not just win, but put on an exciting fight to boot. This is a lot to ask of any fighter, especially one of the oldest ones on the roster, but that is the name of the game.
I don't think Holm has it in her to be honest and even though I like her and she seems like one of the most level-headed competitors in the sport, I think that win or lose today, that her days with the UFC are numbered barring some sort of extreme change in her overall strategy / excitement level.
What do you think? Is it time for Holm to hang up the gloves and get sent out to pasture? Maybe she will be the next commentator?